"I think it's about the whole package, how you deliver the music to someone's ears is an audio-visual experience."
With her polished styling, legions of Instagram fans and mastery of the selfie, Rina Sawayama is the picture of a modern female musician, building her brand online. What's less typical is the level of self-awareness, satire, and social commentary she brings with her. She seems to have found her place in the zeitgeist just as her music has matured; and with her last video release, 'Tunnel Vision', directed by Arvida Byström, and her upcoming single 'Where U Are', she's hit a stride that's truly exciting. Whilst she's been on the scene for a while, her latest work has a stylistic and lyrical uniformity that grabs you immediately, think 90s-Mariah-Carey-meets-FKA-Twigs, with self-aware visuals that are all her own. Her sugar-sweet vocals and disarmingly 'cute' persona dare her audience to underestimate her, but her prodigious talent for songwriting, Diva-esqe vocals and lyrical sharpness, warn you that you do so at your own risk. Haters, hecklers and fuckboys are all on her list, and they had better watch out…
Model: Rina Sawayama – Photographer: Megan K Eagles
Stylist: Lauren Anne Groves – MUA and Hair: Portia Ferrari
Photographer Assistant: Jade Jackman – Stylist Assistant: Imogen Hudsen
Writer: Emily Carlton
How do you describe your music?
I say its 'cute RnB'. I'm inspired by 2000's RnB, Aaliyah even Britney with Neptunes, Justin Timberlake, plus bands like The Cardigans and Japanese artists like Sheena Ringo.
A lot of your influences seem to come from a certain time in your childhood, why do you think this is?
They really do, I realise this more and more. I was in full Japanese school till I was about ten. That means Japanese textbooks, Japanese routines, Japanese customs, everything was Japanese. When I returned to British school at 11 I had totally missed the boat on the Spice Girls. I was really getting into music was when all the American RnB came over, and you had Samantha Mumba, Mis-Teeq and Craig David on the British scene. Also, I think the time I spent in Japanese school, where I was exclusively listening to Japanese artists and only speaking Japanese, has massively shaped the way I write music. When I'm in the studio with people, they often say there's something quite unusual, not typically British, about the melodies I write.
Do you see yourself as a British artist though? Is there a cultural scene you see yourself as part of? 
I suppose I feel like I live in this continuum of Japan and the UK. And, I guess in some respects, America, even though I've never lived there, there's so much American music I'm inspired by. I would love to be an artist in Britain first before I am in Japan. But I wouldn't describe myself as a British artist, I'll always be this weird mix of whatever.
Do you see yourself as part of a scene? Are there specific people who inspire you? Are you part of a movement?
I guess on the visual side I am, in my inspiration and the kind of topics I write about. I feel like I'm part of a generation that have a particularly weird relationship with the internet. We were the last generation that grew up without the internet and saw it really come into popular use. Whereas those slightly younger than us have only known the internet. We accept it, but still feel quite awkward about it. We're totally engaged with it but we remember a time before it, so we have a sort of weird nostalgia about pre-internet times. I think it's a shared ambivalence that a lot of people have towards technology. But musically, I actually don't have that many musician friends, so I don't feel like I'm part of a scene, which is probably a good thing. I think, in some sense, it takes the pressure off, because there's no jealousy, there's no comparing, there's just excitement.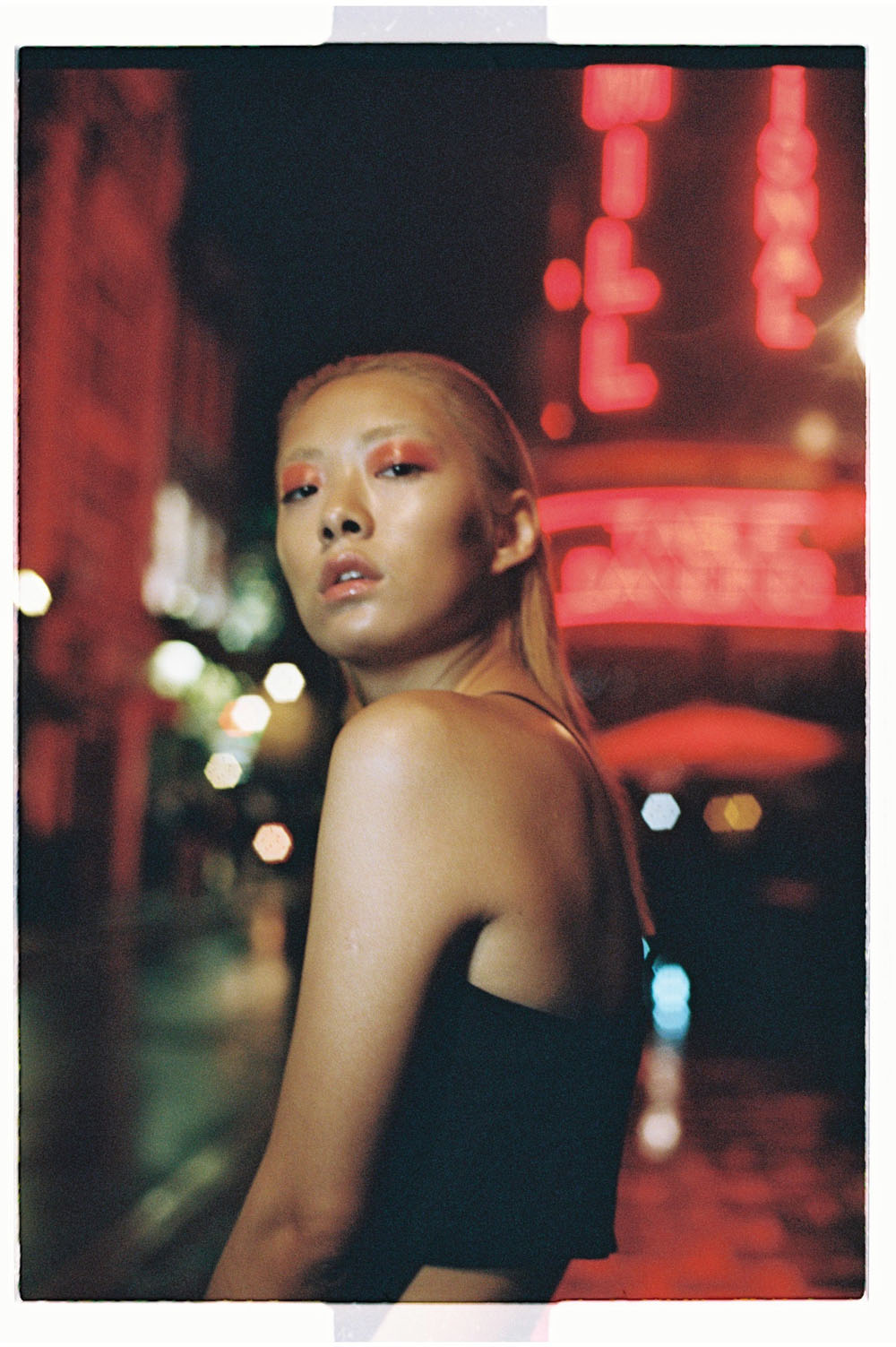 "I think a lot of people dismiss 'instagram-famous' artists as not legitimate, but I think the ability to curate your own feed is a real skill."
What was the first song you ever wrote?
I distinctly remember it, when I was 12, it was something about an alien princess, I think I could still sing it now! But I started writing properly with my band, Lazy Lion. Everyone from that band has gone on to do music. We started before University and then disbanded naturally as we went our separate ways, but I still get so excited when I see any of them performing. One of our members is now in Wolf Alice, and I get so ridiculously proud when I see them.
A lot of your music is about being a woman, specifically in relation to the internet, what are your feeling on this? Do you think the internet is a harder space for women? 
Well, in some senses it's amazing. The internet is at once such a complimentary and horrible place, you can see people from every corner of the world commenting on your photo and saying really nasty things. But, on the other hand, you get so many compliments, whether they're real or not, and a lot of them are from other women. I think there is a community of women who just want to encourage each other, like Babyface or Polyester magazine, who I just did a feature for. They are a group of people who really support female artists. It's connected me with people like that, which is incredible. Having said that, I think there is a gap between female empowerment and support online, and then getting off your computer, walking down the street and facing stuff like getting catcalled.
How do you feel about selfies? Your Instagram is full of them, but there's a level of commentary to it. Do you think the selfie is necessarily a tool of empowerment? The moment you put an image of yourself online you lose control of it, to some extent. Do you ever find it invasive or is it a positive?
I think, as a female musician, selfies have given me power over my own brand. The selfie is a really easy way to curate your own, specifically styled, content. I've been able to create my own brand, which is so important for getting yourself known nowadays. I think a lot of people dismiss 'instagram-famous' artists as not legitimate, but I think the ability to curate your own feed is a real skill. People like Joanna Kuchta, Petra Collins and Arvida Byström, they're all artists outside of Instagram as well, but they're also producing art with their selfies. At the same time I feel troubled sometimes that, while we're becoming more accepting of people's imperfections in some senses, we're also becoming more obsessed with image in general, and to some extent selfies feed into that. It's a sort of fake candid-ness. And the culture of self-surveillance is something I'm really interested in, the idea that you're constantly self-monitoring. Personally though, I've used selfies as a kind of retaliation. I've been told by so many people…well so many guys… 'you should have more pictures of you and your friends' or 'it needs to be more of a real selfie'. I'm more in the camp of people like Arvida and Joanna, where our social media images are completely constructed, and are an extension of what we do as artists.
Are your visual and musical work separate to you? How do they relate to each other in your life?
They are one and the same for me, when I write something I know what the video is going to look like. I'm directing my own videos now, and I hope I always will, because I think it's about being meticulous with the whole package. It's how you deliver the music to someone's ears is an audio-visual experience these days. We live in such a visual world we're looking at way more pictures than before, there's so much potential, so for me it's all the same thing
Who do you think your audience is as a musician?
Ideally I want women to connect with it, pretty much everything I've put out, and everything I'm writing at the moment for my next EP, doesn't use the gender pronoun 'he' I just say 'she'. It's actually something that someone else pointed out I was doing, I hadn't really noticed it, but it reflects how I'm more fascinated with women and the female experience generally. Right now I want to explore the idea that women don't necessarily have to be strong, we can be vulnerable and imperfect. The idea that we don't have to put up this fierce public image, we don't have to compete with other women or try to fit in with the boys and 'banter'. I think there's strength in showing your vulnerability, when you've specifically placed something out there and made yourself vulnerable, that requires strength. I went through that whole 'looking strong, sounding strong' thing, I used to sing differently, I used to sound different, but now I sing with a softer tone.
It seems like, with 'Tunnel Vision' and this upcoming EP, you're moving in a new direction, do you think that your music has 'grown up'? What's marked that shift for you?
Well, I released my first single nearly 3 years ago now, it got played by Zane Lowe, and all around the world, it surprised me how well it did. But it made me think, what am I doing? I was just hopping from studio to studio not giving anything new; I didn't feel like I knew who I was as an artist. Actually it's taken me 2 years of doing all sorts of things, being up and down, not knowing what direction to go in, but finally I've found what I want to talk about, who I want to be as an artist. I'm not so influenced by what's happening right now, or by wanting to be like the people I admire, instead I want to talk about something through my music. Now I'm much happier, I can go into a studio session and write the song that I want to, rather than what the producer wants. It takes time, especially for women, to know what you want, and articulate that clearly without compromising. Like Grimes or FKA Twigs, it takes conviction to say 'I'm an artist, I'm an artist, I'm an artist' but, as a girl, you have to say that for people to really take you seriously.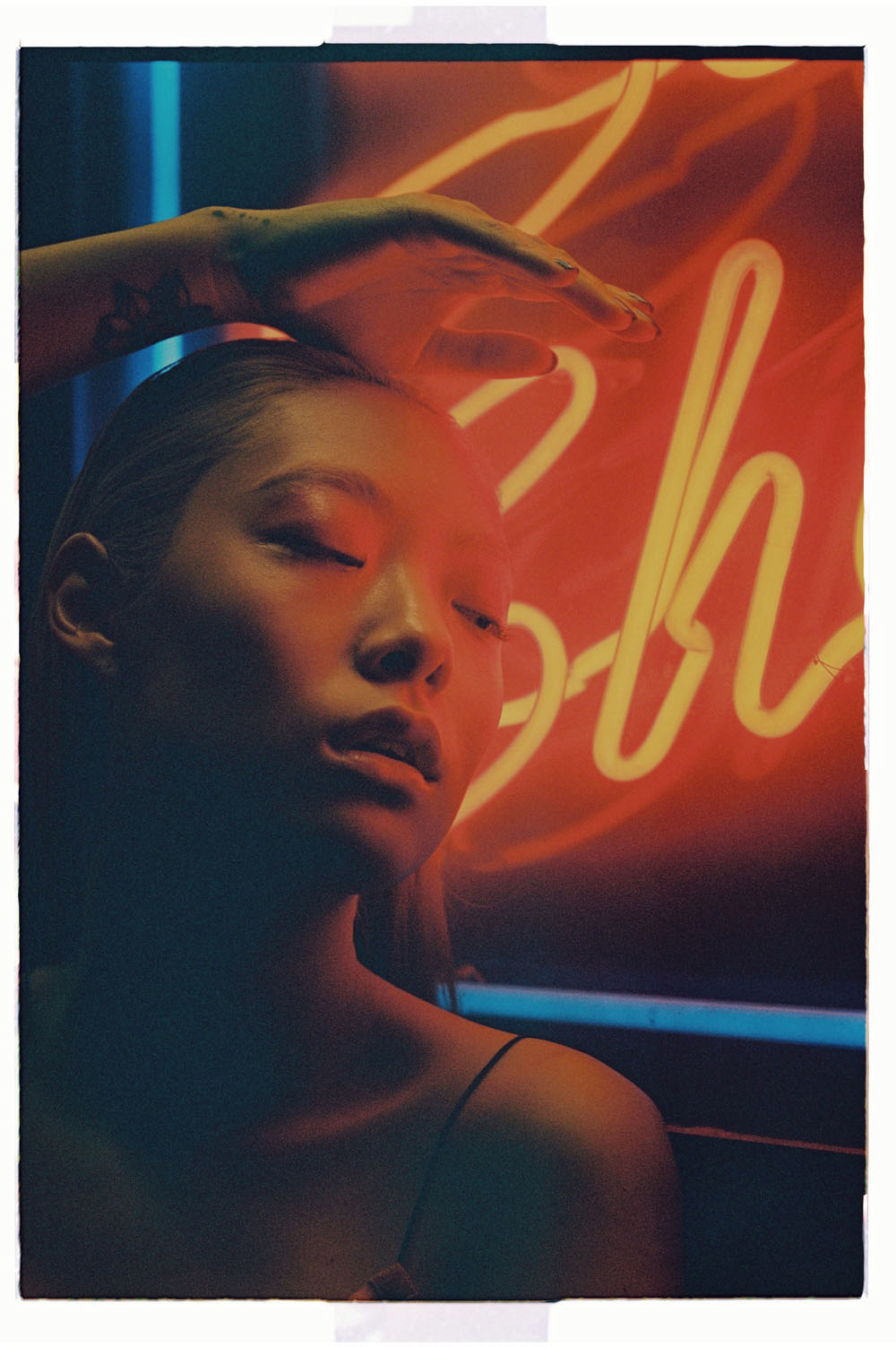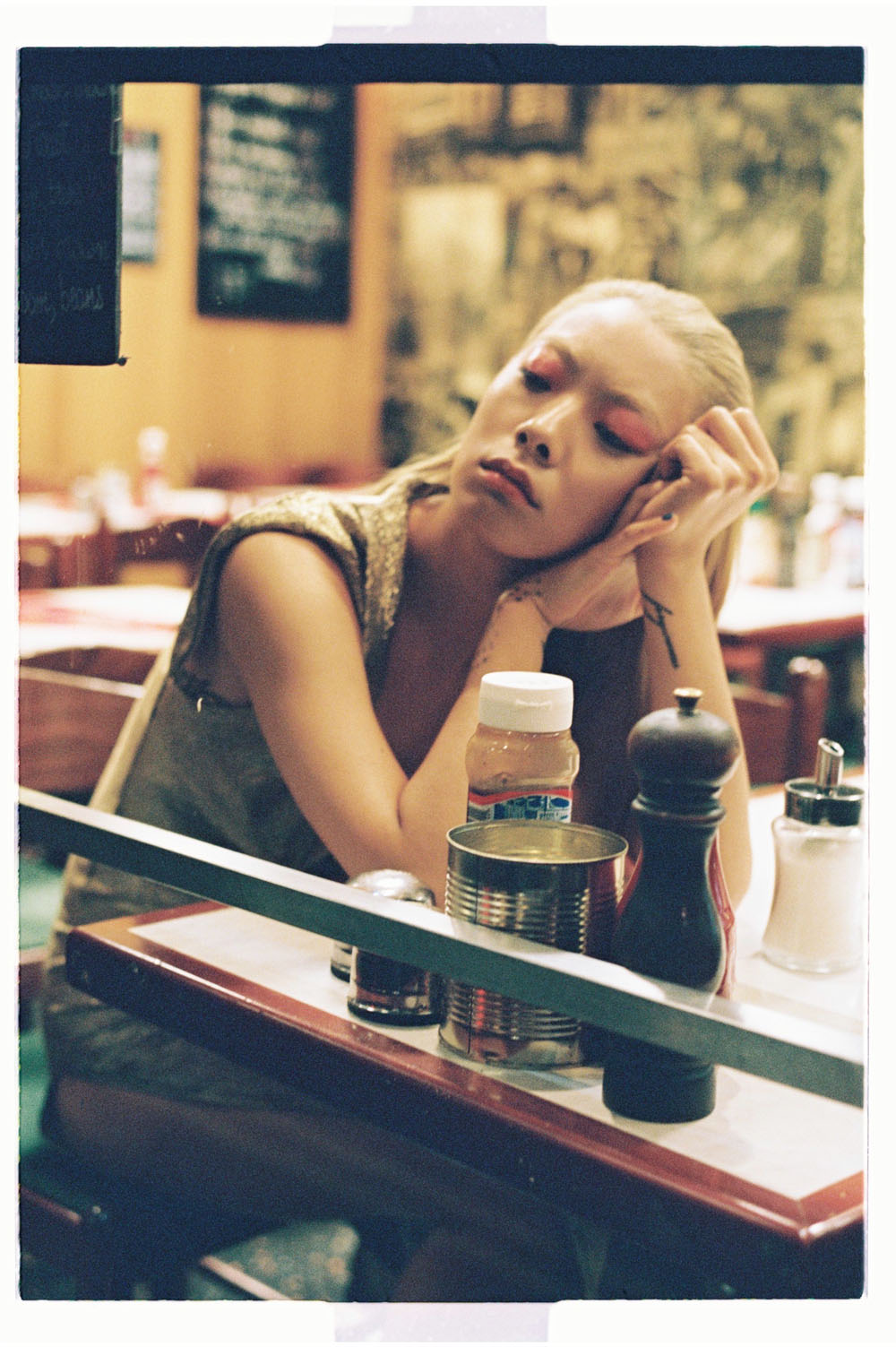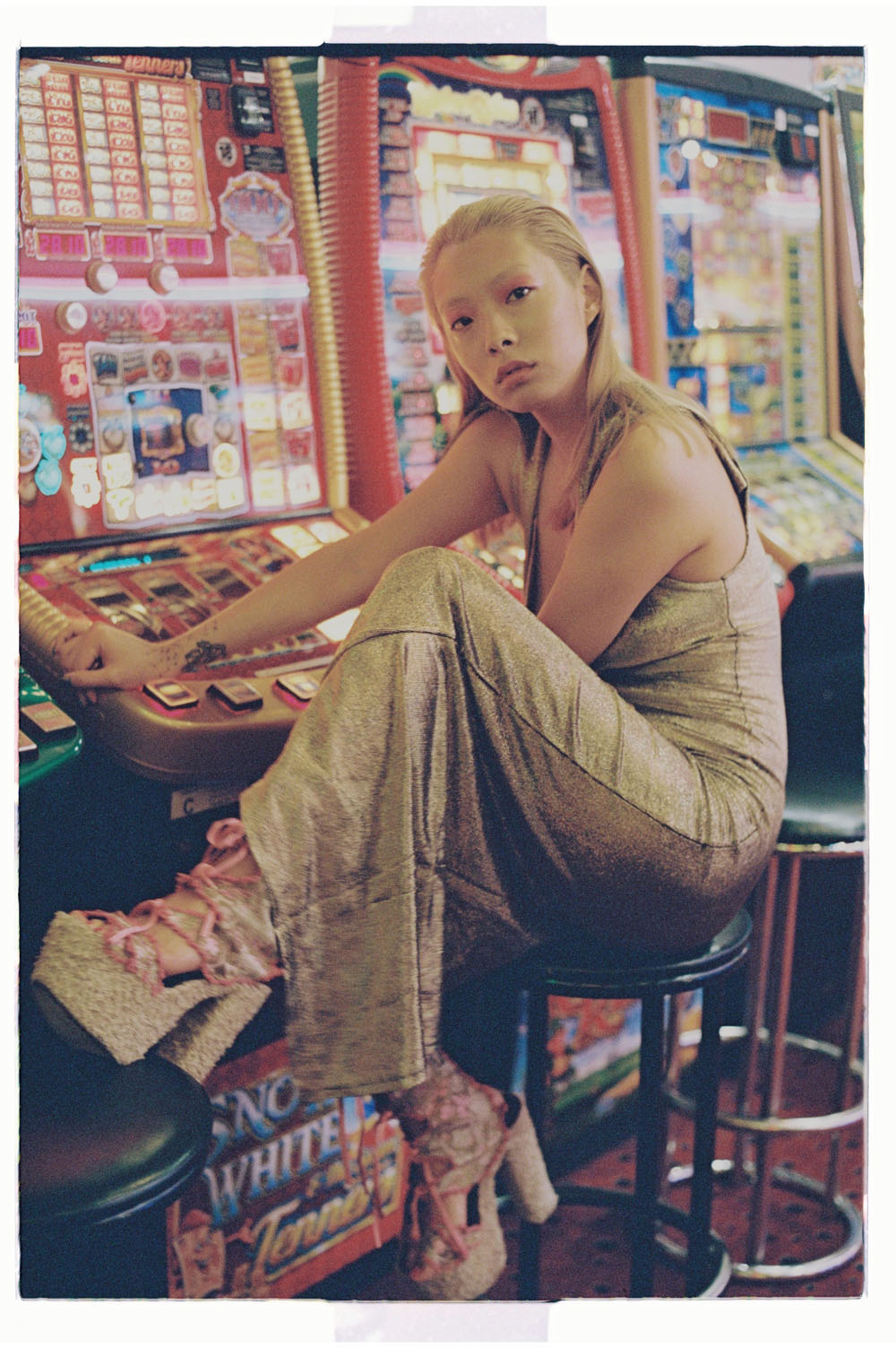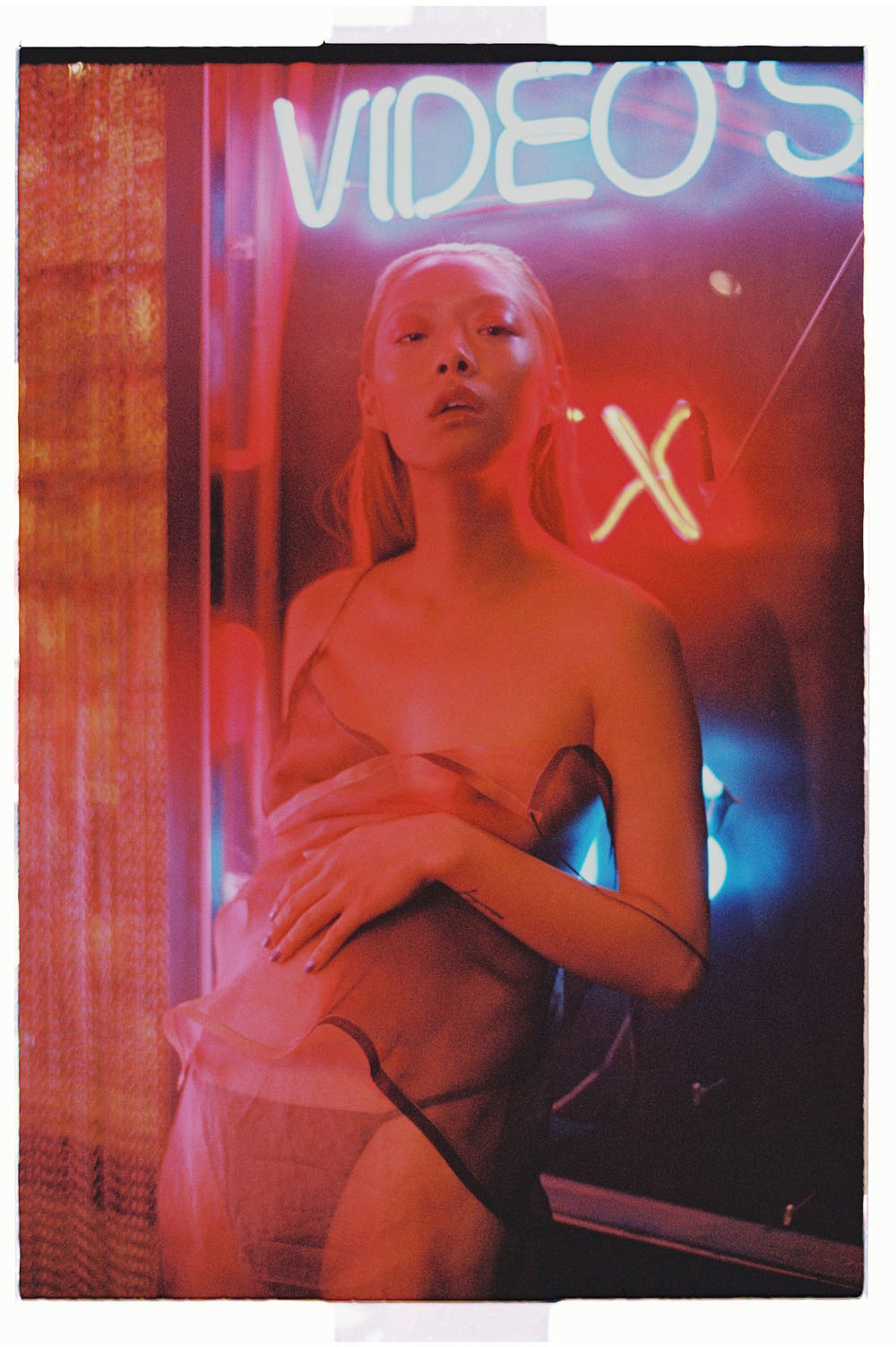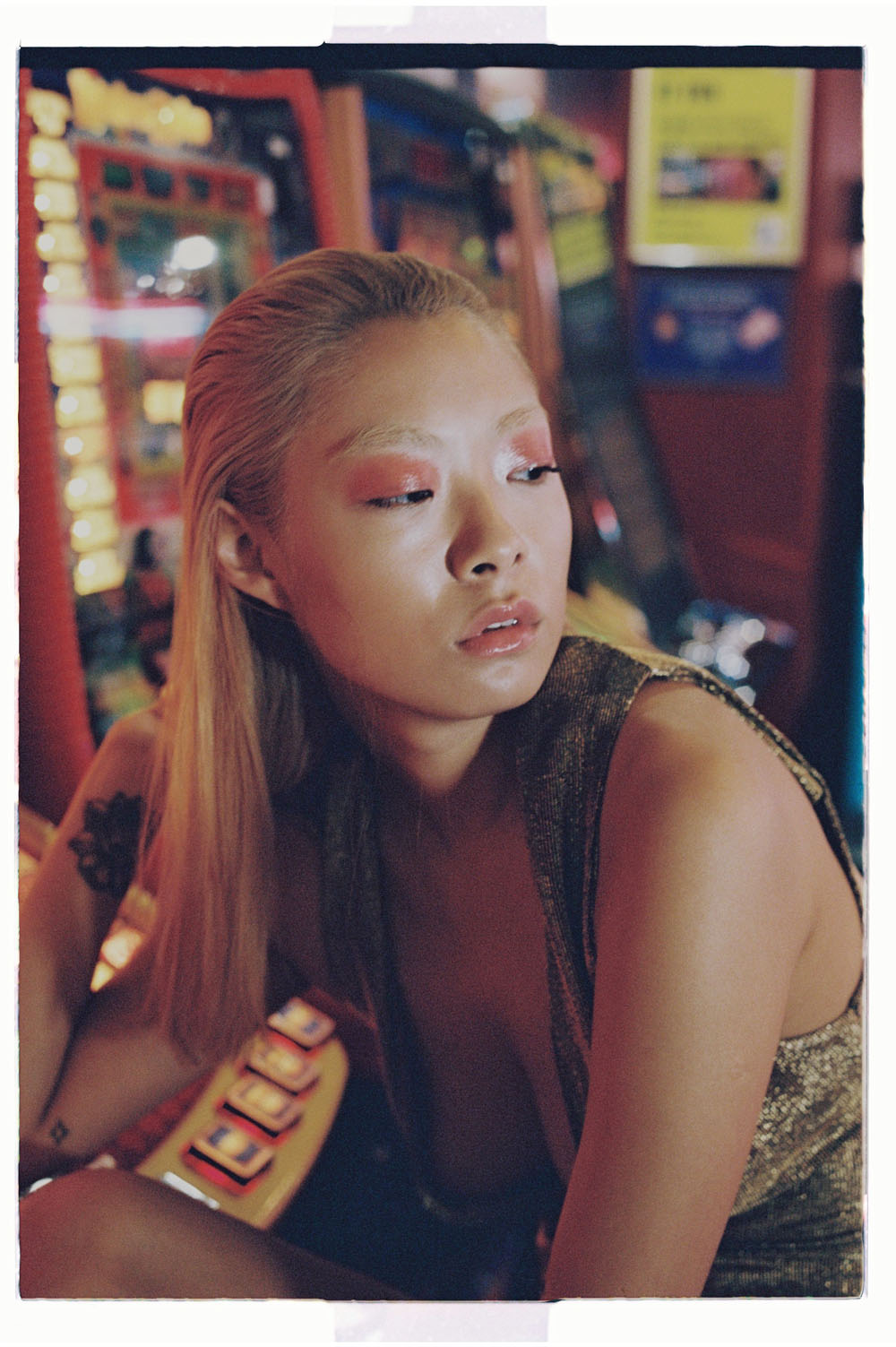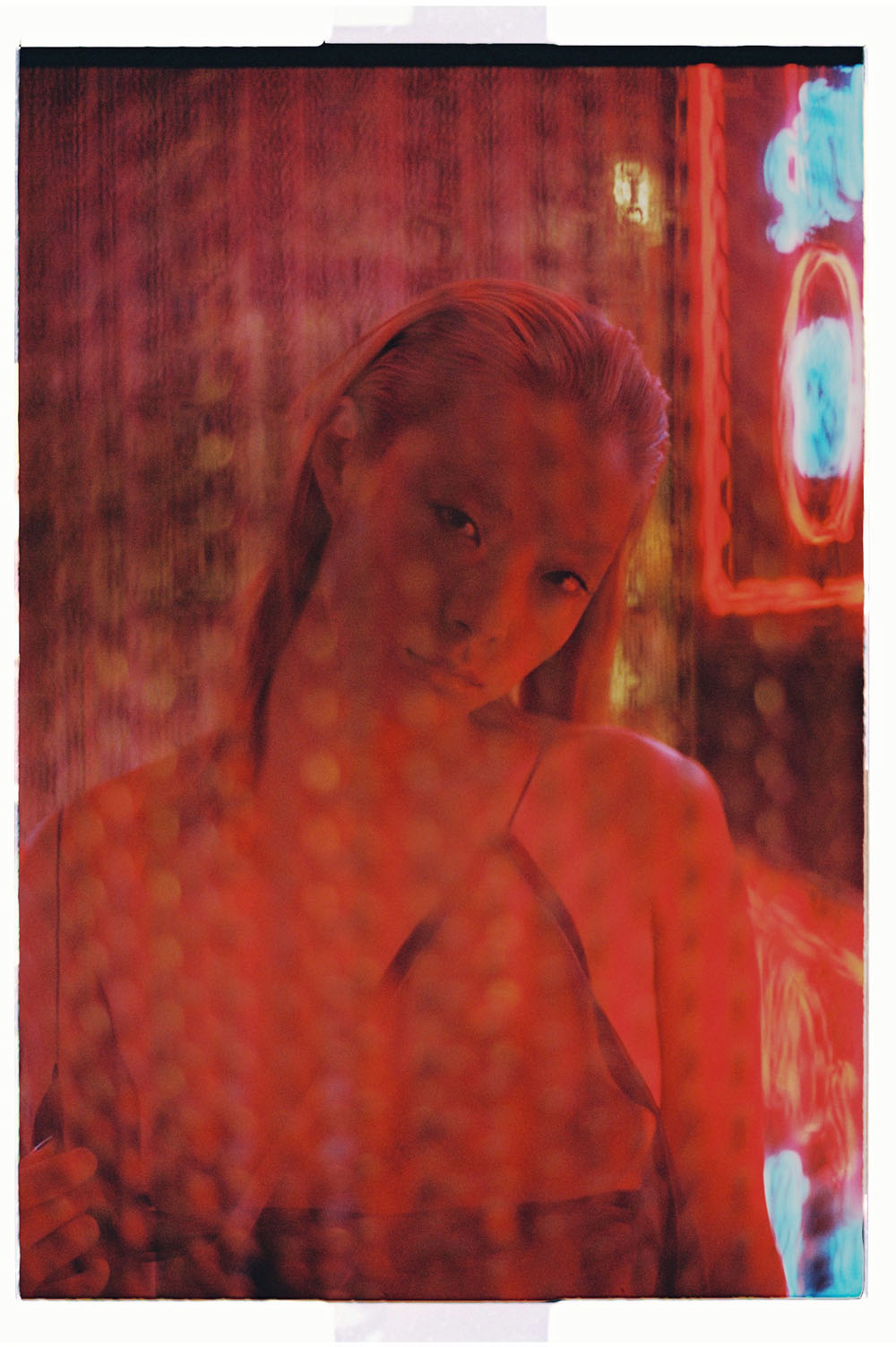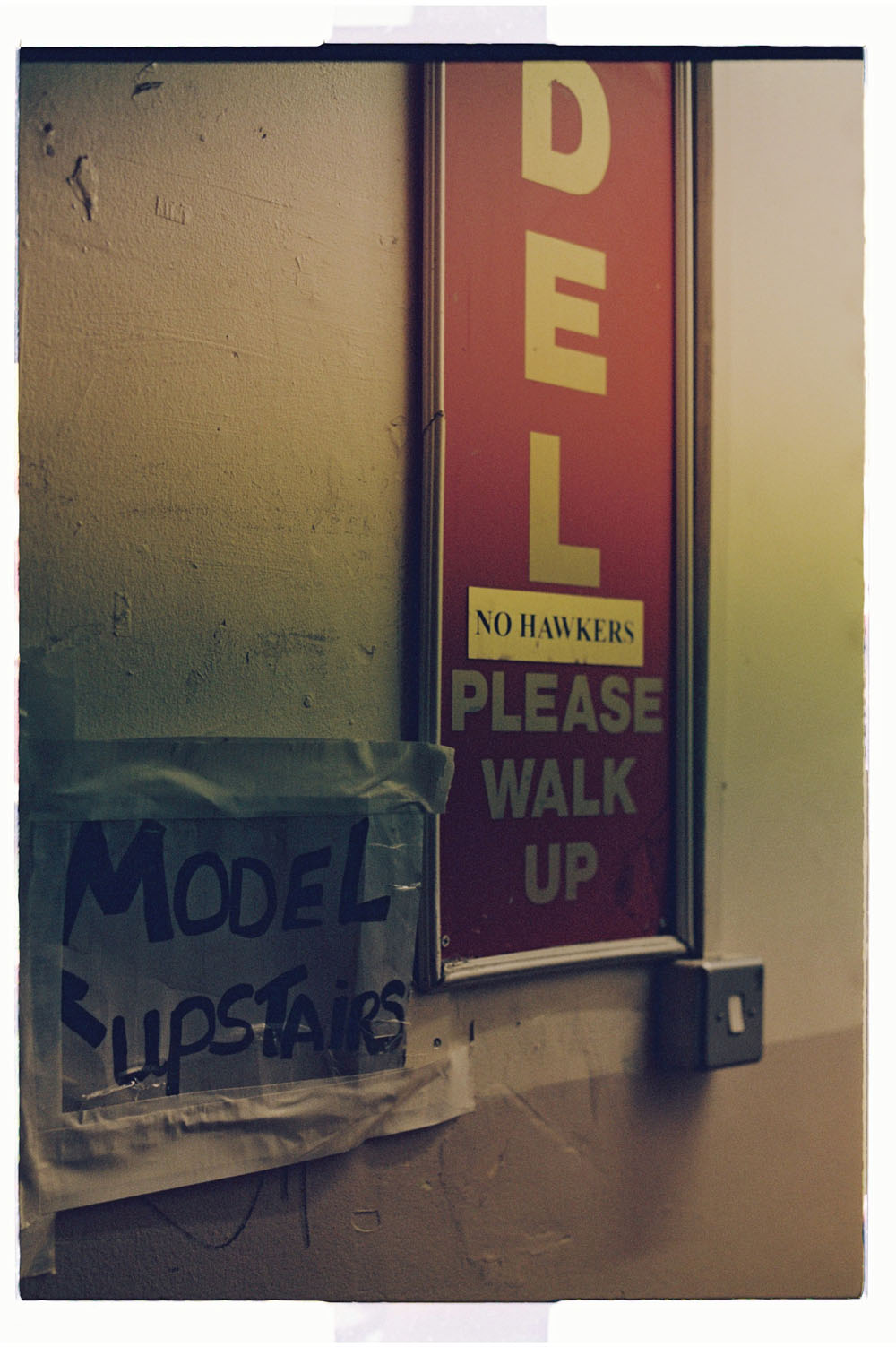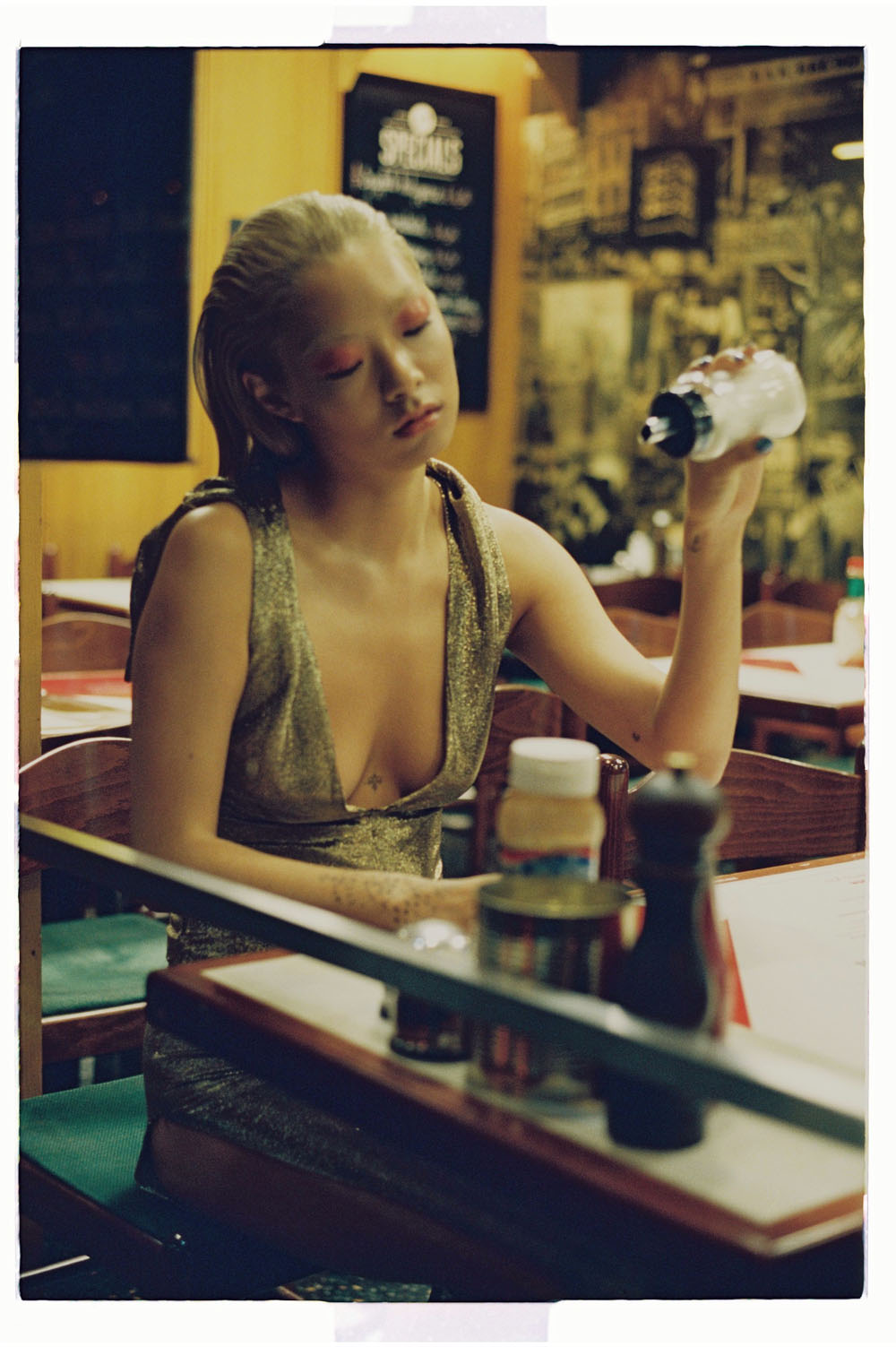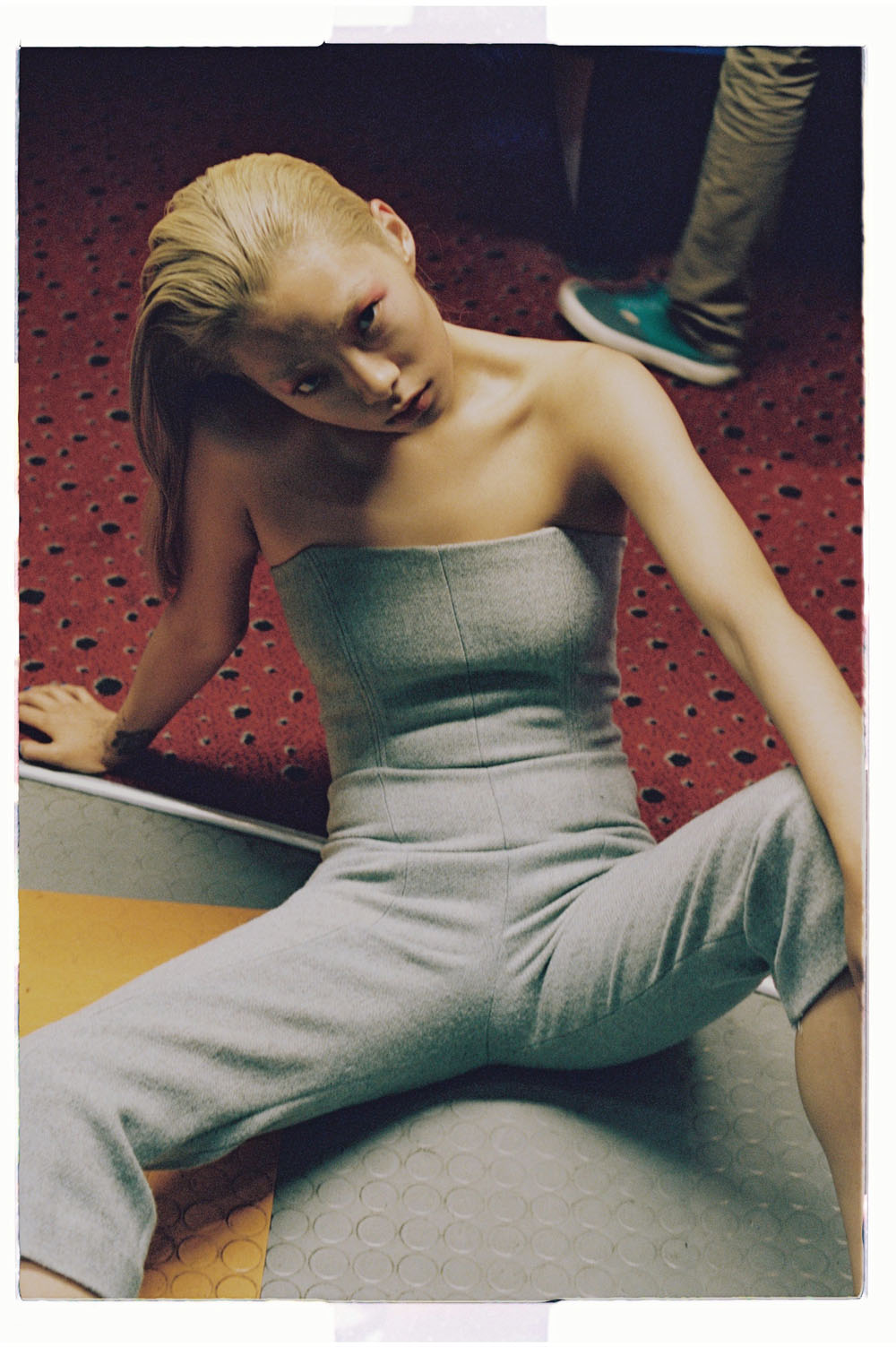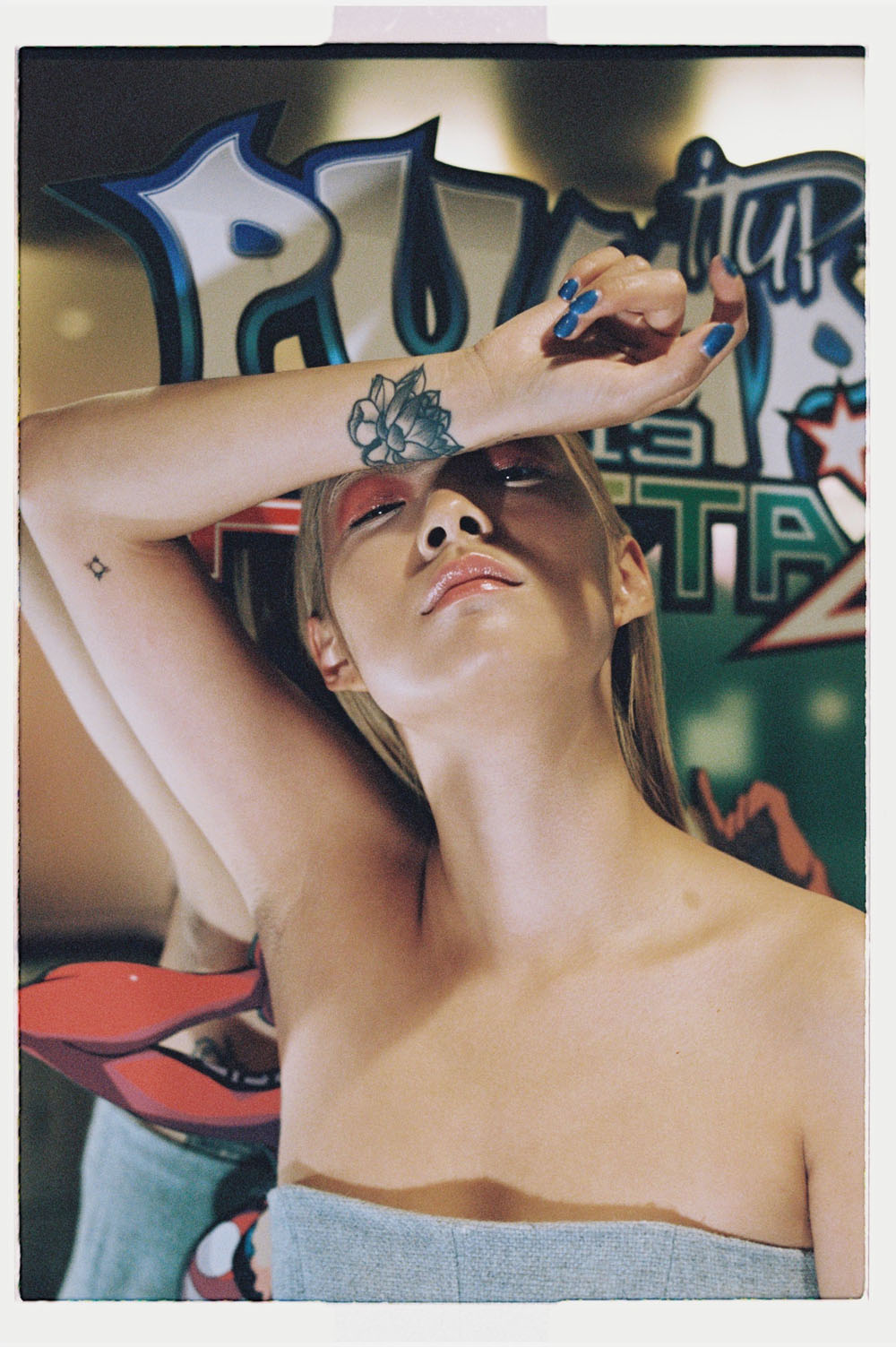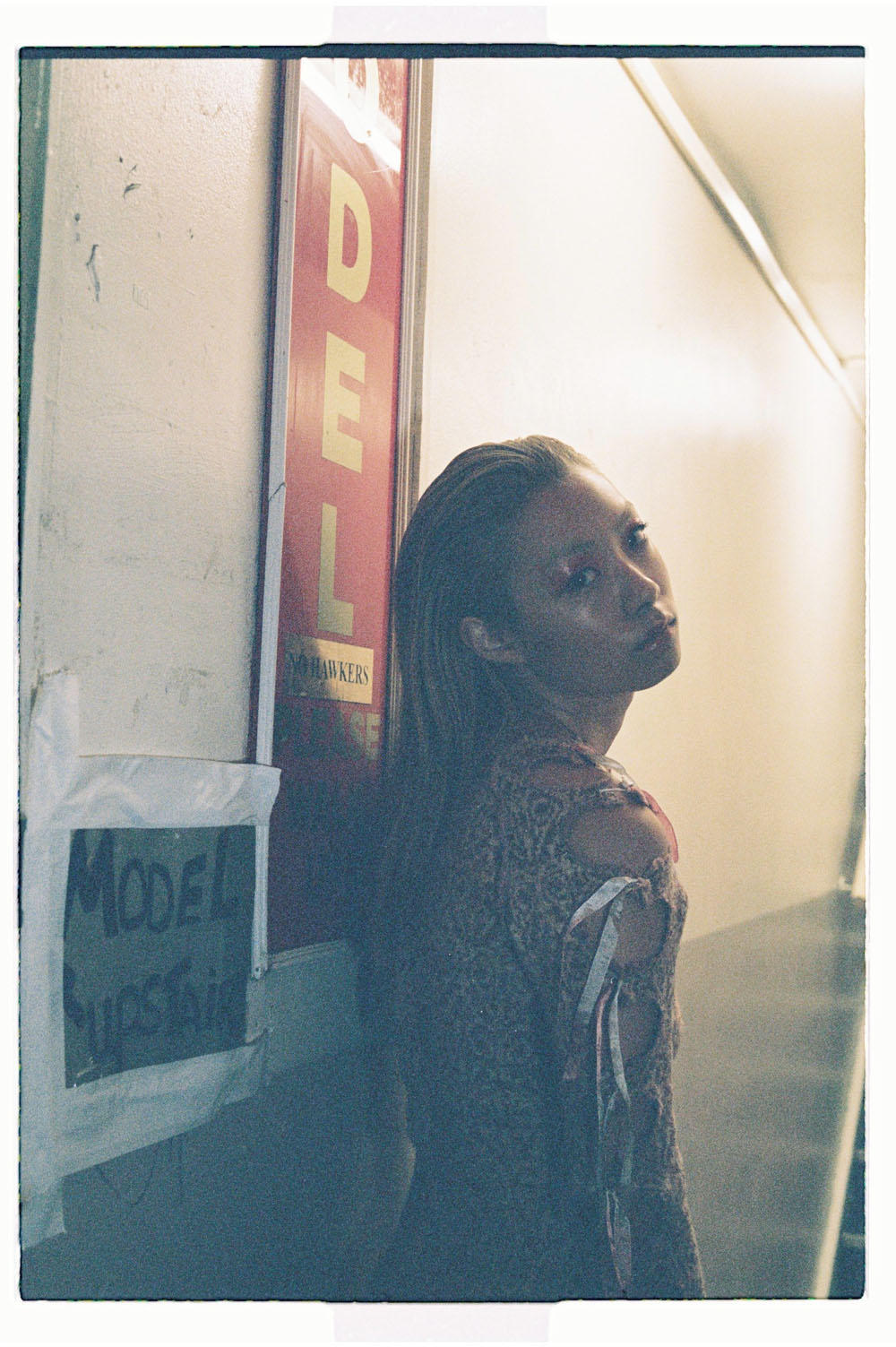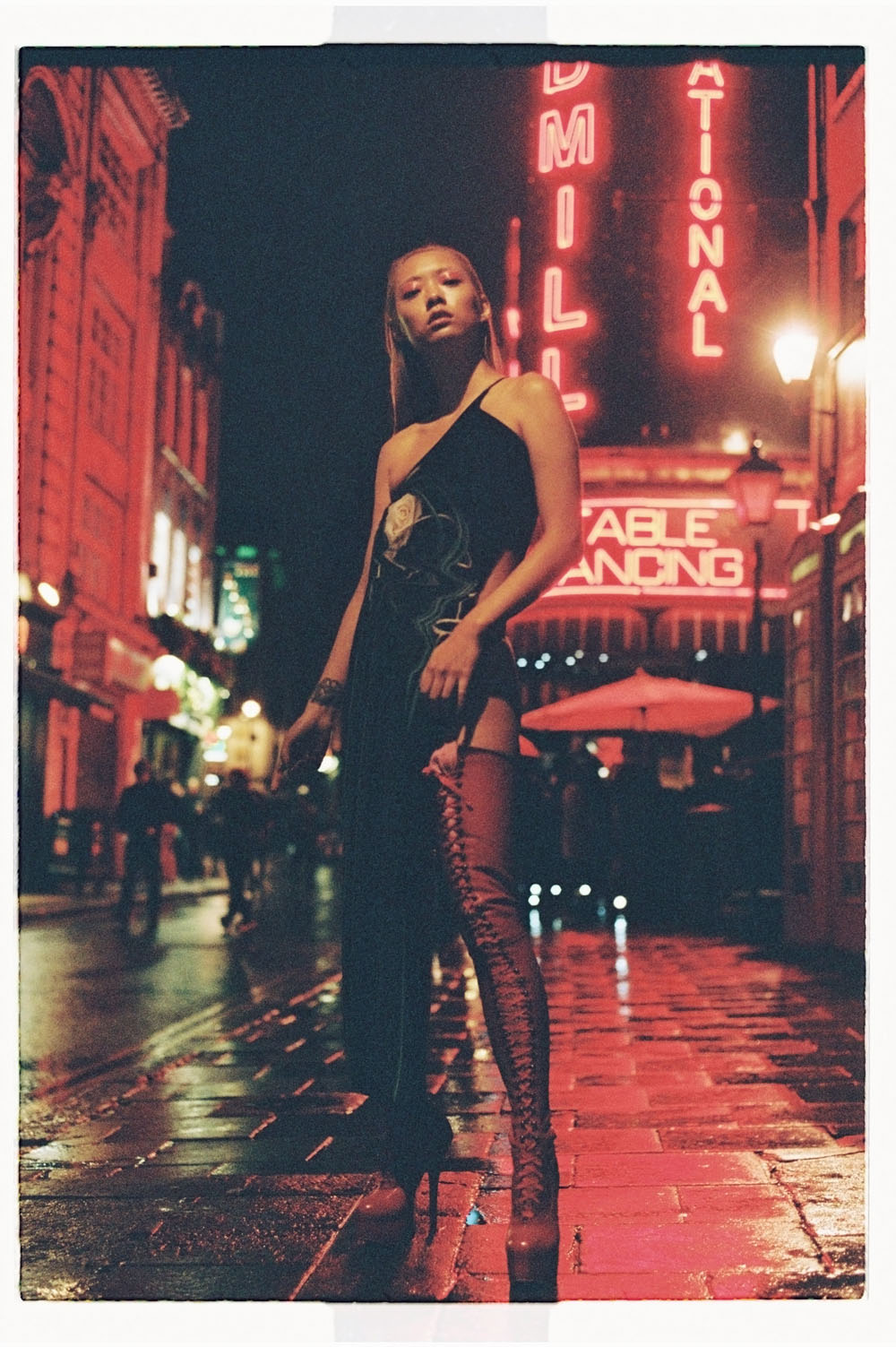 Model: Rina Sawayama
www.youtube.com/user/rinasawayama
www.soundcloud.com/rinasawayama
www.instagram.com/rinasonline
www.facebook.com/rinasawayamamusic
www.twitter.com/rinasawayama
Photographer: Megan K Eagles
www.mkeagles.co.uk,
www.instagram.com/megankeagles
Stylist: Lauren Anne Groves
www.laurenannegroves.co.uk
www.instagram.com/lgrovesss
MUA and Hair: Portia Ferrari
www.instagram.com/portiaferrari
Photographer Assistant: Jade Jackman
Stylist Assistant: Imogen Hudsen
Writer: Emily Carlton