The 21st century girl doesn't pertain to any stereotype. She's a chick of many talents, one moment she's in Europe, the next she's in Asia. She's working on several artistic projects at once and killing at every single one. She's a mix of races – picking up different cultures as she travels. She's the mysterious girl at the party you want to know her life story who everyone has their eyes on. Here we have sat down and chatted for you.
Natalie Suarez of Natalie Off Duty is a 5′ 10″, 1/2 Chinese, 1/4 Spanish, and 1/4 Mexican model/blogger currently based in NYC, originally from Los Angeles. Modeling since the age of 15, Natalie Suarez has been a notable figure in the fashion industry for years.  She has modeled for Free People, Joe's Jeans, Volcom, and Mango, to name a few.  With her passion for photography, creative direction, design, music, writing, modeling, and style, Natalie started a blog in 2009 named NATALIE OFF DUTY – inspired by the "model off duty" on-the-go lifestyle. In her blog she shares her stories, inspirations, and projects through her own photography and writing. She has been featured in Harper's Bazaar UK, editorials in ELLE, and WWD for her "Good Taste." Natalie has had campaigns and ambassadorships to top fashion and beauty brands from around the world -COACH, DKNY, L'oreal Paris, Saks 5th Avenue, Sunglass Hut, Levis, Nordstrom, etc. Her eclectic, unique style and aesthetic has launched many successful design collaborations sold in top retailers around the world. Next to fashion, Natalie's other passion is music. Singing along with piano/guitar continue to pop up in her upcoming fashion campaigns.
What goals do you have for your music career? What music work have you done recently?
Music for me is more of a passion project. I love to sing, and I love to write songs. My main goal is to make an album in the next few years. Just something I'm truly proud of. I've been experimenting a lot lately, and have begun some collaborations. We shall see what the future holds!
In previous interviews we learnt that Indian food is your favourite cuisine–what is your favourite indian dish?
I love Chicken Saag and basmati rice with roti. I don't eat Indian so often, but when I crave it, I crave it bad!
What about Bob Dylan's music inspires you?
It's his way of story telling that inspires me. It's so honest, raw, and authentic. And he gets straight to the point with his music. I love it.
We love your Bonnaroo video–where do you see your blog going and do you want to get more into short videos?
Thank you! Yes, I've loved making videos. I was just in Nicaragua, and Go-Pro'd our entire adventure. I can't wait to sit on the computer and start editing. I definitely want to grow my Youtube page. It's now only filled with my song covers as my 16 year old self, singing in my mother's bedroom back home in LA. Time for a serious update.
What camera do you shoot with for your blog and how do you edit your pictures?
I shoot with a Canon 6D, and a 50mm lens. I also have a wide-angle lens, but I like to stick with the basics. Especially when I'm traveling. Go-Pro is another toy I've been playing with. Importing those images and videos onto my phone. I edit everything with VSCOCam. It's kind of an addiction. I love to edit images, and make them come to life.
What do you love about documenting music festivals?
Well, I just love music. And I love discovering new music. I'm normally at the smaller stages. Where the shows are more intimate, and the artists are more up and coming. I get inspired by the new stuff you don't hear on the radio.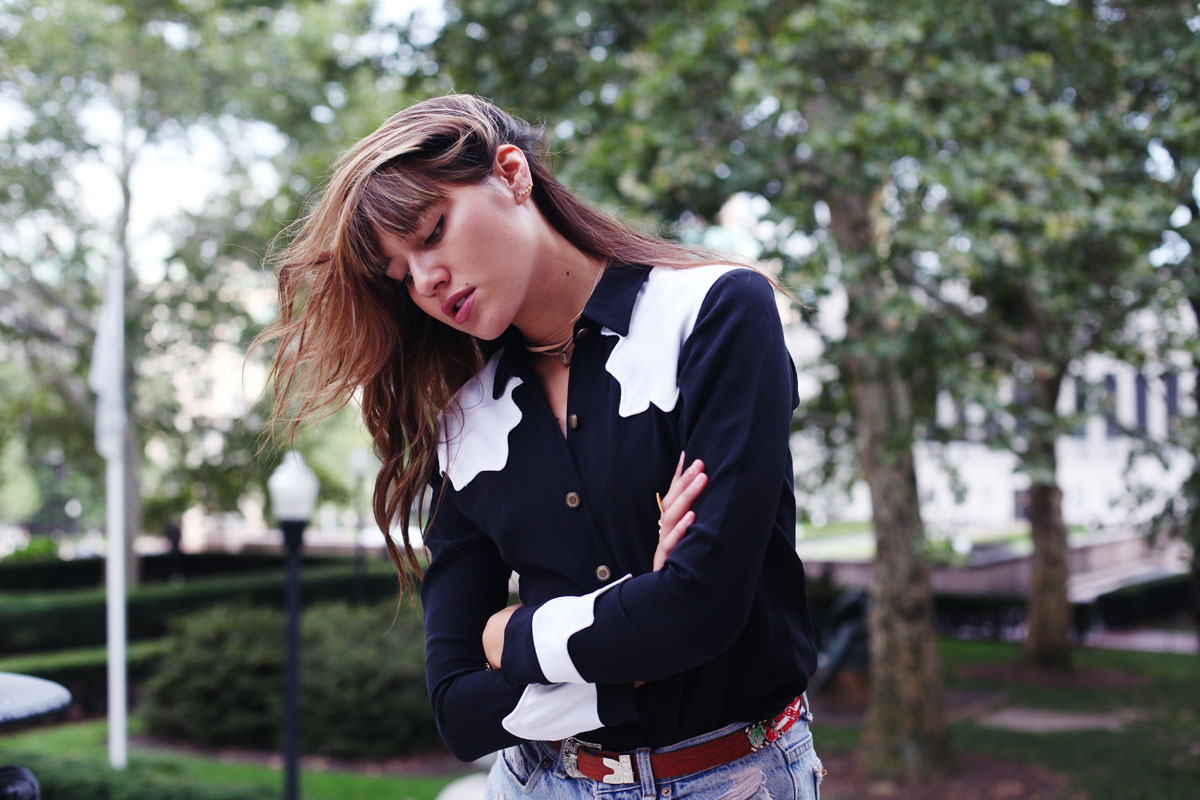 "My sister Dylana is my other half.
We do just about everything together. It's amazing having someone that fully understands you."
What is your dream place to travel to in the future?
India. The colors would be magnificent to capture. And I love spicy food, so that in all would be heaven for me. And I like being a bit gritty when I travel. India seems to have the beauty and craziness that gets me excited.
And what is your favourite place internationally to visit?
Italy. I just went for the first time for 2 weeks this summer and it was incredible. It has delicious food, wine, and stunning blue-green beaches. So romantic. We rented a little Fiat 500 and drove from Venice to Tuscany to Porto Santo Stefano to Amalfi to Naples and ended in Rome. I'm dying to go back.
How long have you had bangs as a hair style? Would you say it describes your personality and that you are known for that look?
I've had bangs my entire life. It's just a part of me I guess. I do love 70's style, so I guess my childhood haircut just grew into my adulthood. It suits my face, and actually goes well with the clothes I wear. I never used to think much about my hair. Only recently have I started playing with a lighter shade, never thinking of a different cut.
What projects are you currently working on?
Summer for me seems like the busiest time of year. As an ambassador to handful of brands, I'm constantly shooting. It could be for a modeling campaign, or something completely for NATALIE OFF DUTY. With that comes a ton of traveling. Right now, I'm working closely with L'oreal as an ambassador for their new mascara, Reef as their model and brand ambassador (I'm currently working on writing a song for their upcoming Fall campaign video), and I just started my web series with Latina company, Vivla, where I interview people in NYC that inspire me and share my story and top NYC spots…like my top favorite designers, my model friends, and what I'm working on in music. Right now, I just got back from Nicaragua, I'm gearing up for NYFW and possibly Paris Fashion Week, and headed to Atlanta this weekend to host an event. My work is a mixture of everything. The blog world definitely throws a lot of interesting opportunities my way, and I try to just stick with what I'm passionate about, and what suits me.
Do your sister and you still blog together?
Yes we do! Dylana is my other half. We do just about everything together. We travel together, shoot together, and do all of our creative projects together. When we're not working on the same project, we always give each other advice and help one another. It's amazing having someone that fully understands you.