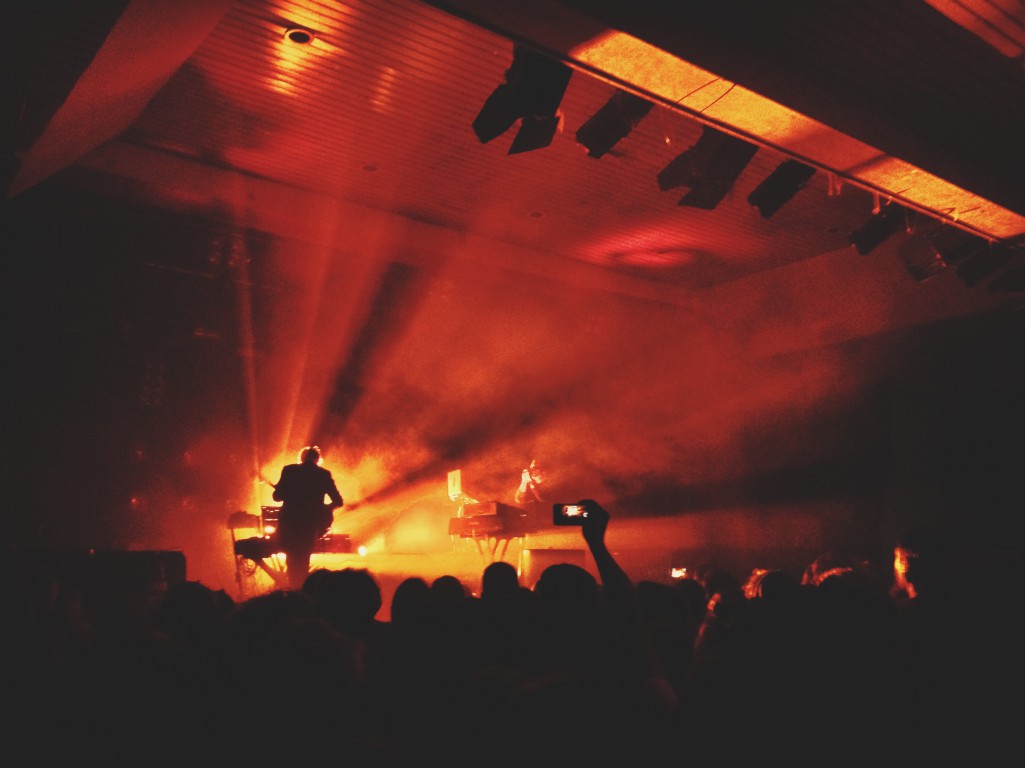 The fact that Nicolas Jaar is a wonderkid has probably been clear already in 2011 when he released the debut LP Space Is Only Noise. Later he put together a band for live gigs featuring two musicians – Will Epstein and Dave Harrington. Jaar's solo project followed mainly his Chilean roots and influence of slow-mo groovy house beats. However, the year of 2011 wasn't just only about Nico's suprising debut, it was also about exploring the new musical theritory which led into conceiving the Darkside project together with Dave Harrington. Last year they revealed their debut LP titled Psychic, soaked with Harrington's haunting guitar chords and a bit of psychedelic sounds. Early this year both gentlemen have been touring the world with their new live performance. We got the great opportunity to catch Darkside last week in Berlin's Astra Kulturhaus on their way through Europe. Below some impressions…
***
I guess you know that feeling. You approach the venue to see your favourite artist and you get stuck in endless queue although you arrived at the exact time of door opening. Yeah, that was also the case at Darkside's gig in the German capital, that was hopelessly sold out since January. At least there was one benefit of this situation — getting inside just a few minutes before 10.30 p.m., the announced beginning of the show. And yet, everything was still dark…
The dark before Darkside, how poetic. Suddenly through the dark, the sound starts to appear. The two are finally on stage and open the show with a long beatless intro. After like 10 [thrilling] minutes the beat finally arrives, together with a bit of light on stage and two figures emerging. With the first riffs of Harrington's guitar and Jaar's deep voice, the proper goosebumps can be felt immediately. Maybe it's also thanks to this whole mysterious feeling of the show — just a bit of light on the stage which pushes the crowd to concentrate more on the music. How effective. This mysterious light magic is supported by a rotating round mirror, implying the symbol of Darkside and reflecting the lights around the venue. Visually very simple and very impressive at the same time.
More visuals follow with next track, highly anticipated by everyone, the legendary Paper Trails. Just a hint of title melody and the whole Astra is shaking. Darkside continues to play more tracks from the Psychic album, but one significant difference can be recognized, which I actually really enjoy…namely the fact, that the tracks don't sound exactly like on the album. Basically, there are only main motives of tracks in a new form and a bit of improvisation on top of that. Of course, supported by deep and very hypnotic slow groove, so typical for Jaar's music. The whole gig feels still like Nico, but like a new version of him. And the musical chemistry which he has with Dave is just so incredible and works perfectly within the whole show.
After an hour of performing, the two musicians leave the stage and the crowd immediately requests with its huge applause for more. So, we get a bit more… plus a saxophonist! The ending of the show is literally apocalyptic and I'm getting the feeling that once again I've seen something very extraordinary… I'm curious where else Nico will take us yet in the future. Kind of feel that he hasn't showed us all his musical sides and the whole talent. It's definitely gonna be exciting to observe Nico on his further musical journey.
PS: You still have a chance to catch them on tour. Check the dates…