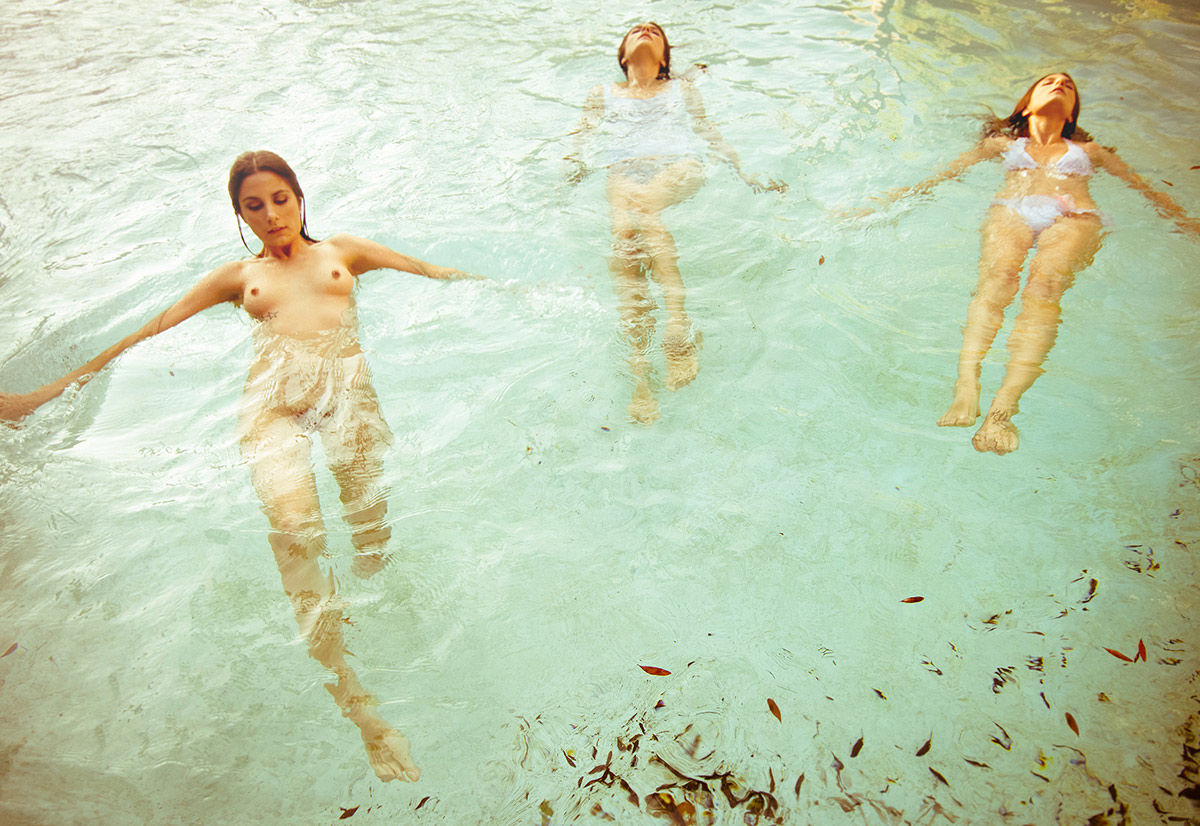 "Whether it's in art or fashion, I think in order to last, you have to be smart enough to take more notice of what's moving in the current and not just what washes up on shore."
American fashion & portrait photographer Fox Harvard tries to consciously avoid as many trends or labels, nevertheless is careful not to standstill and embraces changes, always eager to grow in his life and work. He comes from a background in painting and grew up watching old movies from directors such as Kaneto Shindo, Francois Truffaut, Federico Fellini, which has also shaped his love for black and white work and timeless art. The woman in his images appear strong, feminine and the imagery spreads a sense of nostalgia. So we had a very interesting chat with him about what gives an image longevity, his definition of beauty and he surprisingly told us about being disenchanted with creating for many years…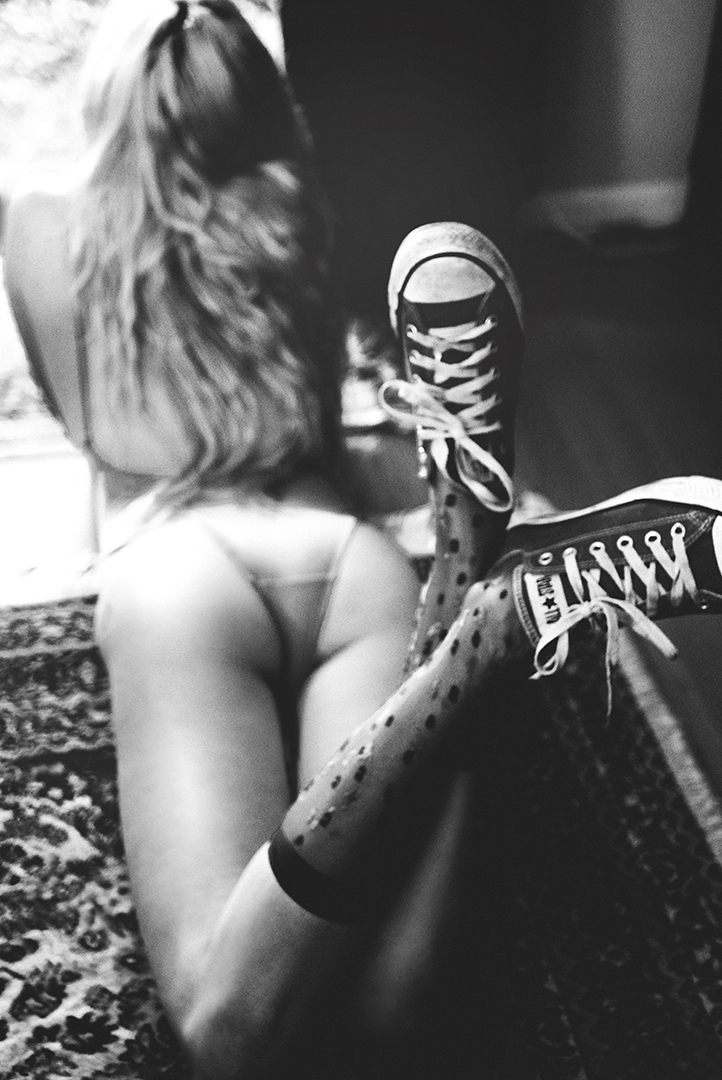 What is unique that's not in your bio?
I have the strange tendency to measure portions of my life in relation to what medium I was working in and who I was involved with at the time. For instance, the time I've been seriously shooting now is almost exactly proportionate to the time I was with my most recent girlfriend, Michelle; about five years. Contrarily, during my last long term relationship before her–and this was certainly no fault of hers–I was so disenchanted with creating, and exhibiting, and the art-world as a whole that I took a hiatus from creating completely, the entire time I was with her; about seven years. There was also a girl I dated before my ex when I worked solely in larger scale mixed media & found-object art; that was about four years. So I guess it's interesting that somehow there always seems to be a direct correlation (albeit unintentional) between what I am or am not producing and what person happens to be in my life.
Like anything in the world, photography has its fashions and trends. What gives an image longevity in your eyes?
Well, avoiding any "trend" is the first step towards longevity. That's a deceptively complicated question though. In fashion for instance, whether you're the one designing it, the one wearing it, or the one shooting it, don't make the mistake of pigeonholing yourself, unintentionally or otherwise. If most of what you wear is all black, people are going to assume you've got a problem with depression; and they're probably right. If you wear a lot of Polo shirts with the oversized Ralph Lauren logo on the front, people are going to assume you're an arrogant douchebag; and they're probably right. If the only thing you shoot is naked girls and nothing else, people are going assume you're only in it for that; and they're probably right. You're going to have to inject some aspect of something that separates it and sets it above what else is (or was) going on at the time. But there's also a necessary balance; you have to be able to do that without going too far to an extreme where you've inadvertently removed yourself from the running. It's also going to have to posses some element of power—even seemingly subtle things can be a lightning bolt in a bottle. And of course, to avoid using the word "mass", it's going to have to have something that has appeal across different generations and demographics. The paradox is that it can't be too formulaic but still must be a cocktail of disciplines, so to speak.
Coming from a background in painting I can tell you that film (analogue or digital, both moving and still—but especially still) is probably the most difficult medium to accomplish that in, being that so many images that became classics were captured purely by happenstance or accident. Mind you, a lot of that applies more to documentary or journalistic or combat photography, but it's had definite applications in what I've done so far as well. So it's quite hard to say exactly how to incorporate all of that into what you're doing. I think one has to eventually resolve themselves into accepting that if any of your images do become classics, it's probably not going to be the ones you sought out to create as such. For instance I don't think digital photography as a medium is going to be a trend—I think it's going to have as much longevity as analogue does now—but I do believe digitally manipulated photographs will be. I think if any of the fantastical and contrived imagery we've been seeing (that can only be done digitally) survives with any longevity, it will only be as a record of what was being done during this adolescent stage of the medium, not because of anything more. It's just too particular for its own good.
The same goes for every form of creation: painting, literature, music, photography, film, acting, dance, etc. Be broad—don't adhere to anything too specific but be careful of going to certain extremes. Taste is, of course, subjective, but there are some things that will always look good and last forever—just as there are things that will always look like shit, regardless of how much you happen to like them. For instance with fashion, long, straight hair on women will always look good, regardless of the current style or decade; your asymmetrical bob will not. The little black dress will always look good, regardless of the same; your high-waisted shorts will not. In photography, the simple b&w portrait will always look good; your HDR shots will not. Flattering your subject as the focus of the piece will always look good; overly exaggerated wide angles that engulf the entire background will not. I think there's also a skill in being able to determine that what looks good in a photograph doesn't necessarily translate well in real life and vice versa—especially with fashion—and knowing what those differences are will definitely help your work look stronger.
My photography is by no means art with a capital "A" but I do try to consciously avoid as many trends or labels (i.e. mistakes) that I can. Whether it's in art or fashion, I think in order to last, you have to be smart enough to take more notice of what's moving in the current and not just what washes up on shore. My recent work looks nothing like what it did just a couple years ago—nor should it—and I think that's because I embrace change. I hate the bandwagon mentality. I abhor it. I can see how seductive it can be to people though, how comfortable it must feel; if it's already widely accepted there's little chance of rejection. But both you and your work are going to be indistinguishable from the next because it's all just a facsimile of the same style–style without substance. The irresistible draw of the what's-hot-now-aesthetic seems to cancel out any unique thought or creative thinking in people. Meaningless facsimile is the HIV of the visible world.
I'd say pay attention to the trajectory things are headed in and how they're changing but don't get too caught up in the "now"; take even greater care not to get caught up in the past. People who romanticize their past are essentially saying their future's dried up—and if that's your case, that fault lies solely on you. Glorifying the past is pre-programming the future for failure. If you want something good to last, make it. Don't get pinned doing the same thing too much. Shake it up—have some variety—have an open mind; get out of your comfort zone. The same principle applies to anything you create, or the creations you choose to define and identify yourself with. It's just a matter of not being stagnant.
There's a common misconception that longevity, or timeless, or whatever adjective you want to use means something that's able to cross metaphorical bridges, but that's not necessarily true—it's more about something that can build bridges rather than simply cross them. And yes, a lot of that happens by chance in this field, but you're not going to get those unless you're constantly working & growing & out there to capture them.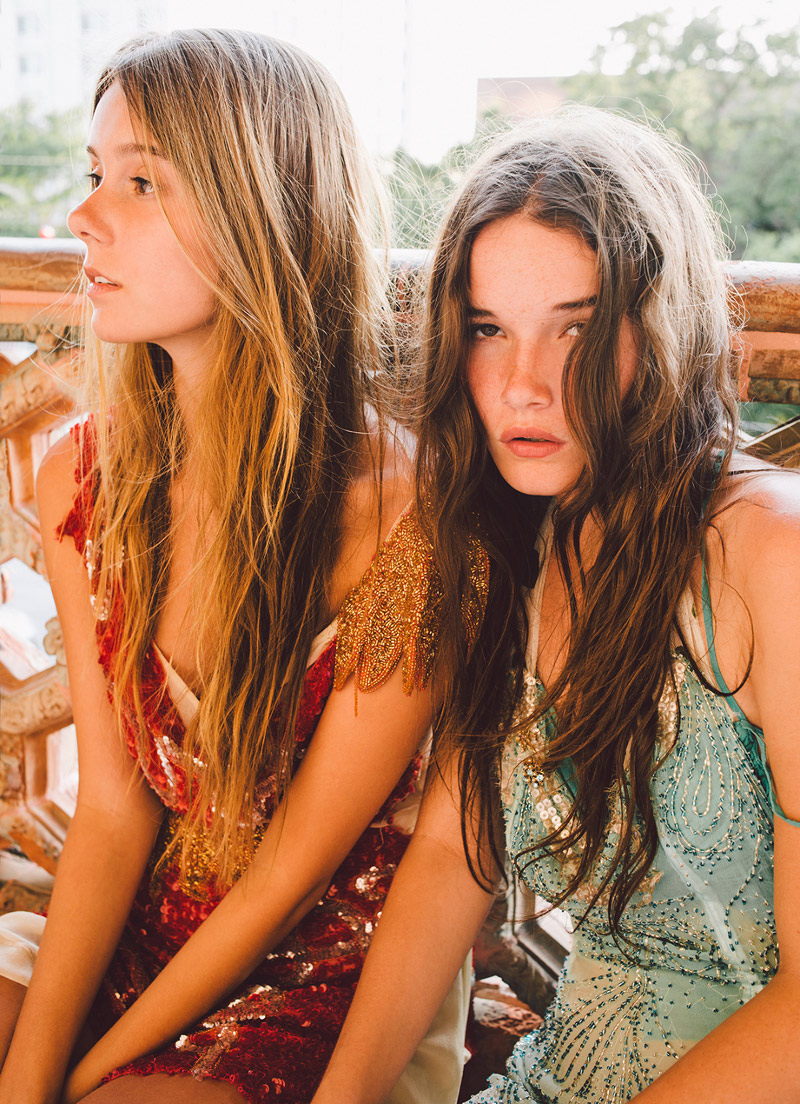 And what do you want to capture in your images?
You know, I don't watch TV—and haven't in years—but when I do catch American television programming or big-budget Hollywood movies and compare them to most foreign films I see, the more distressing I find how vacuous and limiting our entertainment is. I'm tempted to say watching them leaves me empty, but it's honestly worse than that—I think they actually steal something away from you, more often than not. For the life of me I cannot understand why most people aren't able (or more likely, willing) to find just as much, if not more beauty in the odd, or sad and tragic, or in the clumsy and awkward as they can in their chronically, saccharine happy endings. For myself, I'm always searching for where those two lines intersect—not just in my work but in general life as well—and perhaps that's where I define "beauty". On a personal level I don't particularly like the button nose and perfectly cookie-cutter; I like the beauty with the Roman nose, I like the slightly unkempt, I like the awkward smile and the occasionally gauche just as much as I do anything else. I like character. I enjoy the clumsiness of one becoming polished as opposed to the already plastic. I guess that's why I'm trending towards a younger demographic over the last year with who I've been shooting; nowhere else are those elements better captured than in youth. Don't get me wrong—I still love the look of the well-aged and the experienced and the slightly worn. But I'd be lying if I said I didn't also celebrate the beauty of the superficial, the beauty of style, in urbanity, in grace & sophistication, or in the simple & inherent built-in obsolescence of fashion. I love windswept hair in a $1,000 gown with dirty, bare feet. And as I find myself wanting to work more and more with stereotypically "beautiful" agency models, some would argue that you can't find those qualities with them, but I sincerely disagree—they may not be right on the surface but they're there—you just have to look a bit deeper.
In an interview you said that you prefer black and white photos. Can you tell our readers why?
Because I was more into painting & drawing growing up I didn't really take much influence from photography, per se (I've only been seriously shooting for about five years). With regards to the way I look at lighting and shading and contrast, et al, I took more influence from painters, to be frank (that is where capturing images started, after all). And I'd like to think a lot of the older photographers probably thought the same way too (your Helmut Newtons , your Robert Doisneaus, etc). I honestly believe there's more depth in the tonality of those two colors than in all the other hues and colors in the spectrum.
It's also because I'm an enormous cinema buff and was so into movies growing up it was crazy. I find the aesthetic of a lot of my work tends to look like the old films I used to love as a kid; especially the black and white work (at least that's what I aim for sometimes). Most of the time I didn't give a shit about the plot or the dialogue, but was more enamored with the look of the films themselves. I'd watch hours of them back to back, even old Japanese works and French new-wave films; long before I even understood what they were about. I remember seeing stuff on cable TV by Shohei Imamura, Kaneto Shindo, Francois Truffaut, Federico Fellini… and not even realizing who or what I was looking at till I rediscovered them as a teenager; I was just taken by the beauty of the way they were shot. To be honest, I've always derived more inspiration from old directors than I have photographers, even now. I liked the way the directors seemed to worship dramatic extremes in the darkness of their blacks & and the harsh reality of their whites, the really shallow depth of field on certain close-ups, etc. I get a lot of comments from people saying my stuff often appears theatrical or cinematic; it's honestly quite flattering, and I imagine that's what draws my interest to it.

What, besides photography draws your interest?
I'm probably going to paint myself as boring as hell here: reading non-fiction—history in particular—and cooking. My specialty is ethnic: Moroccan, Russian, Thai, Ethiopian, Hungarian, Turkish, you name it. If it had to flee persecution or jump a border to get here, I can cook it. I also love gonzo porn.
The best thing on living in US?
Although there are eccentric locations and whatnot just about everywhere you go, I'd have to say it would be the unique and often backwards/backwoods eccentricities anomalous only to the American south. As much distain as I have for the overall lack of political progressivity in the US (and inherently the south, in particular), there is an undeniable charm—or more accurately "character"—to certain people and places here that are so unbelievably distinctly different to that of anywhere else in the world.

What music could apply to your work?
I'm not sure by "application" whether you mean what genre or artist would best match the style of my work when looking at it or if you mean what do I normally listen to when editing. If the first, I have no idea. Maybe one of the Gainsbourgs? hahaha. For the latter, as proverbial as it sounds, I always took more inspiration from cinema than photography and I think because of that I also take a lot from classical music while working—often a lot of operatic pieces in particular. But I think you'd find me listening to Ravel, Rachmaninoff, Beethoven, Eric Satie, Verdi, Donizetti…and usually the same opus or movement on repeat, over and over—I'm captivated by the depth and by the enormity of mood and swing throughout the same piece. Movies and music—the only two things I adore in repetition—anything else in repeat is a monumental fucking aggravation to me. That being said, I'm all over the map really—I don't adhere to any one thing in particular. Radiohead, Muddy Waters, Peaches, Childish Gambino… Beck's new Morning Phase is still holding its grandeur no matter how much I listen to it. And I wish Washed Out would release a new album already. Bjork too. Even Purity Ring (I want to direct my own salacious video version of their "Lofticries"). There's also a lot of Sinatra in my shuffle. And Louis Prima, for his mercurial energy.
So which question do you miss so far?
No one ever bothers asking personal and invasive questions about my private life. I thought we were in the 21st century, for Christ's sake. Aren't I supposed to be willingly choking on the leash of the social network and clinging superficially to deriving my entire self-worth from how much strangers pretend to give a fuck about both my everyday mundane thoughts & musings and innermost secrets?…
Where do you see yourself in 10 years?
Geographically, hopefully in the EU—preferably in Paris. Realistically it will probably be either New York or Los Angeles. I kind of hate them both equally for different reasons but it's seemingly a growing inevitability. I'd prefer NY for it's compact convenience and ease of navigation but I can't stand the noise pollution and incessant filth. Having grown up on the beach in Sarasota, I'd prefer LA for it's climate & scenery but it's costly and time-consuming to travel about because it's so ridiculously expansive. Professionally, it's the same story. Personally, I'd just like to be wherever I can do what I love.