For analogue machine lovers, he is well-known for collecting and using Don Buchla's modular synthesizers. For the rest of world, he is probably best-known as the touring and recording musician for the Nine Inch Nails.
Italian artist Alessandro Cortini stepped into the world of analogue machines almost by a coincidence. Originally from a small town in Italy, he was once asked to help to record the guitar for a track by a local band called Autobeat whose frontman was into synths and electronica and therefore has opened up a different world to Alessandro. In the 90s he moved to the US to study guitar at the Musicians Institute; later he changed his focus onto synths. During his brief period of teaching at the MI, he noticed a call for an open auditions for the band Nine Inch Nails. Everything fell into place and he became a touring member of the group in the period from 2005 to 2008. Besides that his name appears on the credits for the albums Ghosts I-IV and The Slip.
Releasing his own musical production under several aliases — SONOIO, blindonfreak and under his own name, Cortini's solo work released on Hospital Productions provides various spectrum of emotions and depth and it demonstrates his amazing ability of working with analogue machines and finding the emotional and ultimately human voice within synthesis by creating haunting musical soundscapes.
In our e-mail conversation we asked Cortini about the background of his latest record Risveglio and the upcoming audio-visual presentation of it at the Belin Atonal and also what he thinks of the modular synth's boom on these days.
The previous album Sonno was recorded while you were on tour with NIN. Where did you record the latest piece Risveglio? Is the environment relevant to you when you make the music?
Risveglio comes, for the most part, from the same sessions as Sonno: I tend to spend time with one instrument and try to get as much out of it as I can, sonically and creatively. These sessions produced enough music for two records, and I felt they were similar enough to be following each other, and different enough to be on separate volumes. Technically speaking, Risveglio sees the introduction to the family of my TB303 and TR606 in one track.
Sonno means sleep and Risveglio means awakening. Both records were created during the nights – does the calmness of the night have a special meaning for you while you create the music?
Not really: the whole concept of sleeping and not sleeping on these records is more linked to the inability to catch sleep, wether because of travel schedule, or because of too many things going on in my mind (or too few, at times). The music was written as an aid, a lullaby to make me relax and zone out, ultimately and preferably to fall asleep.
Meanwhile Sonno was created using only a Roland 202 and delay, for recording Risveglio you added one more instrument: Roland TB 303. Why this particular one?
Mostly because it works so well with the 202: sync is immediate, and it's very easy for me to come up with parts and patterns on both machine that make the whole piece sound like it's actually one instrument. Roland instruments are magical.
"The key is to keep on growing, to keep that spark alive one way or another. For me, it requires to find something different and new to concentrate on every once in a while."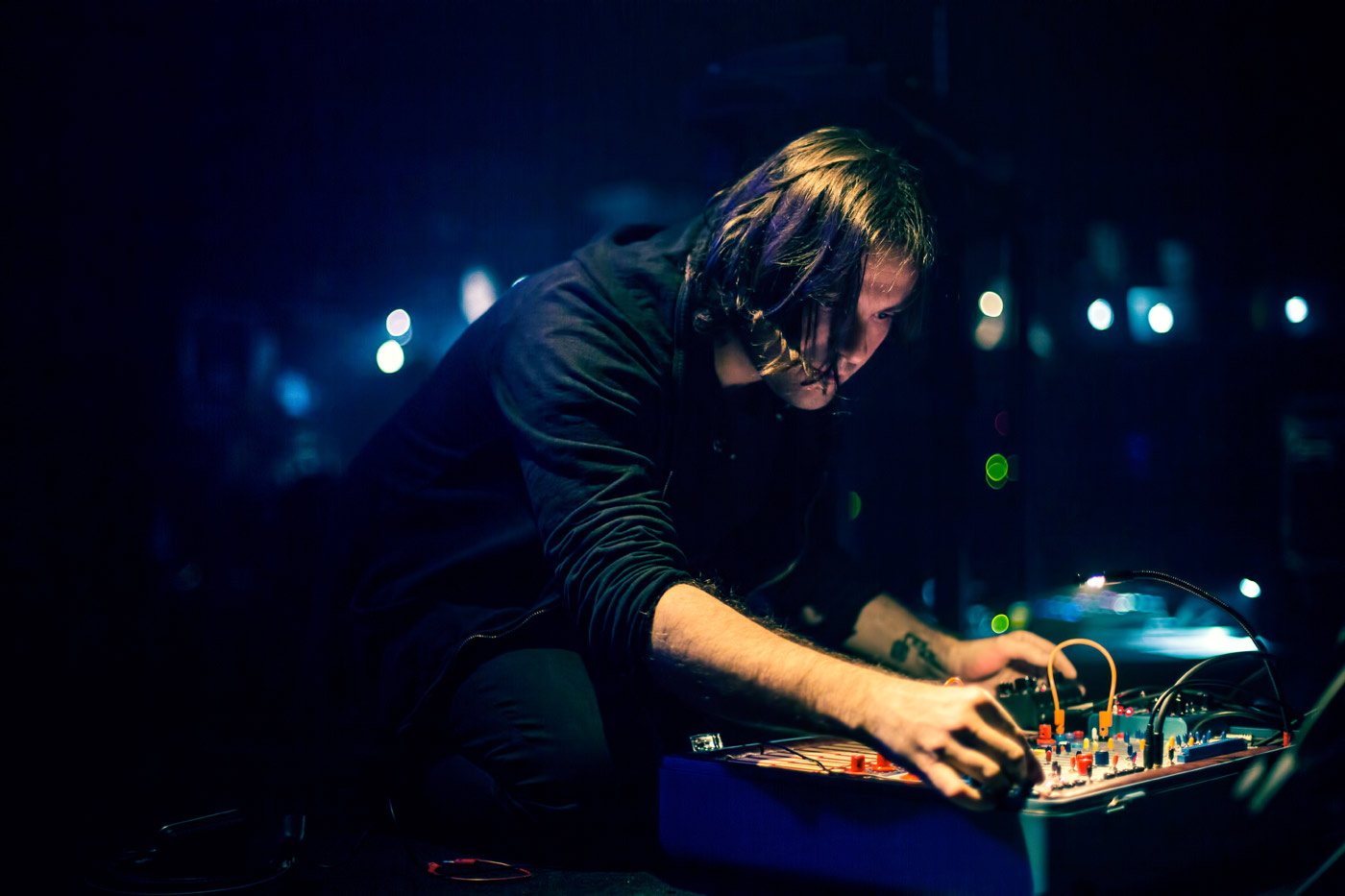 You are probably most recognized as a member of NIN, but you also worked with Ladytron in the production of the of their albums and also on songs they wrote for Christina Aguilera. Besides of these cooperations you also perform or create under other solo aliases (Sonoio, Modwheelmood f.e.). In one interview you said: "The key to music-making is to reduce it down to what you are really interested in. The more you try to turn it into a profession, the more it moves away from the reason why you make music in the first place; for fun and passion… It's very hard when you are a musician to make a choice between what makes you feel good and what sells." So, I'd like to know if you have ever felt that you need to find some sort of balance in all this? Do you separate the process of making the music into, let's say "work" and "fun & passion"?
Working with Ladytron was a great experience… I'd take any excuse I can to work with them.They're really good friends and fantastic musicians. Going back to the main subject of the question…yes. It's a difficult balance, and I learn as I go: I try to work on things that I am able to spin in a way that makes them appealing or advantageous to my creative force, even if they might not seem like that at the beginning.
I never feel like it's "Work", though. That's where it can get damaging, and it can erase that spark that started it all in the first place. As I get older, I get wiser, and it's becoming easier to see creativity in new fields that also allow me to make a living, such as scoring and ad work….I am learning to work with other people that might not speak my language, or come from a different background, because the reward , creatively, tends to be completely different form the personal, solitary work I do when left to my own tools. The key is to keep on growing, to keep that spark alive one way or another. For me, it requires to find something different and new to concentrate on every once in a while. I could never do NIN exclusively, forever. I could never do just my instrumental music, not just produce bands or remix. I have to keep myself surprised and excited, one way or another.
"I would not consider myself a collector. More an explorer. A collector puts these instruments on display. I play them, write with them, understand them, love them and also (really) hate them."
Could you reveal to us more details about your Berlin Atonal performance where the new record will be presented? Artist's performances on Atonal are usually connected to a special visual shows as well, so I wonder who is going to take care of that side of the gig and if there is any special concept for it?
It can be introduced as a continuation of the original Sonno show: Sean Curtis Patrick worked on the original visuals, and will be returning to create visuals to the new Risveglio pieces, and to make sure it all works and flows as a whole Audio Visual experience. The addition of the pieces off the new record will complete the show, in my opinion, and that's how it'll stay after the debut at Atonal.
You are well-known collector of Buchla modular synthesizers. How did you get introduced to them and what does having Buchla in the studio mean for your creative process? (And when Buchla machines stepped into your creative process, did they change it somehow?)
I would not consider myself a collector. More an explorer. A collector puts these instruments on display. I play them, write with them, understand them, love them and also (really) hate them. They're temperamental, old and some of them unique and very hard to fix. Some are perennially broken….But even then, Don Buchla's original instruments are the most inspiring I worked with. Their look calls the user to play with them. The sound demands exploration and dialogue with the machine. I feel like an explorer when I am able to write and record music with them. I feel it's uncharted territory….in a way that I am hearing these sounds for the first time, and that not many human beings have had the chance to hear them either. It's a bit dangerous since I tend to be associated with Buchla instruments exclusively, but I don't really mind, nor care. I have been making music with them, with a 202, or Korg Prophecy or any other thing I find interesting, really. I just tend to be drawn to things that are a bit different, or use them differently from others.
Modulars are here for quite some time, but they somehow get more attention these days again…Do you also feel that way? If so, why is it like that in your opinion?
There's a huge renaissance of analog instruments. It's awesome and depressing at the same time.It's awesome because there are so many options to make music these days, you really can choose any instrument and it'll sound good enough right from the get go….It's depressing for pretty much the same reason. I feel it takes away form the search for something unique, personally, given by the limited amount of tools. It's more of a personal rule to make, at this point, as opposed to one dictated by the current availability of instruments.
Would you say that in terms of exploring new sounds and making music with modulars that there is "no bad way, only possibilities"?
I definitely wouldn't say that. I believe that the Eurorack format success put modulars in everyone's hands, but I feel the unlimited options in module choice we have today leads to less experience with a system as an instrument. It's always changing, always expanding and that can lead to a lot of sonic garbage…but…someone's garbage is another man's treasure.