Aussie DJ-producer T

homas Jack

has been creating his own brand of Deep House music coined "Tropical House" for the past couple of years, bringing attention from artists such as Kygo and Matoma among others. Between flying around the world, remixing popular artists, and growing the brand of Tropical House, Thomas Jack has been influential in the genre curated by his diverse musical taste and life thus far.
Intro by Andy Gorel
Interview and Photography by Mike Greene
Mike: You're from Australia, and now travel the world doing what you love. What's the biggest insight you've gained about culture and people in general?
Thomas:  I think it's about the diversity whenever I travel – even when you're travelling around America, the difference from here to Miami, Miami to LA, and even when you go overseas, or down to South America – we were just in Cuba this week, and it was completely different, you know? I've travelled my whole life, ever since I was young. I first travelled to India, so I think that's where I first saw the world in a completely different way, and when you experience so many different places you're able to embrace their cultures and things like that. I think that's one of the special things about doing this job – you have the opportunity to travel everywhere and experience things that you wouldn't ordinarily get to experience in your own hometown.
Mike: Is there anything that caught you off guard, that you've learned from people, throughout all of these worlds and cultures?
Thomas: Yeah, definitely. There were these two guys in India that I used to hang with a lot, they were camel riders – I rode camels back in the day – and they were just so chill, and they had five daughters with kids, all living in a room smaller than this, but they still were so welcoming and so nice, and I think that's the first time I experienced cultural change. And yeah, I love it, the way people have relationships, families, delicacies, and stuff like that.  Mexico as well, I was stuck down there for a while because I lost my passport. I stayed in Mexico City and met these people who were just so close to their family. They were all living together, and weren't allowed to move out until marriage, which is pretty crazy. One of my good friends is 28, and she's not allowed to move out of her house until she's married. It's pretty crazy, and when you come from America it's pretty different, or Australia for that matter, just how everyone is the same skin and bones, but the traditions are totally different. I think that's the coolest thing – everywhere you go, you experience something new.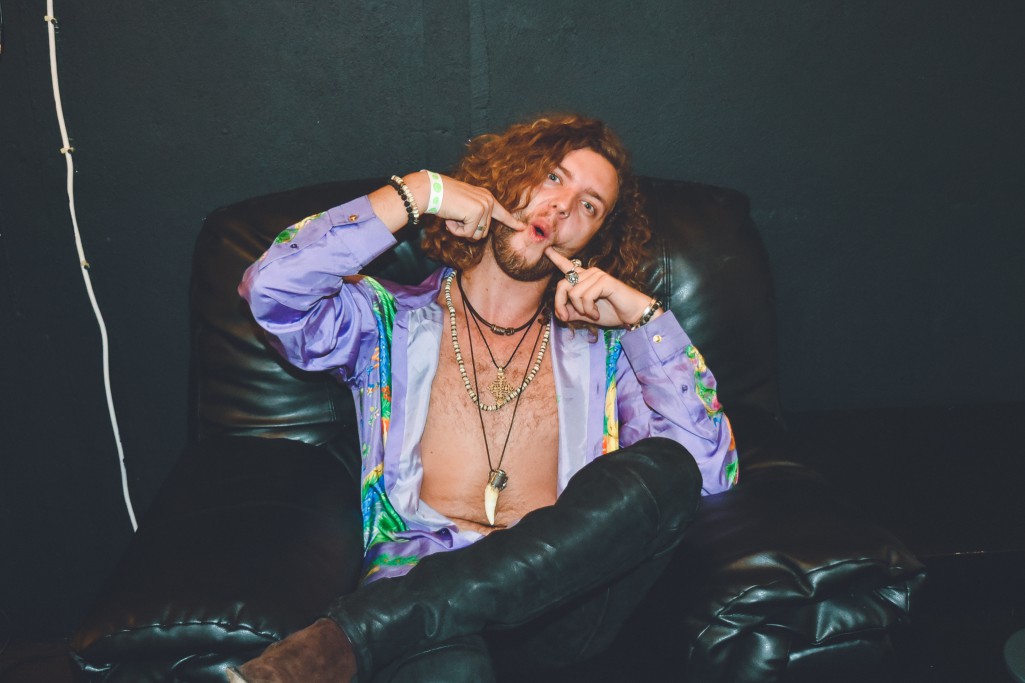 "My music says everything about me, and everything that I do is a reflection of my lifestyle"
Mike: Have you learned anything in particular about your fans that has inspired you at all, and have you reflected that in your music?
Thomas: Definitely. I feel like over the past two years, I've really built a solid following. Every time I meet a fan – there are some who've been to like eight shows, and there are teens who are like "Dude, I've seen you eight times this year," and I'm like "That's fucking sick!" cause that's a lot of times to see someone, you know – it just blows my mind. I think that really inspires me to work harder, and do my best possible to keep the momentum going, and keep them happy. People just tell me crazy stories about how the music helped them through hard times, and it's just really inspiring. It's what makes you keep doing it. Sometimes I'm kinda like "You know what? Fuck this. I miss my family." I'm living in America now, and sometimes it's just like "I'm fucking done with this. I'm so over it," but then when I play shows, like last night in Washington I'm like "Fuck. Cool, I have a lot of fun."
Mike: For artists, music is usually a reflection of themselves in one form or another. What does your music in particular say about yourself?
Thomas: Everything. My music says everything about me, and everything that I do is a reflection of my lifestyle, because I'm doing exactly what I used to do, but now I just DJ even more. So I travel around and still create, and I fucking love to party.
Mike: Is there one thing in particular that you've learned about yourself on this journey, thus far?
Thomas: I think I've definitely learned to communicate with different people from all of the traveling I've done.  You start to get an idea of what people like, and you can tell how to communicate and work with them so there's a positive outcome. Sometimes people don't talk as much. There's always a way to get everyone talking. You just gotta find it.
Mike: Based on your experience, Is there something different about how Americans talk versus those in India versus those in Mexico?
Thomas: Yeah, it's all in the culture. It's what the culture's like. It really reflects the people as a whole. When I played in India it was a very different crowd than when I play Terminal 5 tonight. There were about 1000 people there, in Mumbai, but no dancing, it was very chill. Then tonight, everyone's, you know, [gestures ecstatically], and I guess that also reflects their personality.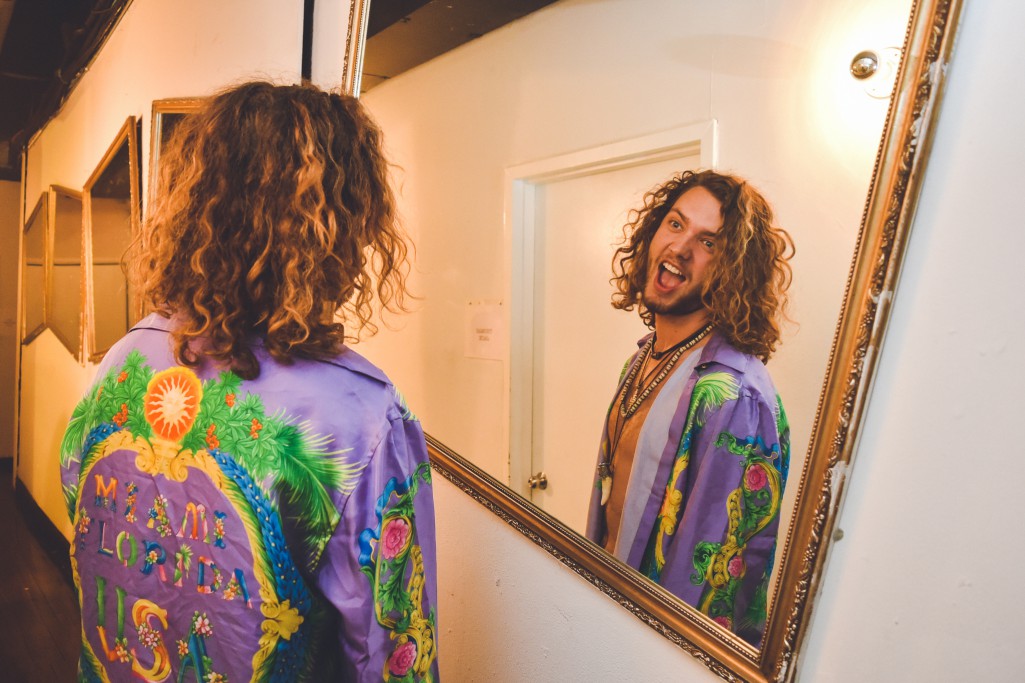 "I used to always wear Hawaiian shirts, like this is how I've always dressed my whole life"
Mike: What's it like growing up as a producer in Australia?
Thomas: Well I used to live on a dairy farm, so I used to milk cows and make music. I always just loved doing it, and was never like "Oh fuck, I wanna do this as a career." No one ever expects it to ever happen to them. It's such a crazy dream, so it almost seems impossible, and then it just happened and when it did happen to me it was surreal.  I truly just love making music. I didn't care for university or anything. I tried, but it just didn't work out
Mike: Do you think there's a difference in creating music that will gain popularity in America, versus gaining popularity in Australia?
Thomas: Yeah, totally. I feel like Australia is its own little bubble. There are a lot of a dope artists down there, but no one knows about them over here. I think because my manager's from America and I first started gaining momentum here, and in Europe, it made sense. If you do well in Europe and America, you can make a living. It's so hard in Australia because it's so small.
Mike: Is there an underground scene that got you into this world?
Thomas: Yeah, one hundred percent. I used to love Tech House, and Deep House, and stuff like that. Do you know the label Innervisions? It's run by this guy called Dixon. He's hands down my favorite artist ever. A lot of his music inspired me to do what I do, but his is a lot darker, and mine just somehow turned out happy
Mike: So how is the underground scene? What is it like in Australia?
Thomas: To be honest, I don't really know, because when I was growing up there wasn't really one. They didn't even have clubs like they do now. There used to be this place called "Spice," but then they got shut down. You could go there at like 5 AM, and stay there all day dancing. It was sick. But that was it. It's not like when you go to Miami and you've got clubs everywhere. Obviously I really like house, and the underground sort of stuff, and I always used to go to BPM festival. Fucking love that place, it's pretty cool.
Mike: Is there any particular musician from your childhood that you, or your parents, listened to that affects how you create today?
Thomas: Enya. She's this Irish classical singer, and my grandma used to play her when I was over. I just grew up with her. It's such euphoric music, all violins and stuff – it's pure happiness. I think that was in my brain from such a young age, so I wanted to start with that.
Mike: So would you say that your grandma was kind of the inspiration for this whole, "I'm a producer now"?
Thomas: Yeah, she was definitely a piece of it. I used to live with these three dudes at university, that were really just into bands, and live music, and that really helped me push along with my music. I would be like "Yo what do you think of this?" and show them my stuff. So that really inspired me, and I also had a really good surrounding of people. My parents were always really supportive. I was like "Ok, I'm quitting university," and they're like "Ok cool." They freaked out a little bit but eventually were like "Ok, we don't want to stop you from doing what you love."
Mike: Have you seen a benefit in trademarking "Tropical House"?
Thomas: Eventually, yeah.
Mike: So not currently?
Thomas: The reason we did it was in the case someone else did it first. We could have that defense. We started coining it as a joke, like "Oh this is Tropical House man," and it actually turned out to be a genre. Now everyone's doing it, and everyone's talking about it, and it's fucking funny because it started off as this funny little joke. It's like "Oh, there's congas and flutes, let's call it 'Tropical House!'" And I used to always wear Hawaiian shirts, like this is how I've always dressed my whole life. I've always loved boots, and jeans, and necklaces, and rings, and shit like that. We were like, "So yeah, we fucking love the beach. It's Tropical House!" We were down in Miami so it made sense.
Mike: Music is supposed to be open to interpretation. So what do you think it says to other artists that you went out to trademark it? Like "I own the term 'Tropical House".
Thomas: It was always our thing, so when everyone else started doing it, I was kind of like "Fuck," because I tried so hard to create something different, and then everyone else starting doing it.
Mike: Well that's like the best part about music.
Thomas: That's what I mean. It's what happens when something catches on. It was just dope, It was pretty cool that happened.
www.facebook.com/thomasjackmusic
www.instagram.com/thomasjackmusic