Over here at C-Heads we are obsessed with Tokyo based Maya Kibbel's photography so our latest series is a new collection of her images with Japan's most well known faces.
Kana Oya is a half Japanese half Brazilian model. She emigrated from Shizuoka Prefecture to Brazil when she was three years old. At the age of 17, she debuted as a model. In 2003, she was a finalist for Elite Model Look.  In 2005, she moved to Tokyo after graduating high school to start her full-scale modelling. She has been published in Japanese magazines such as Vivi, Glamorous, Sweet, Ginger, Gina and Baila.  Kana has appeared in advertisements for Cadbury, Kao and G.U, music videos such as Kreva- Have A Nice Day, Sandaime J Soul Brothers- "C.O.S.M.O.S", and drama such as High&Low: The Story of S.W.O.R.D.
Tell us about your upbringing growing up in Brazil and Japan, was it difficult adjusting to these places, how are the differences.
Though I was born in Brazil, my parents and I moved to Japan when I was 3, so honestly, I don't know really what the differences between the two are. I went to Brazil once when I was 11, and then I felt more aware of things. But, I didn't have any memories from when I was living there as a baby, so when I went at 11 it felt like just a vacation abroad, rather than returning to my home county. To me, Japan was all that I knew, so I didn't notice any hardships until I was in kindergarten. Then it became obvious to me, even as a child, the hardships that my parents were facing from the drastic change of environment.
What do your parents do, how did they meet?
They met while working at the same company. These days, the two of them are really into growing their own vegetables and fruits, so sometimes they send me grapes, beets, cucumbers etc.
The two of them met at a volleyball game; my dad was one of the players, and my mom was a linesman for the match. Apparently it was my dad who asked my mom out first, and he was her first boyfriend. This year, it'll be 29 years since she married her first love. They faced a lot of hardships, but they worked together to overcome them while caring for each other. I really respect them and their relationship.
What was it like growing up Eurasian? It is common for some Eurasians to have some identity crises, did you ever have any?
It was hard. I grew up in Japan, my Japanese is perfect, and I didn't know much about Brazil so of course I just thought of myself as Japanese. But everyone around me considered me a foreigner. Especially out in the countryside in Japan, there are very few foreigners. I was bullied, and people considered me as only a foreigner. I hated being treated that way, and I really resented being Eurasian. In Japan, I was treated like I was a foreigner, but when I went to Brazil I was treated like I was Japanese, so as a child I struggled a lot with my identity.
You have been modeling for 11 years and are currently at LDH agency since 3 years ago. Tell us your experience at this new agency.
Since joining my current agency, a lot of new possibilities have opened up for me. The agency supports me not just as a model, but also as an individual, encouraging me to pursue what interests me and to continue to challenge myself. I'm so grateful for that.
How did you get into modeling at the age of 17? Did you always want to be a model? Who was your mentor? Are your parents supportive of you modeling?
Actually, my career began when my parents signed me up with a modeling agency – without even telling me! It's still a mystery to me why they signed me up without ever talking to me about it, haha. One day they just suddenly took me to Nagoya, a city in western Japan, and told me that from now on I would be attending this modeling school. I remember we had a big fight about it.
At that time I wasn't interested in modeling at all! All I wanted was to go study abroad in the States after graduating high school… Having to commute four hours every weekend for modeling school in Nagoya was the last thing I wanted! I was just a teenager, and you know you are always "busy" when you are teenager, haha.
I didn't really have a mentor but one time when I was at a model audition/competiton (participating was a promise I made to my parents), I was complaining about how I wanted to quit modeling. Right then, someone told me, "You know, not everyone gets the chance to be a model. So instead of quitting now, try it, and if you still hate it then you can quit." If it hadn't been for that person pushing me, I don't think I'd be where I am today.
My parents are super supportive. They are my biggest fans on the planet for sure, haha. They've kept every magazine I've ever been in, and recorded all my TV appearances, and there are posters of me everywhere at their house! There's not enough space to keep all the full magazines, so my parents cut out my photo shoots and keep them in photo albums.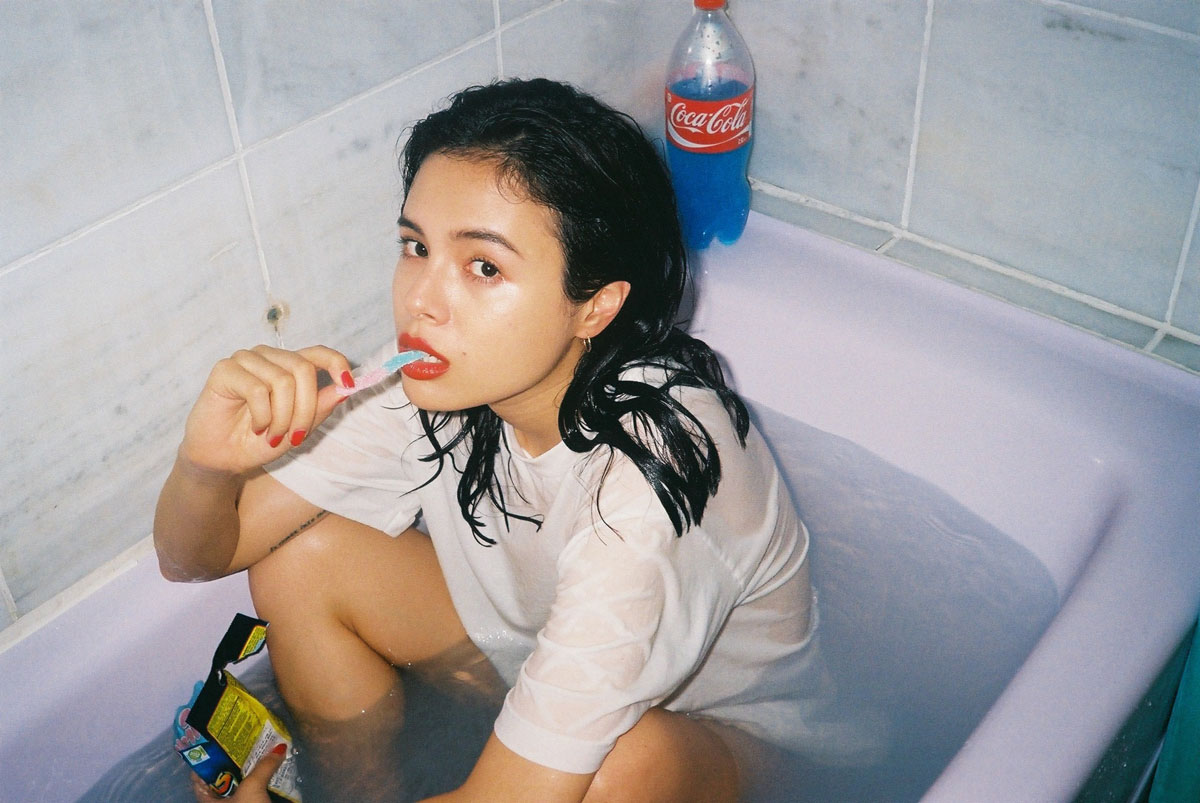 "I really want to be this person who encourages others to travel and explore, so on the flip side I also want to encourage people outside of Japan to come visit this wonderful country that I live in too."
Do you have plans for going to collage?
Even though I really hated modeling when I started out at 17, I grew to love it, haha! Along the way though, I gave up on going to university at the same time as all my friends were going. But I still want to go some day! I think community college seems really fun, especially as I love learning new things.
How have you changed since you started modeling 11 years ago?
Since I began modeling my life has turned around 180 degrees. I'm able to meet and work with new people at every photo shoot, and all these meetings really stimulate me, it's helped me grow and given me a lot of confidence. Until I started modeling, there was no bright side to being Eurasian, but through doing this job I've grown proud also of my Brazilian heritage. I've been fortunate to have the chance to travel abroad a lot for work and see the world, and it's helped clear up a lot of the confusion I had about my identity.
What do you do outside of modeling? Any hobbies? If you weren't a model what would you be ?
I've recently started acting, and soon I'll be doing project about interior design, which is something that I love! Also, this fall I have a plan to publish my third book which I'm so excited about! My hobby is traveling, and also I love art, music and writing. If I wasn't a model? Hm… I would love to travel the world backpacking!
How did you get into being in music videos, TV series, dramas? Do you want to get more into acting?
I've been in music videos before, but acting is something completely new to me, and I'm really grateful to my agency for giving me the opportunity to do it. Though in some ways it's similar to work I've done in the past, acting is also opening up a completely new and different world to me! It's definitely a field I want to keep working in. It's really stimulating to put in so much time and effort with a dedicated group of people in order to produce one final product.
What inspired you to start your website/blog? Do you have goals for it?
Creating a platform where I could communicate with my fans was what motivated me to start. I wanted them to get to know another side of me than just what appears in magazines.
My goals? Because I'm able to travel abroad a lot for work (as well as in my spare time), and because I have a multi-cultural background, I want to encourage Japanese people who have little interest in foreign countries, or who think it's too far to travel, to expand their horizons and have more of an interest in things outside of Japan. I really want to be this person who encourages others to travel and explore, so on the flip side I also want to encourage people outside of Japan to come visit this wonderful country that I live in too. I want to be a part in building an even stronger bond between Japan and countries abroad.
What plans do you have after modeling?
I can't imagine myself ever becoming a full-time, stay at home wife, so I think I'm always going to be working on something. IT's just that I haven't thought of something specific like, "oh, when I quit modeling I want to this for sure." I just try doing work that I love while I'm still modeling, that's more my style. Focusing on my current potential rather than thinking too much about the future. Wait, actually, there is one thing. It's a hair style that I've always wanted, and that's going bald! I guess I can only do that after I've quit modeling, haha.