"The image of never forgetting a "playful heart" is our aim. We want to brighten up the every day life of people."
Models + Designers + J-Pop Stars
Meet Ami and Aya Japanese idol twins who are more than multi-talented. They started as model and were an instant hit. Their next move was starting a their cult status brad, Jouetie. Now they are taking over the J-Pop world with their happy vibe music and crazy neon colored videos. They're a must-know Japanese duo and there's no stopping them from succeeding at anything they put their mind to.
Interview and Photography by

Maya Kibbel



You two were born and raised in Shizuoka, but were scouted shortly after entering high school and left school to pursue your career. What pushed you to leave school immediately and pursue your modeling career full time?
AMI: Just before starting high school, during spring break, Aya and I went to Tokyo and it felt that is was time. It was the time to go to Tokyo, so that summer we moved to Tokyo.
AYA: The high school we were attending didn't allow students to participate in any kind of entertainment work but I really wanted to get into that industry. So Ami and I decided to quit school and move to Tokyo. We just really wanted to be there as soon as we could and seize the moment. That was our heart's desire.
Was your move to Tokyo hard in any way at first? What kept you going and did having each other help you guys keep positive and move forward?
AMI: It was really tough in the beginning. We didn't know anyone in Tokyo, so we only had each other. It was physically challenging to be totally independent at 15 years old. Even when things got tough though, we could move forward because we fervently wanted to pursue our dreams and goals. Also, my mum always supported us and that also was a big factor for us to be positive.
AYA: Yes, moving to Tokyo was tough but I believe because we had each other we were able to get through those tough times and in result enjoy the good times. I just wanted to pursue my (well, our) dream! With that in mind, I tried as hard as I could. We were "hungry" to get out there and start a career.
How did your modeling career lead to your creating your own clothing brand?
AMI: I've always wanted to be an artist, so being a model was just one-stepping stone towards getting to my goal. Since I was young I've always loved clothes and I envisioned having a brand of my own one-day. We were able to express our fashion style through being models and so we grasped the chance to create our own brand through our modeling career.
AYA: We had a goal to have our own brand sometime in the future. Fortunately, the company we work with now had taken interest in our fashion style and image we'd been working on, so they reached out to us! As we met and discussed details, they decided they wanted us to hands-on help design the brand.
 
"Well there are tons of advantages of being twins! It's like always having your best friend right by you, who will never betray you."
You're twins but (I know you personally and know you're very different!) what do you, personally, think the biggest difference between you two is? What are some of the pros and cons of being twins?
AMI: Let me see, where are we most different? Hmm… probably regarding "love"stuff! LOL! And I have to say that there are only positives in being twins.
AYA: Our personalities are DIRE opposite! LOL. I think the area we're most different in is our taste in men. As we've grown up and matured, our ideas about love and relationships have really changed from each other. Well there are tons of advantages of being twins! It's like always having your best friend right by you, who will never betray you. I think I have less feelings of loneliness than most people. The disadvantage is I think I rely on Ami too much. Ami is the more reliable one! LOL!
What are your parents like? Which are you more like, your mum or dad? Also you have a younger brother and sister, are you close with them?
AMI: My father knows many things and is very smart. My mother, more than anything, is so kind. Both of them were very patient in teaching us about manners and we were raised with a strict background. I think I look like my father. Also, I am very close with my younger brother and sister. We go out to eat and always have lots to talk about.
AYA: My mom is gentle and strong-willed. My dad is very smart and wise. I grew up being told I looked like my father but as I grew up people started telling me that I look more like my mom. I treasure the time when I go home, sit down and have meals with my family. I go out shopping with my younger sister and younger brother. We're very close.
The brand you two created and design "Jouetie" is fashion forward and extremely successful. Where does the name "Jouetie" originate from?
AMI: "Joue" means toys in French and "tie" is a made up word. Remember when you were young and you would open up a toy box? The excitement and antiicipating feelings are what we want people to feel through our brand "Jouetie."
AYA: The image of never forgetting a "playful heart" is our aim. We want to brighten up the every day life of people.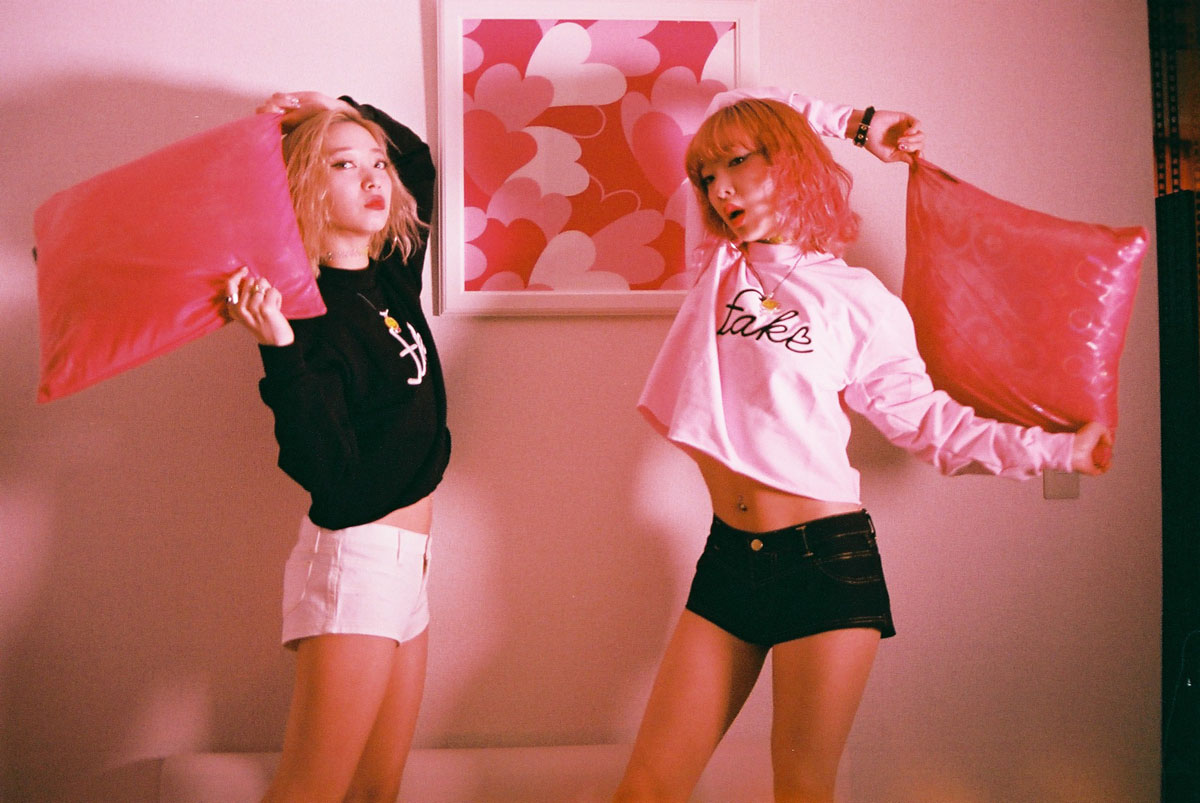 "Things will change. There will be good times and bad, but no matter what you face, have faith in yourself and guts to keep challenging yourself"
You guys travel quite a bit, for both work and when you have time off. What cities in the world did you like most and why? If you could only choose one city to go back to, which would it be?
AMI: London, England is by far my favourite and that has never changed. Everything from the music to the culture is stimulating.
AYA: London! It's the city that inspires me most from fashion to culture to music. There are so many unique people and I love how freely they enjoy their own style.
Having so many different careers must be quite time consuming, so on days off how do you spend your time? Do you usually do things separately or do you have days off that you spend together?
AMI: We do a lot of things separately but we also do things together. When we have free time we go and visit our family together. When we do things separately it may be that we are seeing our boyfriends or our own friends. It varies.
AYA: When we have free time we often go to spas or out somewhere far where we can really relax. We recently started going out on our separate ways, but we still go shopping and see movies together.
There are so many girls who look up to you and are inspired by you. If you could give any of these girls one piece of advice that you've learned along the way of your many careers, what would you tell them?
AMI: Be thankful for everything as you enjoy what you do. Challenge yourself. Don't be defensive but adventurous, then you will always shine!
AYA: Most of all always believe in yourself. Things will change. There will be good times and bad, but no matter what you face, have faith in yourself and guts to keep challenging yourself. I believe that's why I'm where I am today.
As I mentioned, you have many different careers. Where do you see yourself in say 5 years or so from now? What kind of goals do you have in mind for the future?
AMI: I think being involved in fashion and music. My future goal is to be a fashion icon not just in Japan but all over the world!
AYA: Working in fashion and music. Even though these two areas may change, they are what I believe I will be working in. I truly want to be an established fashion icon.