"If I had followed what is popular and trendy in our Czech scene, it would have been simpler, but on the other hand very temporary – I am not one of those who changes their coat every season."
As we have mentioned in a previous podcast, techno is booming in Czech Republic and probably reaching its top at the moment. Under this ongoing trend, there are small and interesting crews that carry on and believe in their thing no matter what. One of them is the Endless Ilusion crew. A former blog platform for architecture, graphic design and music, has turned into a label with decent selection of releases and its own successful series of parties held accross various Prague venues. It's hard to put an exact label of music genre onto what they do, but we would say it´s somewhere between influences coming from Netherlands, sounds of old analogue synthesisers and elements from electro, disco and Detroit techno. One of the guys behind, Ladislav Zensor aka Layup, steps in and talks us through his own and the label's journey and unveils a special passion-project focused on Czechoslovak musical history.
Interview by Simona Hypsova
header image Layup and Raphael Kosmos in front of Red Light Radio, Amsterdam by Alexandra Horká
Hi Layup, how have you been? Photos on your Instagram account show that it's not long ago since you have visited to Netherlands. How did you enjoy the trip? Did you buy some new records there?

Hey Simona and C-heads readers! You are right, I still have fresh memories on this trip. Journeys to Netherlands are always very inspiring and a great experience, this country feels to me like a second home, although I think few matters there are not ideal… Anyway, this time we [with Raphael Kosmos, label and DJ-mate] were invited to play on a festival organised by our "home" radio Intergalactic FM. Parties took place in PIP and Panama Racing Club in Haag. The day after we moved to Amsterdam to play in Radion club with the guys of Midlight Records. On both gigs we performed next to names we truly respect so you can imagine we were a bit nervous. However, no one had left, so I guess it was OK at the end. On record shopping, I cannot imagine that we can miss visits of Clone or Rush Hour records, that is a duty! (famous record shops in NL with a decent selection of records, note of author) However, I don't want to see my account statement (laughs).
It seems that you have close relationship to Netherlands, especially to the local musical scene. Artists and DJs coming from this country have a very distinctive and original sound and DJs are quite dedicated when comes to diggin into the music. Could you talk us through how such scene (and involved artists) influenced your approach to the music and aesthetics of your own musical production?

Netherlands has its specifics just like the United Kingdom or Belgium do. I found myself in the sound I discovered through various channels coming just from this country. As the music is pretty much globalized, it was mainly people of Intergalactic FM who changed my musical perspective from the basics. I remember when I first heard the album Times Like These (1999-2006) by Alden Tyrell, I simply couldn't get enough of it! It was a treasure to me as I was looking for similar sounds for a while, especially after seeing a graffiti video Dirty Handz which featured a soundtrack with similar sounds like Alek Stark. After discovering these sounds there were a few years of digging on Discogs.com and times I listened to Italo Disco, Detroit Techno, Electro and Wave. It is hard to describe what exactly represents this movement, but from time to time I agree with some people who say that it's just an addictive thing. I think the main asset of people around Intergalactic FM has always been a sort of looseness and ability to just have fun and don't discuss and don't think too much of the technical side of tracks. They concentrate more on the content and are not afraid to play together old digs and new pieces. I always liked the freedom of possibilities to mix afrobeats from Ghana next to acid tracks, I mean why not! Today I am pretty much influenced also by Red Light Radio from Amsterdam which has great contemporary selectors who can bring innovative insights into music.
Your music comes out mainly through your imprint named Endless Illusion which you have been running together with Raphael Kosmos. I must admit I'm not able to put an exact label to the music you guys release or present on your events — which is actually a great thing. It seems to me it drags elements from house, electro and old disco sounds… How was it for you to launch a label and series of events in the country where there is actually no tradition for such kind of music (f.e. in comparation to techno which has some kind of "background" here)? Were there any moments when you wanted to give up the whole thing?

Beginnings are always harder, we all know that. One can ask himself whether this or that has some meaning or if a previous step was the right one — especially if he gets zero feedback. Luckily to me, I'm a stubborn person and I think I have some kind of ability to see through things. I always set up a concept which I try to follow no matter what. Only the time shows whether the idea was good or not and if not, there is always a chance to learn something new or change it. I'm also not 20 years old anymore and I do believe in the music I love. I know the context of certain music genres, their development and that is what counts when comes to creating a stable opinion. If I followed what is popular and trendy at our scene [in Czech], it would have been simpler, but on the other hand very temporary – I am not one of these who changes their coat every season. Our sound comes from what I described you before, we just want to have fun, we love synthesisers and various moods, and we honestly don't care whether the track has straight or broken beat. For us there is also an important role of possibilities to play a certain track on the dancefloor since it is the main stage for music. Although, when the right time comes, we would like to start with releasing more listening-like songs suitable for comfortable listening. Anyway, I think that at this very moment, we have nothing to complain about. The Prague scene has been finally booming again and we are a part of it – which makes me super happy, although I think that there is still some potential for moving the whole thing farther. I'm looking forward to when this moment comes.
"Our sound comes from what I described you before, we just want to have fun, we love synthesisers and various moods, and we honestly don't care whether the track has straight or broken beat."


A common thing which I have noticed on your production or the music you play at Endless Ilusion parties is that the music often works with sounds of old synthesizers. It seems to me that in the last few years a lot of producers got back to old equipment and are willing to pay tons of money for them. Why do you think it's like that? And isn't working with old synthesizers a bit limiting  – in the sense that "everything has been said" and it can be hard to bring something new on the table?

It is true that we have been experiencing an abundant times when it comes to music equipment. Significant manufactors have started to produce analogue synthesisers and drum machines again and the arrival of modular machines opened a whole new world. This whole thing is very diverse and I definitely wouldn't say that it's a limitation. Analogue sound just confirm that its specific and distinctive character still lives on. Maybe there wasn't any satisfaction of the flat laptop sounds for people, so they got back to more organical instruments and machines. On the other hand, digital era brought on the table possibilities that haven't been here before, so we can say that contemporary music producers are with unbelievable facilities and they are probably only limited by the boundaries of the creativity. I'm fan of hardware, especially the analogue one, but you know, every coin has two sides. Recently I bought Korg M1 for its beautiful smooth sounds which I haven't been able to get from anything else. In my creative process there is still place for computer of course, especially for recording and arranging sounds – for a long time I wanted to leave out VST from my producing, not just because there wouldn't be a good plug-ins, but more for my own comfortable. I'm not so much into all-day-long mouse clicking, I more enjoy hardware workflow, you know.
Now I would say that you have a pretty decent position on the Czech musical scene, although we all probably noticed that techno is a huge thing here at the moment. Almost every week there is a party with DJs from abroad and crowd turning their attention to these events. What do you think about the current state of the Czech musical scene? Does this trend makes it harder for you?

When we talk about the scene, I think it's neccessary to distinguish. There are quality techno events, but next to them are events that stay on the surface without going deeper and rather following current trends, if you know what I mean. I personally often have a problem to differentiate particular promoter's crew on the scene as they usually present the same kind of techno music on their events – as you probably know, techno is pretty diverse genre and can have various and very interesting forms. These crews don´t just play the same kind of music, they even use the almost exact same kind of marketing tools. However I'm not against some cooperation with people with whom we already played at some parties, or we are planning something for the future. For me it's mainly about the quality, incorporation has minor meaning.
Of course, it's amazing how many great names we can see and hear here every weekend, few years back we could only dream about such parties! Although I think that whole scene could gain more of it yet – f.e. if there would be a radio that could be able to unit the whole scene and offer to abroad producers and DJs possiblities to present their mixes live or interviews before or after the events. I know, there are some options for this, but I think it's still not it.
I don't feel that whole situation on the scene makes our position harder– even though, we are techno fans too. However, we are more into Detroit kind of sound than to Berghain techno. Thanks to the fact that we have our typical sound, that doesn´t follow the current mood on the scene, there are more open doors and space for us. Some promoters book us just for the reason of being tired of all that techno everywhere. However, let's see how this whole thing lasts yet and what comes after, maybe the dubstep again.
"I personally think that music artists coming from a graffiti background have bigger balls, their work has a statement and very often it's bound to underground. When you are f.e. 15 years chased by the police and yet you didn't flinch from the path, I guess you must have been influenced by such attitude somehow."
You and your label-mate Honza (Raphael Kosmos) have known each other for a couple of years. Both of you have close relationship to the art and graffiti scene. Is that the surroundings where the two of you met? How did this kind of environment influence your musical development?

Right, I met not only Honza but all the other active producers and musicians through graffiti as well. Last time, it was Credit 00 who remembered 90s when he visited Prague to paint here. Actually, it's not that surprising that graffiti community gathers creative people and it's only a matter of time when they focus their potential on a different area. It's pretty similiar to graphic designers who also often play with music programs. I personally think that music artists coming from a graffiti background have bigger balls, their work has a statement and very often it's bound to underground. When you are f.e. 15 years chased by the police and yet you didn't flinch from the path, I guess you must have been influenced by such attitude somehow.
Before Endless Illusion turned into a music label it used to be a blog focused on architecture, graphic design and music. What was the main trigger for your decision to make such change and turn it into the music label?

The need to release our own music and reluctance to send demos. If there is anything I don't really like on the whole process, it is an obtrusion. To have an own label is truly liberating and the feeling of independence cannot be replaced by anything… Simply, I had some tracks and no one wanted to put them out, so I had to do it on my own. At first, it was only through bandcamp site, but I didn't feel that this platform is enough for my purposes. Don't get me wrong, I don't have a single thing against digital labels, but when comes to Endless Ilusion — till the moment when our first vinyl came out, no one took us seriously. The feedback you receive after releasing a physical format is just way different. I admire labels like 1080p that were able to build a name with releasing digital releases only. I must admit that I really enjoy the whole agenda that accompanies the entire process – choosing the cover, choosing the weight, printing etc. These are elements that I couldn't get from digital formats, I'm a fetishist.
Your latest EP is titled Functionalism and each track on this EP took the name after a functionalist buildings situated in Prague or Brno. I assume you feel some sort of fascination for this architectural style, right? Functionalism can be represented by few statements, f.e. "form follows the function" or "to be most utilitarian". When you created tracks for this EP, was the proccess somehow affected by such statements or concept of this architectural style?

Such practices and approach are close to me, although I cannot say I would directly used them while I was working on the music. Besides functionalism I also like what is represented by brutalism or cubism as I like pure lines, geometry, simplicity and functionality — I don't need any useless embellishments or tinsels. Rawness and certain straighforwardness blend inside me.
The graphic side of the Functionalism EP is the work of Martin Kolerus, right? How did this co-operation start? Does the cover also follows somehow the concept of functionalism?

When the idea for the new record with the working title "white" (like white label) emergerd, I knew I would like to make this one a bit different from the others in terms of its graphic side. So, I asked Martin whose work I liked; I knew him from the graffiti background. On our first little meeting I presented him a draft of the record and we discussed the other elements. Then he brought on the table bunch of ideas from which we eventually chose for the final concept. I'm very satisfied with the result as Martin truly managed to grasp the essence of the theme and on the top of that, he combined elements of architectural styles and graphic design of 70s which are my most favourite ones.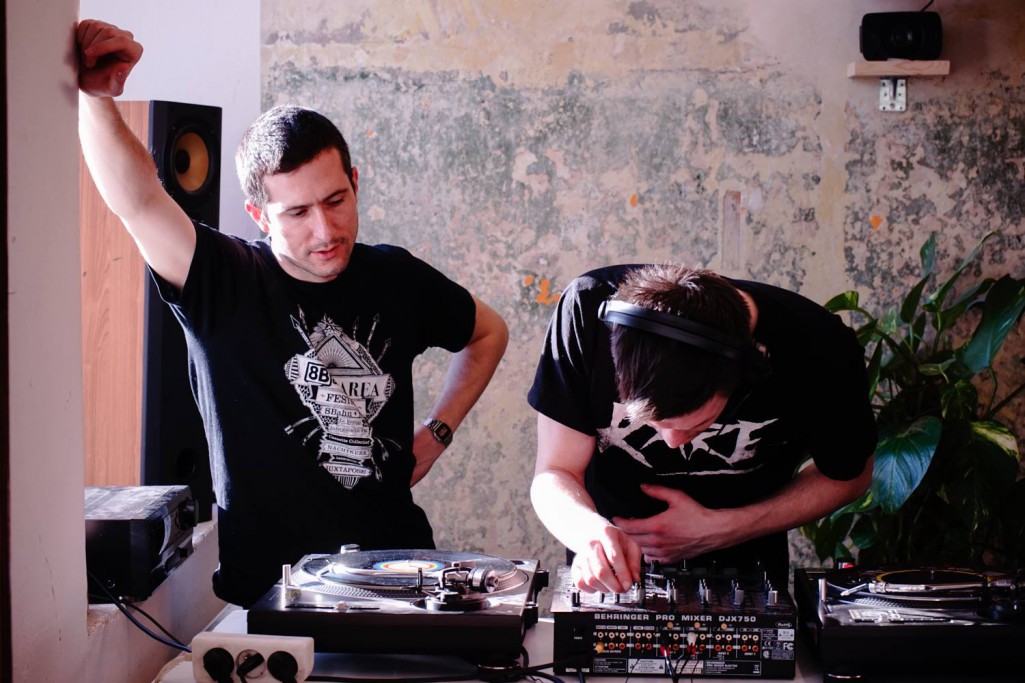 You also co-work with another great graphic designer Jan Horčík. With him you have a quite interesting project titled "Jupiter – An Archeology of Slavic Electronic Sound" which is focused on underground and experimental music produced in Czechoslovakia before the year of 1989 (fall of communist regime in Czechoslovakia, note of author). In this era there were plenty of artists that had something to say but thanks to the political situation they stood hidden from the rest [mainly West] of the world. In the manifest you stated that through Jupiter you want to find and present these bands to a current audience. Could you tell us, what led you to the decision to launch such project?

Roots of this project can be found in times when we currated a blog. In that times, I was digging a lot in music archives and got totally fascinated by artists like Alexander Goldscheider or ORM. It seemed to me natural to get to know the musical history of the country I was born to. As time went by,  some material and an idea of some sort of output came on my mind. Originally, I was thinking about a book that could be a summary for using synths and electronic music in Czechoslovakia. Unfortunately, due to time and financial reasons I re-thought the whole concept. Today it's about 8 vinyls which will be accompanied by a bulletin that will include an author's biography, interviews, vintage photos as well as some reference to the present. Graphic part of the project is in hands of Jan Hořčík. Actually, the whole project is a bit accelerated when Jan decided to choose this project as a theme for his diploma thesis at the Academy of Arts, Architecture and Design in Prague.
Soon it will be released the second issue of Jupiter followed by the record of Omnibus band. Could you tell us a bit more about this upcoming issue? Where does this desire for digging old records come from?

Omnibus band is one of these forgotten ones on the Czechoslovak music scene. The band gave me their never published records and when I was listening to them, I almost couldn't believe that there was someone in 80s who produced wave/ NDW/ experimental. I was so incredibly happy about this as it represents a true underground movement and for now I think it's one of the most interesting things I got to my hands within this project. The Jupiter project offers a lot of opportunities I think, and I believe that it could have an overlap for abroad because out there is a huge demand for such rare records.
When I'm thinking of where this desire for digging into these old stuff comes from, I think it has started in my childhood. I grew up on Prague housing-estate that in my eyes was full of various artistic elements and artifacts situated in public space. Very often these subjects were futuristic, not that I realized it at that times… I think that this can be one of major reasons why I'm so fascinated by futurism, 60s and 70s and things and flows related to these eras and why I found them so inspiring for me. It was a golden age.
Do you personally draw an inspiration from Czechoslovak experimental bands and artists for your music? Who are your inspiration sources in general?

For sure I'm influenced by our artists in some ways just as by artists and musicians of other countries. For me, it's mostly about following a certain artistic or musical flow that sometimes lasted only for a year or something but even in a short time they were able to accumulate some sort of energy that became a base for interesting projects. I enjoy being influenced by such energy flows more than just by particular artists, although I have few ones of course.
"On the other hand, the digital era brought on the table posibilities that haven't been here before, so we can say that a contemporary music producer has in his hands unbelievable facilities and he is probably only limited by the boundaries of the creativity. "
How do you perform in clubs these days? I read in previous interviews that you want to play full-hardware live act, so how is it going with that?

I would love to play live, but for now I'm not able to put together a set-up for live-act, perhaps I could blame my laziness… I'm slowly getting there, but I do not push it too much. I think that such things need its time and when the moment comes where I feel that the whole process works I will show it to the audience. Maybe I would be able to put together the neccessary equipment, although I haven't been able to find an appropriate approach yet. I miss a pair of hands as I would like to avoid excessive automation, I'm more into improvisations you know. If the moment comes when I meet someone with whom the whole thing works, I can imagine to hit the road and make a small live tour, let's see… At the moment, I play DJ sets, mostly b2b with Honza [Raphael Kosmos]. I think it's suitable for both of us; two people it's more fun on the stage and I think we are good together.
What is the next for Layup and Endless Illusion crew?

In terms of my own musical production, I would like to release the second album this year. I already set this thing up with Bukko Tapes. It will be a collage of tracks which I have done within this year but for this time there could be some unifying line or element. It will be a dreamy electro again… Also, somewhere in the far future there is a plan for another vinyl record, so let's see. And for Endless Ilusion, the program is more or less without any major change — we worked up bunch of events till the end of the year. In terms of releases on the label, till the end of the year there should be out pieces by Zarkof (Mr. Pauli Remix), Kovyazin D (Orgue Electronique Remix) and already mentioned Omnibus.
Can you tell us the story behind the C-heads mix?

For a moment, I was a bit hesitant and thinking what kind of sound to choose for this mix. I had worked on few other mixes concurrently and since the others were more into EBM and Wave music, which I enjoy a lot at the moment again, for C-Heads I decided for a different approach. You can expect contemporary trend of hypnotic techno sound with a hint of sounds of 303 followed by pure electro sounds in the second half of the podcast.
Thank you so much for your time!

Thank you for the opportunity.