With years of experience as an actress and model, Israel's Sarai Givaty is no stranger to the entertainment industry, yet she's finding herself in unfamiliar territory. Straying from the scripts, Givaty has emerged under the moniker Esh with her own stories to tell. Pulling influence from modern artists like James Blake and legends like Nina Simone, her eponymous debut EP showcases timeless songwriting executed via modern pop production, and a holds a sonic identity that is distinctively her own.
Andy: You got your start in film. What was it like breaking into the film industry as a teenage girl in the early 2000s?
Esh: It was amazing because I always wanted to that since I was younger, but I couldn't because I was from a small town and needed my ticket out. I had to wait until I finished school and then I went to New York and LA, all over the world basically to find how I wanted to do it. I think my break was in Israel, in some sort of variety show – a teenage version of SNL sort of. And then I started realizing what I liked and didn't like. I started realizing what I'm good at, and I wasn't thinking to do music professionally at all. I didn't think I was good enough to be honest.
Andy: What did you go to school for?
Esh: I went to New York, went to HB studio, and started school there. I got my student visa and started learning how to act.
Andy: After working in the film industry for so long, what was it like making the transition from being an actress to a songwriter/performer?
Esh: It took me a while to believe in myself. I've always played music since I was a kid, and I didn't really think I was good. Not until I did a video for Enrique Iglesias, as a model – and the director, who is a really big director in the music industry, heard me playing piano. There was a piano, and I was playing. He just heard me and he said "You're really good." I didn't believe him, but he kind of formed me a band and put a lot of work into it, and I started realizing, "Okay, well maybe I've got something." From then it was mostly defining who I am, because that by itself is a whole thing. Knowing, "You've got a pretty voice," and "It's nice to hear you," is far from being an artist, knowing what you're about, and knowing why you're doing what you're doing.
Andy: So was music something you always knew you wanted to pursue?
Esh: Yeah, I didn't think I had a chance. I never thought I was a singer and then once I started seeing people giving me attention and believing in it, and I formed a band and started playing in LA – I was putting a lot of time into it. I was really splitting my time between acting and music. The acting just happened faster because there were a lot of opportunities and I had more experience, but I think in music I really had to find who I was. That was a big deal. It took me a while to even know why I wanted to make music. It took me a while to know basically if I don't write the songs, I don't want to sing them. I feel like in acting, you tell other people's stories. And I've told other people's stories for so long that the point of music is not just to go up there and sing, but to tell my story. And I didn't know what it was. Especially when you're an actor and you have to get this character and know what this character is, and know what the writer's vision was, what the director's vision was. You forget about, "What is my vision? What do I like? How do I dress?" It's all about the character, and you lose yourself in that. Music really helped me learn a lot about myself, and I realized that the point of my music is to tell my story. Like most artists, I was born with a hole in my heart, and my existence is to fill up that hole. The most important thing is to know how to fill up that hole. How do you do it the right way? With me, for the music, I realized it was about creating something new, always. And creating it from nothing. Creating my vision. And that's where music really plays a big part of my life.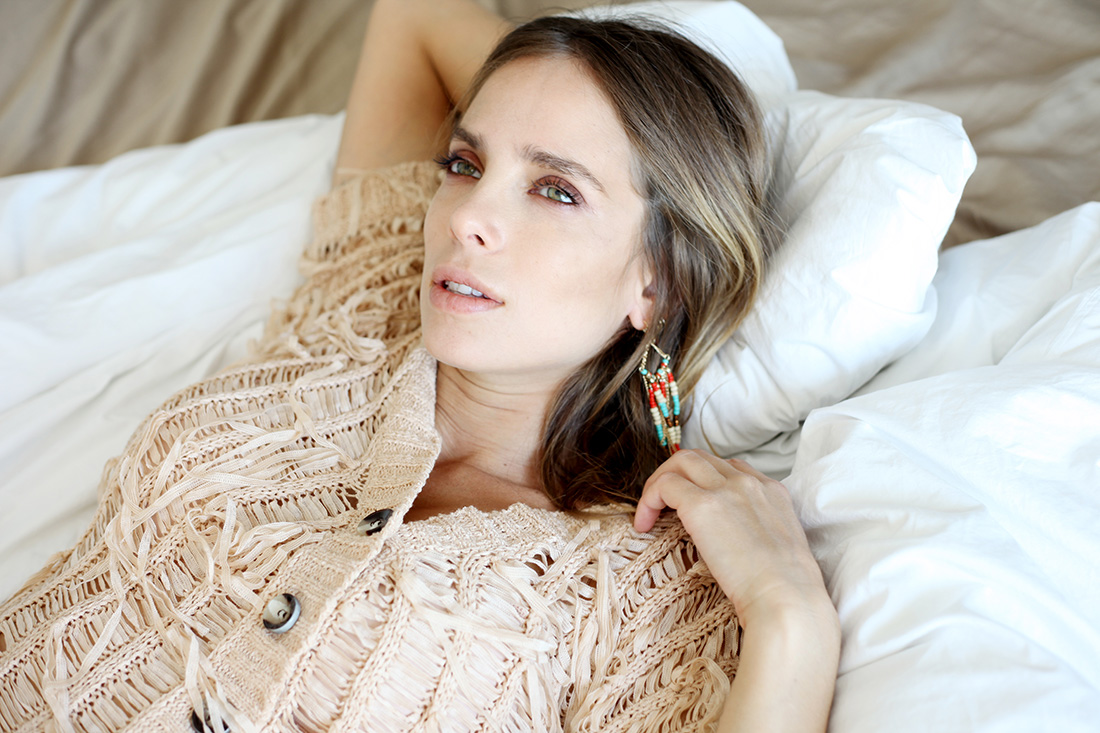 "You touch people when you expose yourself and come from the most vulnerable places."
Andy: Yeah, definitely finding your voice as an artist is a huge thing. A lot of people don't realize that for an artist to have one song out – it takes years.
Esh: Yeah it takes so much. There's the melody which is appealing or not appealing, but separate from that is the message behind it, and if you touch people. You touch people when you expose yourself and come from the most vulnerable places. So it's an emotional rollercoaster for sure.
Andy: How long have you been writing songs?
Esh: Wow. (Laughs) Wow. That is a good question.
Andy: Forever?
Esh: Yeah, forever. I've written so many songs. Sometimes I'll go to a studio that I've been working with for a long time on demos and a lot of my music. And we'll be looking for a certain song, and go through the songs I've recorded and I'll think "Oh my god, I can't believe I've done all that." You know, you come out with an EP and it has like four songs – out of four hundred that you've written.
Andy: Yeah, it's definitely a crazy thing. Over the years if every time you have a creative impulse and you write it down or make a quick voice memo and then turn it into a demo, when you look back at just a couple of years' work you just think "Wow." But then it's about finding the four that resonate with people.
Esh: Yeah, and I don't have a problem people not relating to certain things because I get it out of my system, and it's there. You know as long as you pick some you like, I'm good.
Andy: So do you feel your background in film and fashion helped you break into the music industry? You said that director saw something in you. Do you think having that connection to the entertainment industry already was a catalyst at all?
Esh: Yeah, well I think it's mostly the fact that if you're experienced – so if you've done other people's music videos, you can do your own pretty quickly. I've done so many that the last one for my EP, I directed it because I've done so many that I wanted a new challenge. Not just being in a video. I've been on so many sets, that I felt that I should just do it. I did it with a friend of mine who is a professional photographer, and it was such a great shoot.
Andy: I know you're an actress, but have you done anything else on the production end of film?
Esh: No, but I've written music for film.
Andy: So performance-wise, in comparison with acting. Are there any similarities or differences you've noticed between performing music or acting?
Esh: I consider singing and acting very similar, because they both tell a story. In that way, they're very similar. It's different because you can really lose yourself in music and it's never wrong while you're performing, but I feel like in acting, you can't always lose yourself. I feel like in acting you've got to think a lot. It's a lot of monologue or dialogue with other actors to get the story moving so you can't just lose yourself because you've got to have your feet on the ground and know what you're doing for everyone else. It's a little more heady, and music is more emotional.
Andy: So your new EP is a polished collection of songs that falls somewhere between modern pop and 80s new wave. Are there any artists in particular that have really inspired your music?
Esh: So many, and always new ones coming up. So many. For this particular EP I would say James Blake was a big inspiration. I would say he's also been a really big inspiration in my live show as well. Creating a live show that represents what you're doing is so hard, and James really helped me create a vision for myself.
There are so many amazing artists. Personally, I'll talk about recently, because of course I've got Nina Simone, and so many artists I love. An amazing one right now is Jack Garratt, do you know him?
Andy: Yeah! He's really awesome.
Esh: Yeah! He's amazing. Recently, before I did my EP I listened to him quite a lot.
Andy: Yeah, there's a ton of great music coming out every week anymore. It's crazy.
Esh: Yeah. Even dance music, I think is in a very good place, because it's starting to use singer-songwriters who sing with a lot of emotion. Not just your typical super pop vocal. It's great because it brings out all these amazing artists. I've always loved the artist Aloe Blacc, for example. He sings the song "I Need A Dollar," but not a lot of people knew who he was. Then he did "Wake Me Up" with Avicii, and he started to get all this exposure, but he's been around for so long. So I think dance music is a really amazing thing right now. I'm really enjoying seeing all of these amazing artists featured in these big songs.
Andy: I agree. Like you said, there's a lot of unique stuff happening. There's a lot of crossovers and marrying of genres.
Esh: Yeah, compared to super pop which is very hard for an artist to hear all the time. The generic stuff being so popular sometimes can be a bit of a downer for an artist. You feel like you put all of this work in, but the big stuff is more generic. But when really good artists are being featured in such big tracks it's amazing.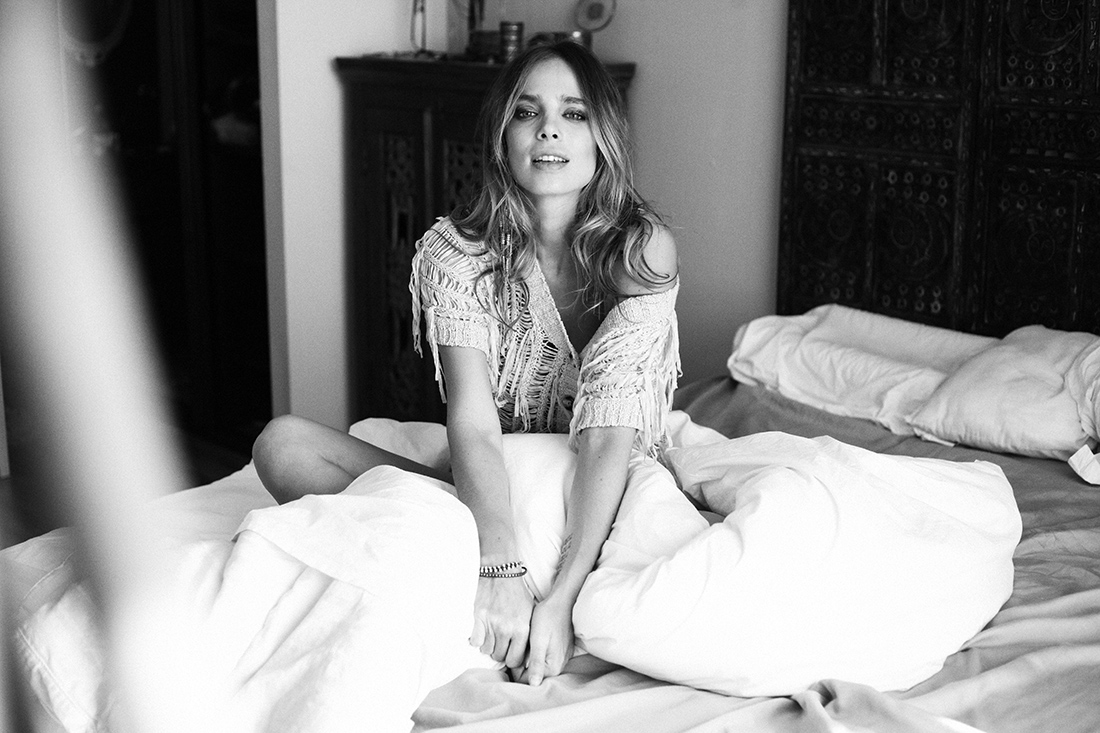 "I talk about the love for what I do, and it translates into a love song.
Andy: Where did the inspiration for the EP come from?
Esh: It's mostly about frustration, and my struggle, and my whims. It's the journey of creating. It's what I write about mostly. Even when I write love songs, I don't necessarily write a song for a man. I talk about the love for what I do, and it translates into a love song. I love my husband, but just writing about that is not going to come from this pain. So when I write from a certain viewpoint – to fill up this hole I was talking about before – I really talk about that and then it translates to a love song somehow. It's amazing I think. Every line is so specific to me and something in my life. My goal in life could be the love interest in my songs.
Andy: So, rather than a traditional record label, you released the EP through Magna Entertainment, a team of venture capitalists who specialize in the entertainment industries. What made you choose to go this route instead of signing with a traditional label?
Esh: I met them right after I performed at SXSW. There was a lot of talking around – a lot of people – and everything else is going to take a lifetime. Sometimes when you meet people who are more ambitious and ready to go, it's much more appealing. To me it was more appealing at that time. I just wanted to get going as fast as I could.
Andy: Do you think that instead of signing, things like "label services" are what a lot of artists are going to start doing?
Esh: Yeah, I think music is now easier to make, and so is video. I think it's a smart way to go. It really depends on the people. You can't generalize labels and non-labels, but it's almost like independent film and television. Like Netflix and Amazon. The world is changing.
Andy: Yeah, the internet is unlocking a lot of doors for creators.
Esh: Yeah it definitely is.
Andy: Being from Israel – you moved to New York first, right?
Esh: Yeah. New York is where my heart is, creatively.
Andy: So moving from Israel to New York, how did the entertainment industries in both countries compare?
Esh: In Israel, first of all, the mainstream music isn't grouped, and it has a lot of limitation. Even when you succeed, it's still small and local, and you cover everything really quickly. Because I moved to New York at a young age, I'm really addicted to the feeling that the sky's the limit. To know that anything can happen tomorrow. it's a big world in New York or LA. Anything can happen at any moment. It's thrilling.
Andy: Pop culture wise, how do you feel the lifestyles in New York or LA and Tel Aviv compare?
Esh: Well Tel Aviv is the best because it combines the beach lifestyle – I live right by the beach, I surf, I love it – and the city is right there too. It's five minutes from the beach, where the industry is. Compared to New York where it's all industry, and all art, and it's amazing but it's cold, and you have to drive forever to the Hamptons. In LA it's a bit too spread out, and it's harder to get inspiration. It's too spread out. The beaches and the ocean are kinda windy. Israel is by the Mediterranean Sea. It's the most calm beach ever. It's such an amazing combination. It's a great thing.
Andy: Yeah, in LA, you're close to the beach, but it takes an hour and a half to drive anywhere.
Esh: Yeah, definitely! And here it's like a city! You've probably never been, but I can compare the city life to Berlin. It's like Berlin on the beach. Tel Aviv is amazing. You have to come here someday.
Andy: Yeah, I've never been to Israel but it's somewhere I've always really wanted to visit. I've personally always had a lot of respect for Israel. You guys are a very hard-working people, and have such intense pride for your country, which I feel America is kind of lacking.
Esh: Yeah, thank you.
Andy: So you recently got married and gave birth to a child. What has the life of an artist been like as a parent?
Esh: You just have to be very efficient with your time. I used to go to the studio and just talk for an hour. I'd be like "Hey – What's up? – What are we doing?" and now I go to the studio, and after like "Hi, how are you?" it's "Let's work." You just have to be very very efficient with your time.