There's a fresh face in pop music and his name is Carter Reeves. Spending the last seven years as one half of the indie hip-hop duo Aer, the twenty-three-year-old has come into his own, with a fresh brand of music that is breezy, high-energy, and incredibly unique. The New Yorker by way of Boston is wise, experienced, and successful beyond his years, and while the days of his last project were glorious, he's really just getting started.
Interview and Photography by Andy Gorel
Andy: How old were you when you started making music?
Carter: My friends and I started producing hip-hop beats in sixth or seventh grade, and then freshman year of high school I got a keyboard myself, I started ripping into Garage Band, and getting going. I was also in a rock band throughout high school, and they were like "Write all our songs for us," and I hated writing lyrics at the time. I was not about it at all.
Andy: That definitely changed then.
Carter: It definitely changed. It's weird. I have a love-hate relationship with writing. Now I love it, because I have to love it, but sometimes I go back and forth between – "What's the part I love?" – Do I love creating soundscapes? Do I love the creating the vibes, the mood, the energy, but the vibe, mood, and energy are decided and complemented by the lyrics. If you listen to early Aer stuff I was like "Listen to the sound of the – I was in the waves of the vibes of the – etc." I was more focused on what I sounded like than what I was saying. So about five years ago I found the middle ground of saying something significant, but also having it sound good.
Andy: Was there anything growing up that spurred you onto making music?
Carter: Mom and dad made me play piano when I was little. I hated it. Fucking dreaded it. I'm actually in piano lessons now.
I can't say like "Music was in the house," growing up. Of course, my parents love music like most people in the world, and they would play music all the time, but after I quit piano, my mom was like "You sing too much. It's fucking annoying. Either get good or stop singing." So she suggested I join chorus, which I enjoyed. It was cool to learn the difference between Baritone, Alto, and all the ranges. That kind of segued me into being happy to sing publicly, and let me join a band. It was a natural progression.
Andy: Were there any artists you were into that made you want to do music?
Carter: No one in particular. Maybe Cudi during my junior year of high school. He showed me that I could do weird shit too. I wouldn't say there was one artist I listened to and made me go "Now I want to do music." But there are artists I gravitated to that project my influences like Red Hot Chili Peppers, Sublime, Slightly Stoopid. If you listen hard enough, you can definitely hear the influence of those four.
Andy: So your last project Aer had garnered widespread attention while you were still in high school. What was it like to have your formative years as a songwriter under a spotlight?
Carter: I didn't know anything about songwriting. So ignorance is bliss to a certain extent. I didn't know the correct way to do things. I didn't know what a pre-chorus was. I didn't know how to make a verse sound catchy. In terms of do whatever you want creatively, sure, but it kind of makes sense that the first verse melody follows the second verse melody to an extent. No one's saying make a song boring, and do the exact same thing over and over again, but there's a certain structure to successful music. I think there's something to say about following that. You don't have to be formulaic and shitty, but follow that to an extent.
So I never felt any of that. My challenge was to write about shit that's interesting to me, but also that felt like I was progressing. So maybe that's part of what the downfall of Aer was, for me at least. Personally, I can't write about smoking weed and partying with girls at 23 anymore. Yeah I obviously still do those things, but I'd like to write about a little more than that. It was tough cause a lot of the fans still wanted that college-era party, feel-good stuff, which I ended up having a difficult time still identifying with. Overall I'd say I didn't really realize there was "scrutiny" but at the end of the day every time I would put more music out, people would say "This sounds a lot better than your last," so that to me was enough validation that I was moving in the right direction.
Andy: What was it like living the artist life while all your friends were in school?
Carter: It was cool man. It was uncharted territory. Being 18 with other 18 year olds in a van, being shitheads, traveling the country, smoking weed next to the border… But with such a different agenda than most 18 year olds. It was so surreal. Part of me looks back and says maybe I didn't enjoy the moment enough, because I was constantly like, "This tour is dope, but the next one's gonna be even better… This album is dope, but the next one's gonna be even better." I think most artists do that. I think most people do that – look forward to whatever's next. Looking back on it, it was the dream. Had you told my 15 year old self that my 18 year old self would be touring the country with sold out rooms, I wouldn't believe you, but also I would be like "Cool, what else would you need in life?" Like that's the dream.
It was pretty unreal. And also that my parents trusted me and my friends to go drive around the country at age 18, and logistically figure everything out, but here we are today.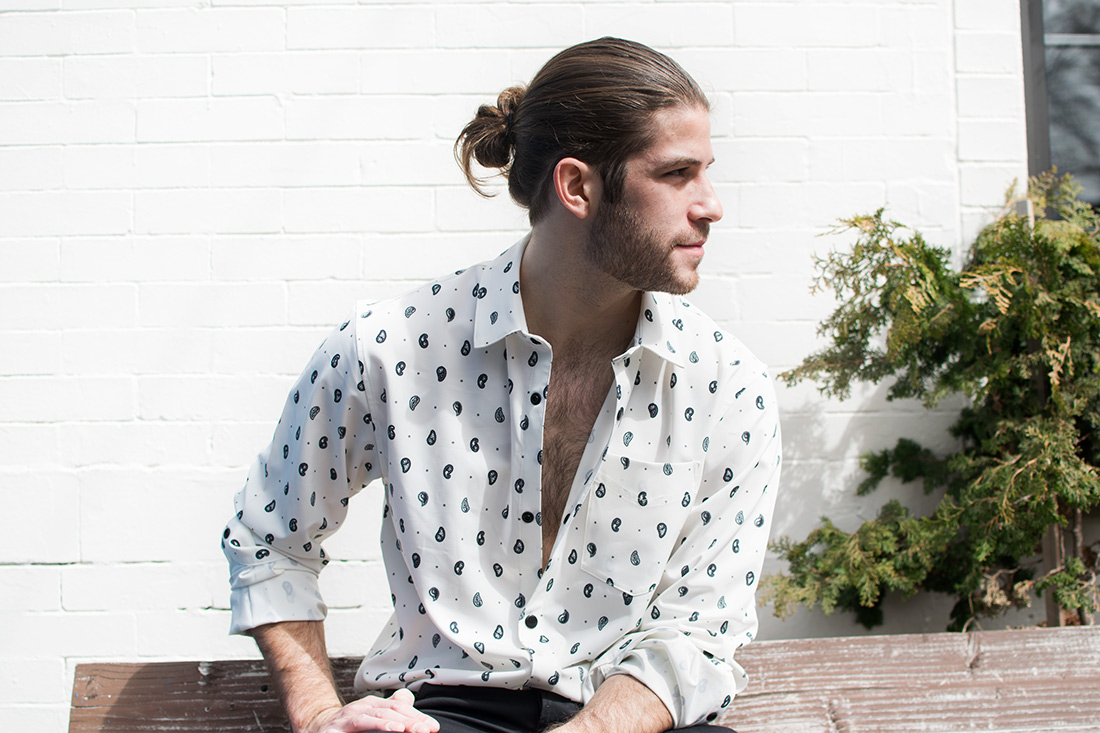 "Aer was my focus for seven years, and I gave it everything I had. Then it became apparent it was time to move on, so I figured now I've got myself, and it's time to give myself my all."
Andy: Did you ever look back and wish you were able to go to college?
Carter: I probably did when all my friends were graduating cause I was like "Oh fuck, now they're all done." So had I gone, I would have been done by then, and that would be great, but no of course not. I don't regret what I did. I think I learned a lot about the world, myself, cultures, and other people.
Not to say I have no interest of going back to school. I don't know. Ask me in two years. I told myself I'm going to give myself two years, and focus my all on this. Aer was my focus for seven years, and I gave it everything I had. Then it became apparent it was time to move on, so I figured now I've got myself, and it's time to give myself my all for two years. If two years from now I'm sitting here with nothing going, then probably I'll look back into school, but for now this is the wave I'm on.
Andy: So how is it different making and releasing music on your own, as Carter Reeves?
Carter: In terms of production, it's way easier and way better. I get to just walk in and say "This is what I want to say, this is what I want it to sound like, this is what I want to do, let's fucking do it. This is my song. It's gonna sound like this."
I think what I'm yet to find out, which will probably be much more difficult is the performance aspect, because before if I ran out of breath I could give Dave a nod and he'd fill in the end of my line. Or if we'd finish a song and I'd really need water I could tell David to talk to the crowd for a minute while I could catch a quick break. You can pass of some of the responsibility. If I was feeling sick or tired after a show and there were a bunch of fans outside who really want to meet Aer, David could go take pictures with them.
I think the tough part is going to be back on the road and have all of the performance responsibility on my shoulders. I'm looking forward to it though. It's gonna be new and different. I think it's better for me because I know who I wanna be, how I want to sound, and what I want to look like. I can no strings attached just do it. There's no difference in vision.
Andy: Do you collaborate with anyone else in terms of writing and production?
Carter: Yeah. My writing process is all over the place. I've done a lot of co-writing sessions. Either someone you've never met, someone you've met a few times, someone you've written 15 songs with, etc. Those are hit or miss always. Sometimes you walk out with a hit. Sometimes you walk out with no music and a new friend. Sometimes you walk out and are like "Fuck that song and fuck them." I have found a few people I really work well with. So I've been consistently going and writing with them. Sometimes it's me bringing in an entire song that I wrote and produced saying "Let's make it sound great."
I consider myself a good producer, but I don't consider myself someone who could produce something you would want to hear on the radio or hear on an album. I'm good at producing demos. So a lot of time it's bringing that amount of work to my friend and saying "Let's bring this up a notch. Let's make it sound professional."
I'm there from the get-go. Whether a chord change or a kick pattern is my idea, or my collaborator's. My main thing is, "Let's make some really awesome music," and then we'll figure out the money split on the back-end. I also realized, as much as I want to be able to do it alone – wrote, produced, was the only human to touch this album – it's not really realistic. It's a huge endeavor. I think I'm capable of putting down really good ideas, but I want it to be golden. I want it to be the best possible thing it can be. That's my mission, and I'm down to work with a couple other people to get there.
Andy: I know what you mean. There's definitely no shame in working with other people as long as the end result ends up being a great record.
Carter: Yeah, I think the other side of the coin, being a songwriter behind the scenes is a really cool thing. I write a ton of music, and some of it I write, and I think to myself that it's not for me, yet I still think it has potential. So I'm still putting an idea down that I think has potential. So I'll save it and for all I know someone else may want to cut it someday. If you can create something beautiful, you never know who's going to hear it and think "I can make this huge."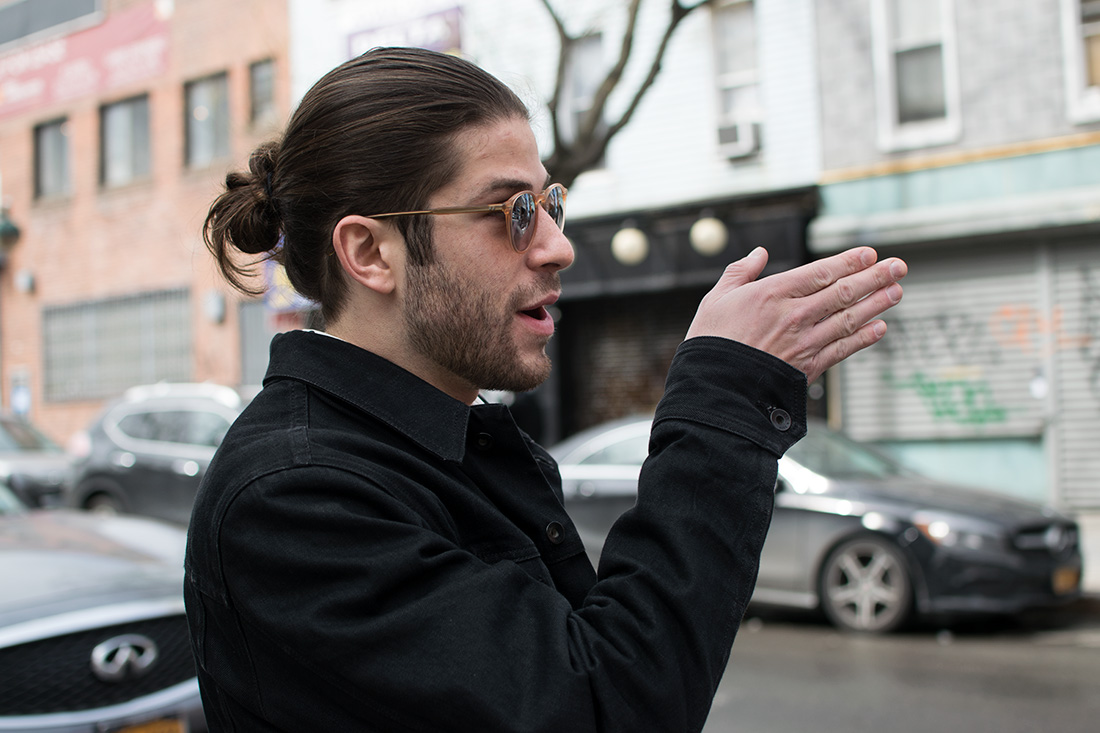 "There's that early 2000's nostalgia that's coming back in full force. That 2006 pop sound is where I want to reside – Pharell, Timbaland, JT, Robin Thicke."
Andy: Are there any artists or producers right now who are big influences on you?
Carter: Growing up, I always listened to JT, Pharell, and Robin Thicke. I always loved Pharell and the Neptunes in terms of production, and I think his solo albums are unreal. But I never thought that would be the world I was trying to be in. I think all three of those artists are doing really awesome shit, but no disrespect boys if you ever read this, they're also much older. They're in their 40s. They have families, and kids, etc. I think the way there was that 90s nostalgia that's still happening. There's that early 2000's nostalgia that's coming back in full force. That 2006 pop sound is where I want to reside – Pharell, Timbaland, JT, Robin Thicke. So while there's no way in hell I can sing as well as either of them. I think I can sing similarly to Pharell, and he brings the swag, the hip-hop vibes, a little bit of flavor. He might not be Sam Smith-ing you in your face. Hitting you with crazy runs and melodies, but it sounds natural, it sounds good, and the melodies are hot. That's kind of what my goal is while keeping it fun, poppy, and mainstream. Not shitty pop with horrible lyrics. Just trying to keep it fun, and trying to keep it funky.
Andy: I've been thinking recently how the 2000s are about to come back in music actually. Like more driving pop music.
Carter: Yeah, and not to mention, there's a whole generation of kids coming up who have never heard it, and don't know that they like it yet.
Andy: When you're writing are there any topics or themes you find most of your inspiration coming from? You said it's not really the whole smoke weed and party thing anymore, but are there any central themes you find yourself really hitting home on?
Carter: I mean, women. I heard a quote the other day. "The concept of writing songs about love. Hundreds of years old. Thousands of years old. That's nothing new. What is new is trying to create a cool, interesting way to write about it." I think relationships and "love" or "the chase for love" – it's a subconscious thing that's always there. Of course women are a huge inspiration in terms of writing because it's relatable. All the dudes agree and all the girls are like "I've been there before." Or even vice-versa – you can feel it. Or try and write universal stuff, for example, you're LGBT, but you feel what I'm saying.
I think I'm also having trouble finding my political voice within music, because I never want to be a preachy motherfucker. I always want to keep it fun, but I also have a nagging argument in the back of my head that if you're going to have an audience – if you're going to have people looking at you, listening to you, looking up to you, believing in you – you should say something of substance. Not just "Hey baby. Gimme that sugar." Granted, there's a balance. But it's tough.
I think Aer did a good job with a few songs – "What You Need," "Songbird" – just focusing on bringing people together. But I also agree with the mentality of "Dude, stick to the music."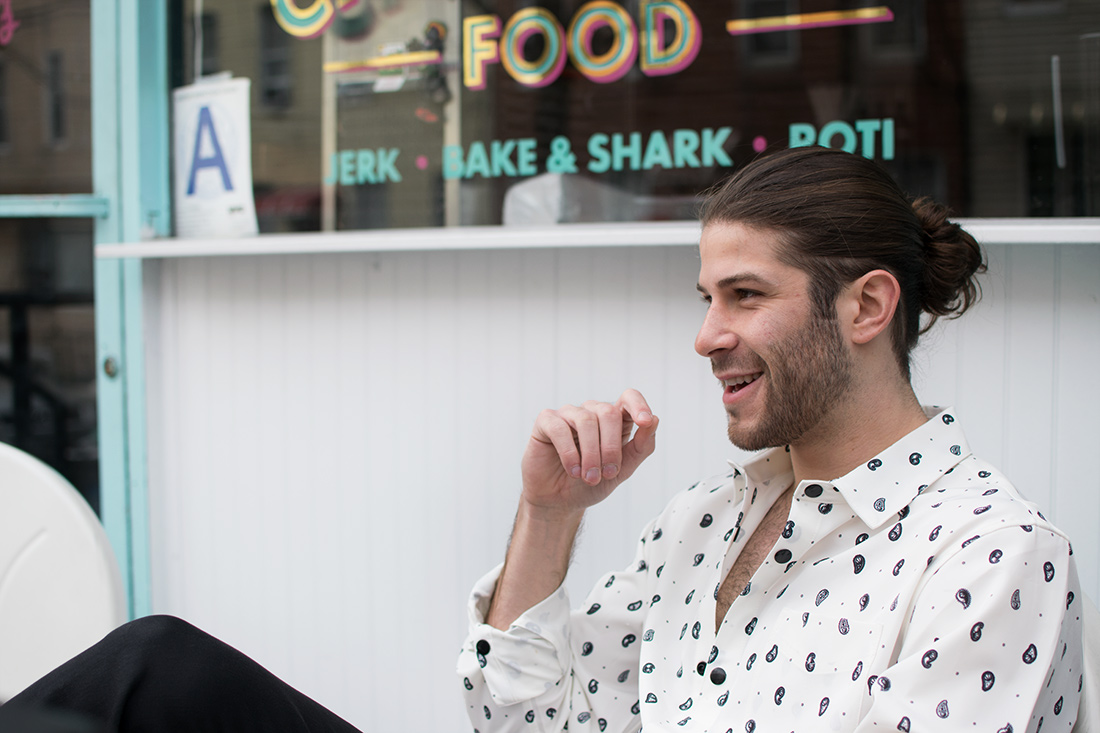 "I want my music to be fun and light-hearted. It's an escape. Dancing is universal. Laughing is universal. Smiling is universal."
Andy: Yeah. It's tough. You don't wanna isolate people.
Carter: Yeah and I also don't want to – this has nothing to do with not wanting to piss people off. My views are my views. Fuck 'em. I don't care about losing a fan or two based on my views – But I'm not gonna write a song called "Praise Bernie Sanders" when for all I know I have a bunch of fans who are Trump supporters. I don't get down with that. That's not for me. I probably wouldn't want to get into a talk about politics with them – but I think what Clinton said last week is "We can't let these political differences become personal differences." Which I think is really scary that someone can say "Well I supported Trump," and you can go "Well fuck you!" You gotta listen to these people, and they gotta listen to you. At the end of the day, we're all humans, and we all gotta find common ground. We all gotta be together regardless. I don't want to keep adding to the divide. But what I think I can do is be politically active and show that on my socials. Like, "I'm at this march (etc.) Come on out if you support." I'm not saying you have to support, but support if you agree with my ideals.
That's why I also think it's important to separate politics from the music. I think it's unfair to constantly push your agenda through music where a lot of the time it's just "Let's have fun." And maybe that's why I want my music to be so fun and be so light-hearted. It's an escape. Dancing is universal. Laughing is universal. Smiling is universal. If I can bring more of that versus a political commentary, I'd be happier with that than providing a legitimate commentary. But in an interview, if we sit down and you want to ask me how I feel about things – I will tell you.
I'm just trying to keep it fun, and that's not cause I'm worried about losing fans. I just want to keep things fun. Let's not talk about who you voted for. Let's dance together.
Andy: Your music is very summery. Even in Aer you lived in Boston and sang about the beach. Do you think you're an escapist and music is your medium?
Carter: This kinda goes back to having fun. It's just what feels good for me.
Andy: Is music your escape?
Carter: Yeah… Yes. Maybe music accompanies my escapes. Music is always there when I'm trying to escape. I'm not the type of person to put on Dark Side of the Moon, and look back on my bed, and leave the world. But it complements – For example, if I'm walking down the street during a snowstorm, which I did in Boston a few years ago – I was like this is unreal. I was listening to this crazy Jazz playlist, and it wouldn't have hit me, resonated with me, rejuvenated me the way it did had it not went hand-in-hand with the snowstorm. The music alone puts me in the vibe, and I love that, but the combination. That's when I hit the euphoric feeling.
Andy: Music's really powerful in that way. I'm the same. I live for the coupling of the right time or atmosphere and the right music for it.
Carter: When Blonde by Frank Ocean came out last summer. All I did was listen to it non-stop when I was at my parents' house in Maine. They live on the beach. That is my escape. I wake up whenever I want, get something to eat, get in the car, drive a minute, check the surf, if it's good I get on my board. It's a very simplistic lifestyle. I was bumping Blonde the whole time, and I told myself "I'm not going to listen to this album until next summer, and if I hear one of the songs I'll either leave, or ask someone to turn it off." Even if I hear a little lick from "Pink & White" something twists in my heart and I hit this high real quick. I'm trying to preserve it.
AM by Arctic Monkeys marked a period in my life, but I've listened to it so fucking much since then, it dulled that memory for me, because I've listened to it in a million different settings. So since Blonde is so beautiful, I want to keep it encapsulated in this timeframe, within this one feeling. Same with the self-titled album by Sticky Fingers. I want to be able to hear it in twenty years and be like "Woah. It brings me right back."
Andy: I've had that experience many times. It's so surreal. Just about a year ago I rediscovered this album from the early 2000s by a band called Sinomatic, and when I heard the song "Candy Skin" for the first time in over a decade, just for a split second I felt like I was four years old again.
Carter: It's unreal how music can do that. Smells can do that as well.
Andy: Yeah, so you've got two singles out. Is there something bigger in the works like an album or EP? Music is definitely consumed differently now.
Carter: Of course. Yeah, I've got an EP that will be coming out on March 31st. It will probably be out by the time this interview is aired. Like you said, the climate of music consumption is a lot different these ways so I think I'm just gonna keep putting out a song a month. Get some features maybe. Just keep it moving. Keep making music. I'm confident something will stick.
It's also weird cause no one cares about when music came out anymore. You'll see a song start to get traction two or three years after it's out, after the band already released fifteen different songs, but no one cares about that anymore. My strategy is let's keep making music. Let's keep rocking. I'm having fun and I enjoy the music. That's the bottom line. I have zero expectations. I'm having fun. It's feeling effortless currently, so I just wanna keep it rocking.
Andy: How has the industry or your scope of the industry changed since your first go around with Aer?
Carter: Personally, I've wanted to clean up and professionalize everything. I think looking the part helps you feel the part. If you feel the part, you portray confidence. If you portray confidence, everything else will come easier.
If you walk into a session and you know you're going to crush the song, you probably will. I think I've realized Aer towed the line in pop forever. We had more reggae style stuff, we had more rap stuff – it was all over the place for sure. But we really towed the line in pop.
I look at all the artists I look up to – all the careers I want to embody – Justin Timberlake, Bruno Mars, Red Hot Chili Peppers, Sublime – there are all artists who have achieved longevity. How did they achieve that? By having mainstream success. By being on the radio.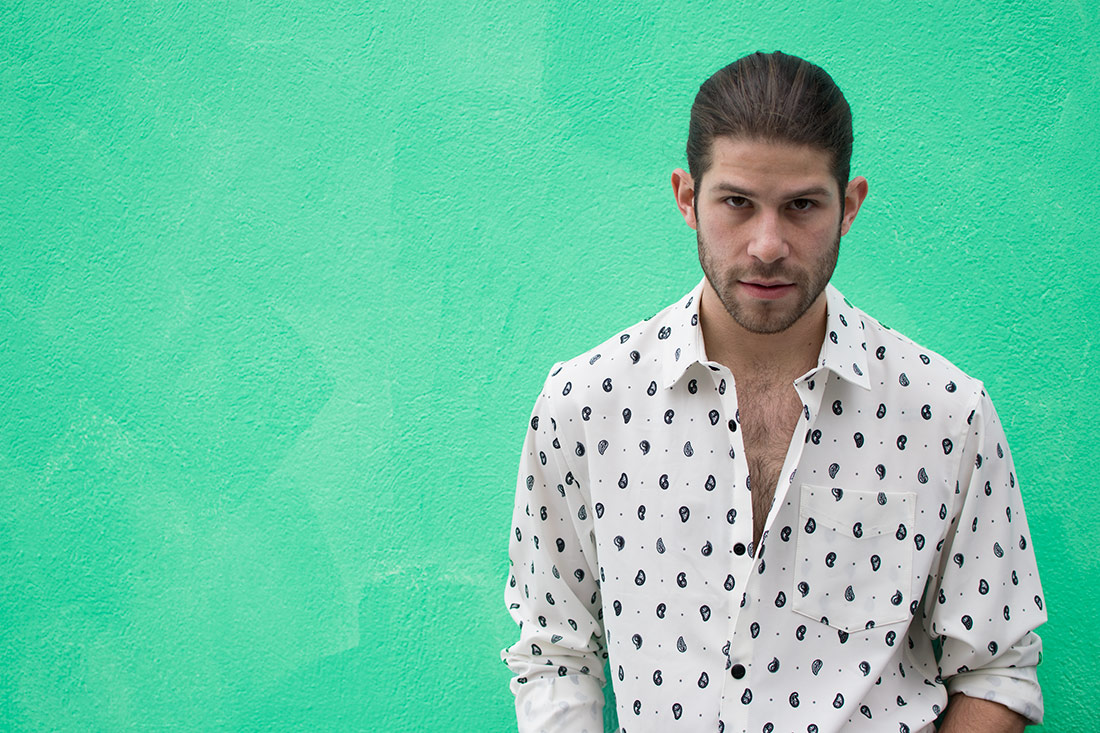 "I'm just trying to create pop music that I can stand behind and be like "This is fucking cool.""
Andy: And continuing to create great music.
Carter: And continuing to create great music that felt true to themselves. So I'm just trying to create pop music that I can stand behind and be like "This is fucking cool." Cause I love pop music. But a lot of it I think is not for me. If I can create a Carter Reeves song that has #1 pop radio potential, but is still true to me – my character, my style, it's funky as fuck, it does this, it does that, etc. – then that's the best of both worlds.
I also see myself maybe roping people in with a little more pop sensible music, and then getting weirder as I go. Which is cool. I also do weird shit. But I've also realized that pop and mainstream shouldn't be as scary, and have such a negative stigma as I once thought it did. If you want mainstream success, you're going to have to have a well-received sound.
I'm not forcing myself to make pop music because I want to be in the mainstream. I'm making shit that I genuinely feel is dope. It just happens to in my opinion sound poppy.
Andy: Yeah I think that separates the men from the boys. Songwriters who genuinely understand weird stuff, but also genuinely understand pop. If you can love pop, and understand how to do it – you're set.
Carter: Right. It's called pop cause it's popular. It's popular cause it's catchy. It's catchy cause it's good. It's all pretty simple.
Andy: Business-wise how have your scope or views on the industry changed since your first go-around?
Carter: Yeah if I want to be on the radio I think I probably need a label. It's crazy though. "Fresh Fruit" was thirteenth on the viral charts without me doing. Then that led to Spotify playlisting it. It was only on the charts for a few days, but it's a huge look in that I can do that with my first song shows me maybe there is something to say about independent viral success – doing it your own way. At the same time, it also sucks if there's a missed opportunity with a song that does really well the first couple weeks, but never makes radio cause you didn't have that support behind you.
Andy: What do you think the most important part about being an independent artist is as opposed to being signed?
Carter: Keeping yourself regimented within a routine. It's tough. If I want to shoot a video, I have to be the one to hire everyone, and tell them what the video should look like. It's a lot more hands-on. Not to mention, it's all self-funded which is tough. I do think there's that advantage of being hands-free, but it's fucking hard man. Shoutout Max, my manager. I praise him for being a really hard worker. He holds it down for me, and really fucking rocks it.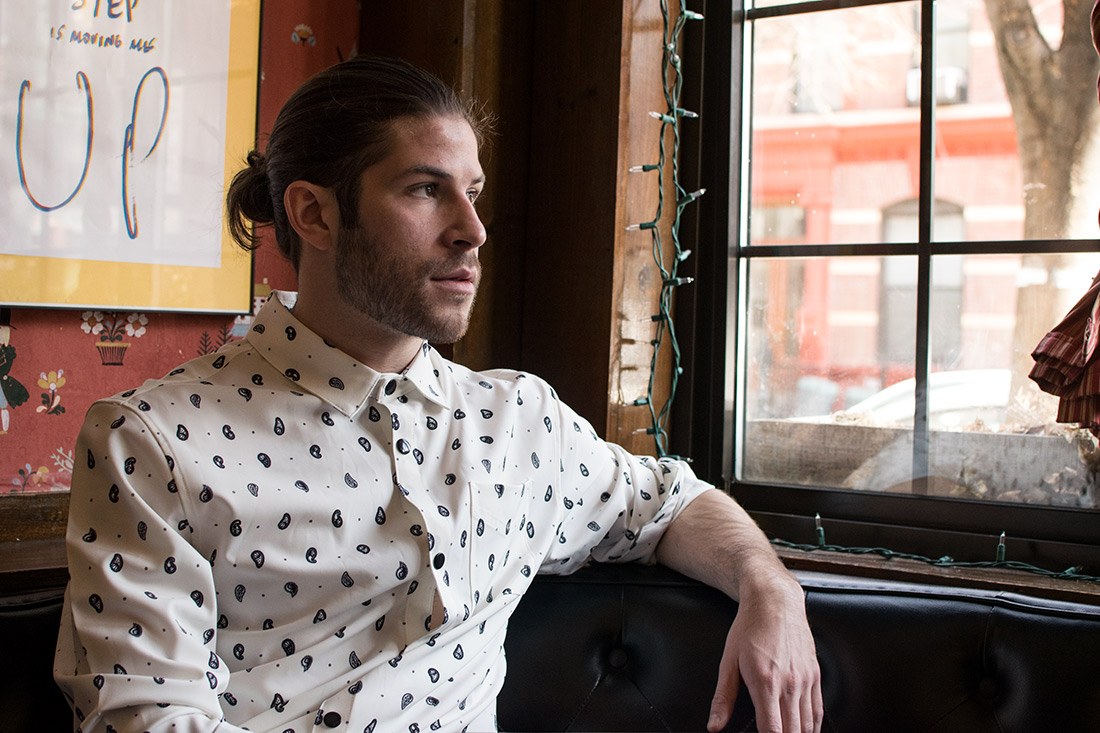 "They're working their asses off. That's what this city is for. It's great to have friends. It's great to have people you love. And I have that here, but at the end of the day everyone's here for a reason.""
Andy: You're from Boston but now you live here in New York. How do the two differ in music or lifestyle?
Carter: It's faster here. It's more of a grind living here. It's definitely eye-opening. I think you move here, and you'll be best friends with someone and hang out with them every day for a week, then not hear from them for two months, then see them again like it ain't shit. Like "Oh, that's sad," whatever. It's not sad. They're working their asses off. That's what this city is for. It's great to have friends. It's great to have people you love. And I have that here, but at the end of the day everyone's here for a reason. I think that really opened my eyes.
I'm in my early twenties in the city to be in. I gotta shake. I gotta move. I gotta get out there. I think that can get to your head easily. You can want to run around and do every event that New York has to offer, and you'll drive yourself crazy. I think I did that the first year I lived here. Then I realized, "I'm just looking thirsty. This is stupid, I'm running around for no fucking reason." I'm gonna focus on my craft and come up on my own. That's the beauty of this place. You're packed in tight with a bunch of resources, and people. You're here for a reason, so don't forget that reason, and just keep rocking.
My family's in Boston. It's a much smaller place. It's more close-minded I suppose. Granted, I was a bigger fish in a smaller sea, but they say if you can make it in New York, you can make it anywhere, and I truly believe that. I think it's just a matter of time.
Carter Reeves on Instagram
Carter Reeves on Facebook
Carter Reeves on Twitter