"How much happier would we be if we spent more time moving with the force of life. Dancing, singing, making love, feeling sexy, walking in the woods, swimming at the beach, looking at flowers, watching animals, telling stories and gazing at the moon, rather than always pushing ourselves along a path that we think is leading us to where we want to go?"
Sally Mustang is an artist, yoga teacher, writer and a free spirit. We have been in love with the inspiring beauty already for a long time and we are happy to had an insightful talk with her about places, love, best life lession and sex&art.
You traveled already a lot in your life and currently you are Bali based. Where do you feel most at home?
Home is actually the hinterland of Byron Bay, NSW Australia it's where my tribe lives my friends and family and is home to a really wonderful creative, conscious community. I am in Bali a lot to these days and while I'm there I live way out in the jungle very far from any tourists. I like the peace and the waterfalls out there :)
Nature is a big part in your life. Unfortunately the human race is constantly destroying the planet by it´s insatiable desire for always more and it´s growth on all levels. Or do you think nature itself is thriving in an age of extinction which is another scientific theory?
I think nature has a divine plan. Nature is our mother and we can by no means destroy her. All she has to do is have an earthquake or tsunami and it pretty much puts our lives and power as humans into perspective. But to be honest where I spend most of my time and what I see ( apart from a airport stop over in a city ) nature is alive thriving and beautiful. If I talk about destruction I see destruction, if I talk about beauty, I see beauty…
On most images I cannot find a photographers credit. Who is taking all that wonderful images of you?
Most of the time my partner Mitch snaps them, sometimes we self timer also. We both love photography and modelling so it's another creative outlet for both of us.
On your instagram page you wrote: "Sex is Art". Is there a connection between sexuality and art?
Absolutely! Our website www.sexisart.com shows you our erotic true stories and gives an insight into why Mitch and I most definitely believe that #SexisArt, or rather the way that we create it through our images and writing, is art. Our stories are a new perspective for us and many others on the relationship of sex, as art. A creative expression in a visual and written form that evokes beauty and emotional power.
The overall message behind what we're doing with our stories is for freedom of expression, in an always criticising and controlling modern world. Of course we also want to promote love, connection and sexual exploration.
Through our art we hope to influence change and conversation, not just artistically but in peoples everyday life. This is art that can appeal to almost anyone with an open mind and we hope that people can not only appreciate, but also take something away from our work and use it in their own relationships.

"The overall message behind what we're doing with our stories is for freedom of expression, in an always criticising and controlling modern world."
How long have you and your boyfriend been together?
About 3 and a half years now. We are getting married in May and I just love him so fucking much !
What makes a relationship last long?
Good communication. Being open about everything. Growing together. Working towards common goals and missions in life. Passion and love.
What moment made you fall in love with yoga?
It was the first time I really connected spirit body and mind. It was through the body I healed myself and learnt about myself. It taught me how to be the best version of myself .. and still does. I'm forever grateful for the practice.
What is the biggest challenge of being an artist?
No challenge being an artist just sometimes also being a bussiness brain behind the art. It's hard because creative brains don't really work that way. Now thankfully I have a team that works that side of things for me, but at the start it was just me and I guess I tried my hardest but I never was on time, forgot to write  back, would sell my work for less if someone loved it etc etc. I remember my first business was my yoga studio a few years back and I basically had a system that was pay what you like for my students. I had a blacked out jar and a sticker on it saying donations. And that was how I was paying the rent and electricity. It seemed to always be enough but that's just not how you run a bussiness haha. It was the best thing I did was get people on board that enjoyed that part of a mission and were good at it.
I would also say getting over fear. Fear to be seen, fear of not being good enough, fear of being judged blah blah the endless ego mind chatter, that's a big one too. Getting over fear.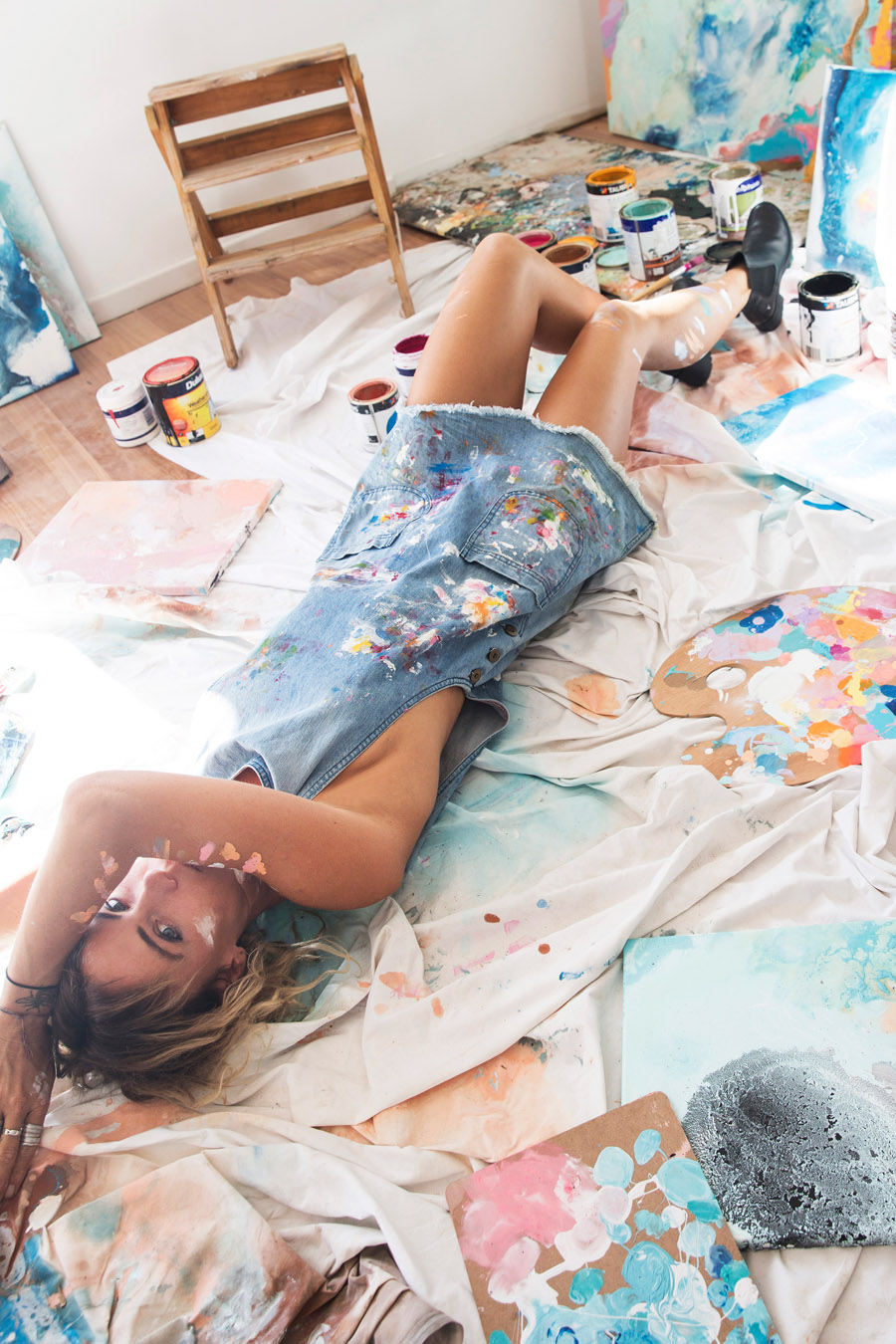 "If I talk about destruction I see destruction, if I talk about beauty, I see beauty…"
How much time are you spending on social media except for work?
Not much at all to be honest I have a really healthy relationship with it. Maybe 2 hours a week I'll jump on and see what people are up to, and find creative inspiration on there. I try to follow people that inspire and make me feel good when I see there posts.
The best life lesson so far…
I wrote this the other day and I guess it was a huge life lesson for me :
As I sit here, I re discover the story. This is home. But it's the story I have created. I feel as though everything I suffer with is just a story I have made up . I decide I'm my dogs caretaker ( or insert  mother / father ).. and I suffer thinking about if I'm caring correctly. Then I change the story and I'm her companion, friend and we are having an incredible time together. I'm happy.
I'm Mitch's partner, am I fulfilling him? Am I good lover, is he fulfilling me? I wonder and
I realise again I am suffering .. I change the story, I love this guy and we seem to really embrace each other and support each other's dreams. Again I change the story and I am happy.
I'm an artist, yogi, healer, writer.. blah blah.. am I doing enough? Am I good
Enough? What could I be better at? Whoops need to change the story. I am living and creating and I am doing what makes me feel alive. That's enough always enough. Again I change story and I am happy.
I even create my own love story, have I given myself enough space/love/gratitude have I been gentle, caring, etc etc … still a fucking story. If I feel good than who fucking cares what I have given myself  Everything is a story. Make it up. Make it Fucking great. Better believe it.. society has tried very hard to create your story, make you believe in a certain style of success and happiness, but guess what, it's actually you who decides !  This life.. it's your story. MAKE IT UP
Where do you see yourself in around 10 years?
Painting, singing, dancing and travelling, a family, a veggie garden. Many friends and laughs, much love.. they are all things that come to mind
Is there a song you can't stop listening to right now…?
Yesss ! Collide by Odette

A question we should have asked you? And your answer to it?
I guess you could have asked what my favourite sex position is …
I like being in top ;)