In art, there is no substitute for real emotion.
Canadian rock artist JJ Wilde makes that very apparent on her brand new debut single "Wired". With pop sensibilities, punk rock attitude, and indie folk elegance, the 26 year old Kitchener, Ontario native is out to make a statement, by not actually making a specific statement. Instead of reinventing the wheel, she's pushing it faster, creating a unique brand of high energy guitar music that feels both vintage and hypermodern. And while "Wired" feels like an apex itself, it's only the beginning of what's to come.
Interview and Photography by Andy Gorel
Andy: So where are you from?
JJ: I'm from Kitchener, Ontario!
Andy: Your debut single "Wired" just came out. Were you in any bands before this, is this something new..?
JJ: Yeah, I've been doing music since I was… I don't know. I've been writing for a long time. I've been playing gigs since I was like 18. Between being in a band, and solo, I've done quite a bit.
Andy: How long have you been JJ Wilde?
JJ: It's crazy. It hasn't even been a year. I think it was last May when I first got into this thing. It was everything I had worked on before, and all my solo stuff – all the songs I had written, full songs, half songs, ideas – it's like all of that was supposed to be a stepping stone for this. Cause as soon as I went into the studio with Frederik Thaae who is the producer on the EP, we holed up in his studio for like a week. We wrote everything, and did everything. It was crazy cause when we started writing it all just poured out of me, and Frederik would be like "Do this to it." You know, putting the pieces where they needed to go. What was so amazing was we wrote each part. There was no band behind it. It was just me and Frederik. We wrote the drums, the bass, the guitars, tweaked the tones, everything. It was the first time I was able to be that hands-on in the instrumentation of something, which made it super special. We had probably two straight days in the studio of just guitar tones.
What I wanted to do with this record was keep it as organic as possible. I come from more folk roots, so it's important to me to keep it with real instruments, real sounds, and taking time to get those tones through old amps.
"All the songs I had written, full songs, half songs, ideas – it's like all of that was supposed to be a stepping stone for this."
Andy: Yeah. Guitars, and real instrumentation are going to make a big comeback. I've been saying it for a few years now and I know I'm not alone in my thinking.
JJ Wilde: Yes! There's a fine line in the music industry between tastemaking and just weird shit. I think it went from the weird shit that was good with these synths – which were good and still are – but it went too far in that direction. Now it's time to reel it back in and mix that with organic sounds. Every phase of music goes through the same cycle of "This is great!" at the start, and then "We're gonna bleed it, and bleed it dry." And now we're at the cusp of people saying "I wanna change. I wanna hear something else." And they're going back to organic sounds, and that makes me so fucking happy cause that's what I like.
Andy: Yeah, I totally agree. I think it's cool to look at someone like Tom Petty.
JJ Wilde: Tom Petty's a fucking legend!
Andy: Yes he is. The thing I find cool about him is he would always sound with the times, but he was always making rock music. But also, to what you were saying. Most people don't understand, even most people who are good at music, don't understand culture's role in society. So when something gets hot, people cling to it. And people keep getting to it later and later, and everyone starts chasing that one thing, and by the time the masses get to it, it's overwrought.
JJ: Exactly! Someone will come out with something that's cool and different. People will start following it instead of appreciating it for what it is and continuing on with what they wanna do. You can appreciate someone's art without trying to simulate it.
Andy: Yeah. When I listened to your song today I heard a lot of things, but nothing specific, which is how it's supposed to be. You can tell when someone's being themself. It's about tapping into what works for you, and exploring it.
JJ: Exactly. If it's real it will carry.
Andy: Any favorite artists you have who inspire you?
JJ: I hate this question!
Andy: Is there a time period or era of culture you find particularly inspiring?
JJ: Nope, I don't have that. I have always been a big fan of music, and so are my parents. But their tastes differed. My whole family is very musical, but we all have different tastes, and from that I was able to get influences from many different things. I'll listen to any genre. If it's good music, I'll listen to it.
I don't just get my influences writing from music.. The way this table looks, the way that bench is worn, the way that fucking neon sign looks against the reflection of those light bulbs. There are so many ways of getting influence for creative thoughts.
Andy: Yeah, I find old movies to be inspiring sometimes.
JJ: Exactly! So when that question's asked, I do take influence from writers and music, but I don't like to have it be so pigeonholed in "What are the artists you're listening to?" and "What did you listen to?" cause the variety is insane. I feel like there's more to say than that.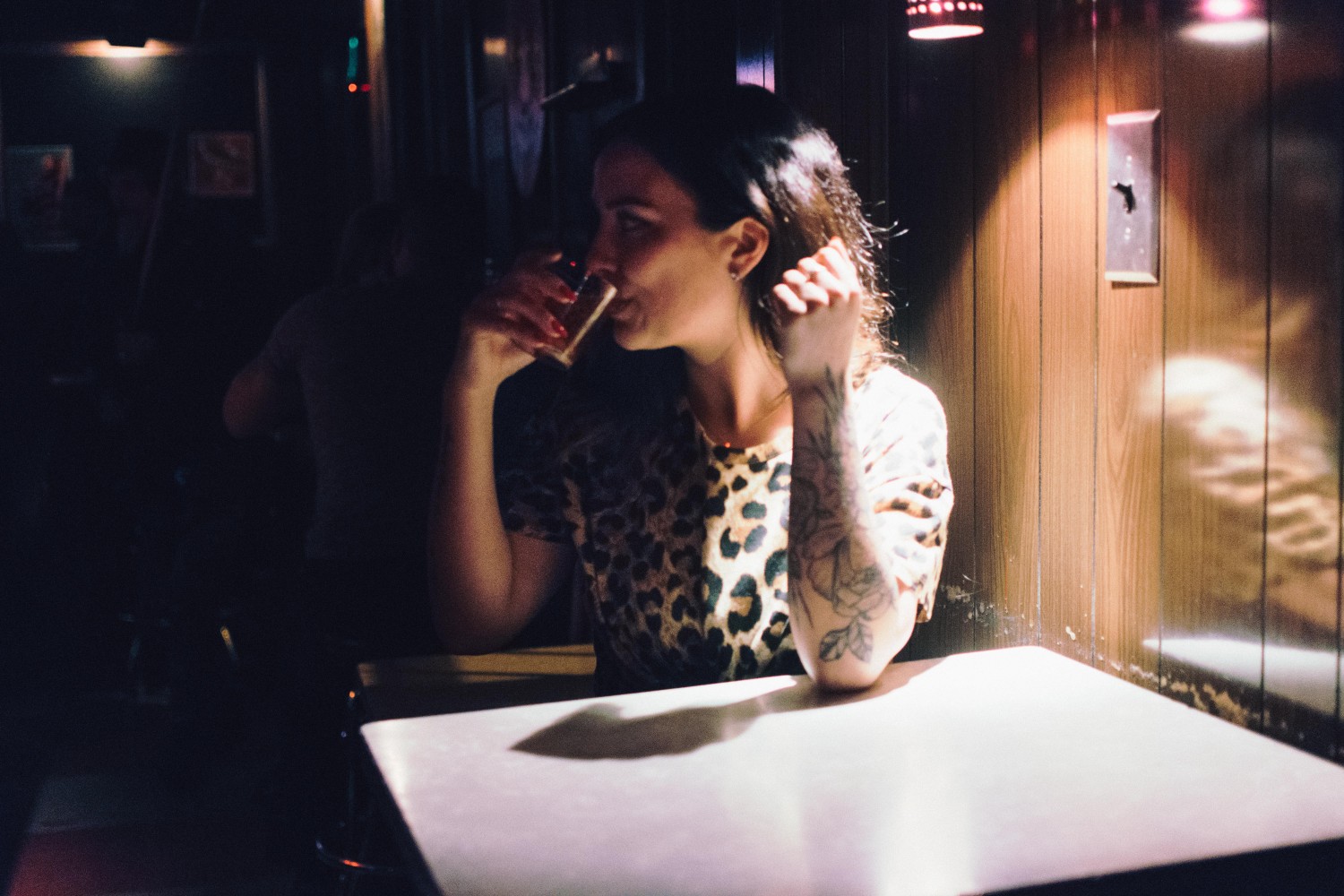 "Success is measured in many ways. Success can be playing a scuzzy bar… if that's what gets you off. Success can be having three kids. You know? I feel like something I would love would be to know people took something away after seeing my show."
Andy: I read an article recently talking about how artists and songwriters not having a plan B has diluted the quality of music, because of how fiercely competitive it is. The "success-at-all-costs" mindset has compromised the artistic value of music. The art of song is about living and writing and living and writing. What do you think about that?
JJ: I don't think there's anything wrong with not having a plan B cause I don't have one. But, I don't not have one cause I think I'm gonna make it, I don't have one because I don't want to do anything else. Whether I make it or not, this is what I'm doing so let's see where it fucking goes. I literally went back to college to a career counselor for them to say "Maybe it's time to get a 'real job'" and that's when I realized I will never be happy doing that, and at the age I'm at now, four years away from thirty, to be honest with yourself, and admit I won't be happy if I don't give it a shot.
Andy: Well to me, success is doing it.
JJ: Success is measured in many ways. Success can be playing a scuzzy bar… if that's what gets you off. Success can be having three kids. You know? I feel like something I would love would be to know people took something away after seeing my show. The stuff I'm writing is very raw in a sense. I feel like the stuff I've gone through in some aspect of somebody else's life, they've gone through something similar. Or maybe not even similar, but it would be nice to know that what I was feeling and having a difficult time communicating – that somebody hears that and is comforted by it. Like "Nice. Somebody else feels that way too."
Andy: Totally. Also, it's not entirely about notoriety. I know there are songs from 20+ years ago that not a ton of people know, but mean a lot to me.
JJ: Yeah! If it means something to you, it will mean something to someone else. There's no way that energy won't translate. Example – misery loves company… so does positivity. And so does misery. I have songs that are fucking sad, because that's how I was feeling, but I think you can find positivity in the sadness. You can take this shitty thing you're going through and find that somebody else is relating to you. I'm not trying to get too cliche on you (laughs).