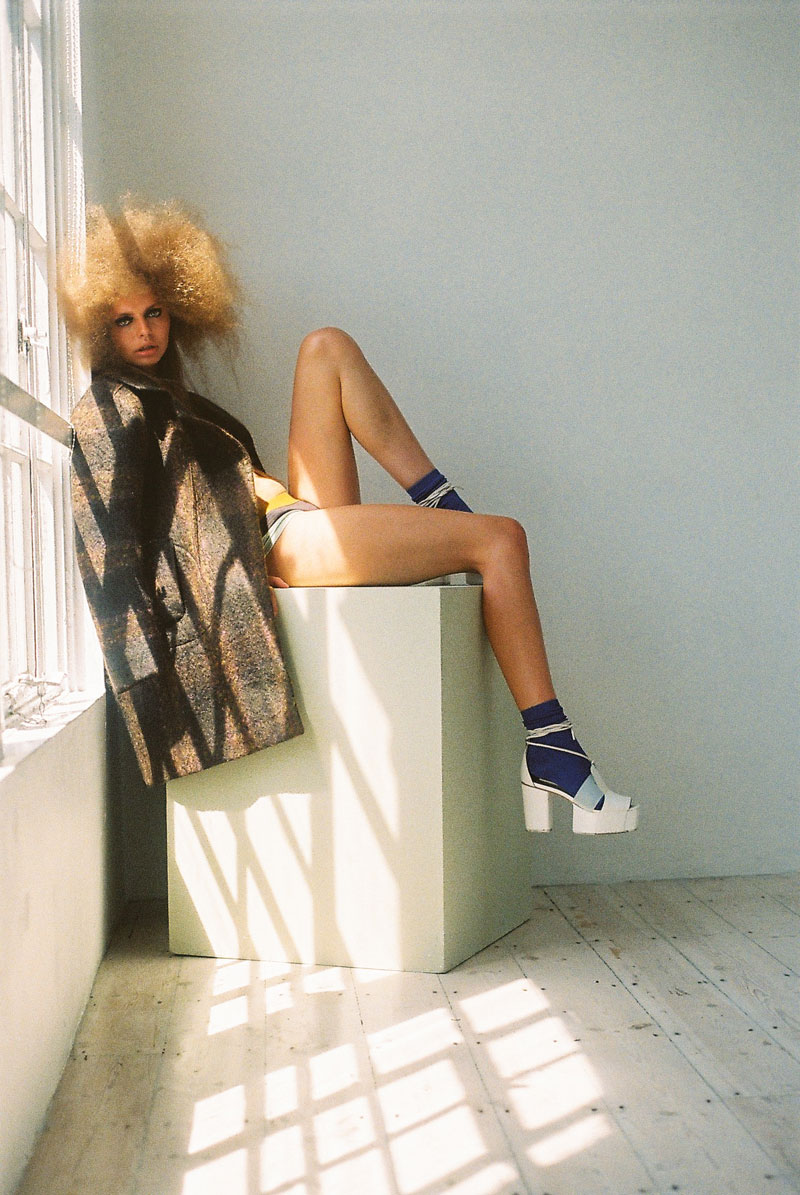 "The memory of the creation becomes a thing itself, and the act of making the photograph is a performance, this is what inspires me."
Henry Gorse shares with us his steps and inspirations that lie within in his photography career. The young photographer comes from a small village called Ravensmoor, in North West England and he is currently residing in London.
Always with his camera, it was after his father passed away that he began using it in a more serious way "This is my driving force".
His work has influences of fine art that he conveys to the fashion world, thereby creating creative photos with a "je ne sais quoi" of playfulness environment.
How did the fact that you lived on a farm influence you as a photographer?
It allowed me to develop a certain mentality.
All the hard work, stress and responsibility set me up well for life in London and life in general.
In terms of the way I shoot, I developed an appreciation for nature around me; this has defiantly remained in my work and become an important part of it.
How was moving to London? What was your first feeling?
It was amazing but terrifying at the same time, I think for the first month, most days I spent walking around getting lost with a 35mm in disbelief somewhere exists like this in England.
Moving to London defiantly raised the bar and made me realize the hard work was about to start.
What is your work ethic?
To create a style which becomes completely my own by blending fashion and art with an injection of English humor .
Your photos are creative, colorful and fun. What is the best part of being a photographer? What are your inspirations?
From a silly idea I get daydreaming, I can make it happen simply by working with other like-minded individuals. You can create any elaborate idea in front of you and experience the process of it with others. The memory of the creation becomes a thing itself, and the act of making the photograph is a performance, this is what inspires me. The final results of the photographs have the potential to inspire people, all of this has stemmed from a raw idea and then escalated because enough people believed in it. That's a pretty powerful thing.
A word that describes your work.
FREESTYLE.
How did the opportunity to enter the fashion world come about? You always had a taste for this area?
I was drawn to the fashion image as it allows you to create something completely original, every single factor you have control over to make it your own.
I began working at Curtain Road Studios as manager a year ago. Meeting and looking after the teams of Tim Walker, Alasdair McLellan and Paul Buller gives you a good insight into how things work and how to apply them to your own practice.
The relationship that you establish with the model is conveyed in the final work?
Depending on the nature of the shoot really.
It's always important to get your idea across; the model is responsible for capturing the feeling you are trying to convey.
Every shoot you want a positive vibe for people to feed off, I like to play on the role of the model, and it's interesting when their personality adds to my direction, that's when I know I've got something special.
What was the biggest lesson you learned being behind the camera?
You are in control of everything in front of you; if you don't follow your own instinct then you have a lot to ask yourself.
There is a lot of negativity around people who express themselves; you have to become immune to it to succeed .
A remarkable moment.
Realizing the dream is possible.
What is your favorite photo so far? Why?
Its hard to pick out an individual favorite.
I hope the next one!
Next year you want …
More Printed Editorials, Big Ideas and a fan named stan.
Upcoming Projects.
Becoming so focused on fashion editorials I have put my fine art projects on hold for now.
I would love to travel and document a group of individuals; I think I will do that one day.
SITE www.henrygorse.co.uk