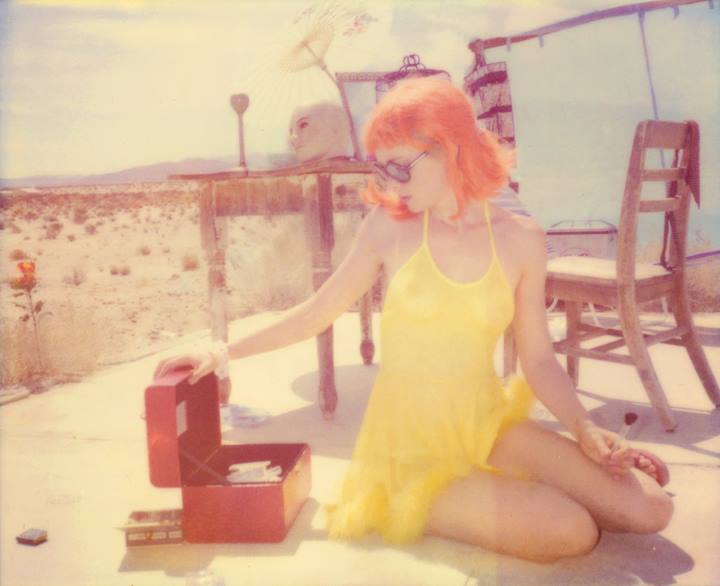 Stefanie Schneider "Untitled"
"I believe, that I create my own aesthetic world. How far that reaches, I don't know. For me, aesthetics are not stand alone goods, there has to be depth to them." told us Stefanie Schneider a while ago in an 

interview

.
The Pop-up Art Gallery Berlin will present the beautiful dreamy work of Stefanie Schneider from Friday 14th February to February 19. Taking the American West as her inspiration, Stefanie Schneider's analog images evoke ideas of masquerade and play, the intense gazes of Schneider's female characters undermine their playful edge suggesting an unnerving or tragic quality beneath the surface of these glossy women. Collectively the works evoke love, pain, loneliness, alienation and re-discovery and can be seen to suggest a social commentary on America; pointing to the cracks beneath the surface of the glitz and glamour of the 'American Dream'.
Using expired Polaroid film which is then enlarged by hand in her own laboratory, Schneider's images both emphasis the sun drenched light of California and embody the cinematographic quality of the films of Quentin Tarantino and Oliver Stone and are reminiscent of forgotten memories, dreams and chance encounters. The blemishes of the expired Polaroid film, further add to Schneider's intent to represent an imperfect narrative.
Her work will be presented alongside the artist Ana Bathe. Born in Serbia during wartime Ana fled to Canada as a refugee at the age of ten. Raised in Toronto she always felt misplaced leading her to question her own identity. Now home in Berlin, the city and its melting pot of alternative cultures and lifestyles supports her direction of self discovery and fuels her passion to challenge ideas of conventional beauty and gender in her work. And so this exhibition offers interesting look into self portrait photography by two outstanding Berlin based female artists.
Opening times for this exhibition and other info you can find here: www.facebook.com/events

"The Girl behind the White Picket Fence" by Stefanie Schneider