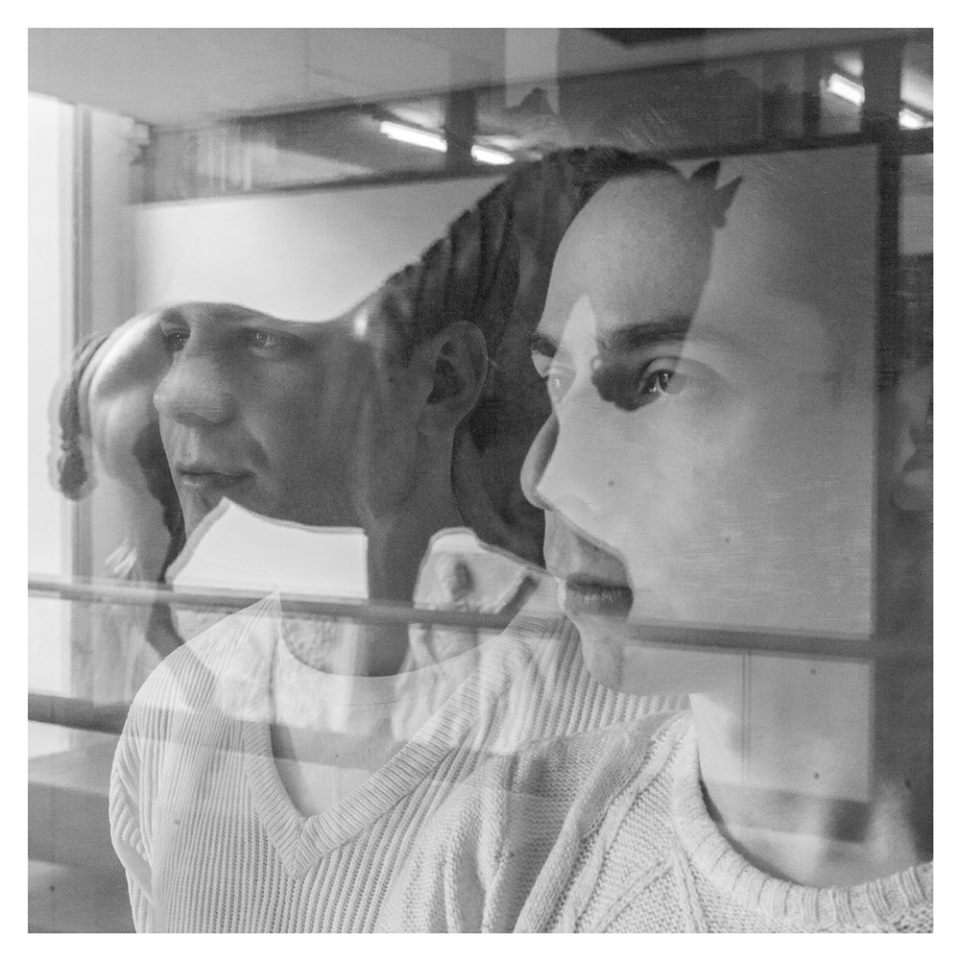 photo by Ladislav Babuščák
I'm terribly late for introducing you all to

Palermo

, and you can think of it as one of my best kept secrets, but good things always find their way. I first stumbled upon the band via Freddy Ruppert of

Former Ghosts

 who is good friends with the Prague-based duo consisting of Dominik Gajarský and Roman Štětina – two students of the Academy of Fine Arts in Prague – who find themselves in making the most beautiful synth-driven electronic pop (if you need a label) you've ever heard (if you need a promise).
There's a melancholic, slightly heartbreaking feel to each track of the band, especially the ever-brilliant "Lecture", a poetic number dealing with the "definition of love". While the vocals are languid, haunting and above all utterly beautiful, the lo-fi recording aesthetics and the distinctively elegant and poignantly mournful voice of Dominik have already elevated Palermo to be one of the most exciting acts in the Czech music scene. Check out our talk with the band and their video for "Book of ethics" below.
Can you tell us a little bit about yourself? How did Palermo start out? And what's the story behind that name? I liked the idea of your music being related to the city of Palermo in Italy but in fact it links to the mythical character of painter Blinky Palermo, right?
As you mentioned, our name comes from the pseudonym of German artist Peter Heisterkamp and we picked this name because we like his work so much and Palermo is a nice nickname which he acquired from his teacher Joseph Beuys. We thought that it's the best connection between art, myths and real life.
You were previously known under the moniker Table. Was there the need of a new name because of a musical progression or change?
Yes, exactly. I'm not sure if we can call it a progression but we wanted to make a thick line after our past, so we decided to find a new name.
How do you think the fact of living in a city like Prague influenced you as a person and as a musician?
Prague is not just a city of xenophobes and crazy tourists but it's also a centre of great artists, small galleries, theaters, cafes and beautiful old architecture. One can really say Prague is inspirational.
What's the music scene in Prague like? I know you are friends with Freddy Ruppert of Former Ghosts; how did you guys met?
The first time we met Freddy was at the festival Creepy Teepee. It's the best event for contemporary music in Czech Republic organized by our friends from a.m.180 collective who invited Freddy to play there. We knew about Freddy's work before and we adored it. He fell in love with our friend who made an interview with him and after that he moved to Prague. It is like in a fairy-tale. Now we are really good friends and he is still one of the most important persons we met in our life. We have art and music communities here in Prague which are a bit closed to newcomers but i think it's getting better. There are a lot of good artists we know and many more we don't know who make interesting things, like Dné, Lo/ve, Lightning Glove, Luke Mayen, etc.
Atmosphere and texture seem to be just as important as melody and songwriting in your music, would you agree? Your intonation is kind of special, too.
Well, atmosphere and texture are important but lyrics even more so. Now we focus on a message. Intonation? Maybe it's because I'm not a professional singer.
Where do you draw your inspiration from? Are there certain musicians, artists, film makers etc. that are or have been a constant source of inspiration over the years?
There are a lot of important things in the past. If we talk about music, then one connecting element is art for sure. Sometimes there is a fine line between music and art which is interesting. Freddy is a good example of this connection. He writes regular songs and then he makes experimental music and prose. But of course we have a lot of sources of inspiration. For example African music, early beginnings of blues or so called soul music like Lee Moses, Abner Jay or folk singers like Elizabeth Cotten. Electronic experimantal stuff like Delia Debyshire, then classic like Igor Stravinsky, post punk music, synth pop, David Sylvian for example but it's really hard to say names because one can find something important even in trance music. It's a post-internet age. So message is the only constant thing.
What is the best piece of advice anyone has ever given to you?
"Self-pity is taboo" by Michal Pěchouček.
What are you listening to at the moment?
Dean Blunt – King James
What are your plans for the near future? Are you guys ever coming to Vienna for a gig?
We would love to play in Vienna, we love the city not only for its art scene…
Palermo's debut album "Still Life" is released via Crazy Iris Records in 2013 on Vinyl as a limited edition and can be downloaded via their bandcamp.
Interview by Katja Schifferegger