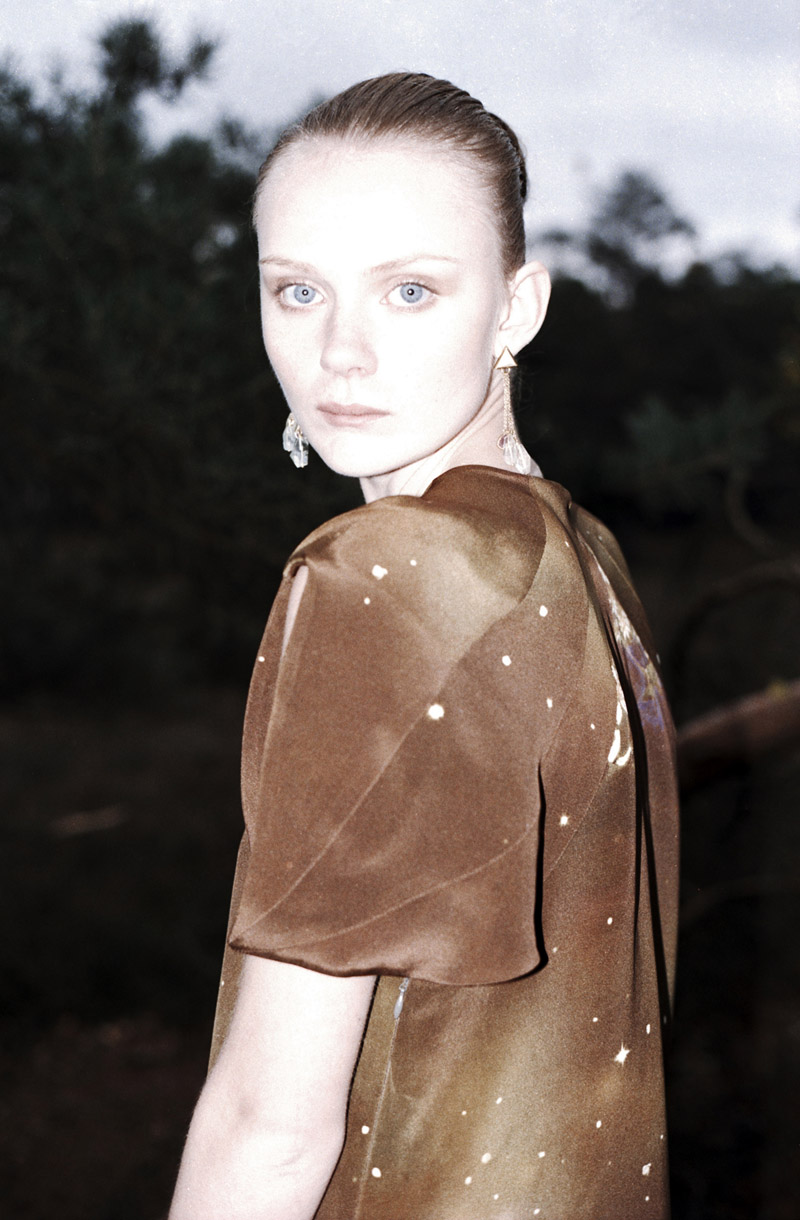 "What I love most is to create clothes that carry a story that inspires to implied emotions."
In part three of our talk to designers that will show at the FIER vitrine fashion event on the 8th of July 2014 in Berlin during the Fashion Week we had a talk to Maja Daphne Holzborn, a Hamburg based designer that specializes in exlusive, artistic inspired small and unique collections. She once quoted that "fashion is like the eternal return of flowers in spring. You would miss fashion as much as if spring wouldn´t come again." True words!
To do your own label requires a lot of strength and courage. When and how did you decide that this is what you wanted to do with your life?
After I finished my studies of Fashion Design at Hamburg University of Applied Sciences, I experienced to work for some companies, mostly international. I just had to start my own label to implement all the collections and ideas I had in my head. I couldn't wait any longer and it felt so right to do it.
Does the place where you come from inspire your work?
Hamburg is a harbor city, the so called "Gate to the World"….as we say here. There is always fresh air and international flair. It is a good port to explore the world in your mind.
What drives you to create a new collection?
It starts with an idea that attracts me. It can be based on material, linked to an association or a subject that takes me to another world. What I love most is to create clothes that carry a story that inspires to implied emotions. In conclusion there is an idea I really have to follow. It has to be done, that's all.
How does a normal day in your working space look like?
My working day starts with searching for good music that will accompany me. I love to pin pictures of my latest inspirations on the wall – my mood board. There you also will find my own fashion illustrations and drawings of the prints. The working process includes the draping of challenging fashion patterns. Then I push my latest project. There is always a deadline.
You will show your latest collection at the FIER vitrine SS15 in Berlin. When you think of Berlin, what are the first associations you have with this city?
Berlin is an exciting place to go, since there are lots of paradoxes and creative people. The history of Germany is very present but also an exciting future. The feeling of the "The Roaring Twenties" of Berlin is back somehow and puts it right to the list of all the top cosmopolitan cities.
If you wouldn´t be a fashion designer what else can you imagine to do?
Surely I'd be an art painter or illustrator. Just the reason that fashion can be as interesting as art, but cool and very agile at the same time made me to prefer fashion above art. Working on fashion forecast could be an interesting job as well.
If you had a year off from work: what would you do?
Oh, I would do lots of artwork and I'd love to visit all my friends spread over the entire world.
The craziest thing you ever did
…was to start my own fashion label! ;-)