"I do feel things do not inspire and engage me as much as I did when I was younger. Like for instance, new music or a film I've seen. Is that just growing up?"
Sean Marc Lee declares when we speak about if a different place makes you feel like a different person. He grew up in San Fransico, CA and for the past three years has discovered Taiwan as his current home. After initially studying visual arts and films he then felt more called to be a photographer, finding photography more independent. Yet he has never really aborted his cinematic connection: "I will always see myself as a filmmaker who makes films in photographs." We had a quality conversation about the current fashion mood in Taiwain, his favourite image and life before all social networks.
You are from California but since 2011 you are based in Taipei, Taiwan. A place to stay forever for you?
I'm not sure about forever, but for now is good! I would like to live in Japan someday for a little bit too, but since it is so close to Taipei, I do travel there a lot. Ideally I would like to spread my time in Asia and the US equally.
Do you feel like a different person living in a different place? From my experience that sometimes happens, but then I am never entirely sure if it´s the place or just the time factor and other things…
When I look back at my life before I moved here, it feels like another person lived that lifetime. If I didn't have photographs I would not remember a lot of those experiences. Yet time passes so quick even in the present that I don't remember what I did last week. I've lived here now for three years, and I think I am fundamentally the same person in many ways, but time has stretched and condensed all at once that I am sure I'm different as well. I do feel things do not inspire and engage me as much as I did when I was younger. Like for instance, new music or a film I've seen. Is that just growing up? Taiwan is home for now though.
You studied Visual arts/ Films. But your main focus is photography right now and not film, right?
My father was also really into movies so we watched everything growing up from bad American b-films , to Hong Kong action films mixed in with Hitchcock. I knew I wanted to do something in the visual arts so my natural inclination was to study filmmaking veering towards cinematography at first. But I found photography more independent (less reliance on crew and budget initially) so I did that more. When I saw the French film La Jetee by Chris Marker in one of my very first film classes it changed a lot of things for me. It's because of Chris Marker and La Jetee, that I will always see myself as a filmmaker who makes films in photographs. I still love cinema and a lot of my friends and people I went to school with are involved still so I will always have an attachment.
You are also doing street photography. What are the current fashion trends in Taipei? And besides fashion – what is the general mood amongst young people? Well, at the end those two things go anyhow a bit hand in hand…
Taiwan fashion in ways is living in the shadow of Korea and Japan. I think that puts it in a unique place when it comes to style. It's very influenced by Japanese style with this sort of DIY craftsmanship, but many brands are being imported from Korea because they are affordable. You get this remix of styles that is hard to categorize in ways or sometimes there's something off. I think people's tastes are improving as Taiwan becomes more international brands as well as people are coming here to do pop-up shops and stores. It's exciting to see quality and taste improve slowly by international influence, but there still needs to be better support and marketing for local brands. People here are curious and hungry for more.
Show me one of your favorite images that you ever did and tell me why it is so special for you.
My father. I have an entire ongoing series of my dad titled "daddy_lee." He's just one of the most special guys out there, a best friend and father figure full of childlike qualities and playfulness. And he will practically do anything for me in front of the camera.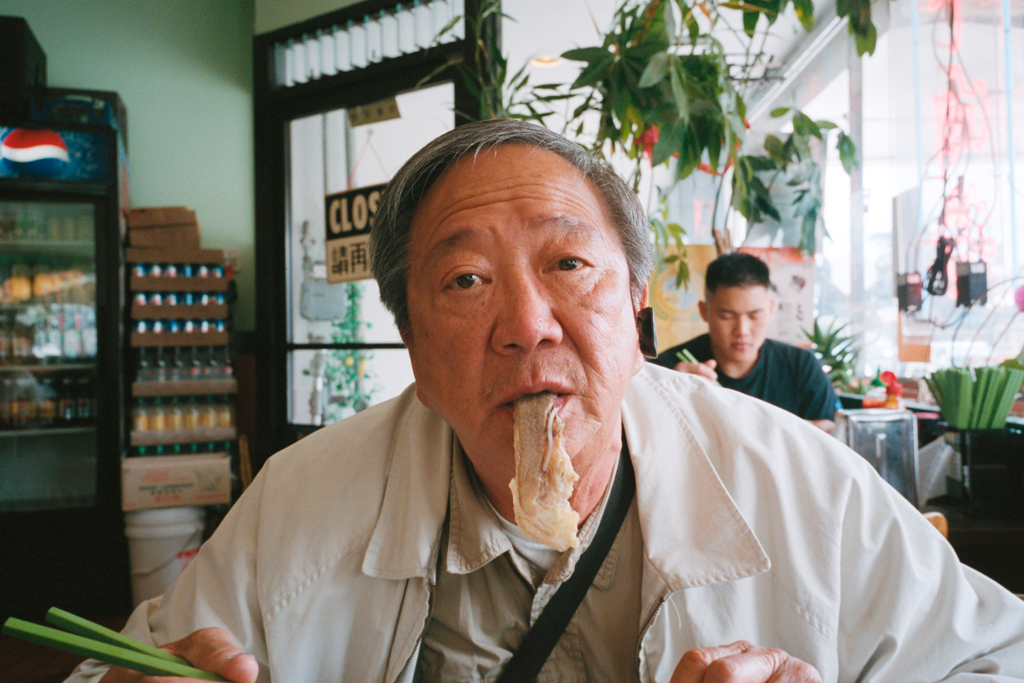 Do you still remember life before all the social networks; and how do you feel about that time? Has your art itself changed because of facebook, Instagram, etc..? So I mean not only the way of maybe approaching photography, but also the feeling that your images bring across…
I'm a child of the internet, so I've always been on some form of social media starting with AOL for chatting (I met my first internet friend in person in 1999 to go to a concert!). For me it was always about finding like-minded people to share and communicate with and I've always shared my images online starting mostly with Livejournal and Flickr. In ways, it felt more personal back than because you weren't so connected the way you are today with real life people. People only knew you from your long form photo essay posts or personal confessional writings that sadly people don't do on Facebook. Some of the best photos I've seen were from people I became friends with via social media. Today though, I think it's a little different. Everyone is taking photos and we're seeing so much of it, it's almost all starting to look the same. Sometimes I don't feel special anymore or that my images aren't that unique so there are moments where I don't feel like sharing or posting. It can be a lot of work and I know fellow artists who shy away from social media presence, but I feel it's necessary as your own way of branding.
What things would you like to improve on yourself?
To not be so lazy, to work harder and push myself harder. I sometimes feel like I can do a lot of different types of photography but I'm not good at one thing. Getting out of my comfort zone is really difficult.
The most important thing for you in life is?
Being with people you care about who love, inspire, nurture and push you all at once.
Btw, your cat Guabao that can be viewed on your Instagram site is adorable…:)
Oh yes! He is sort of an asshole prince. A very proud and smart cat.