Ever since the 1960s with Naomi Sims, there has been a growth in diversities reaching the runway, appearing in front of fashion covers editorials internationally. Our latest series brings you mixes of all races around the world–the hottest new generation. Inspired by National Geographic's Changing Faces article.
Bo Koehler, half Dutch half Puerto Rican
Bo Koehler was born in Amsterdam, Netherlands to a Dutch father and a Dominican mother. Koehler moved to Puerto Rico at the age of she was 10 and was raised in San Juan. She speaks Spanish, Dutch, and English fluently, and is one of the most well-known models in the Island. Before modeling, she attended the music conservatory in San Juan, Puerto Rico and had a bachelor degree in music composition. She is currently working on a music album with two good friends from Queens New York, combining hip-hop trap with classical instruments.
Describe your childhood and how did it shape the person you are now?
I was born in Holland, Amsterdam and lived there with my mom and dad for 10 years. After that, my family decided to move to Puerto Rico for business and my mom wanted to be closer to her family. For me, this was a drastic change coming from a city with a very different way of living and thinking to an island where the culture is completely the opposite. At first, I didn't agree with my parents. I didn't fit in, not even in my ballet and music classes, so I felt sad because I was really missing Amsterdam. My mom decided to get me a puppy, Pucky, she was my first pet and became my best friend. It was very difficult to adjust with the weather, food, religion and making friends, but at the end I learnt Spanish. From that moment, I was able to communicate. I made friends and had the opportunity to learn and understand the culture. I fell in love with the island and became an island girl. My mom always kept me very busy going to school and enrolled me in extracurricular classes like ballet, piano lessons and dramatic arts. I was was very curious and wanted to be involved in any talent show or art activity on the island. But I was lucky enough to always visit my family and friends back in Holland every summer.
What do you love most about each of the countries you come from?
Well from Holland Amsterdam, the thing that I am adore most is the cycling lifestyle. Everyone bikes anywhere and everywhere. It doesn't matter if it's raining or snowing. It's part of the culture and something I really miss. Living in New York, I don't find it safe to ride my bike anywhere. Besides that, I really enjoy the cheese selection in Holland; they have a big way of making different kinds of cheeses. In Puerto Rico, we have amazing beaches and that's of course something I really enjoy. The good news is that because it's a tropical island, it's always perfect weather any time of the year. Also, one of my favorite things is the Christmas holidays. We have something called "parranda", which is one of our biggest traditions–celebrating Christmas and, of course, Puerto Rican food is very very yummy.
You're a musician as well! Can you explain to us what kind of music you make and what inspires you?
I started to play the piano at the age of eight. I haven't stopped playing since then. Music is like my yoga–I need to play everyday. I'm currently working on a project with some very interesting and talented people. I'm writing and composing my own songs, working very hard to have my first official EP ready for the beginning of next year.
Where do most people think you're from if they had to guess one ethnicity?
It's funny that people never guess I'm born in Holland, Amsterdam. Most people think I am from Brazil. The second most popular guess would be Indian. But once they hear my speak with a Latin accent, of course they know I'm a Latina.
Do you think the modeling industry has changed over the years with more variety of models in the scene?
Yes, the model industry is changing all the time. From what type of model clients are looking for, how they treat the models at castings, to what they like to see in the girl. Business has also changed because of social media. It's so crazy that now when I go to a casting, they don't even ask my name but they ask how many followers I have on Instagram. In a way I'm not so happy how social media has become so powerful in this industry, but at the same time it's also a new opportunity to get myself out there.
Who is your model icon?
I don't really have one specific iconic model because beauty is really different in every aspect. All these big girls have their own way of making the world better. But, I really enjoy Lara Stone. She has always been a very natural and talented model with a touch of simplicity in her style and look and that's totally something I feel comfortable with.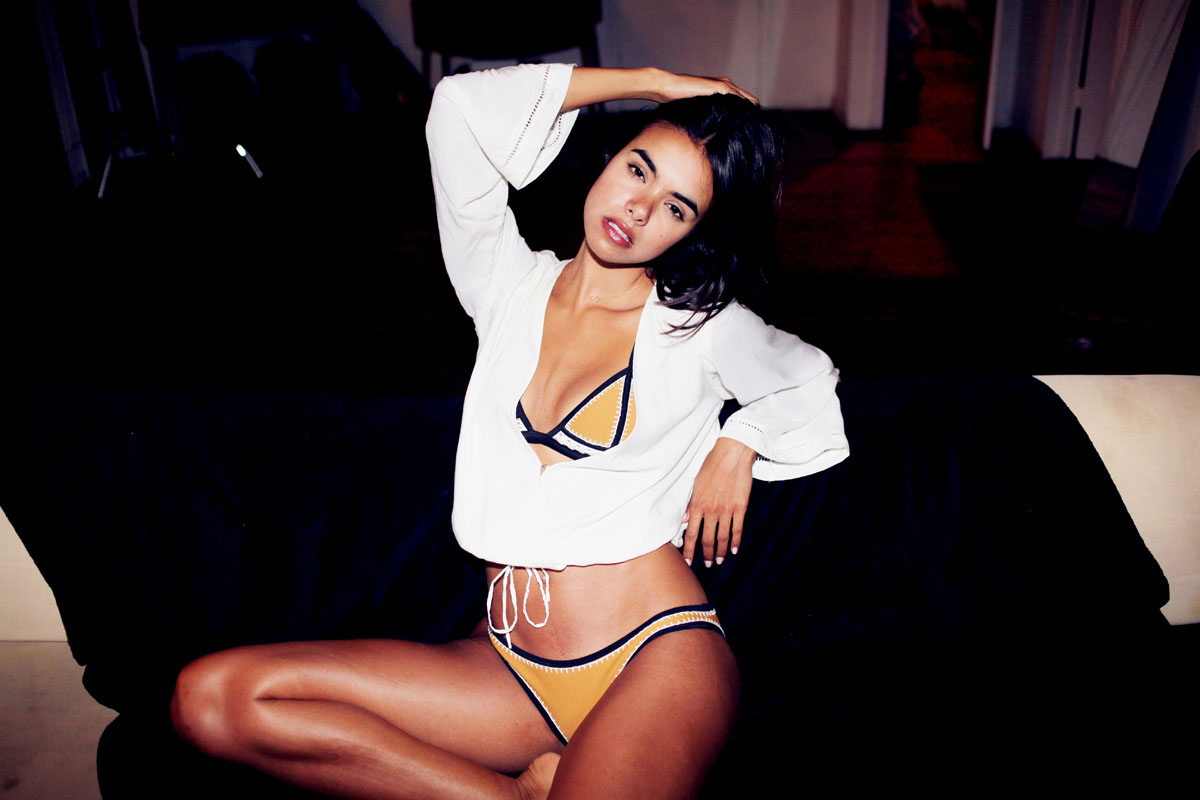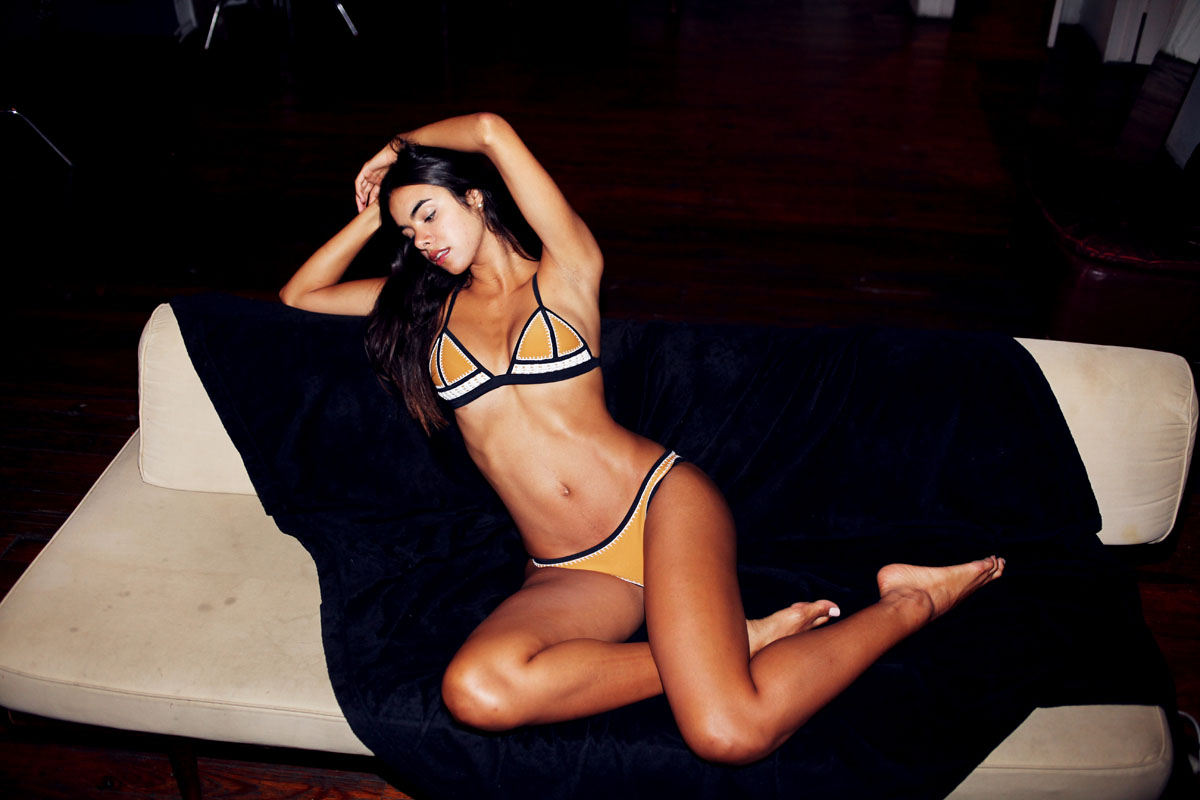 Bikini by Triangl (top option) Top by Faithfull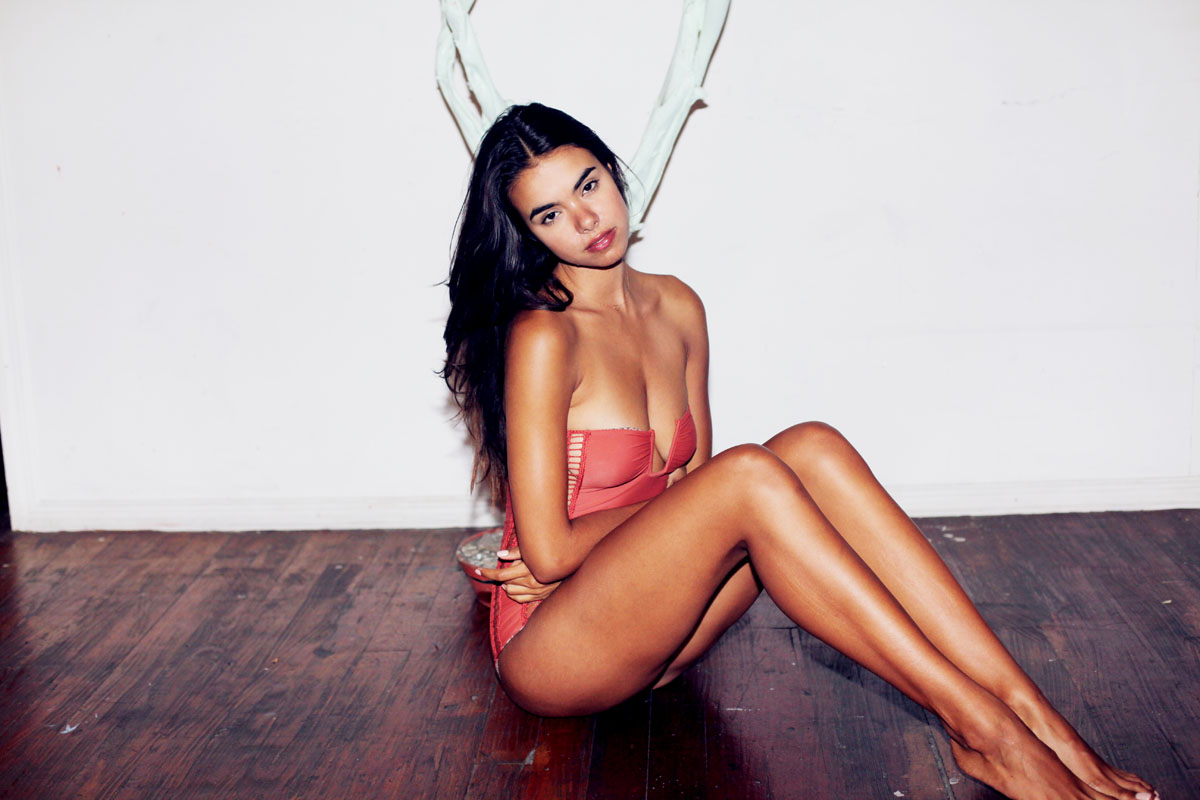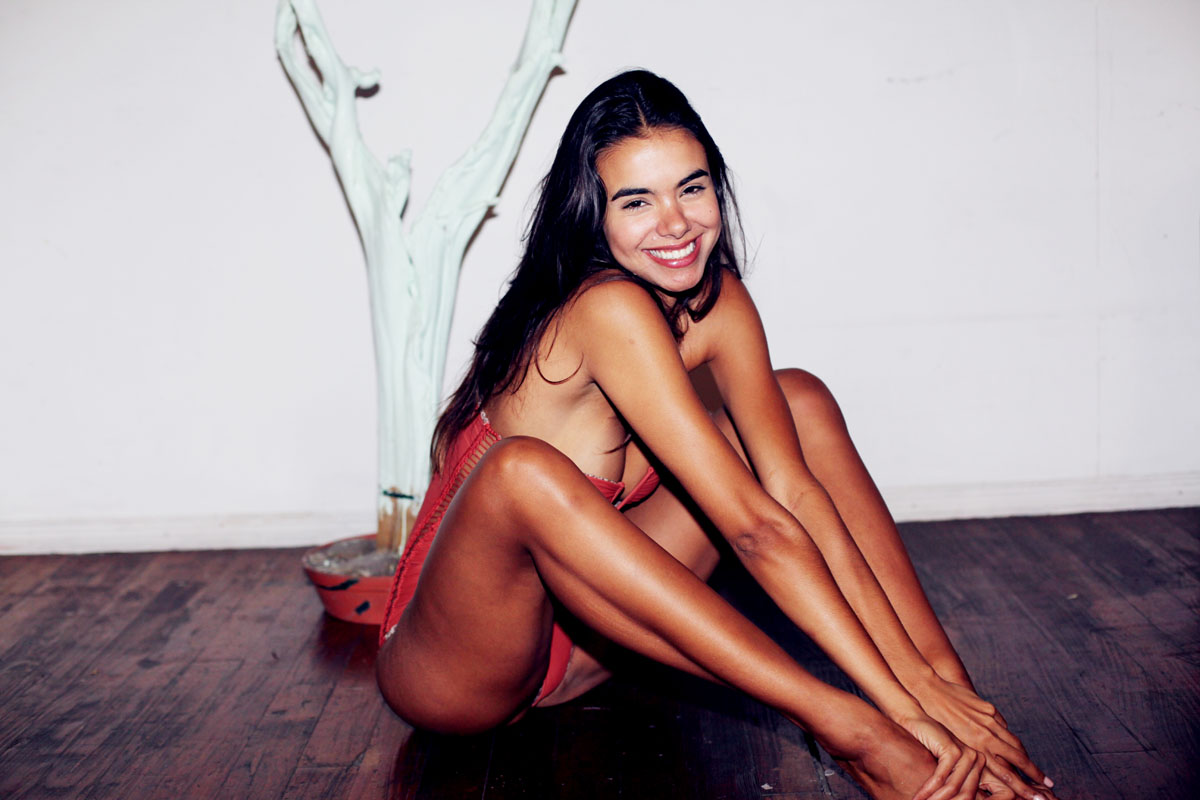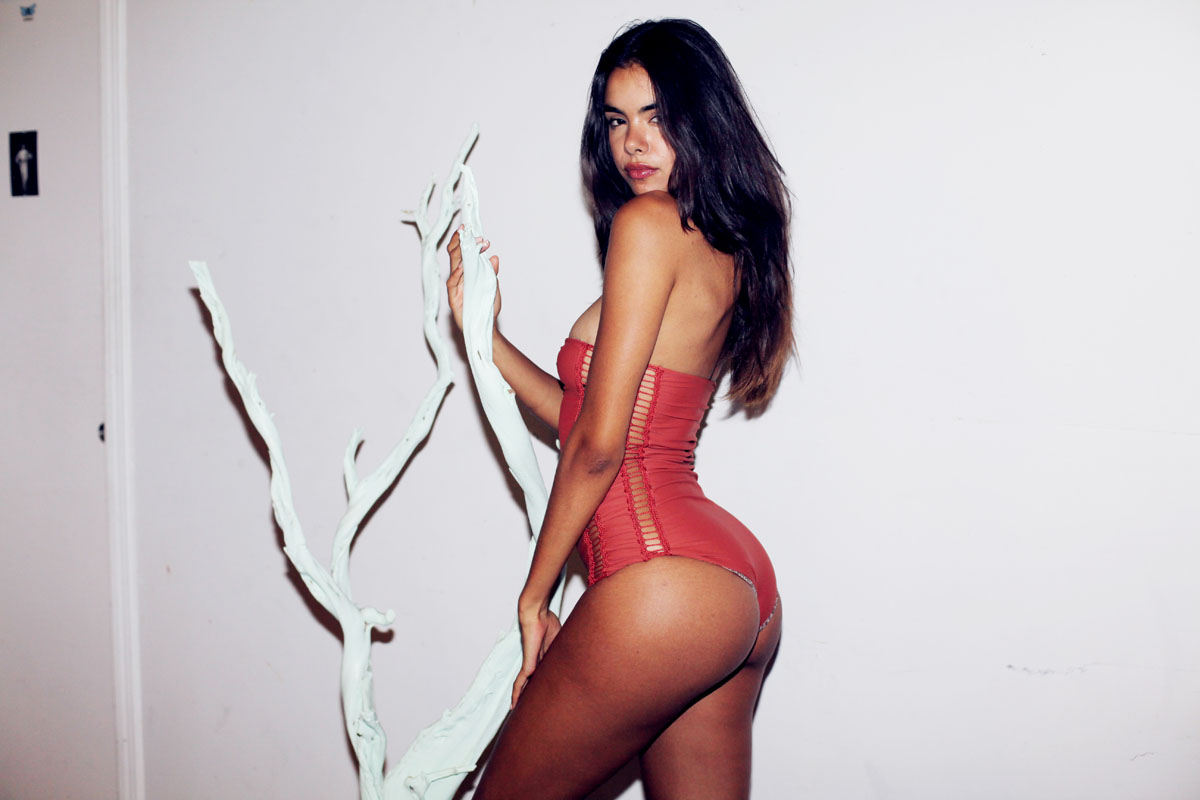 One piece by Acaia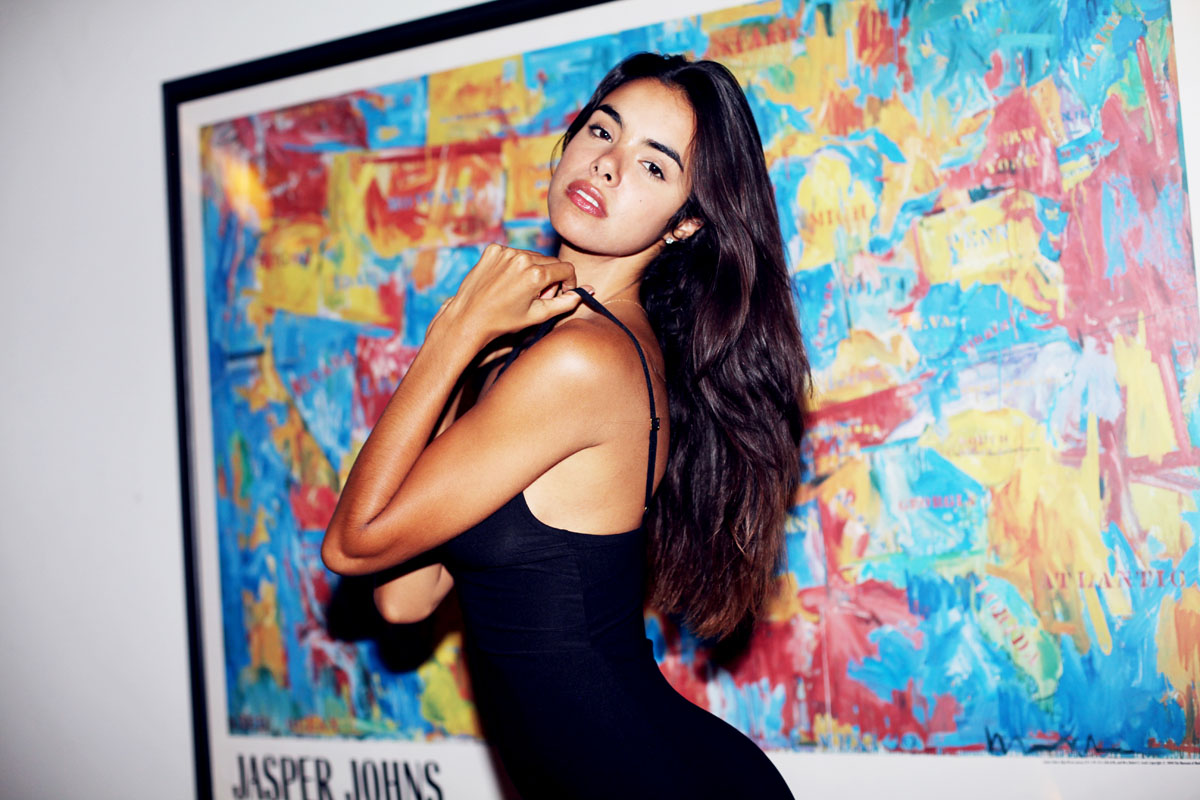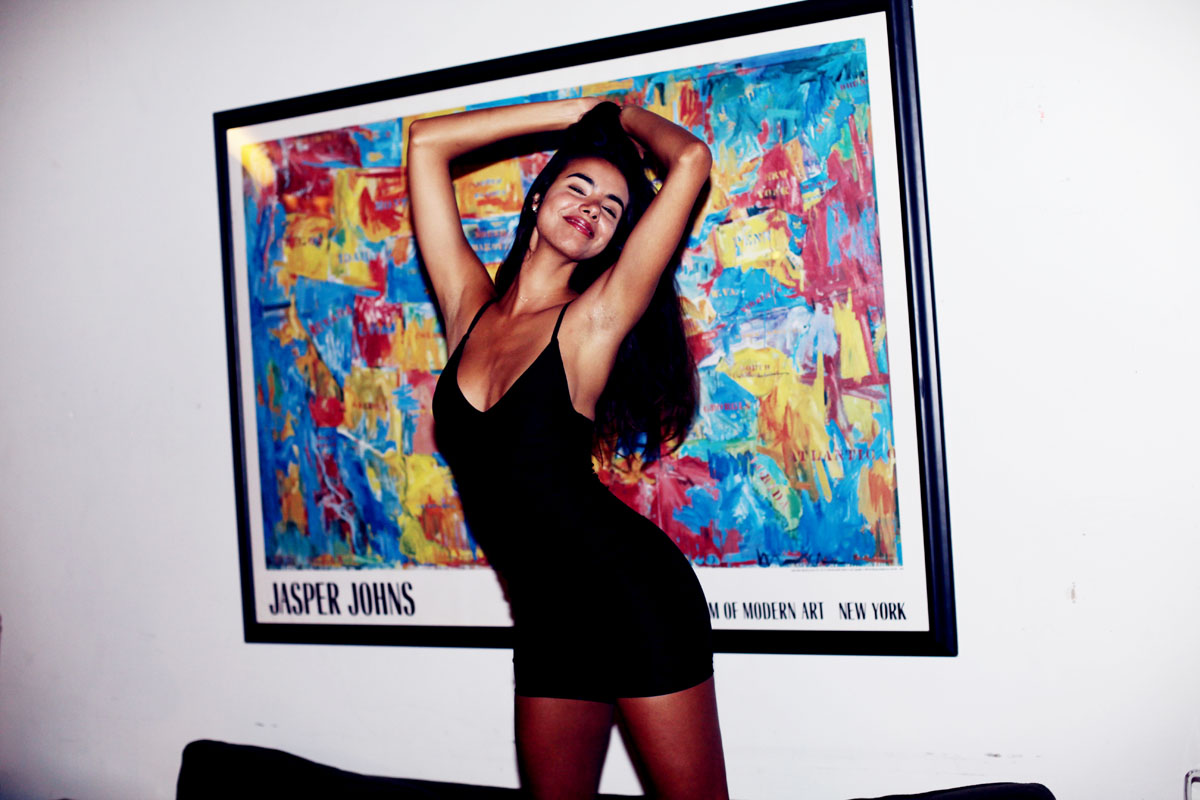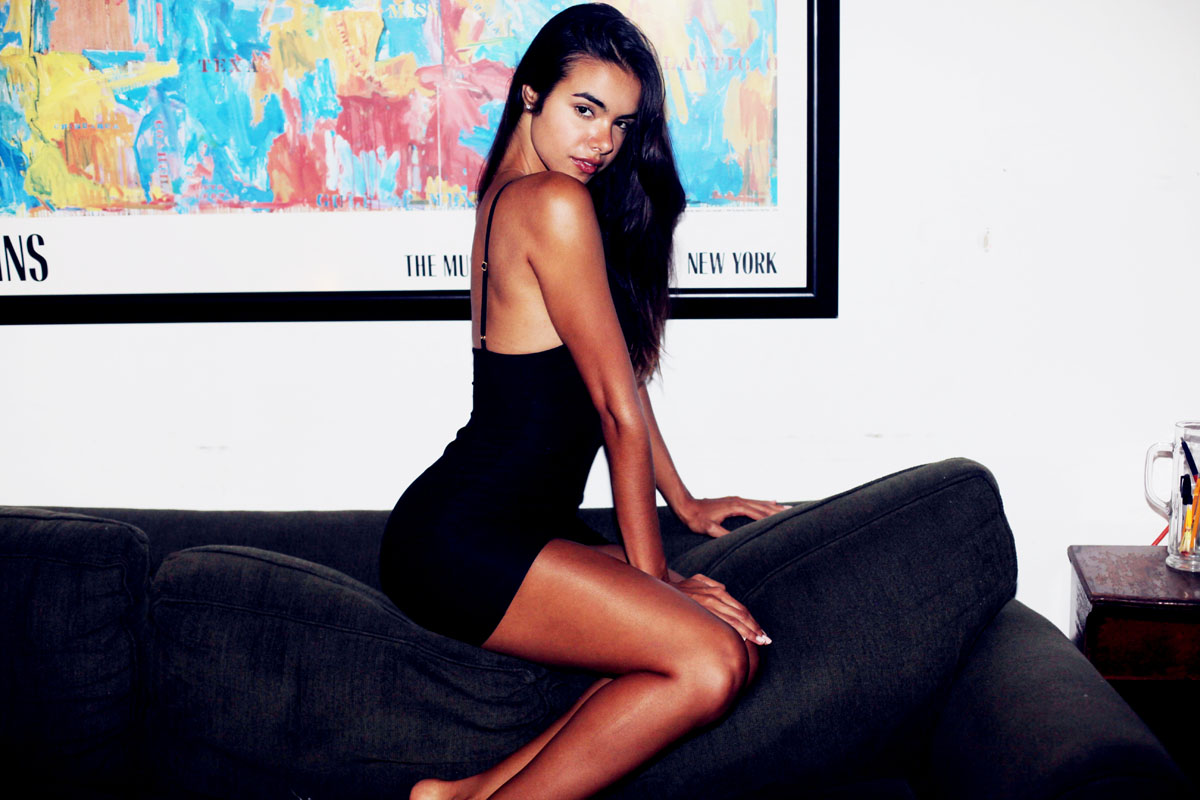 Dress by NOE Undergarments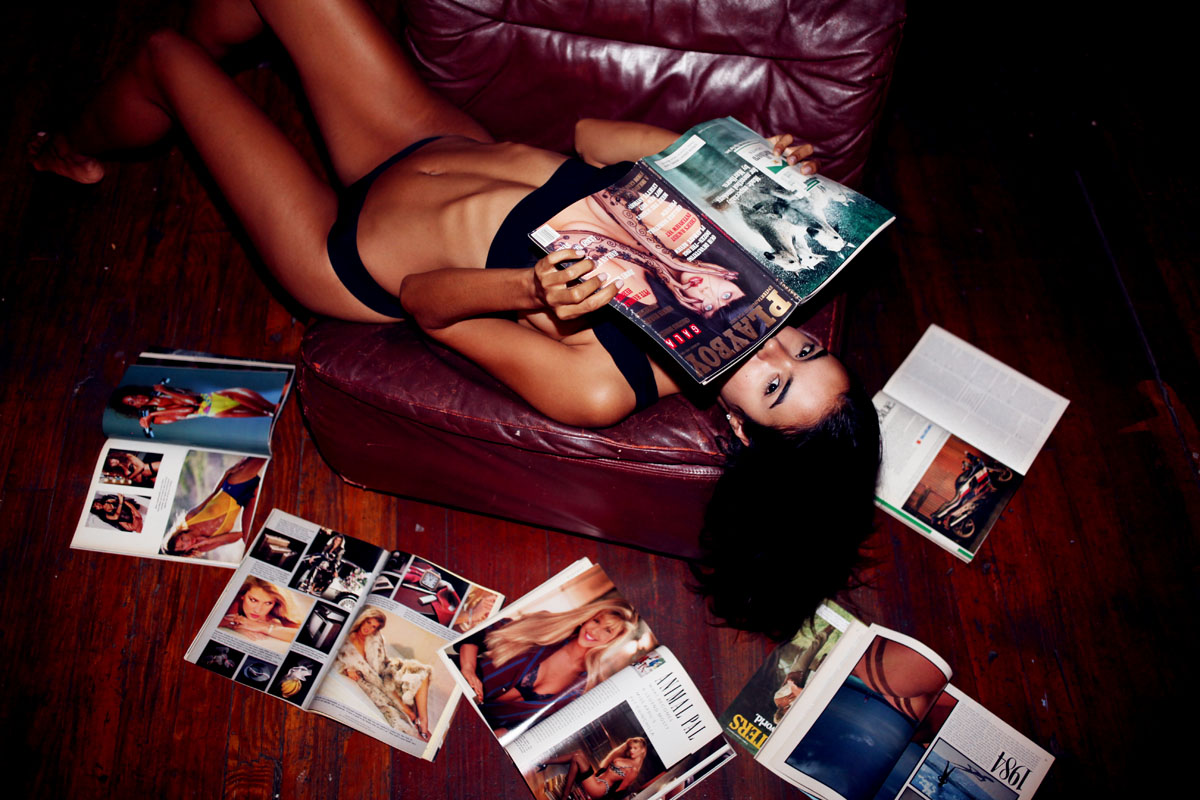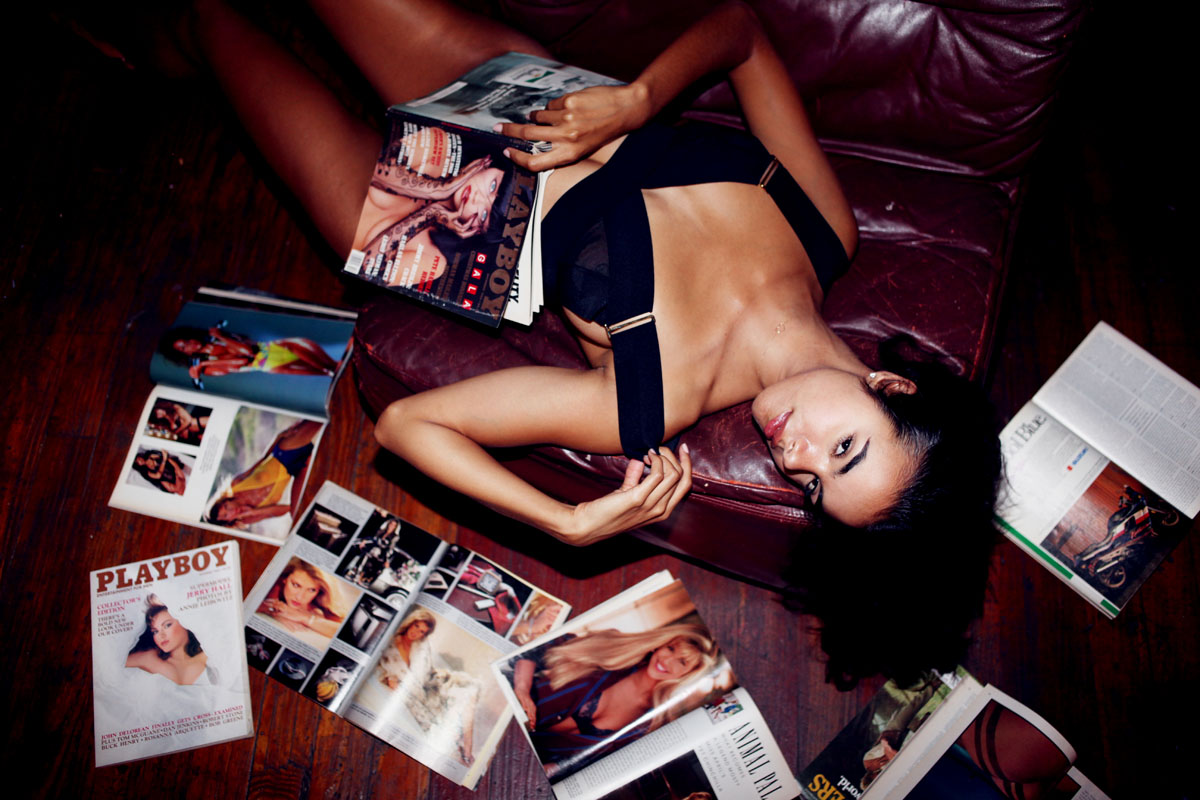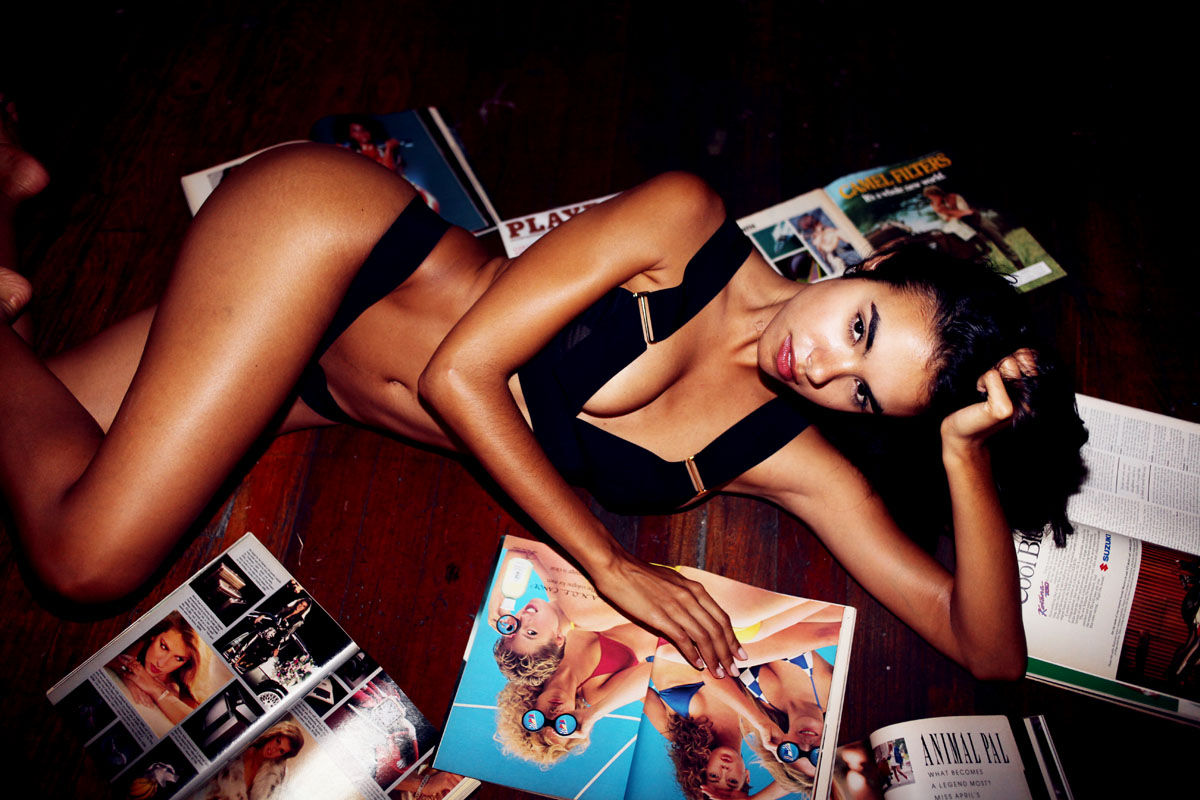 Bra and Underwear – NOE Undergarments
T-Shirt, Leather Bustier and Underwear by NOE Undergarments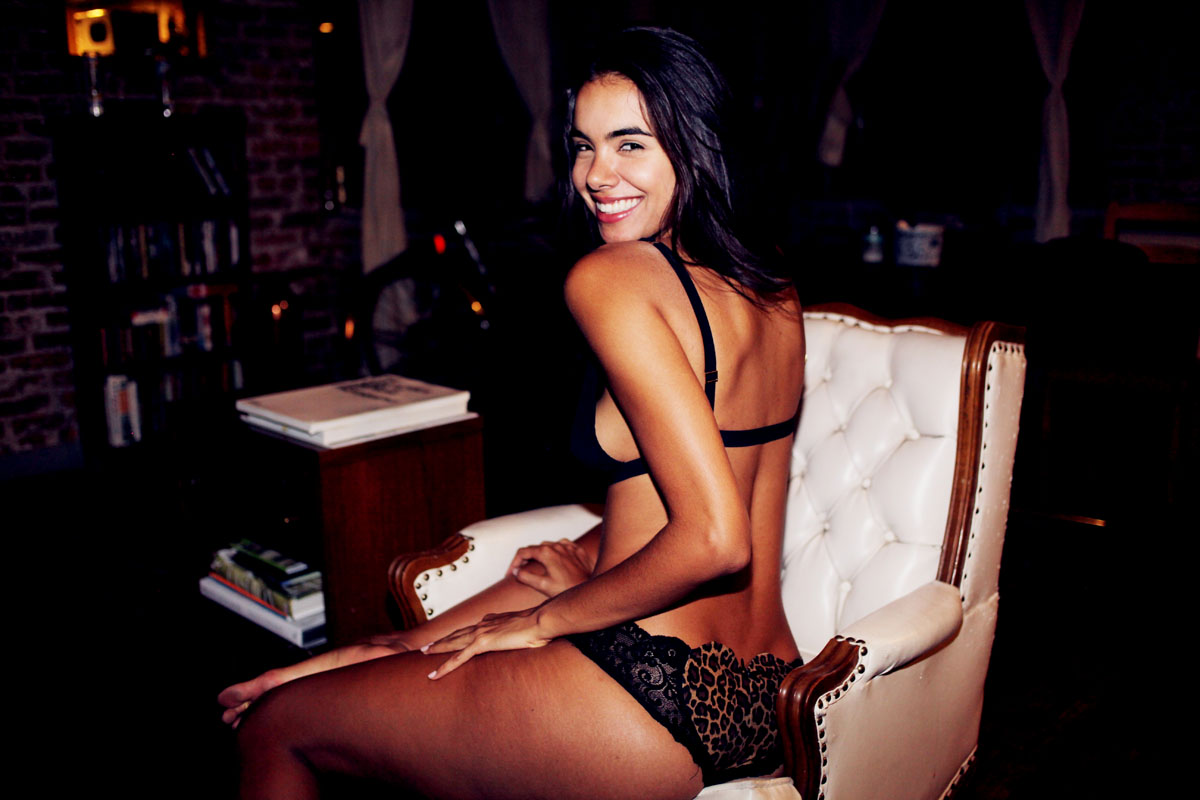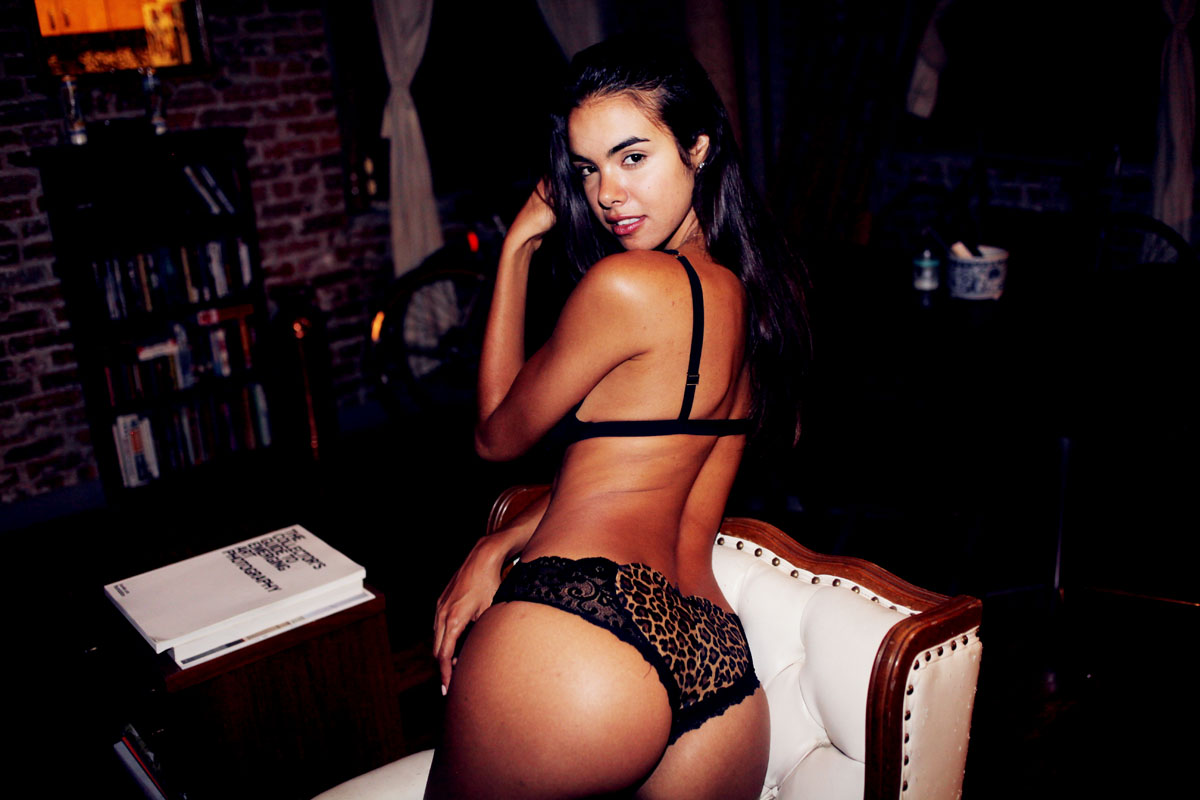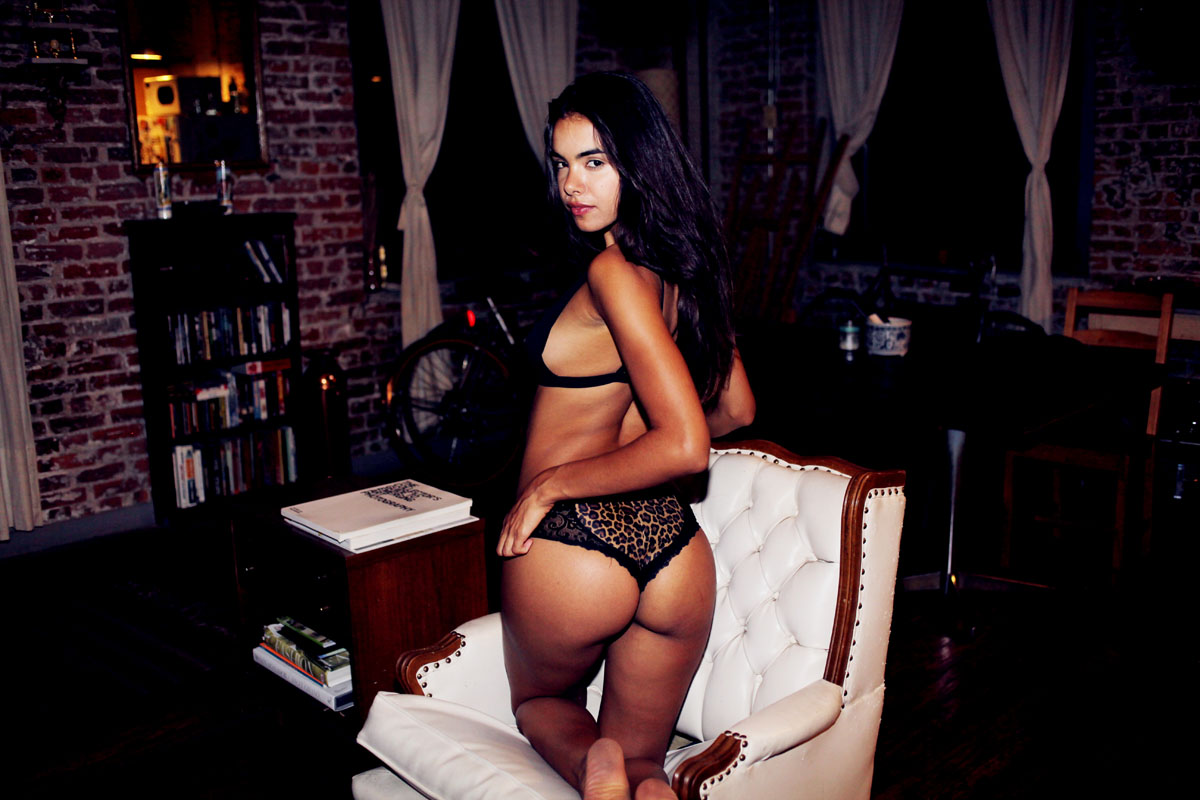 Bra – NOE Undergarments / Underwear – Les Coquines