"The perfect images needs to evoke an emotion and satisfy yourself. When you arrive to a point where you can say, "I can't make it any better, but just different" then you are good."
After a unique trip to Kenia Sebastian Erras went out and tried to photograph anything he could find around home. A new passion started. And a career emerged out of it at the end. We spoke to the German but currently Paris based wildlife, interior and architecture photographer about his magnificient Parisian floors project, his advice to young photographers-to-be and about expecting the unexpected.
Your interest in photography started with a trip to the Massai Mara in Kenya. That must have been an awesome experience. Can you tell us a little bit about it? Your impressions and memories and what you have learned from that trip?
The trip to Kenya and especially to the Massai Mara was probably one of my most beautiful trips so far. It's an incredible and unbelievable experience sleeping in a tent outside, while you hear all kinds of sounds from lions, monkeys and hippos. I couldn't sleep the first night as I was so impressed or maybe scared. Driving through the park and observing thousand and thousands of animals was an experience that as marked my life as a photographer. It was the first time that I actually used a camera. It was such a unique trip that I wanted to document through photographs. Then coming back home I still had the urge to pursue my newly found passion so, I went out and tried to photograph anything I could find around my home.
Parisian floors – I never knew the city had so many incredible beautiful floors; tell us how you came up with this project? And was it purely a creative project at first and then the possibility of promoting shoes came by time or it was something you had in mind since the beginning?
Me neither. All the time I have spent in Paris I have never really noticed the beautiful variety of floors. Only after a trip to Marrakech, where I visited the Bahia Palace and took sone pictures of the beautiful mosaic floors, I started seeing all these colourful tiles and mosaics in hallways,cafes and restaurants in Paris. That's when the idea for all this started earlier this year in May. Yes it is still a personal project. A few months ago I wanted to push the project to a new level and in the beginning I didn't really care and pay attention to one element that is clearly visible in each image – my feet. My idea was to match my shoes better with the different floors. Unfortunately I didn't have a lot of choice back then. So I contacted a few brands and asked them if they could help me out. So now the new challenge for me is the find the right shoes for the right floor.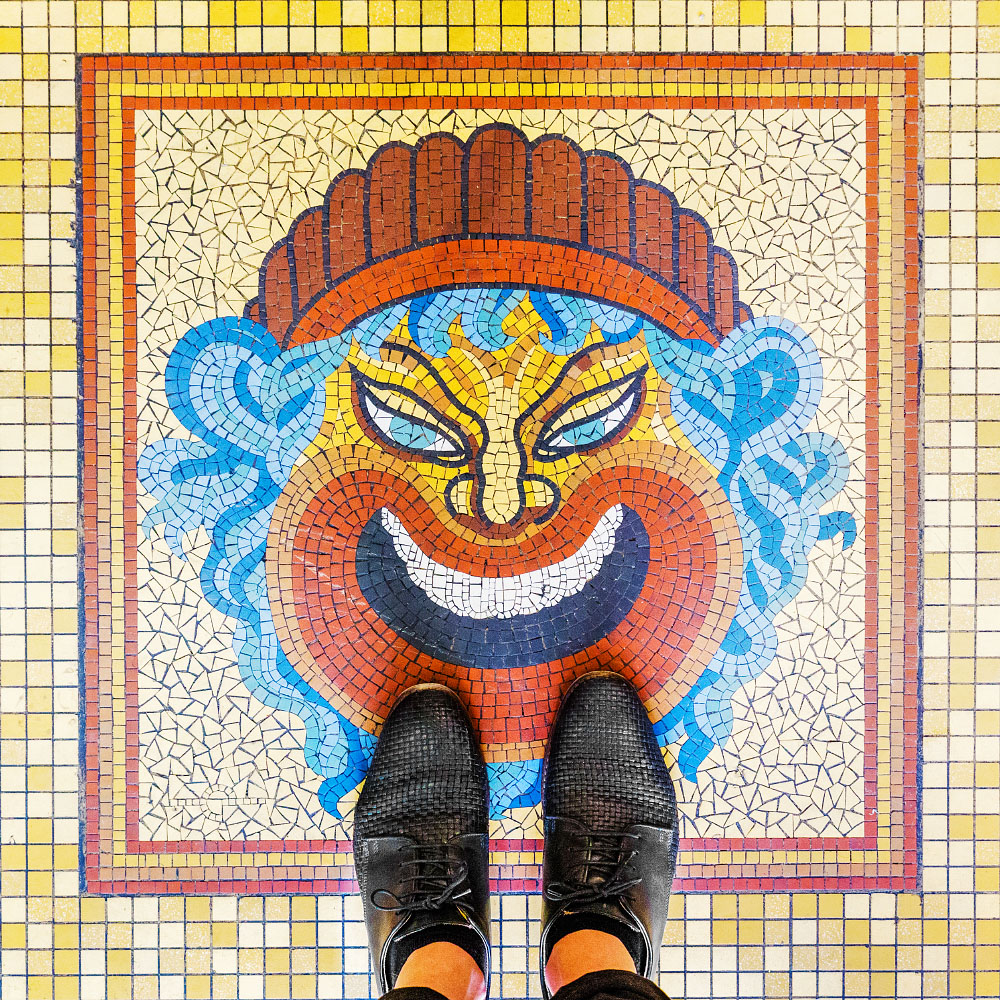 If you could choose one floor to be in your flat (in any room you wish  … maybe bathroom for example) which one would it be?
Of all the different floors I have seen so far there are probably only a few that I would consider having installed in my home. One of my favourit floors is the black and white tile, I found in the restaurant Fich. It's a tile made by Marrakech Design and it has kind of a star pattern. I would put this one either in the hallway or in a bathroom.
Places you still want to travel to?
Would love to go to Botswana to the Okavango Delta once in my life . I know some photographers, who go there regularly and they all recommended me to go there as it is one of the few places with beautiful wildlife and untouched nature. Japan is also high on my bucket list. I would love to travel through Japan and experience the culture. It must be so different to what we are used to here in Europe. As a photographer it is such a great opportunity to be in a country with a total different culture. It throws you off from your habits and you get to see and explore things from a totally different side.
What is the main rule of thumb when it comes to interior photography?
Keep it straight and levelled! Work with natural light as much as possible. Don't go too wide.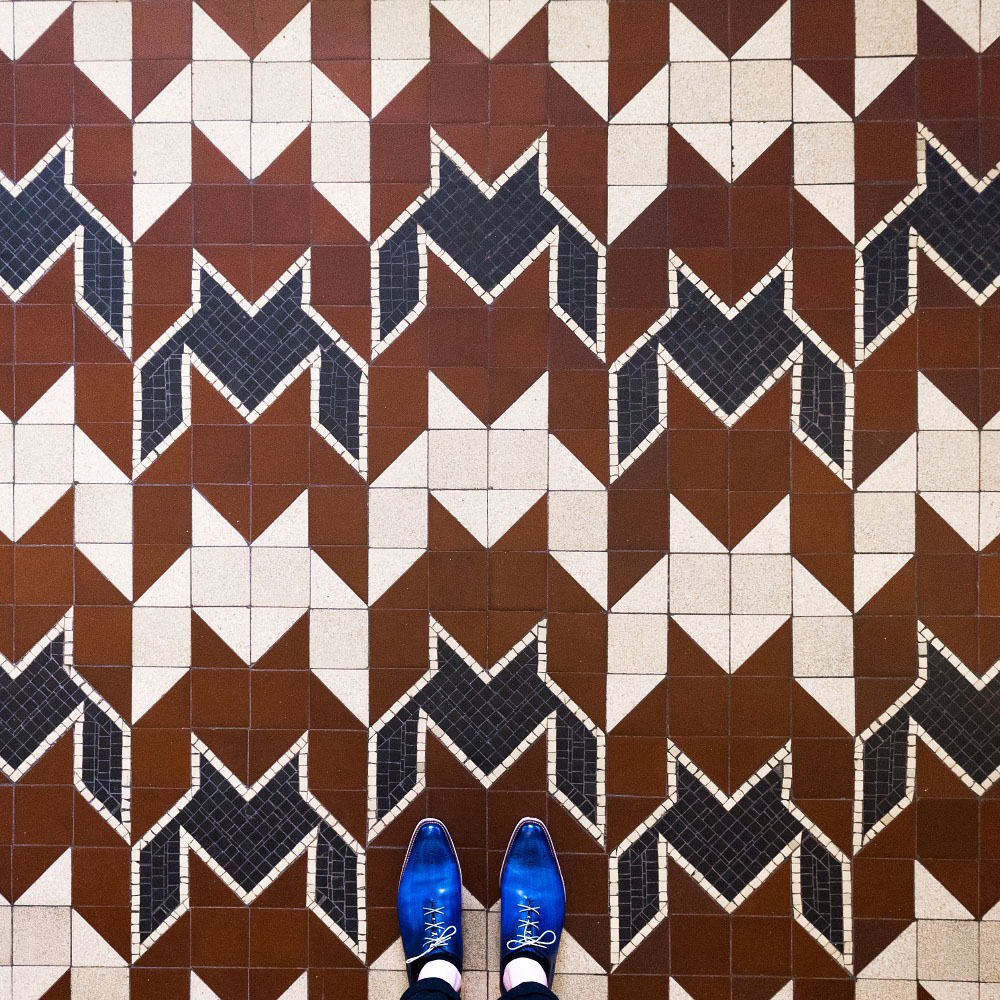 You are also the co-founder of the GDT Youth Group (Society of German Wildlife Photographers). What motivated you to not only focus on your own photography but be part of a project that supports and encourages other young photographers?
Back then we were a small group of young photographers that had the same interests, to photograph landscape and wildlife. We were spread all over Germany, trying to connect through the internet, share images and experience. I became a member then of the Society of German Wildlife Photographers and together with Stefan Christmann we saw the opportunity of creating this youth group "under the roof" of the GDT with all its professional and highly experienced wildlife photographers. We wanted to create a contact point for young photographers who shared the same passion to show their works to a bigger audience and helping them to get into contact with more experienced photographers. After a year I got a call from the CEO of the GDT and she told me that they would give us a spot at the European Nature Photography Festival where would could present our works in front of hundreds of the best wildlife photographers in the world. Standing in front of such an audience, giving a speech and presenting the works of all these talented young photographers was definitely a big moment. Since then the group as become a lot bigger and we managed to to present our works at different festivals and had exhibitions and articles all over the world.
If one of those young photographers from GDT would ask you if they should go for the photographer profession what sort of advice would you give them along the way?
Be patient and you really need to love what you are doing. If you are really passionate about something, have a bit of a back-up for the first years and you know how to market yourself and your work, then there is a good chance that you can make photography your full-time job.
The perfect images needs to …
needs to evoke an emotion and satisfy yourself. When you arrive to a point where you can say, "I can't make it any better, but just different" then you are good.
Which photographers do you admire?
When it comes to interior photography I think Nicolas Mathéus is the one to look up to here in Europe. I am also a big fan of the american photographer Davis Ayer, who does a lot of analogue double exposures and portraits. Really beautiful and creative stuff he is doing. Vincent Munier is another photographer that pushes the limits and creates some really beautiful and minimalistic wildlife images.
The best life lesson in the past year has been…
Always expect the unexpected. Working as a full-time photographer taught me to accept the fact that you live in constant change. You have to adapt, re-focus and sometimes just let it go. Every year is different and it is hard to plan or organise your life in advance.
Future goals for yourself?
Still want to travel and see the world. It is something that keeps me motivated and inspired.
www.sebastianerras.com
www.analogue-love.com
www.instagram.com/parisianfloors