The 21st century girl doesn't pertain to any stereotype. She's a chick of many talents. One moment she's in Europe, the next she's in Asia. She's working on several artistic projects at once and killing it at every single one. She's a mix of races – picking up different cultures as she travels. She's the mysterious girl at the party everyone wants to get to know.
Meet Celina Jade, Hong Kong's sweetheart.  She was born in Hong Kong to American Kung Fu star, Roy Horan.  Since then she has paved her own journey with winning singing competitions, she earned a management degree from London School of Economic and modelled in many campaigns.  Following her dad's footsteps she became an actress starring in Legendary Assassin, The Man with the Iron Fists and is in the CW series 'Arrow' to name a few.  Last year she opened a restaurant with her fiancee called Home – Eat to Live.
I read in previous interviews that you went to a local school here because your parents wanted you to grow up more with Hong Kong culture.  How was that?
My mom's actually Hong Kong Chinese and my dad's American. Ever since I was a kid my parents didn't want me to sacrifice the Chinese language so my mom forced me to go to a Chinese kindergarten, primary and secondary school. I was the only Eurasian girl in th whole local school. It was really weird because I wanted to fit in and have black hair and black eyes. I was like why do I have dirty brown hair and dirty poopy eyes (laughs).
Did you ever have confusion with identity? I feel that it is quite common amongst Eurasians.
I am still completely confused. In Asia they see me as a whtle girl and in the States I always go up for roles that are purely Asian. One day they will recognize the 'Eurasian'. laughs.
What were you like in primary school?
I was super shy. As I said I was a minority so I never quite fit in. My mom put me in this backpack from Mandarina Duck  and said it was great support for your back. I was made fun of because I had this yellow backpack everyone called me an ugly duck because of the Mandarina Duck backpack.
What were your interests back then?
When I was a kid, my dad as he had no sons, he brought up my sister and I as boys. We would do archery, shooting, and fighting. My dad would fight with us at bus stops and inside public transportation. He would be like "block block block, kick, punch".  My dad had this BB-Gun with metal bullets and he would hide at the very top shelf of his wardrobe. I would get pissed off at boys who would make fun at me and I would take it out and shoot a Coca Cola can. I'd say 'look at what happened to the Coca Cola can, if you come near me again this is coming right through your balls'. laughs.
How has it influenced you with your dad, Roy Horan, being well known with martial arts and acted in movies with celebrities like Jackie Chan and Bruce Lee?
For one I think because my parents were both in entertainment, my mom was in distribution, I never really got star struck. I remember my mom talking to Chow Yun Fat (famous Chinese actor) when she was doing Crouching Tiger. She initiated Crouching Tiger. She was one of the first women to do co-production between China and America. I was like who is this guy?  Why was he so chummy with my mom? Dad's going to kick his ass. laughs.  The other thing is that my dad always raised me and my sister as girls who are independent. There was never a distinction between a boy or a girl. Do what you're passionate about. The world is your oyster and go for it. There is no limit, which is cool.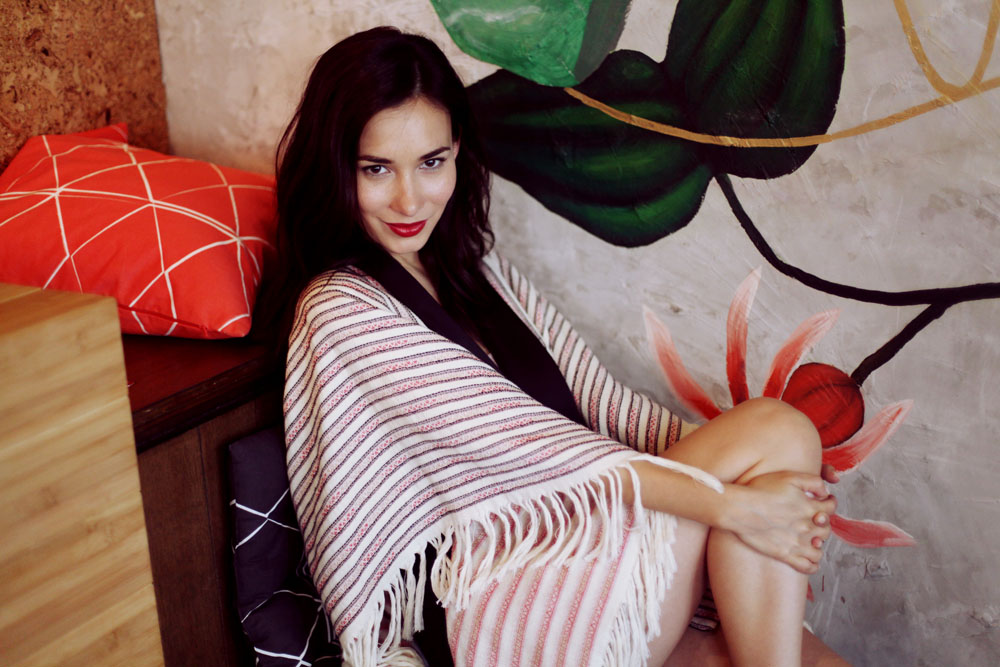 How did your parents my meet?
Dad was in Hong Kong at the time where it was quite rare to have Westerners. He was at a distribution company and had a Chinese partner. His Chinese partner hired my mom to spy on my Dad because they didn't trust foreigners. My mom was hired to be the secretary of my father. My dad when he first met my mom said to his partner that my mom is totally not secretary material. "She can't type, she can't do emails, she can't do anything." The guy was like why do you want to hire her? It turns out that Dad wasn't going to hire my mom. They went for a lunch with a whole team of people and someone asked my father if he preferred Taiwanese women or Hong Kong women. My dad goes, "definitely Taiwanese women because of xyz." My mom who was this mousy, shy, quiet lady literally took him apart. My dad was like, where did that come from?! My dad told his partner later on that he wanted to hire my mom because she's not secretarial material, she's boss material. She would make a great manager.
You were living here until you were 14 then you went to New Jersey?
I was living in Hong Kong. I had very rebellious teenage years. I was like America is the place of dreams. I don't fit in here. I'm not Chinese enough or I'm not Western enough. I told my dad I don't care, I'm out. I'm going to America. And he was like 'where are you going to go'. I was like ' I don't know', so I called up my Aunt who lived in New Jersey. She has four sons and I said can I live with you. My dad, thinking I was the most ungrateful brat, which I was, he was like fine, if you want to go, go. So I was like fine and I left. I lived in Lawrenceville. When you can't drive and you're from Hong Kong I was like where's the party at? laughs. What do you mean you can't drink before you are 21? I've been drinking since I was, I don't know, eleven or thirteen. I got those years out of my system. I was only there for half a year.
I packed all my bags for Christmas and my mom was like you're not packed for someone whose here for two weeks. My dad said there's no way you're staying in Hong Kong. "No school is going to want to take you. I don't want you to take an extra year." So I struck a bargain with my dad. If I were able to get a school to accept me, a good school, can I stay? And he said sure. Let's talk about it. Then I spoke to my friends and they said to go to Island School. This was year ten and it was very hard to get into an international school in Hong Kong because there was a long waiting list. I called up the school and spoke to the secretary and asked if I could speak to the principal. She said who is this? I said my name is Celina and she goes on – can I ask what it's about. I said student affairs and asked to set up a meeting. So she set up the meeting and I was fourteen and a half and I went to meet him and he was shocked and wondering what this fourteen year old girl was doing here. I said I wanted him to let me into his school and showed him my references and transcripts. I was so bored in New Jersey that I actually studied and got good grades because there's nothing else to do and the teachers are great. The teachers where I went to school were fantastic and passionate. It was really different to the Chinese style education. I saved up money from modeling and he said okay, you're an interesting person. Can you take an entrance exam? I will never forget things like calculating the gradient. I didn't know what gradient was. So I called up my dad and asked him and he's like "slope." That was the only thing I did where I kind of cheated. I calculated the gradient and handed it in. The grades came out good so he let me in. I faked the signature and went home. And said to my dad you have to keep up your end of the bargain, you have to let me stay.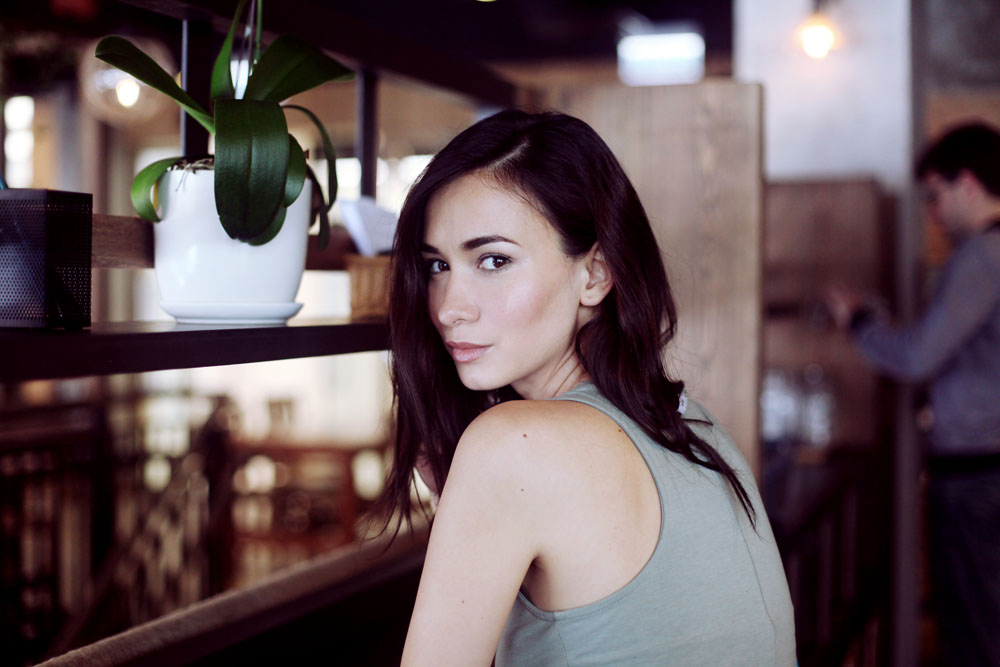 "Just enjoy life and be ready for when that moment comes. Life if short, don't find love, find yourself. Love will find you."
I've seen pictures of you in campaigns all over Hong Kong growing up!  
I did modeling for the summers and after school I would do some modeling making some cash.
Have you always musical from a young age on?
No, I was never musical. I love music and was a bit autistic as a kid. My dad actually helped me out by teaching me meditation. It really helped me. Music was my only vent. I love singing and I just took classes and I've improved a lot since then, and released my first album when I was 14/15.
How did that come about?
I was modeling and my modeling agency sent me to this casting where I met Tetsuya Komuro who is a big producer in Japan working for Sony Japan. He was scouting for talents for a singing competition, and asked if I would like to join. So I did. I sung Celine Dion 'Because You Love Me' and did a demo at a studio and won. Next thing you know he was flying me to Hawaii to record some songs, that were released after that.
My first ever performance was at the G8 Summit which was pretty cool. I remember meeting President Clinton, shaking his hand and going 'ugh, don't know where that's been!' laughs. I didn't really learn how to sing until after university. Basically I did a diploma in London where I actually focused on vocals. I was with Sony Japan and we released a CD in Hong Kong and Taiwan. They wanted me to drop out of school to do singing full-time. I was singing techno, dance techno but I didn't really enjoy what I was doing. I was going into my GCSEs and knew that I wasn't really going to become someone I admired so I told them I can't do it. No way that I could drop out of school. If I do this for ten years I'm 24, and then what? I realized that even if you have all the talent in the world but didn't understand about business and how the things work then you're really at a disadvantage, so I went to study management at LSE because I wanted to understand that part of the business. If I still wanted to do singing I can come back to Hong Kong and do it. If it works out, great, if not I will just find a job like everybody else.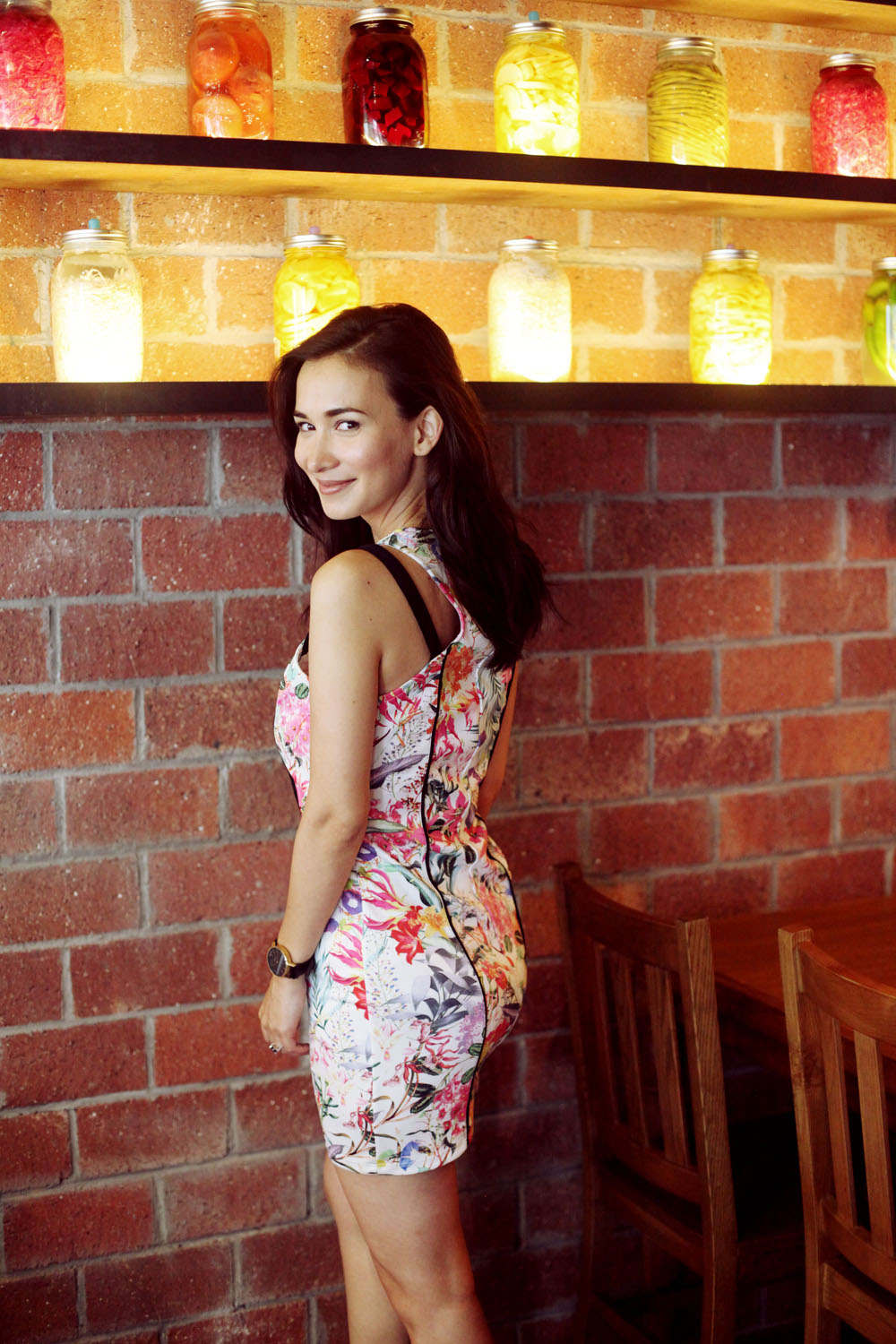 What age were you when you started to act in films?
After I graduated from LSE and got a diploma in music. I said I'll give myself two years and wanted to be a singer songwriter. I signed to a subsidiary of EMI here and found a great manager called Paco Wong and was preparing for my first album. He said 'Hey Celina, with your dad being a martial artist', can you fight?' I said sure I can fight but I never had any formal training. I can fight, I can kick I can punch, I can definitely take someone down if they try something on me. laughs. He said why don't you try out for this movie, they're looking for a leading lady. It's a picture with Wu Jing, who at the time was a national WuShu in China. I went and met the director and auditioned.
Then I forgot about it and Paco calls me up a few weeks later and said that I got the part. But well, I can fight but who says I can act? I've done some commercials, but commercials are not acting. In the end it's my head on the line. I always made fun of my dad–he's a great fighter but a terrible actor. He always blames the dubbing but I don't want my kids to make fun of me one day. I told them to find someone else and the producer said the writers can write it to your character. They can adapt the screenplay. I never learnt acting and I really admire people who did drama in school. I never did because I was the shy kid. My friends said that there are so many people who would be dying for that role and you got a leading role in your first film and I would be an idiot to not try. If you do well or badly, it's life and you have to experience it. I agreed and said I'll train.
Originally I was with Chinese management. Twist of fate caused Paco my manager to not be able to manage me anymore so I signed with my current manager, Andrew, who told me to try it in Hollywood. It's different they don't give you a guarantee. If you make money, you make money. If not, there is no picture deals. That's how I ended up auditioning and how I got Arrow.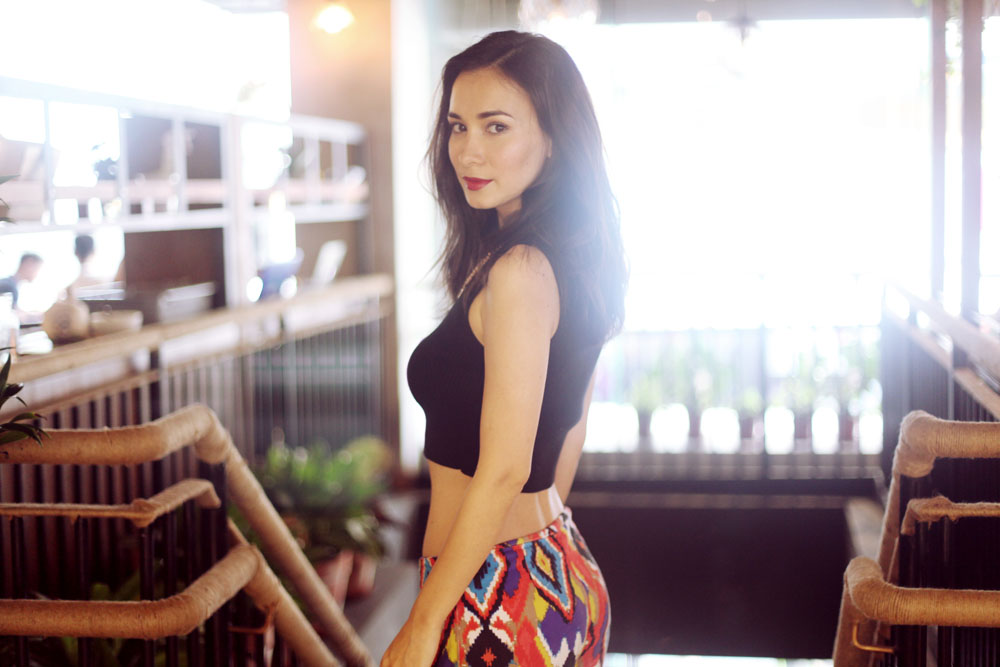 I read in your previous interviews that it's different acting at Chinese and Hollywood markets…
To Hong Kong I am the biggest pervert. laughs. When I did my first film there was a scene where this other actor poured coffee on the guy I liked. I asked if he was okay and touched his shoulder. The director was like Cut! I was like what did I do wrong? He said that Chinese girl would never touch his shoulders. In Arrow I was already kissing Steven by the third episode and in Legendary Assassin I think we never kissed or hugged or anything!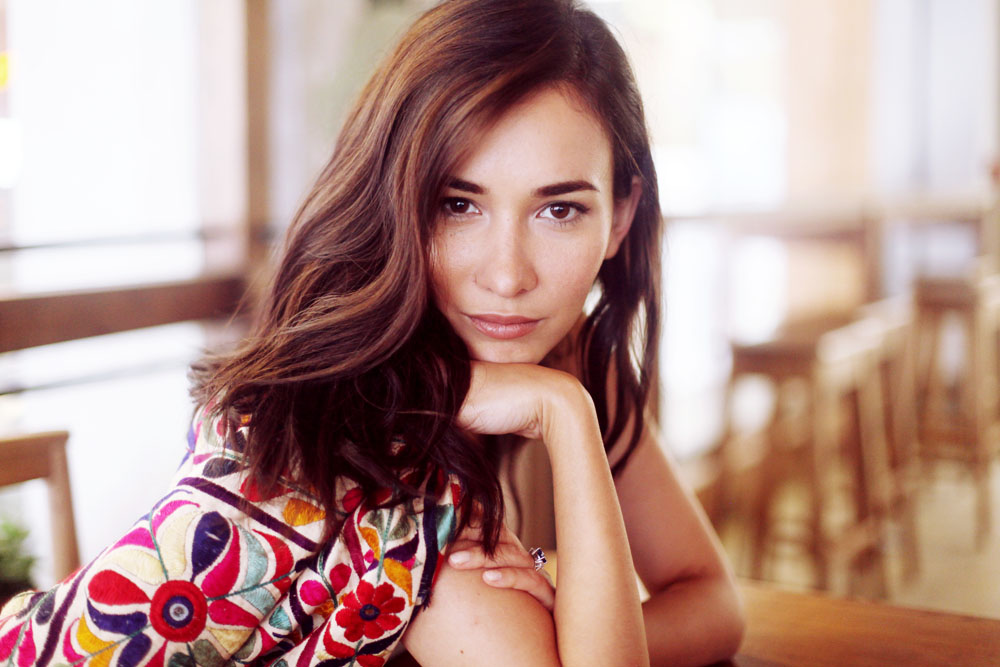 How else do roles between Hollywood and the Chinese market differ?
So different. I've been watching more Korean dramas now because the Chinese box office is going to overtake Hollywood by 2017.  The acting, the thinking, is totally different. So I thought if I want to do more stuff with the Chinese market I have to understand what they like. I speak Mandarin so it makes sense for me to try both markets. I don't want to be that actress that made it out of Hong Kong and is like "oh, good bye, asian roots." I'm not like that. I look more western, perhaps, but in a lot of ways I'm more Chinese with my value system.
How did you meet your fiancee?
My dad introduced us. My fiancee founded a restaurant at the time called Mana which he has left now. At the time I was like dad, do you want a veggie burger? Ugh. We met and it was a karmic thing. Within two weeks of knowing each other, we both knew that that it was the person, which is kind of scary because all your life you think you're finding love, but the truth is that love finds you. laughs. Just enjoy life and be ready for when that moment comes. Life if short, don't find love, find yourself. Love will find you.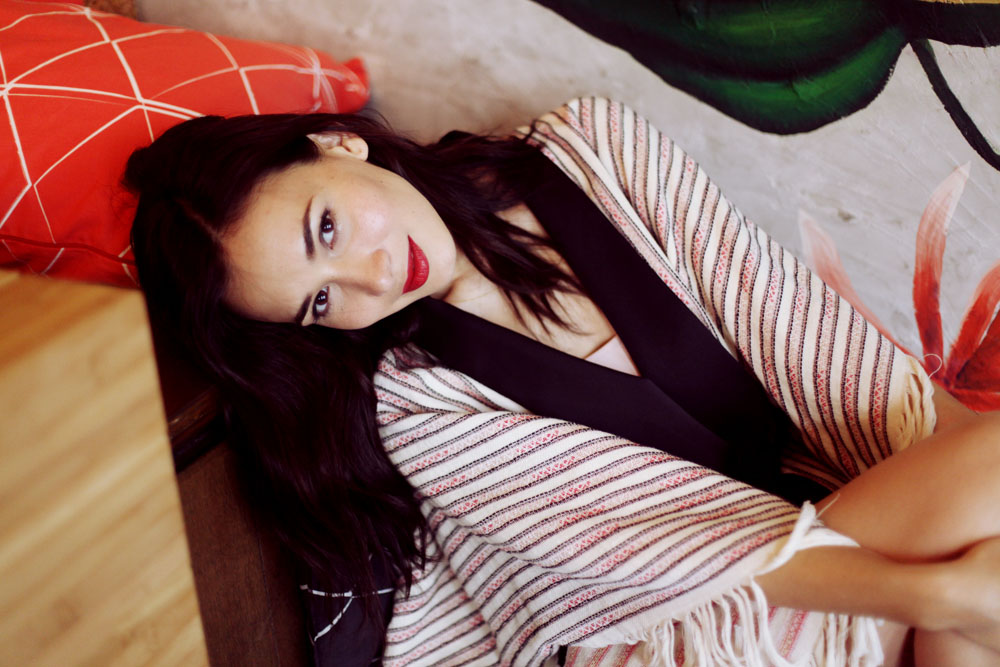 "The universe just doesn't revolve around human beings alone. We can't exist without nature."
Tell me about how you learnt to love healthy food.
My fiancee isn't the type of person to force someone to change their belief system. What happened was that I got into a really bad accident in 2012. I got burned from cooking while I was making a cream vegetable soup at home and I was stupid enough to wear a boob tube dress. I was using my mom's blender which was probably really old. It basically exploded across my chest and got third degree burns. It was a difficult time. I just started dating Christian, my fiancee. It's crazy, people start selling you shit. They said you should use essential oils, you should do this. You should do plastic surgery, surgeons were putting stuff on it which actually ended up making it infected. It's just crazy how people's commercial side comes out when they feel there is an opportunity to use when your are vulnerable. I was very lost and the doctor's said to me that I was going to get keloid scars, "you're going to need plastic surgery, laser" and all this crap.
Christian said to me that doctors only take one hour of nutrition classes and that if I trusted him the body can be healed with food. At the time I was like alright, I will try anything. He put me on a no meat no seafood, no preservatives, and no sugar diet. I was juicing a lot and within two weeks I saw huge improvements. Now the hospital has his recipes on how to heal burns. That's when I understand that food is incredible. It was until recently that my mom got sick. She's Buddhist and she got pancreatic cancer. I went to temple and made a vow that if you let my mom live longer I will be full vegetarian. Since then I haven't touched meat or seafood!
I've been helping Christian out with his new restaurant for the past half of a year called Home: Eat To Live. We did everything together. The investors is just one lady, who is a 22 year old university student who has her own story and she also invested in this two floor restaurant called ZS Hospitality. In between acting, I've been doing this restaurant with him and collecting karma points from my mom! Totally selfish and my mom's well, she's still battling away and I'm still in Hong Kong so I'm close to family.
Do you have plans to open another restaurant?
For sure and if you guys are in Hong Kong, come check us out. We are fully vegetarian, mostly vegan, we do have one or two options for egg. No preservatives, no white sugar, no crap basically. We just want people to eat healthy and not have to sacrifice the taste profile. Vegetables don't have to taste disgusting. I used to have that thought pattern but it's to do with the cook, the chef. We want people to realize the impact of eating healthy not just for your own health but also the environment. There's a lot of deforestation going on, plastic in the oceans and we want our future generations to know what a Siberian tiger is or manta rays. The universe just doesn't revolve around human beings alone. We can't exist without nature.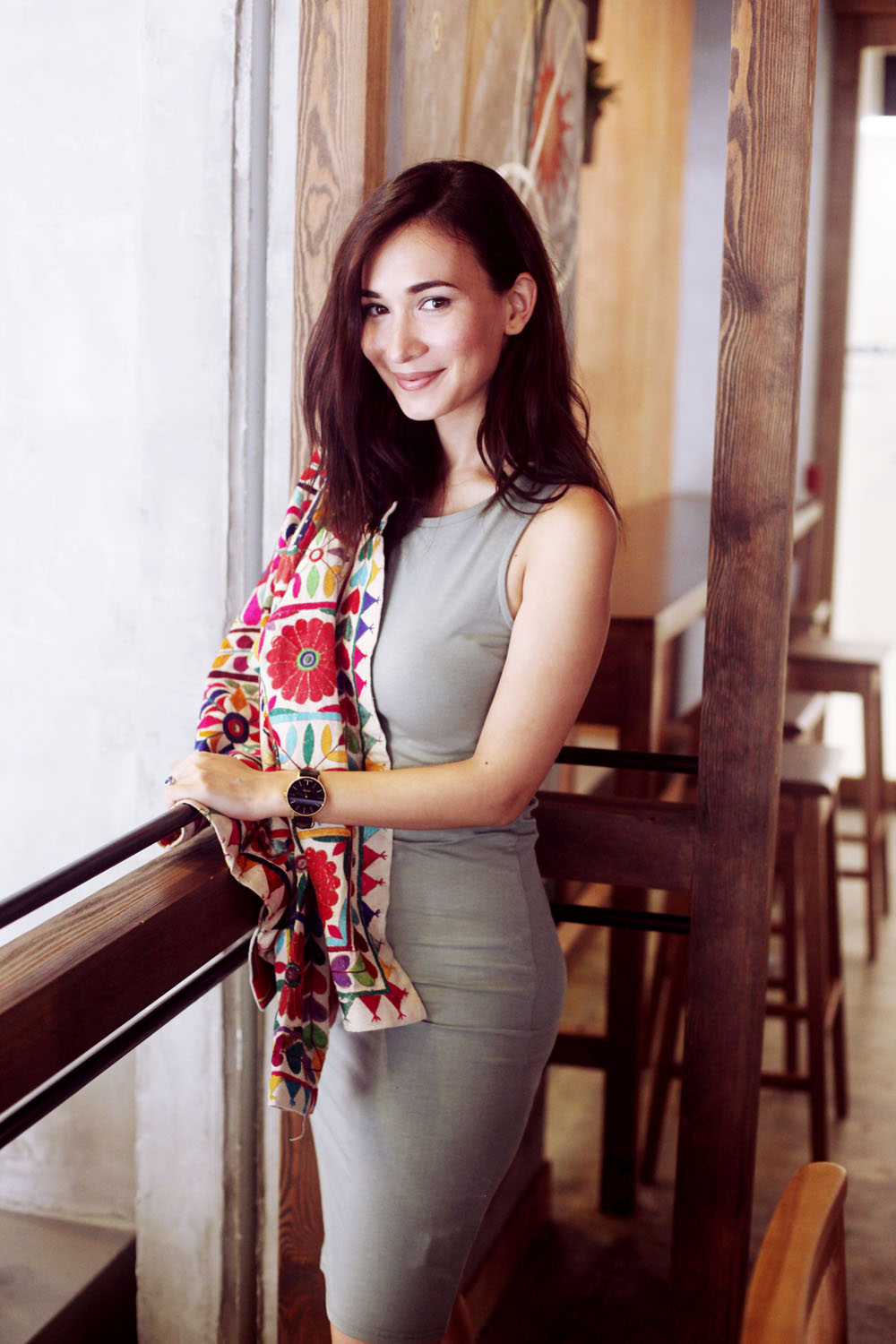 Jacket: Yeah The Label, Dress: Cotton On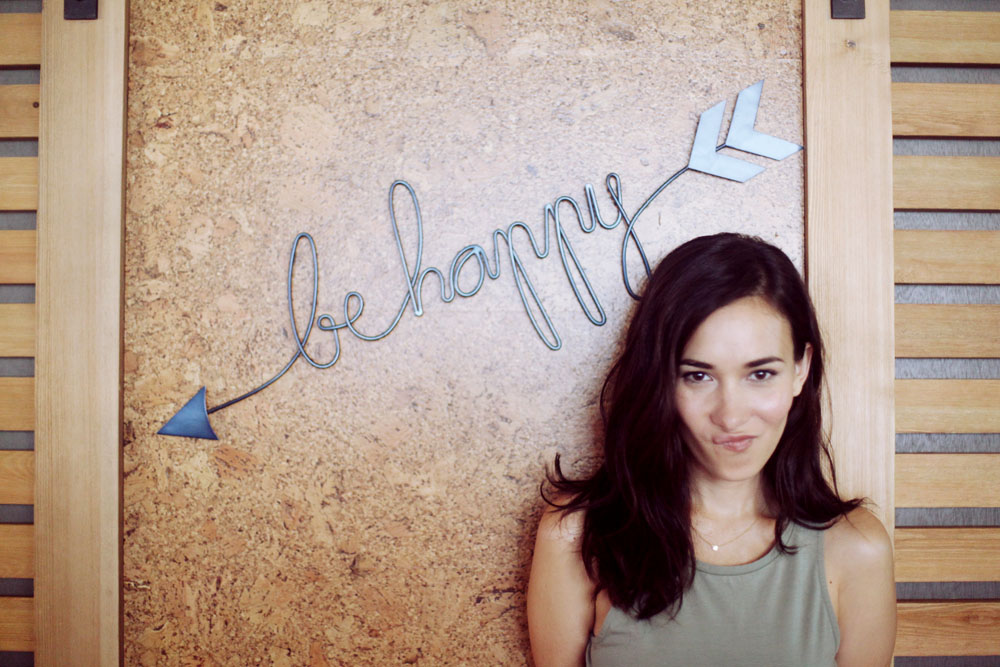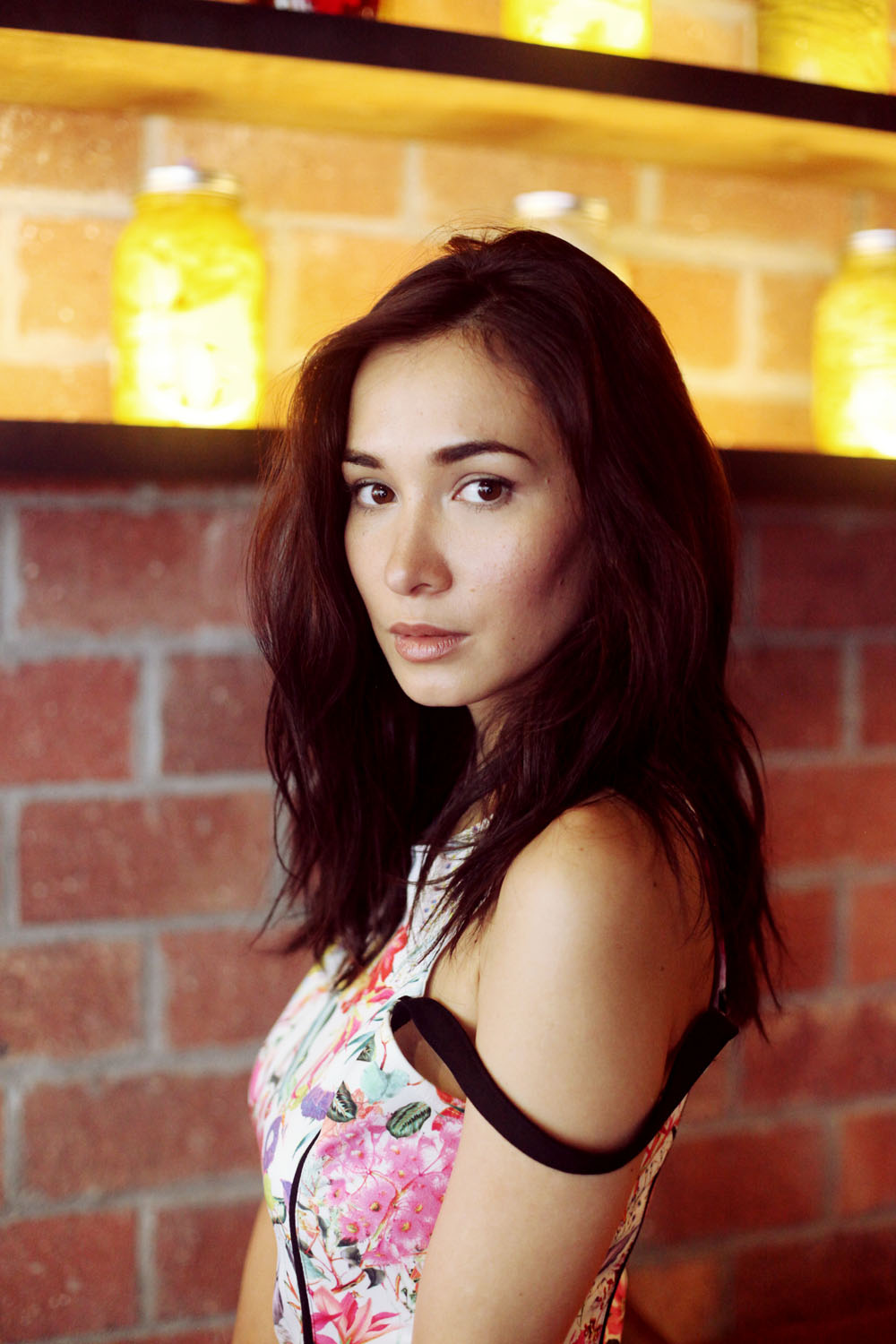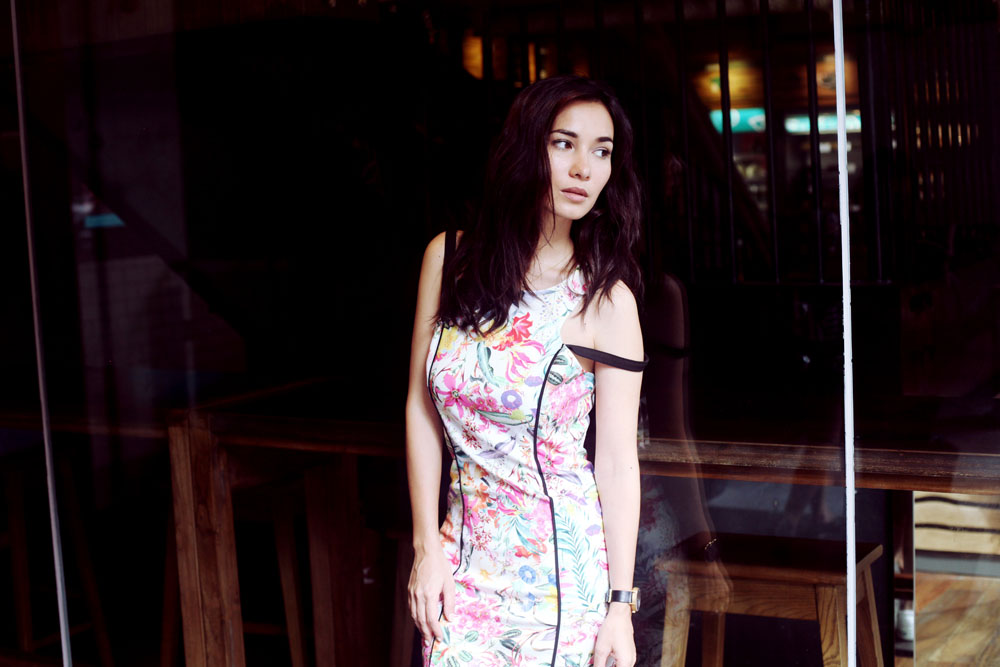 Dress: Bershka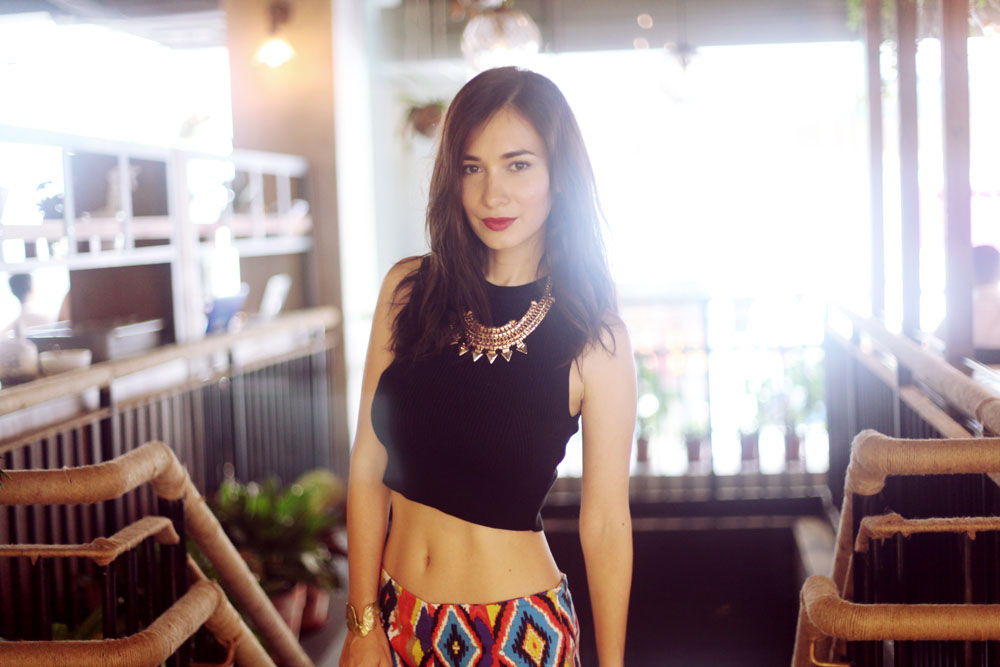 Shorts: Coco Cobana Clothing