You've seen Rhyme Lara in a few of our previous editorials but now we finally hang with her and get to know her!  Rhyme does it all from modeling to writing her own songs to DJing.  She's far matured for her age and has drive to keep her wheels turning.  We catch her as she DJs internationally and are excited for her next moves around the world.
Photography and Interview by Engel Lauren
Growing up in Sydney what were you into, doing on the weekends
I was playing saxophone and figure skating.  I still play, I started playing when I was ten.  (Laughs)  I only remember what I've been doing the last few years.  Meeting people and making art, traveling.  I only got my passport two years ago.
So you went to school for saxophone or how were you classically trained?
I actually went to school in Brisbane and I started playing sax in primary school.  Between primary school and high school I learnt music theory and writing scores.  It was all classical.  I never actually did jazz but now I do but jazz it's not something you can really teach it's improvization.  It's the essense of music.  It's the moment–the feeling of the moment.
You grew up in a musical family like your dad– Richard Lara of the Screaming Jets
My dad was in an Australian rock band called the Screaming Jets and he was probably the biggest influence to me with rock and roll music roots, writing songs, lyrical content.  I learnt so much from my father.  I have very faint memories of being lifted up in the stage like Symba!  I would see all these people down and be like ahh.
Does your mom do something creative as well?
My mom's a stylist and a  makeup artist.  She's just super quirky.  She's queen quirky.
Do you have siblings?
Ya a little brother.  He's not musical, he's a chef.
Other than saxophone what did you do?
Writing, I'm a writer.  Poetry in particular.  I like to write little raps here and there.
 Wow!  Have you put anything out?
No, not yet.  I've been writing so much music and I have a massive backlog of stuff I'm still working and I'm still kind of perfecting it.  I'm writing an EP at the moment.  I just released a single but now I've fully moved onto this new style of bass and rock and roll, a bit of pop a bit of hip hop beats.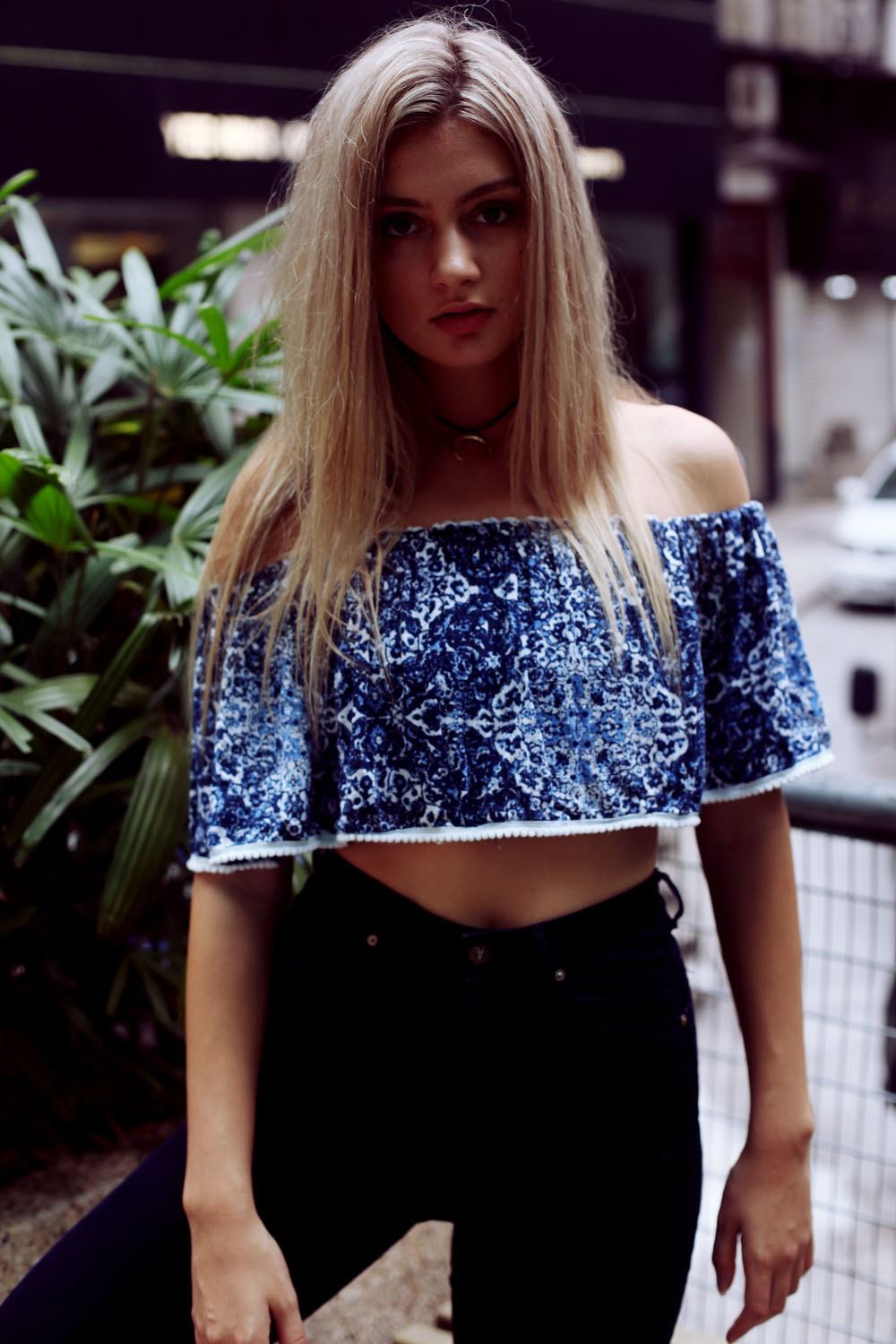 How did you find the people to make music with?
I was lucky enough to just meet producers and produced a bit myself.  Just working with these other talents we both progressed in the situation.  I have two producers I work with in New York and a couple in Sydney.  It's more about when you're actually in a session with someone or a group of people.  The synergy and the creative juices are flowing I always feel like the less I plan the better.  With DJing you can't plan it.  I have an idea of what I want to play and get some crazy bangers but have the time I end up playing the complete opposite of what I plan to play.  That just comes to what it's like in life.  You can try and plan and plan but you don't know what's going to happen.  A storm can just come over and bye! (laugh) Enjoy the moments, it's all about the moments
What were your musical inspirations growing up?
Marilyn Manson, Madonna, I really loved Eminem, Jurassic 5, old school hip hop and rock and roll.  There's just so much stuff.  Artists have just come in such intervals in my life but right now there's so much feminine power right now not only in the DJ but in the artist scene.  There's FKA Twigs, she is brilliant.  There's another artist from Roche Dam?? she's unknown right now. She's called Sevdaliza.
Oh! I'm obsessed with her
Oh my God!  Yes!!
Is her song called That Other Girl?
Yes!  She's badass.  Her lyrical content in some of her other songs like Emerdeen? and Sensible they are so real.  I think that that's what music right now, the role of the female is over sexualized and image based and that's all part of the industry.  But as a role model Sevdaliza they're a whole different look and they're promoting such deepness within their lyrics.  I just admire that–it's really cool.
Do you see yourself going in that direction?
100%, 100%.  I just want to do what I feel, what I like.  Some days I'm going to like some crazy music and some days I want to listen to heavy metal and rock out to deep lyrics.  As soon as you pinpoint your creativeness.  I'm going to be this type of artist, you get pigeonholed.  That's the same in any art form.  I'm just doing what I like and what I feel (laughs)  It's going to change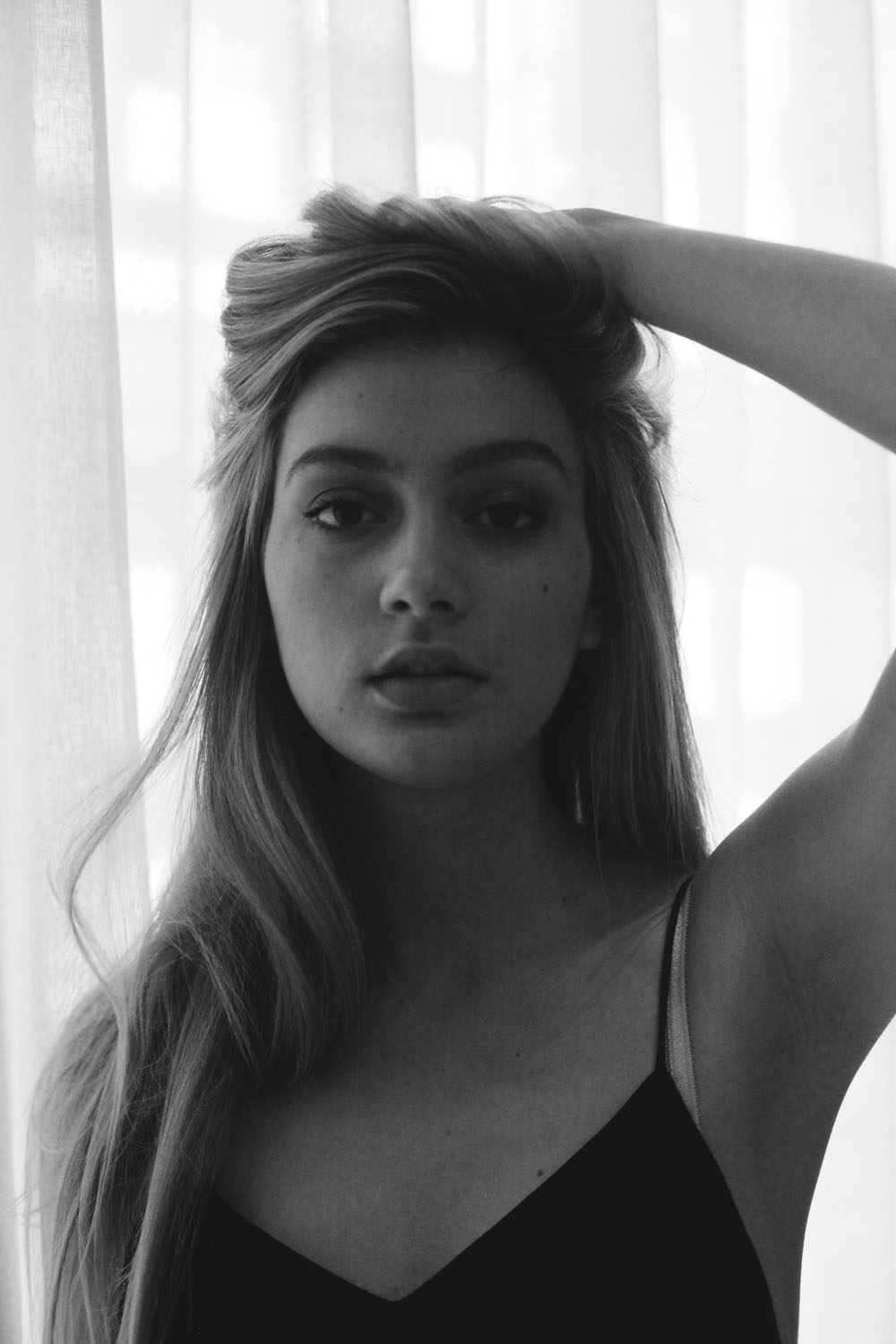 How did you get into DJing?  How long have you done it?
I was just picking songs on the laptop and making CDs.  I've been DJIng for three years on decks.  I was eighteen.  I just never thought..I was just playing rock and roll at Frankies eating pizza like this is going to be sick let's put on some audio.  I didn't even mix.  Then I started DJing at an 80's bar and then it became this bizarre thing.  I love trap bangers and hip hop so I just started practicing and mixing that.  All of a sudden I'm in Hong Kong.  I had some mentors along the way but I feel like with your art and creativity…I'm really pro education and pro school but I feel like once you can create your own style and your own way of doing things you learn what effect you like.  There's no proper way to DJ.  At the end of the day I always just go crowd and what I want and it works because it makes me happy and makes the crowd happy.  We all vibe out.  I've had some crazy situations.  I've been like kicked off decks before because I had a bit of a crowd going one time and had some people…I like getting people really fucked amped.  Sorry (laughs).  That didn't work..well it did for me…just not the club.  I've had some dude come in while I was DJing into my booth and pick me up and run away with me.  I've had a glass thrown in my vicinity and stuck this massive thing in my arm.  There was shattered glass allover the decks and I couldn't stop the music I had to keep playing so I pressed play.  There was a piece of glass on the play button so my had was all bloody.  It get's pretty interesting
Was it difficult to stray away from the stereotype that you're female and chosen because of your looks?
Oh that's a really touchy subject. I think that the fact that we even label female DJ says it all right there. Why should we segregate. It is a male dominated industry for sure. It has been challenging because I've had people who are like oh you're a dj! If you strive in your creative field for quality and the best of what it is. It will unfold naturally. I'm here in Hong Kong because Will Smith has a collective called The Books and it's a collective of female DJs and he's flying them all around the world and promoting them as like female empowerment in a really positive light. It's kind of cool to see collective as a only female DJ.
Ya that's what I see it being like, a lot of females coming together as a collective becoming as one.
Completely, this world is changing so fast. Alison Wonderland, Nina Kraviz, Madonna. She's amazing. You have to watch the Resident Advisor.  Behind the decks documentary. It's sooo cool. Check it out.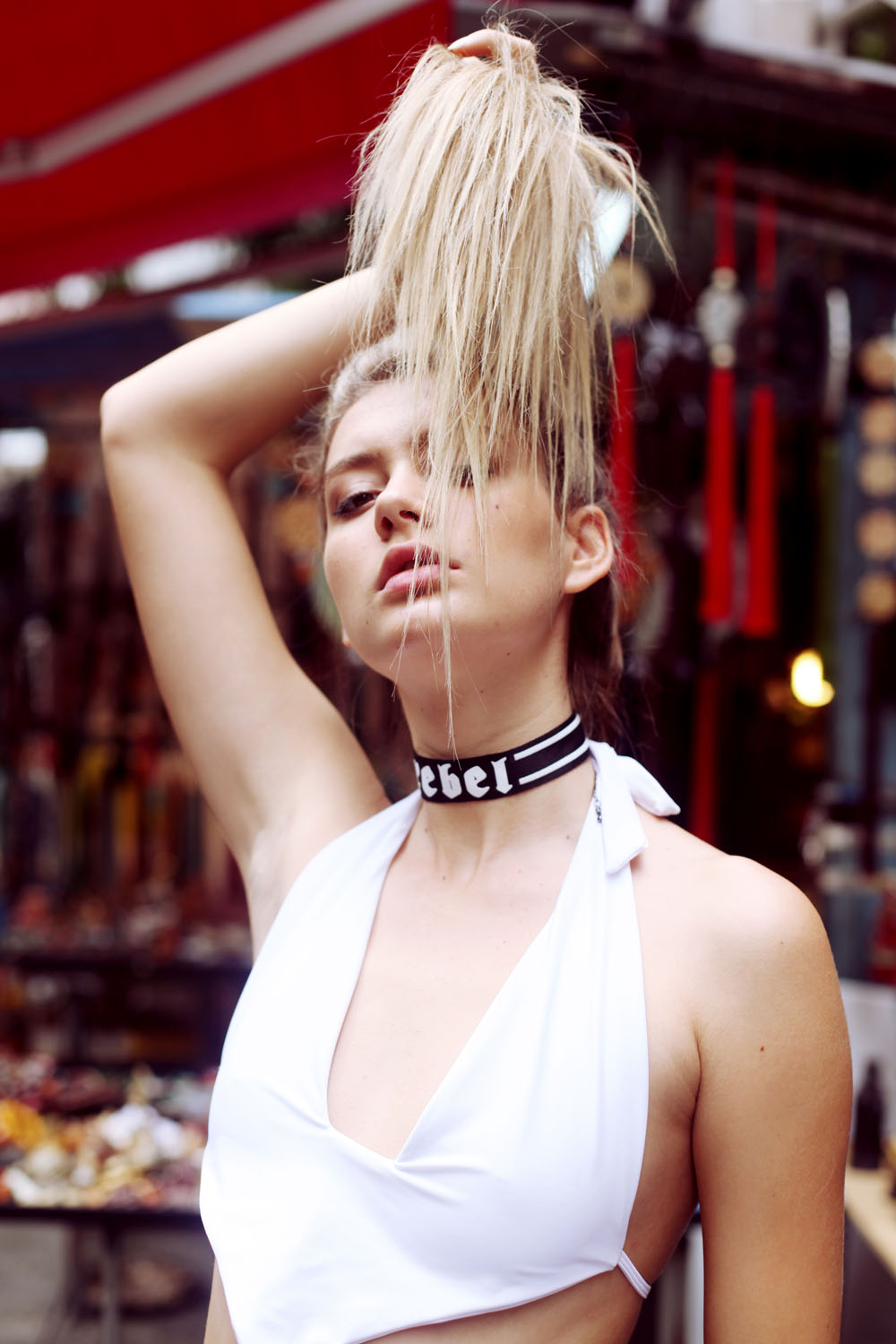 How did you start modeling?
(Laughs) Because my mom does makeup for catwalk shows. I was like five and did catwalk shows down grocery stores..oh no not grocery stores (laughs)  I love the asian aisle though, that's my favourite aisle. Are there fortune cookies here?
I'm not sure..I don't think that they have much of that here
Dammit!  I was always doing modeling.  You know when something happens and you don't really know, you can't really go oh I started from this.  I just always did it.  My mom didn't actually let me do modeling until I was 18.  She said you're not going into any agency until you're 18.  I hated her for it.  I was 16/17 and everyday asking my mom I want to go to an agency, screw you.  By the time I moved to Sydney at 18 for school I did go visit an agency.  It was really four or five months later that they flew me over to Shanghai.  I got flown to Shanghai for my first modeling contract and to be really honest when I saw like 15 year old girls on shoots just the young girls who also been flown over I can imagine myself being that age and doing the same thing.  I genuinely felt worried just thinking that it's a really twisted industry.  It's great, it's amazing there's some beautiful things in it but when you're that young and when you're still finding out who you are and wanting to be accepted.  Trying to work out everything really, it's scary.  You can get twisted into stuff.  What I did see being nineteen overseas on a contract versus I was 16.  The perspective was a bit skewed and it was actually more positive.  I have a love/hate relationship with it but I love to create and get crazy in front of the camera.
In Australia and now you're doing a lot of modeling and DJing?
Ya actually I'm not signed with any modeling agency anymore.  I've just been freelancing but my manager in New York whose more of my music manager helps with some modeling stuff too.  Actually it's going really well, I did an Ed Hardy campaign shoot, it was amazing.  I had a Missguided interview earlier.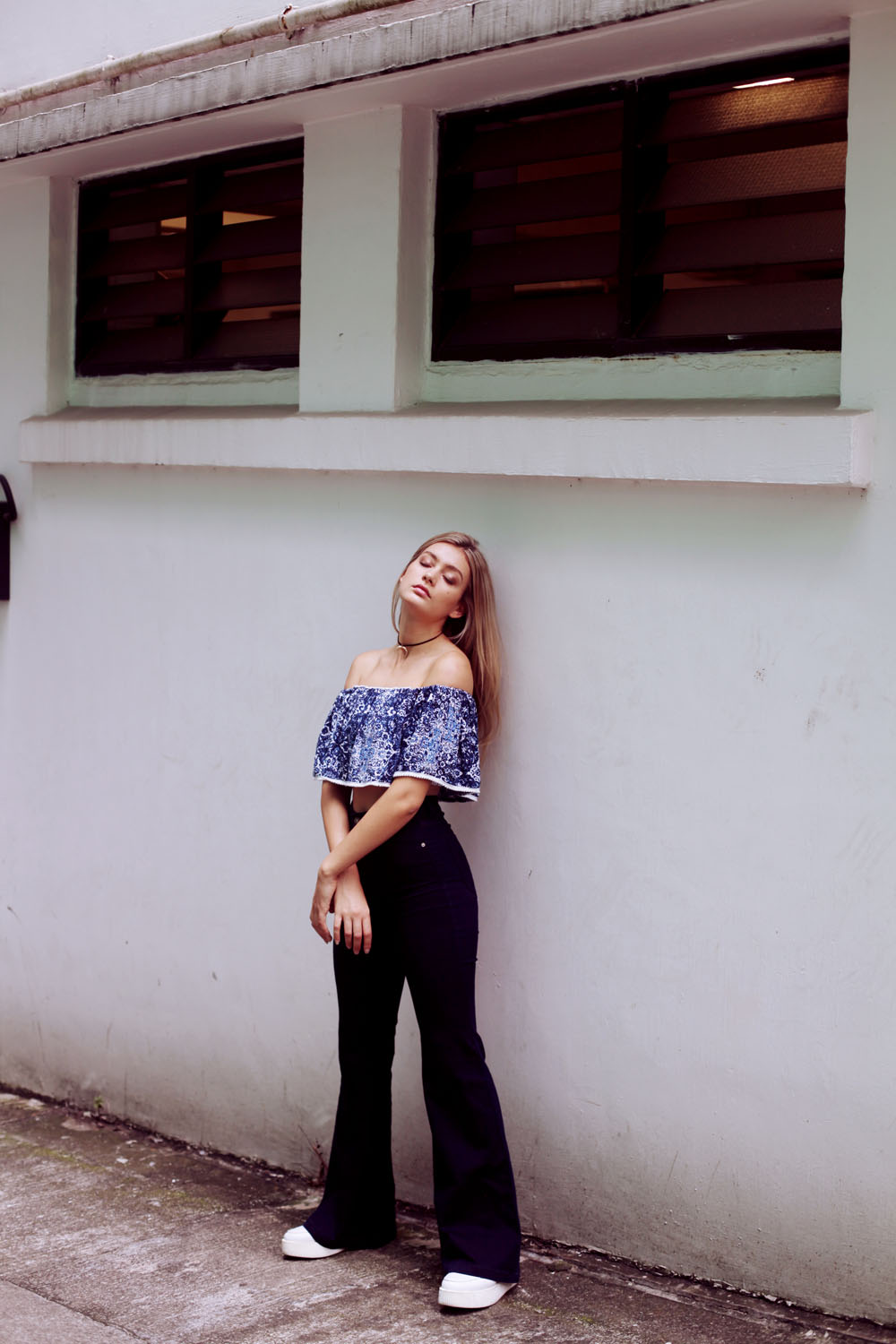 Oh same for the Missguided!
Missguided is amazing right?!  Hey!  Lauren is the babe of Missguided.  We'll see where it goes I'd love to work with Gucci I love to work with Moschino I'd love to work with Tom Ford.  Those big sick labels and just do really cool collaborative music and fashion films.
Are your parents supportive of you doing nude pictures?  How did that come about?
Ya definitely.  They love it.  I try to make them proud but I'm at that point where I'm like bye I'm moving out of home and everything.  It's a big part of me…photography.  It's just art.  It all comes under that one bracket.  But at the same time they have their own lives and I have mine.  If anything they did give me was making me go and get it for myself.
Now you have a manager in New York and you're planning to go to the States?
Ya so I'm 100% going to the States.  Bring it on baby.  Should be by the end of the year.
Wow that's so exciting!  Did you always feel like you wanted to live in the States?
Oh my god yah! I just knew always I would never really end up in Australia…I don't mean like that but I just hatched from my cocoon and I want to go fly (laughs) and America is a really good place for building that.  But if I had to be really particular I don't want to actually have a nest anywhere.  I do want to fly around and have different places.  It would be America, Tokyo and Shanghai and Paris maybe in the summer.
Have you been to the States heaps?
No just four times.  LA, NY and a couple cities in between.  It's actually an amazing place.
What does true love mean to you?
Presence and wholeness. When you're really there with someone, with yourself, with a city…
What do you want to be remembered for?
Empowerment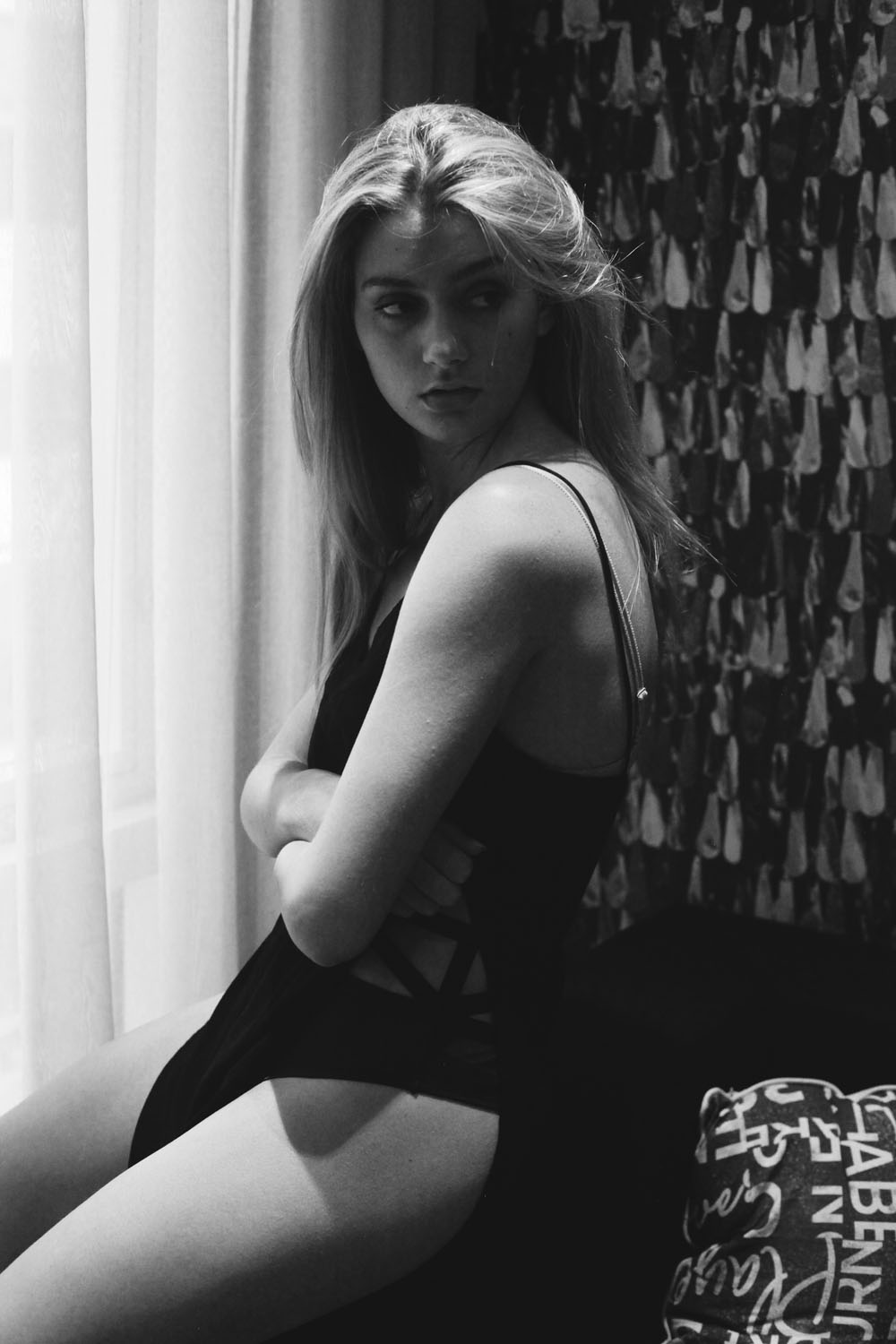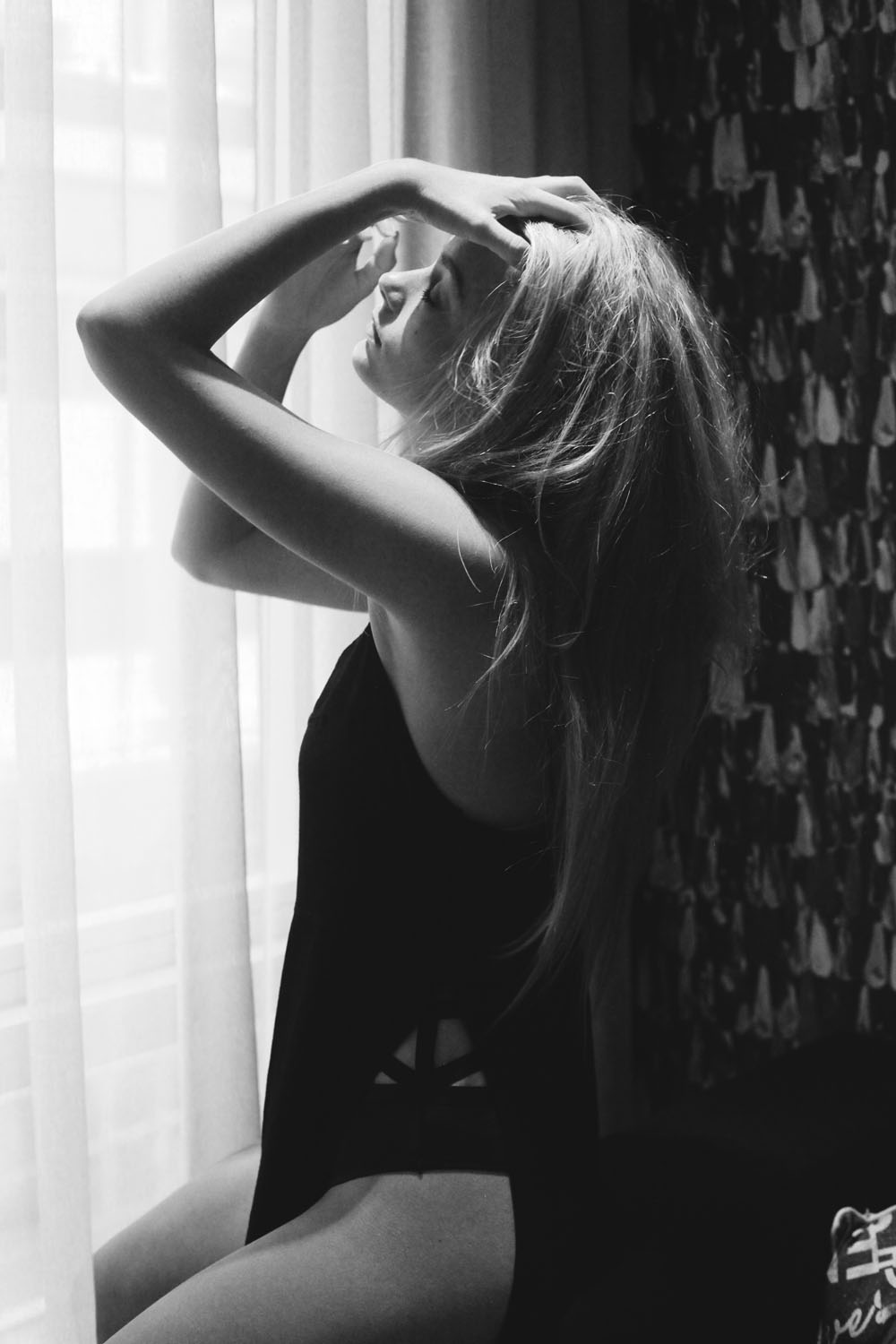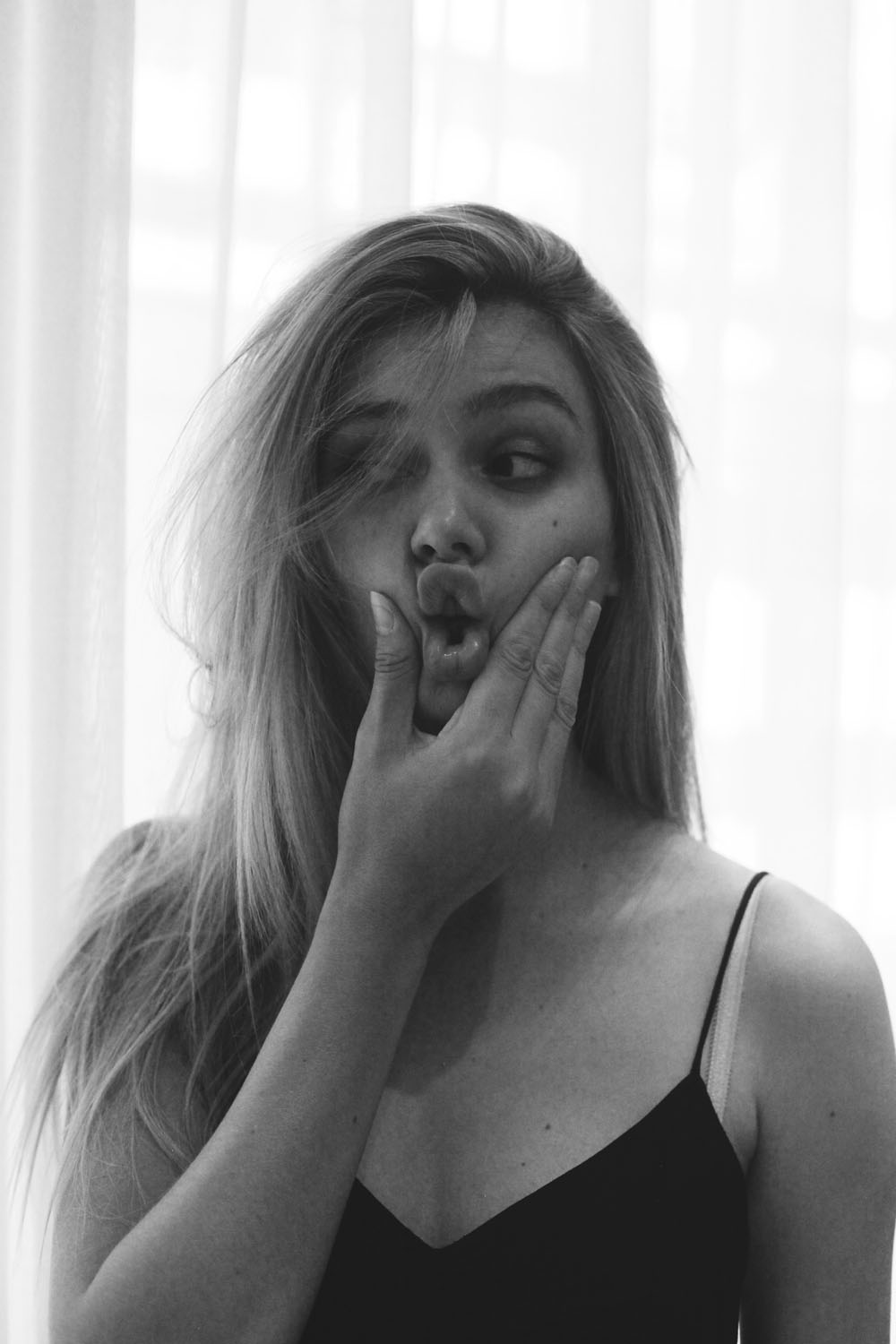 Dress: SJ Lingerie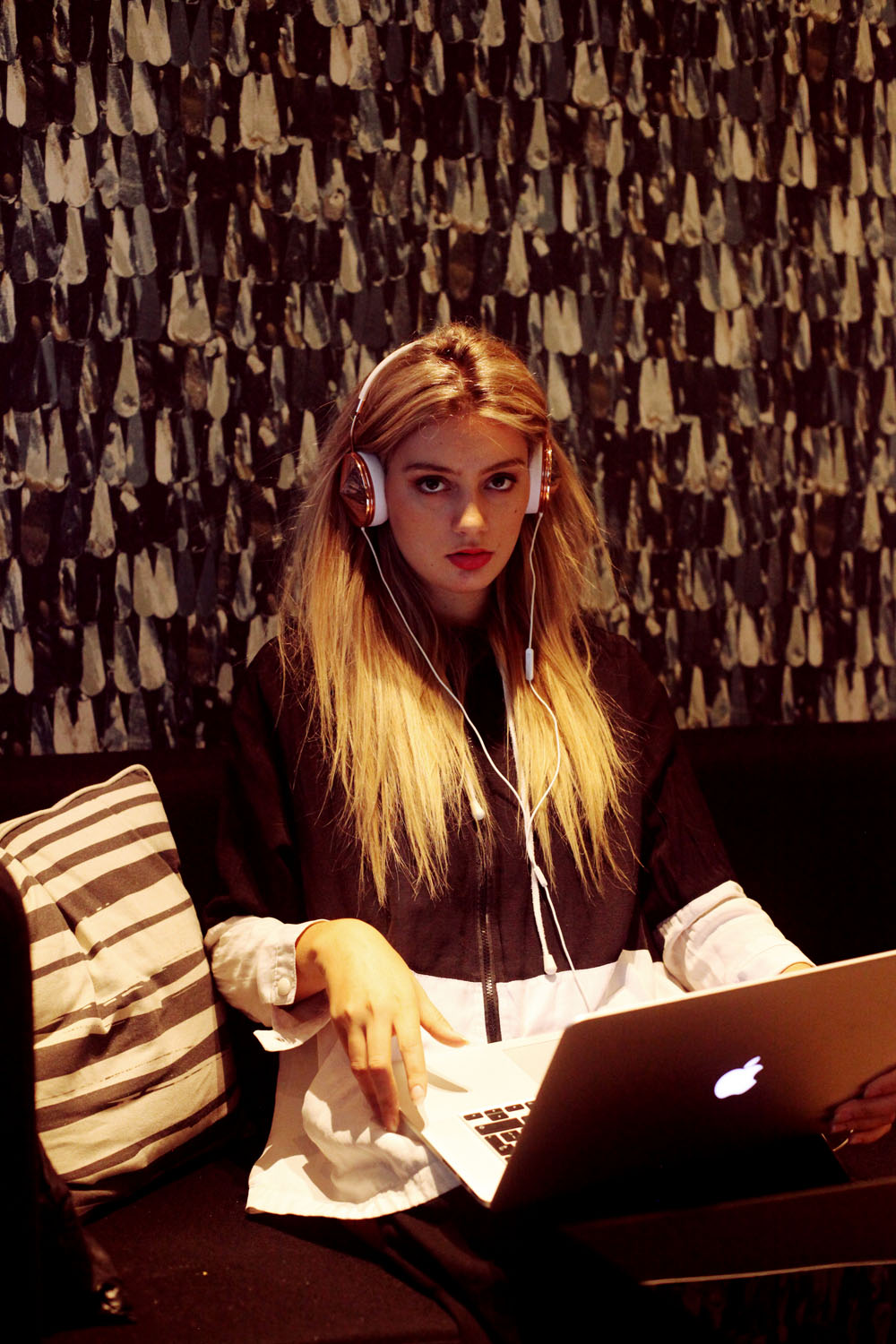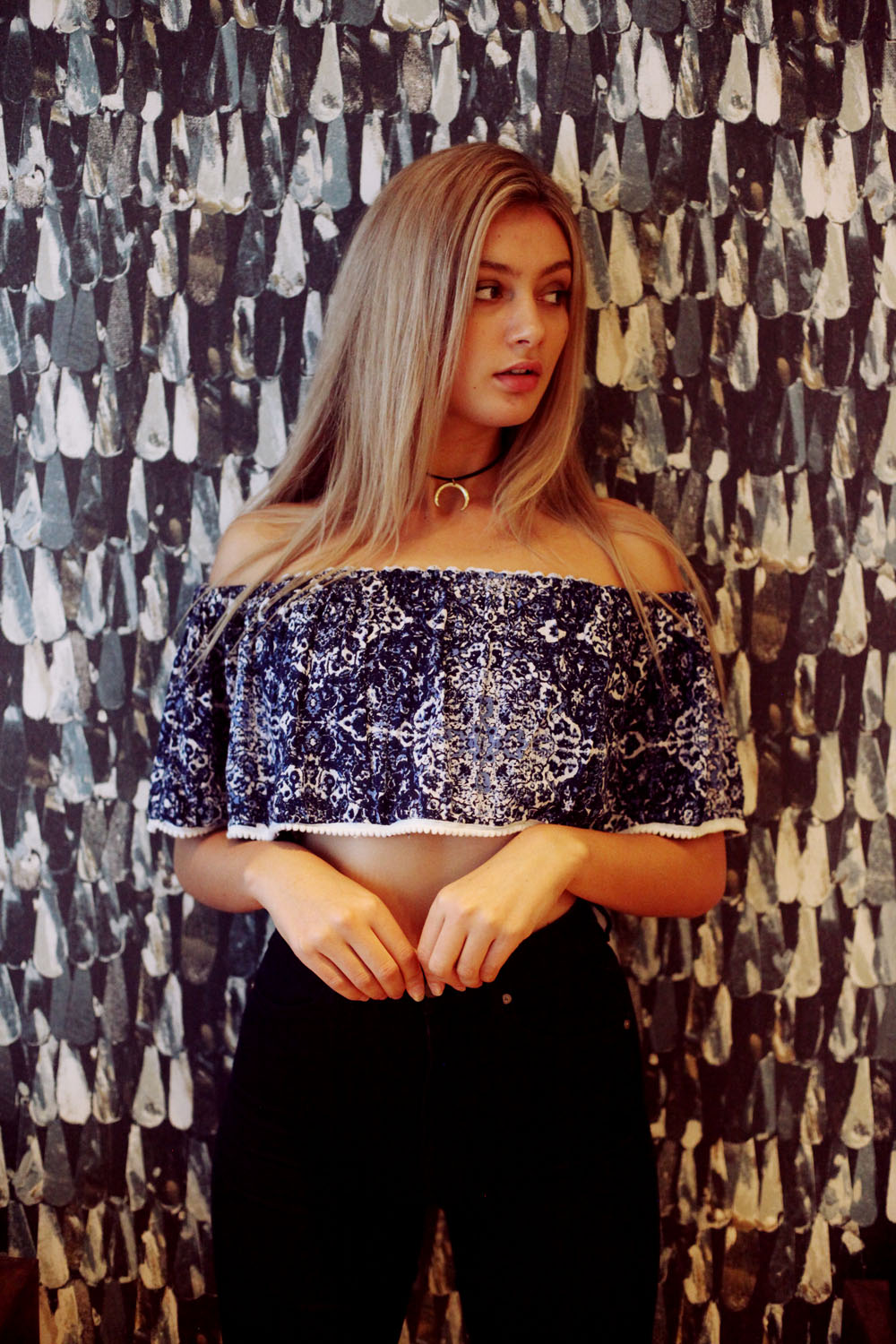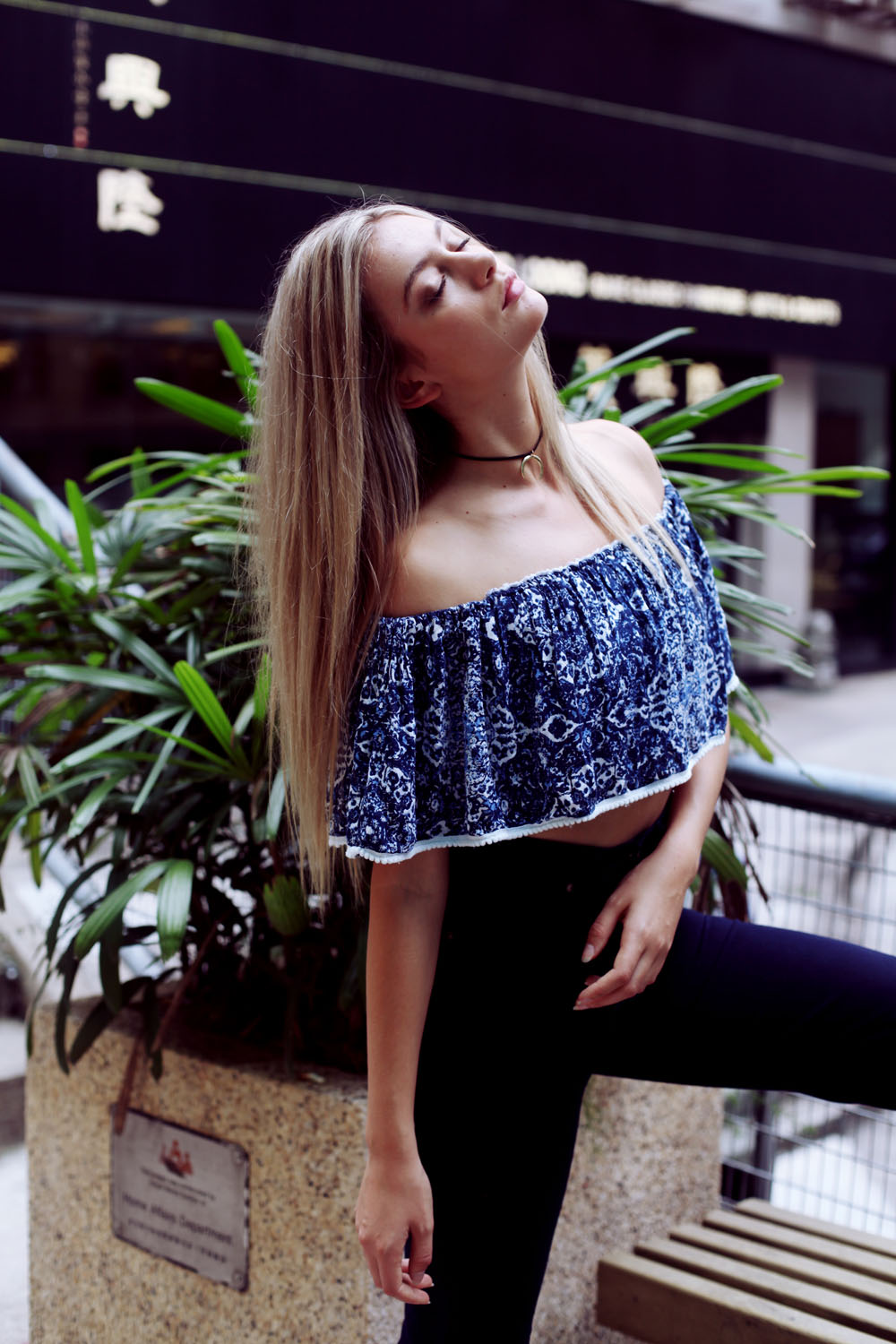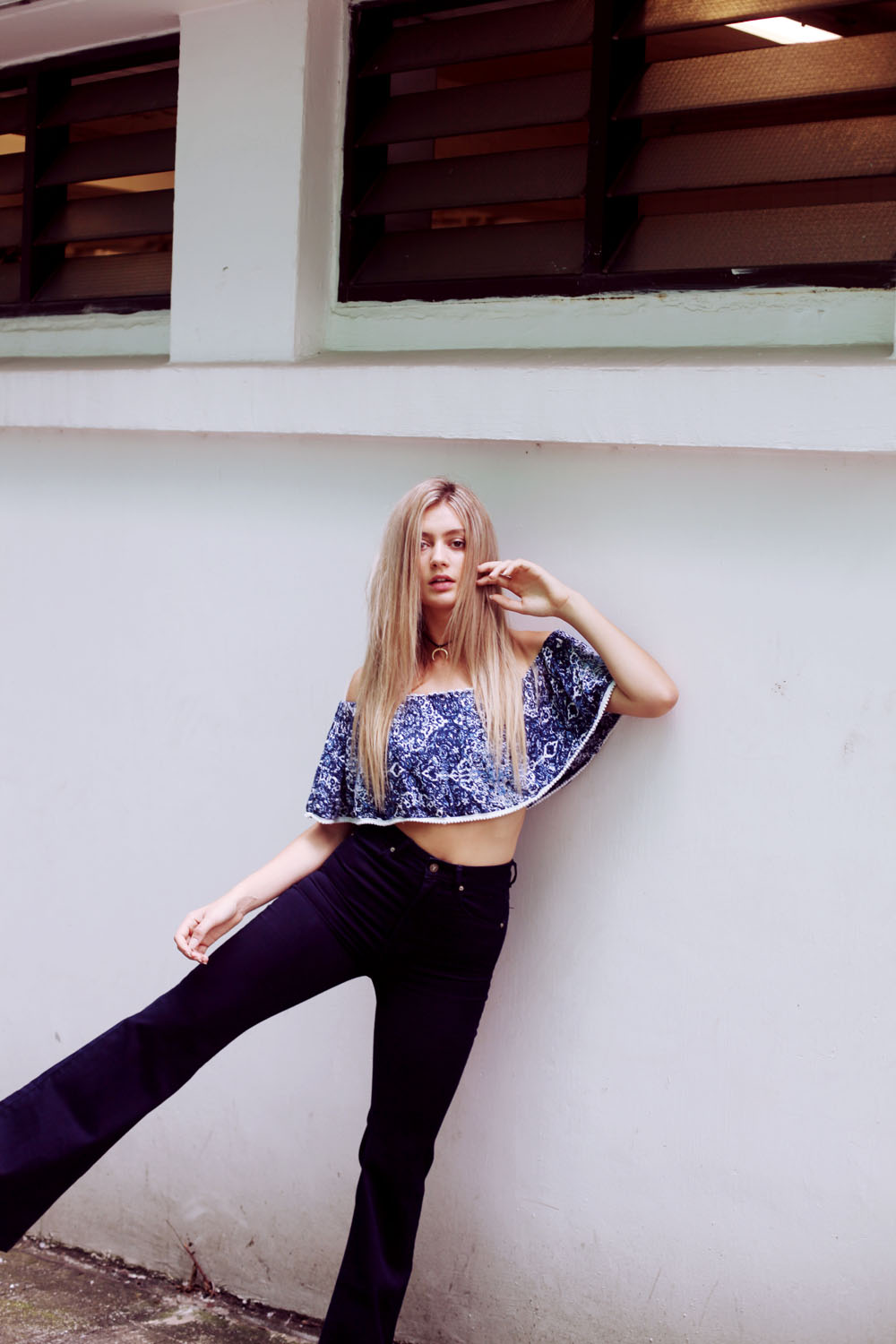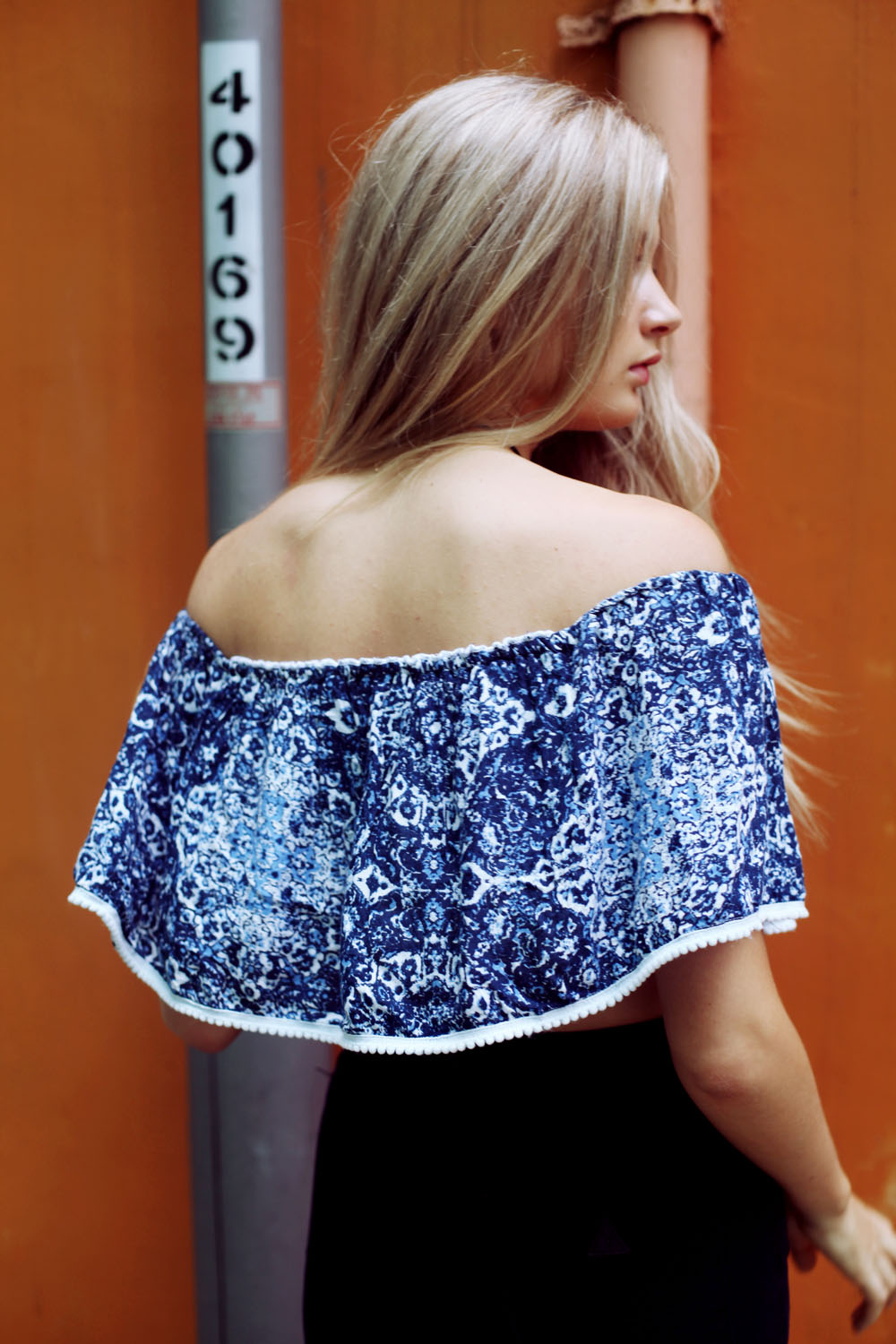 Top: Aanya Clothing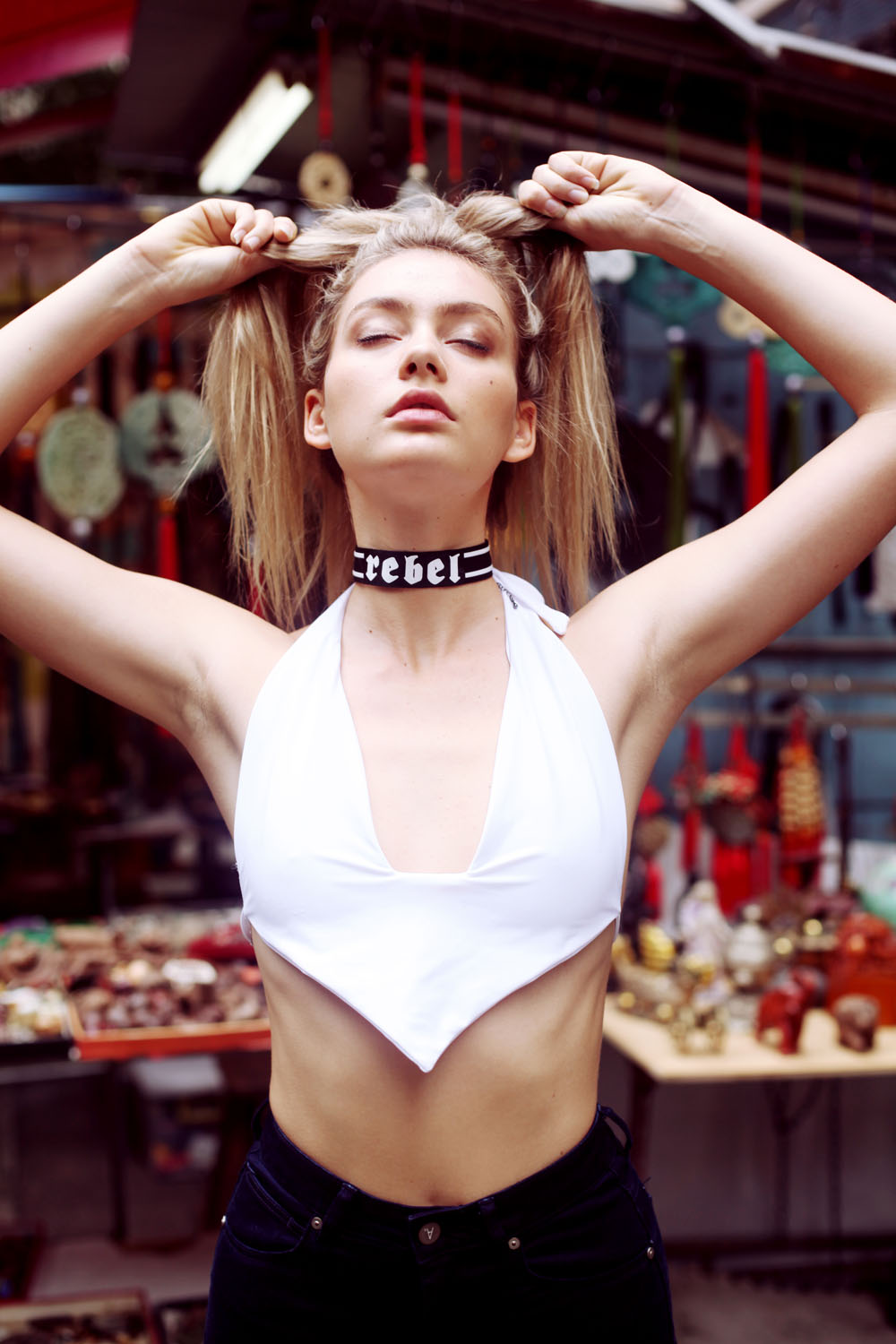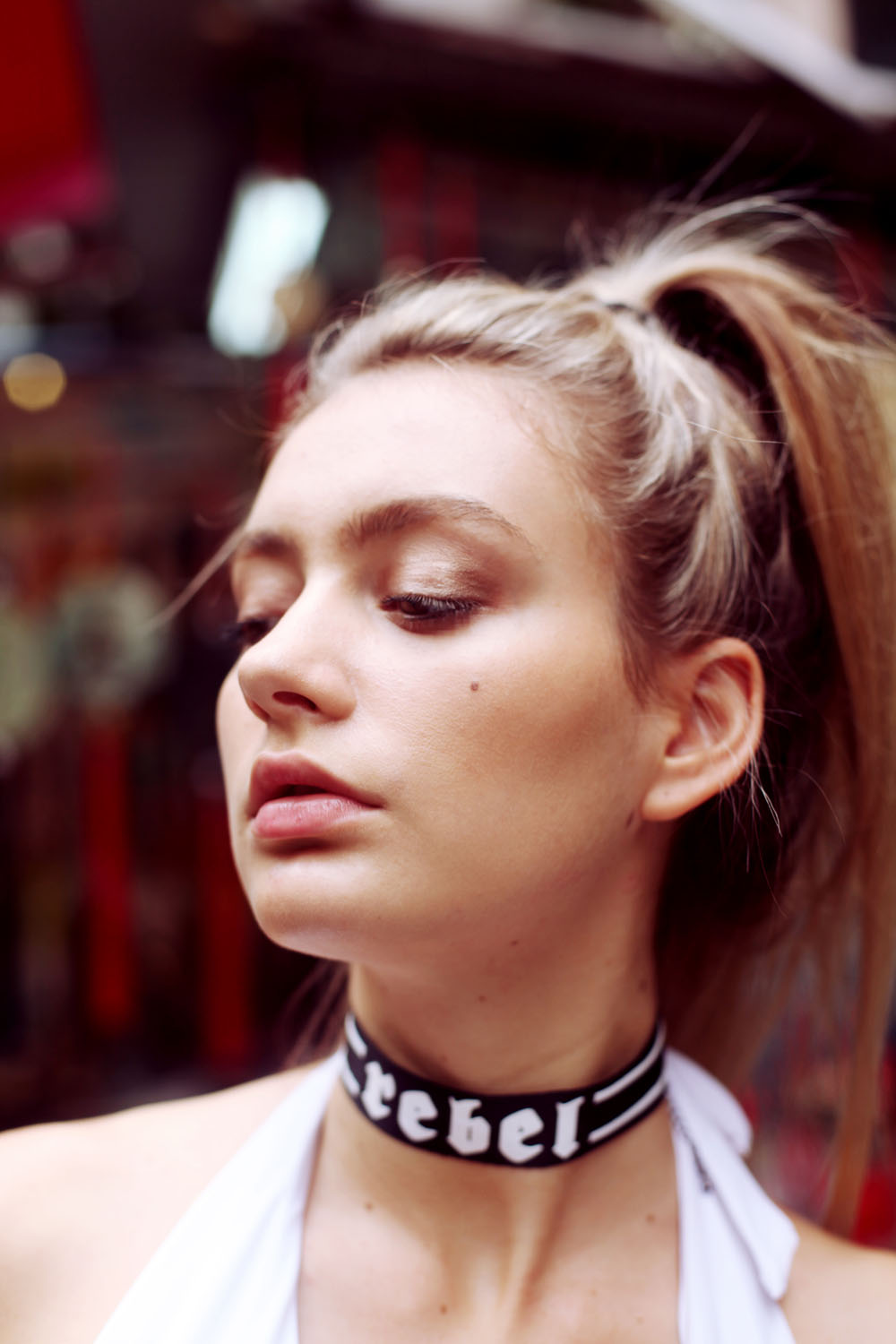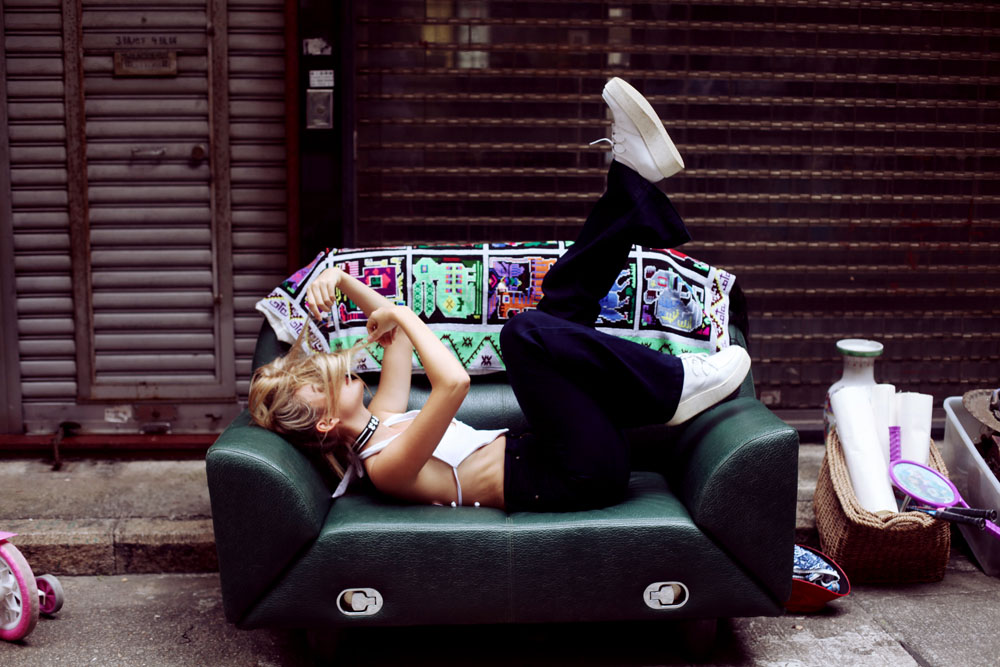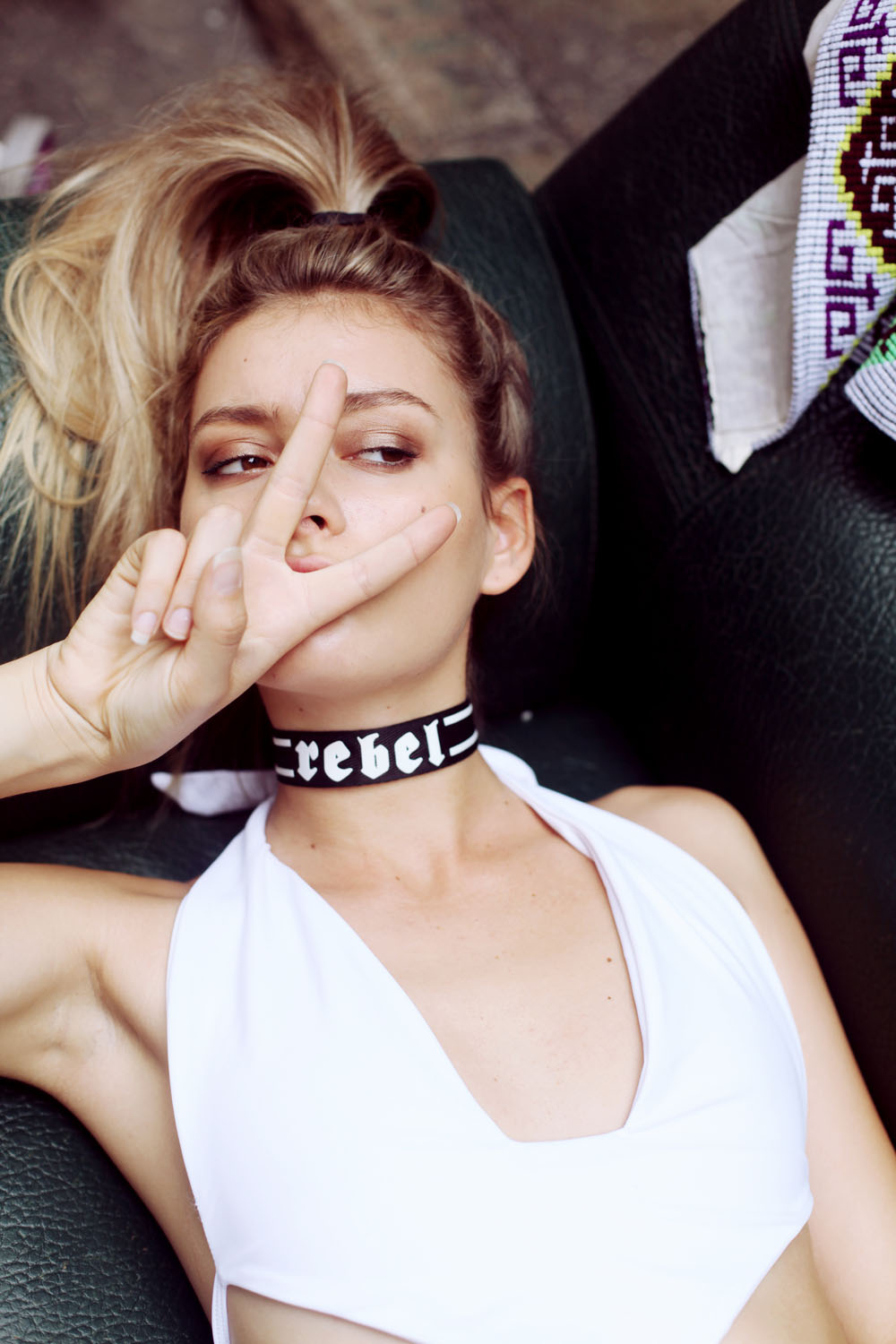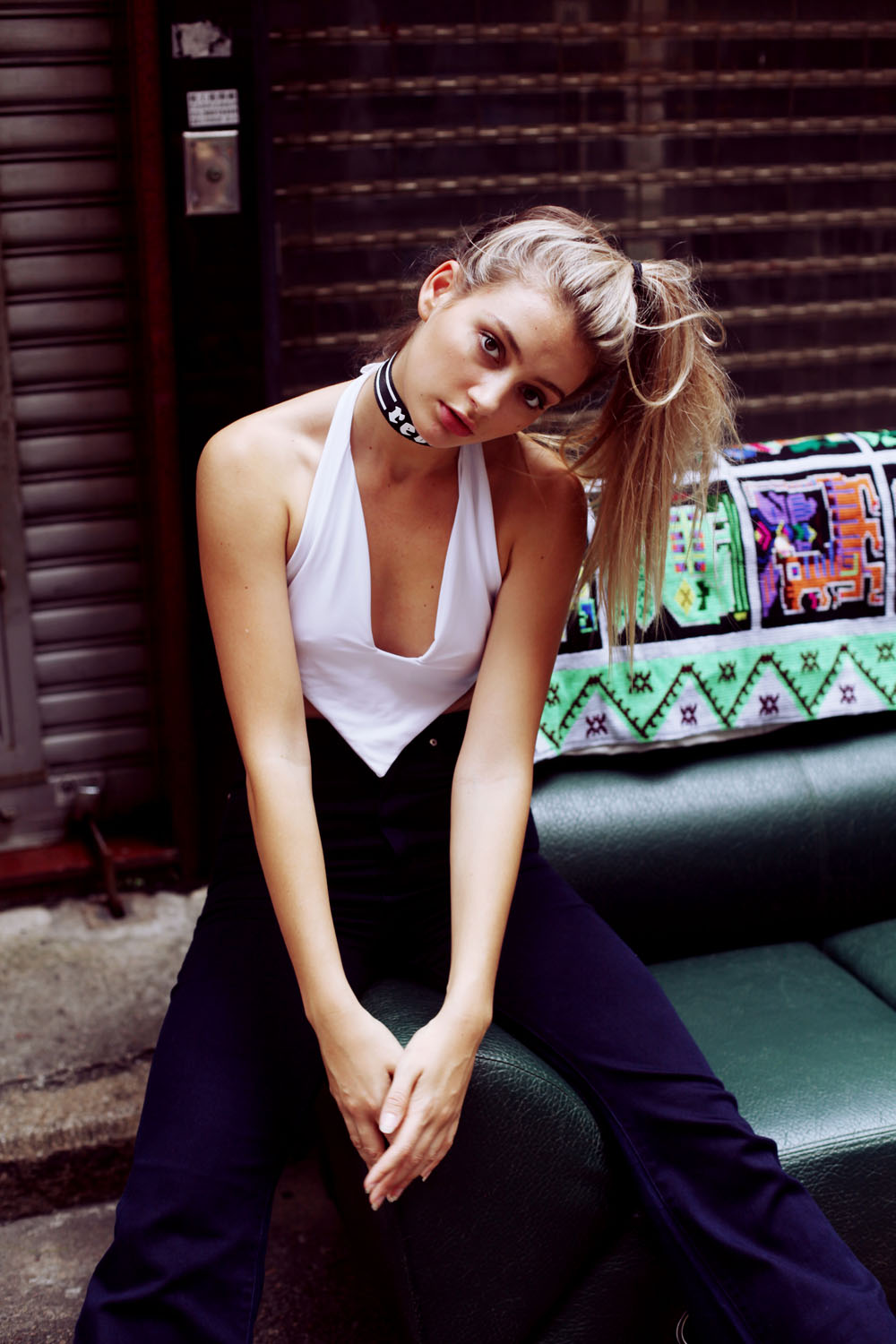 Choker: 6IXTY 8IGHT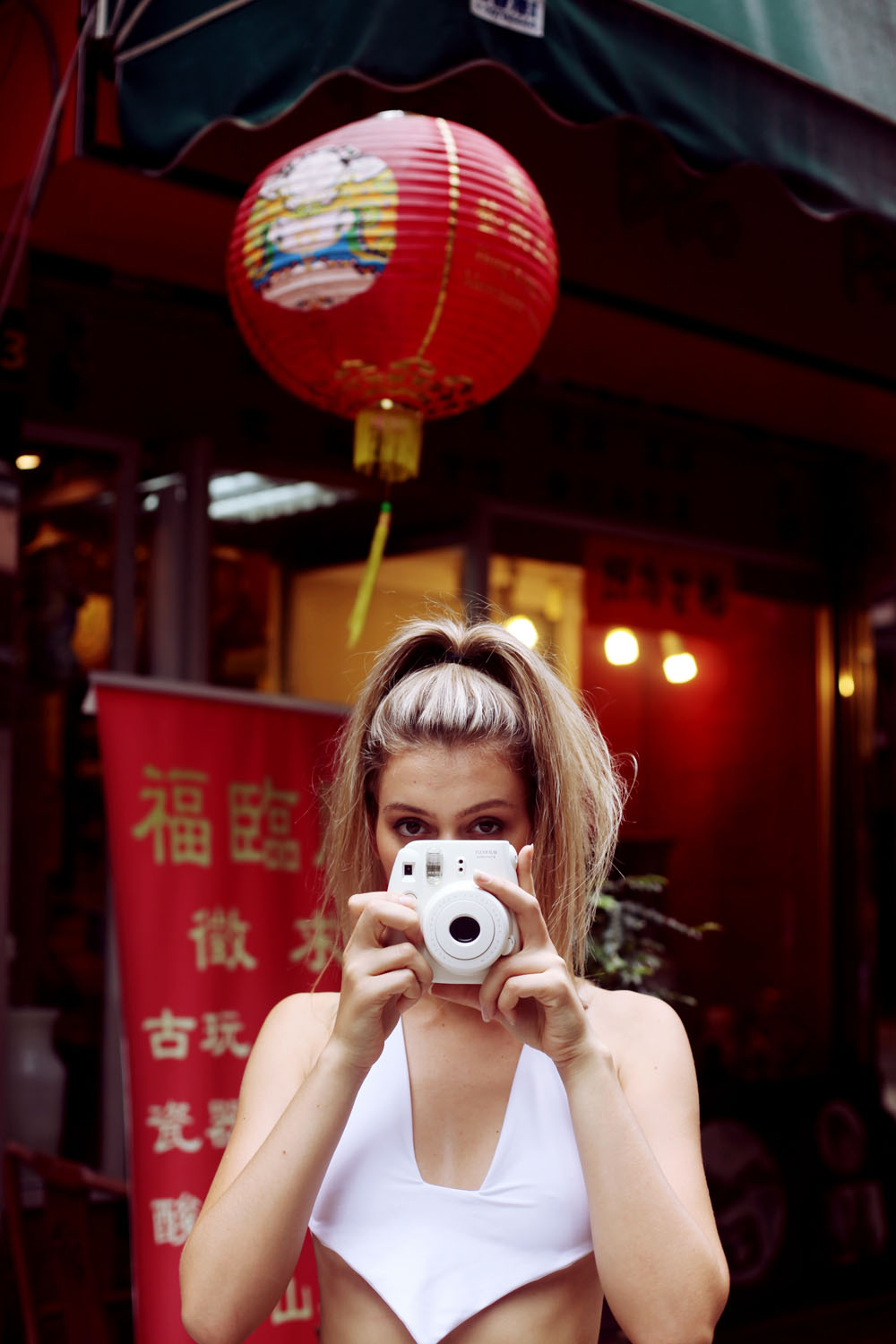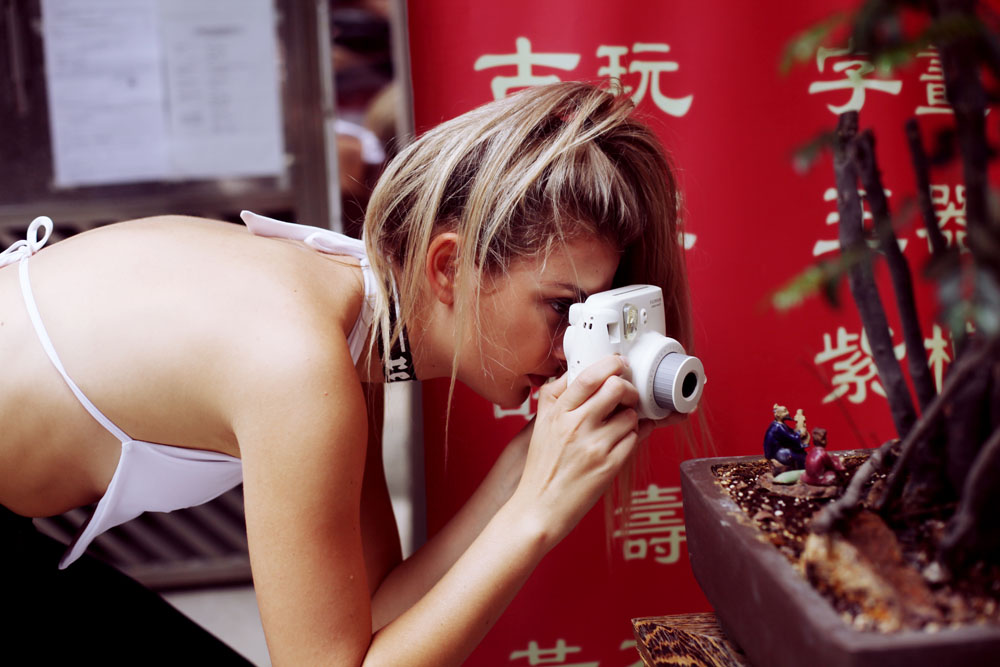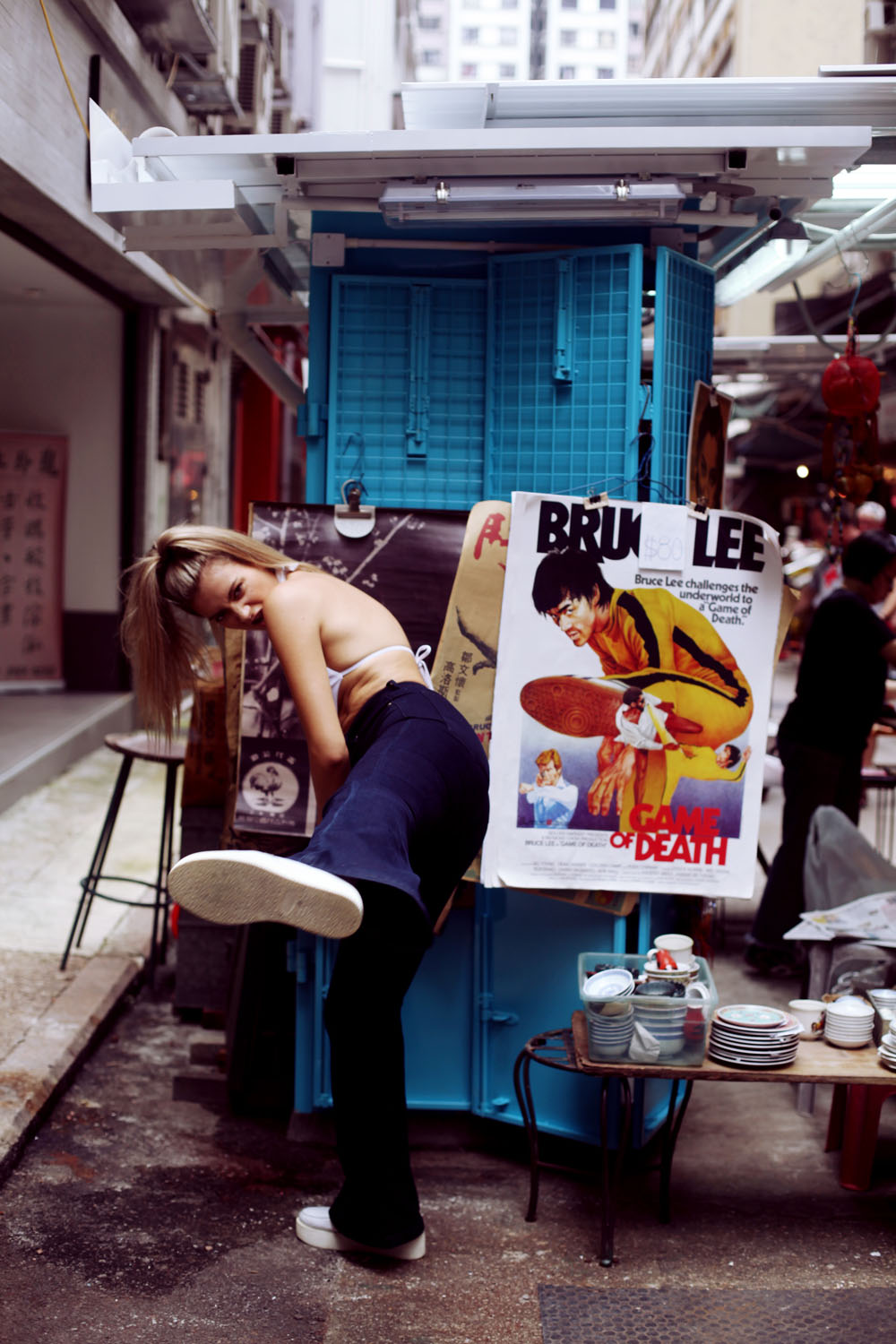 Top: Mojada Swimwear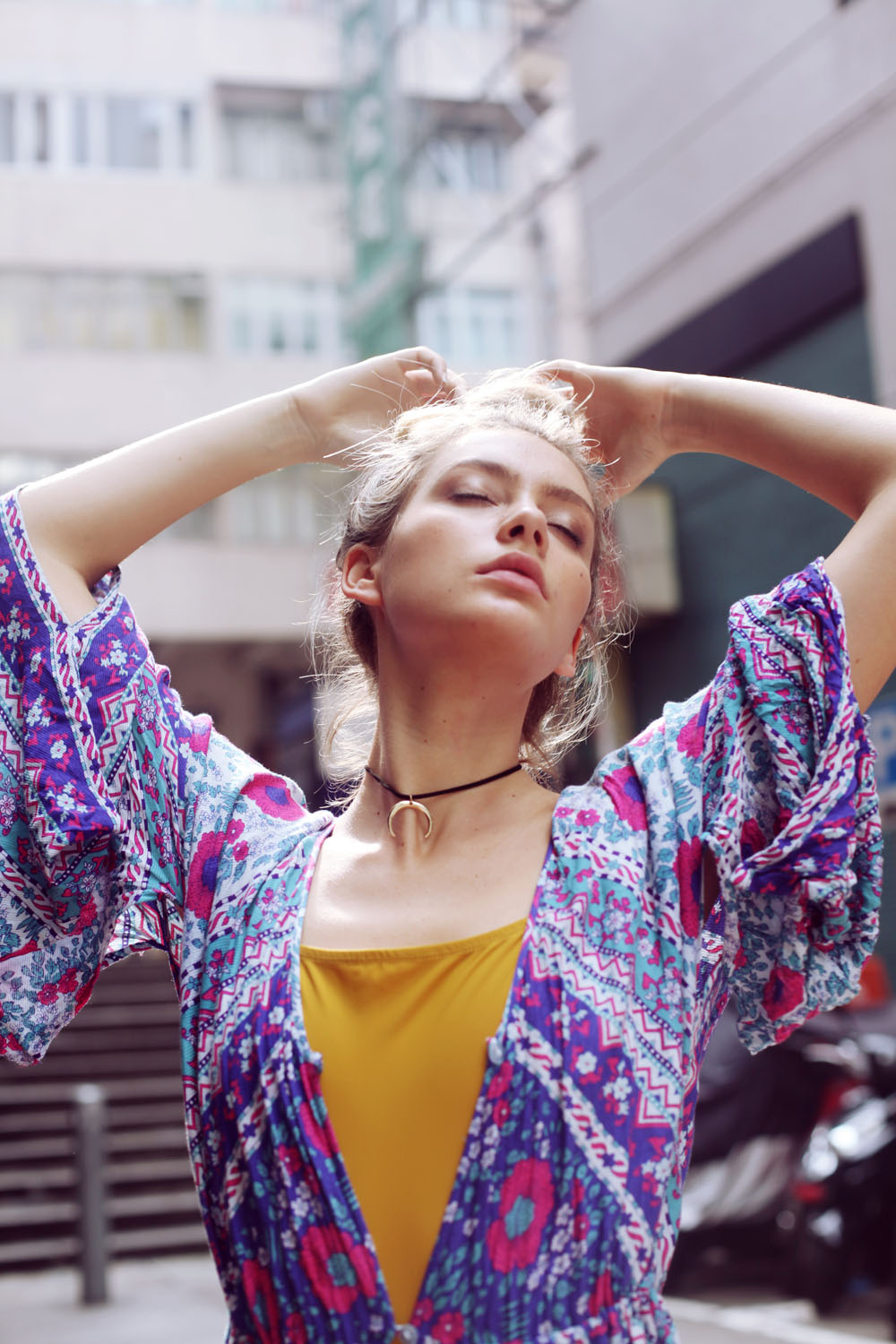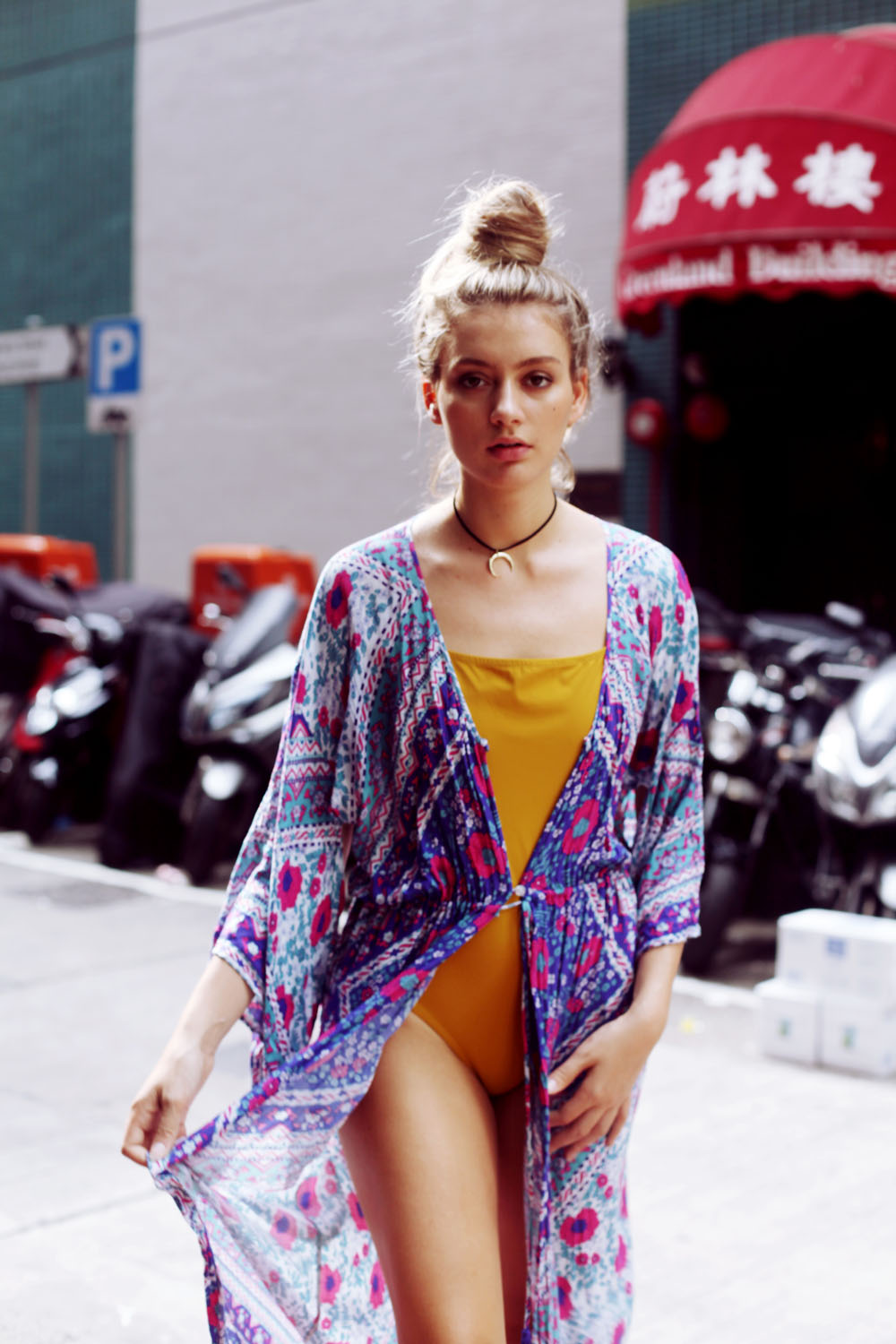 Kimono: Arnhem Clothing, Bikini: Cora Swim