"I want to be remembered for fighting for what I believe in. For someone who didn't let go of her dreams. For someone who pursued it even there are so many struggles. You shouldn't care, fight for your dreams!"
Julian Flores is the epitome of an Asian modern woman. After getting her degree in tourism her career as a model took of and she has become one of Philippine's most sought after models being on various of campaigns and competing on Asia's Next Top Model. She is just ready to takeover the world.
You were born in Manila, right?
Yes, I was born and raised on the Philippines and basically I lived my entire life on the Philippines.
When you were growing up what were you into?
Growing up it never crossed my mind that I would ever become a model. I was kind of boyish when I was young and I preferred all these boyish stuff and I did Filipino street games. My favourite was "patintero"; I was the queen of patintero way back in grade school. It´s basically about that you have to block everyone that's going through your lane.
Oh, that's probably why you were so good; you're so tall and have long limbs!
Laughs. Actually I wasn't that tall back then, just average.
What were your favourite subjects?
Mostly science like chemistry, biology. In our university you have to pick your course in your second year so in your first year you're just studying general education and by the second year you have to choose which course you want to pursue and initially I wanted to do nursing and biology but I ended up doing tourism.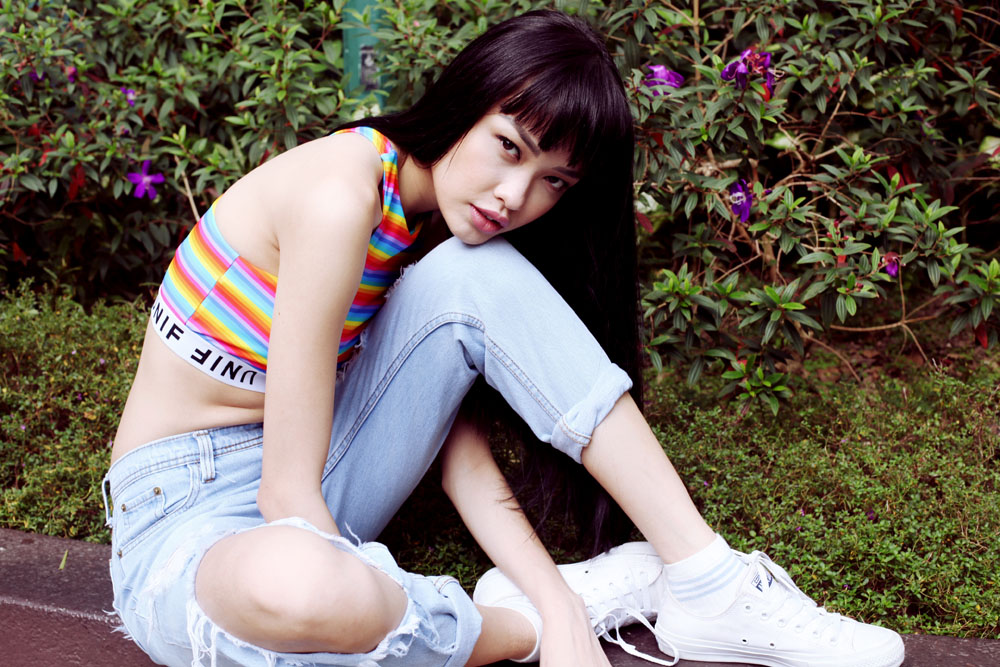 How was your personality back then?
I was super shy and can be like that even nowadays. If I just meet a person I am pretty quiet and I don't show my personality right away but sometimes you have this immediate connection and automatically you can be yourself straight away. If I can´t feel that connection I'm just quiet and don't talk.
What do your parents do?
My dad works in the government and my mom and I have a mini business back home. We have a mini salon. My sister works in Jack N Jill, a multinational company.
Were they always encouraging you to be academic and go to college?
It's their priority. That their kids need to finish their education first. They're not actually pushing but it's me who wanted to be an achiever. I am an achiever I have always wanted to be on top.
Were you able to see a career in tourism?
Actually not. Right after my graduation that's when started to pursue modeling. But I made sure to successfully finish college before that.
Was modeling always at the back of your head?
My mom was actually pushing me to join pageants where I joined Miss Philippines but I think this stuff is just not for me. I enjoy modeling so much more than pageants.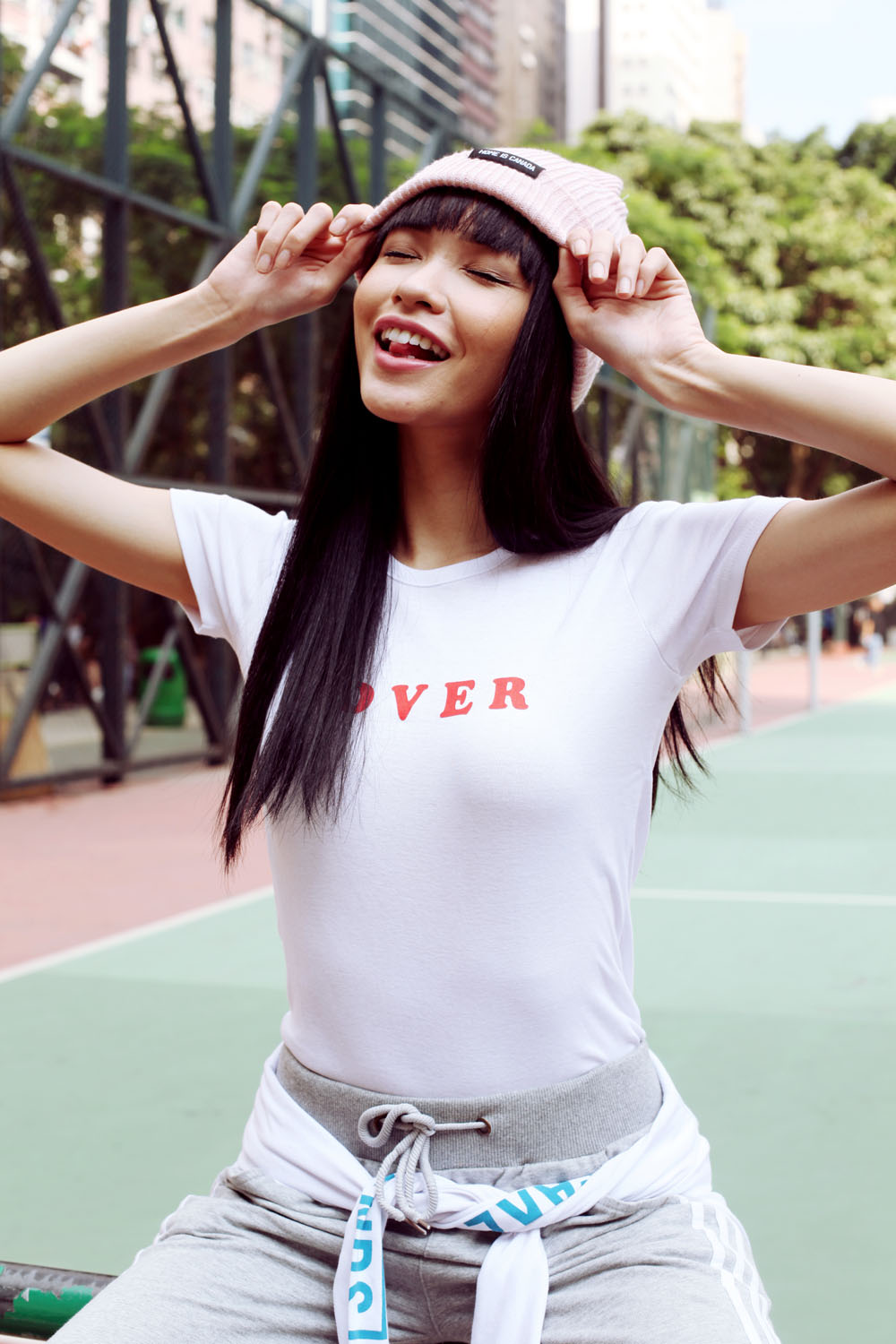 So basically your parents were always supportive of you being a model?
Actually my dad was kind of skeptical at first. He wanted me to be a flight attendant. That's the goal when I was in college and it somehow is still my dream, so maybe I'll do it after I finish everything.
When you were growing up did you have a supermodel you looked up to?
Erin Wasson because her mole is so damn sexy! And she's my example of effortless beauty.
How did you get started with modeling?
My first modeling gig was for Folded & Hung which I am an ambassador now. I auditioned and my sister actually pushed me to try it. She's really into fashion, more than me.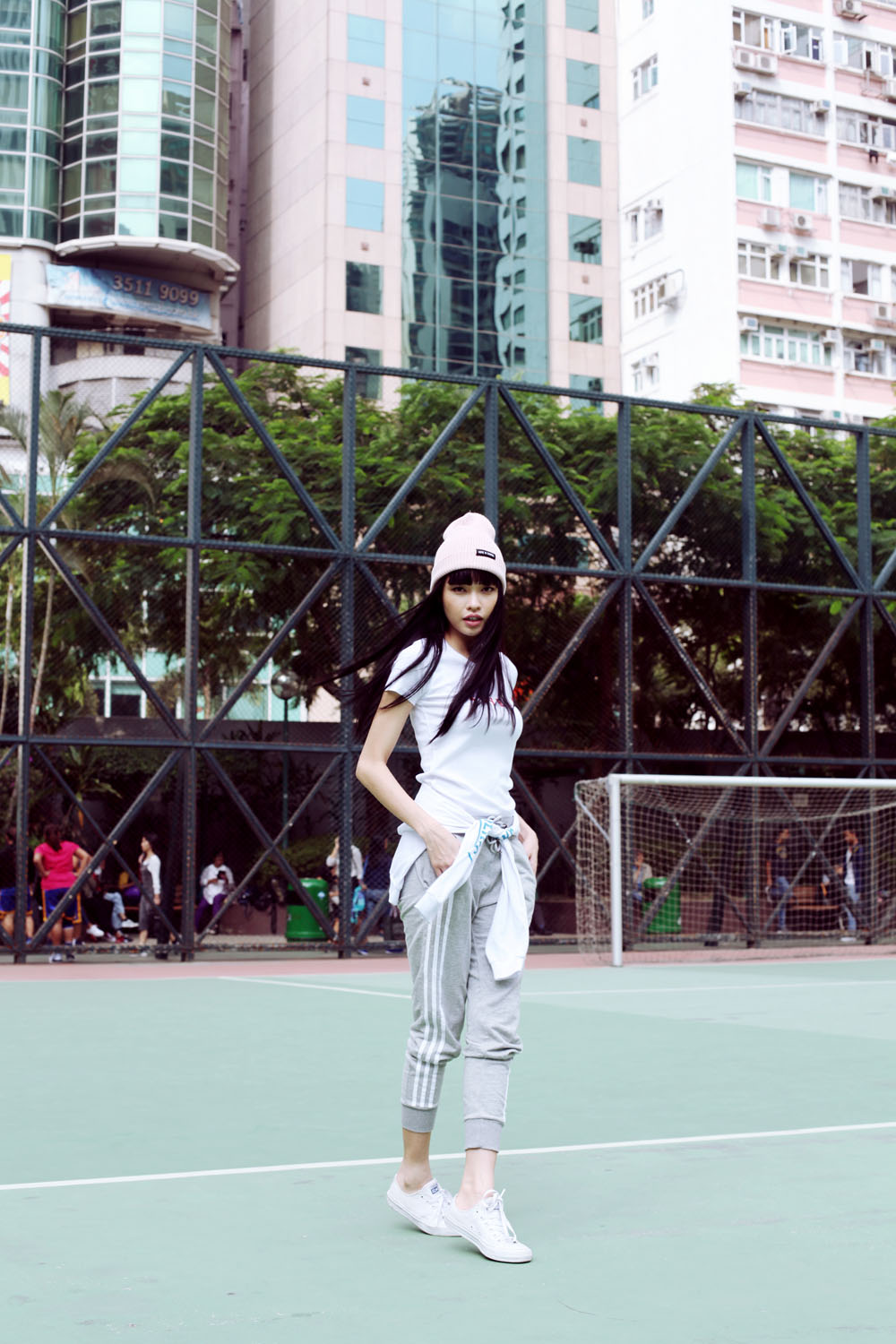 Since then you've done so many commercials. How have you progressed into this direction; like meeting so many people and becoming more confident? How you've seen your personality change?
Actually it was through my training with pageants that I gained confidence. After I joined these pageants I got all these commercials.
What's it like to model in the Philippines? Did you ever get critique on your body?
I don't get critisized about my body because I've kind of been this shape my entire life. Maybe Philippines will hate me for saying this but my observation is that they prefer blondes and Caucasians more than locals. For example SM (Shoemart) campaigns have two blondes and one Filipino. They should give more projects to Filipinos or Asians or these Caucasian girls. But in Hong Kong they love Asians here so…I love Hong Kong. laughs.
Do you see yourself growing out of Asia?
I actually plan to move to the US but I need to fix my documents first before anything else.
How did Asia's Next Model happen?
Me and my best friend auditioned and at the end they picked four. My best friend was included in the four but then she was cut out. They had an open casting in City of Dreams and we got a call. It was a hundred girls girls who auditioned and they chose four Filipinas.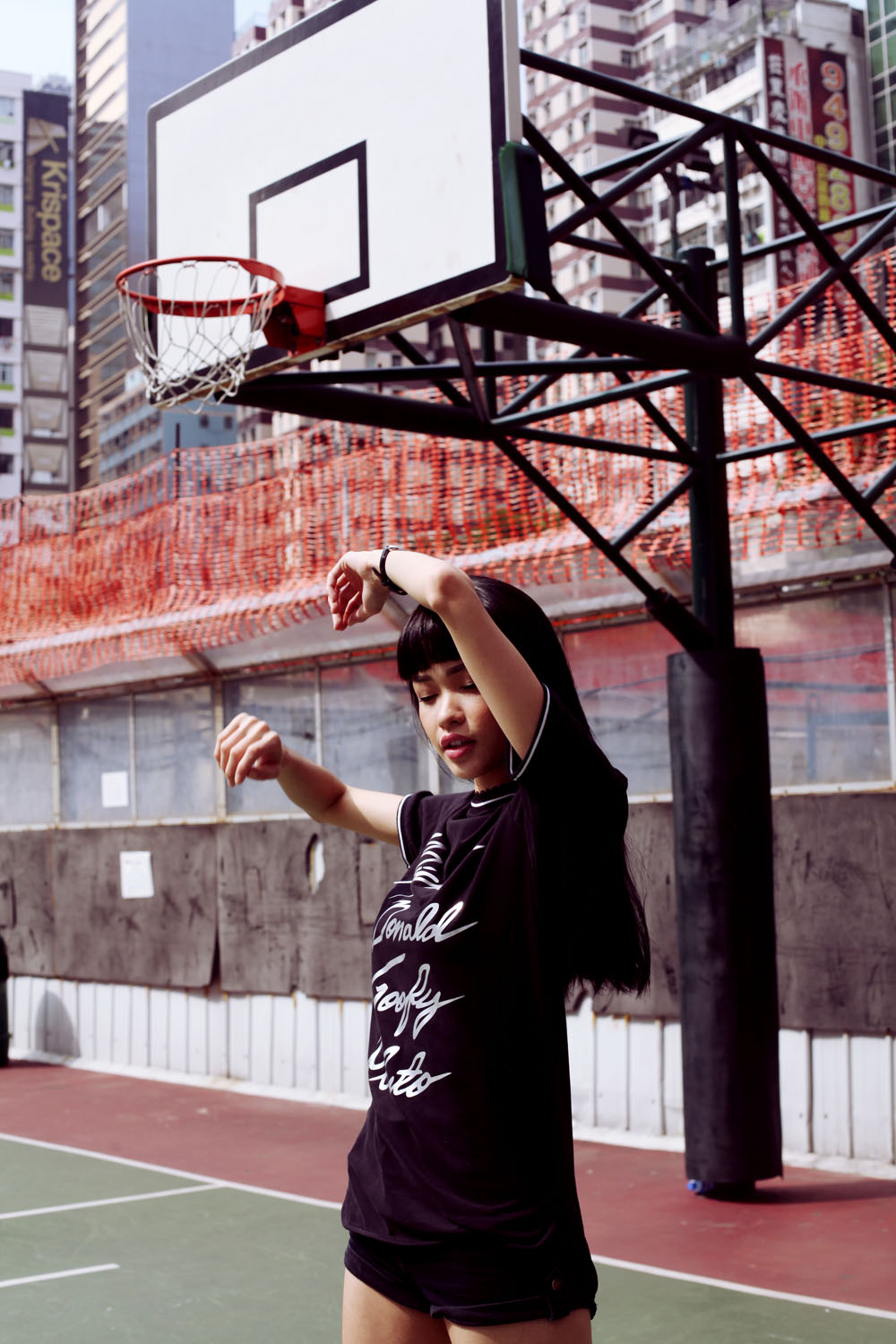 How big was the coverage and presence back there?
In the Philippines you can watch it for free so there are a lot of people watching it. Here I think you have to buy the subscription to watch it so it's less audience as well.
What was your perception about it before? Were you scared of the reality tv part of it?
Actually I was prepared well going into the house. I had a glimpse of America's Next Top Model too. The girls were having a catfight and that's what I expected in the show but the girls during my season were so nice and I didn't even give them any bad comments. I just love them. Well there was a little misunderstanding after the show for some contestants but during the show itself we were all nice to each other. It was the mentors, the judges that had problems with.
Did they ever try to spark something out of nothing?
It was for the judges. They had to do something to make me cry….I have this side about me that I am a crybaby but I also have this strong side. People don't know my sensitive side because I always show them how strong I am. And in some parts during the show they just exposed my sensitivity which I hated.
Were you able to call home? Did you have a support system?
They got our phones for two months! We were able to contact them when we won a challenge. I had like a 15 minutes call with my family and my bf. laughs. It was like a blessing in disguise that I won this challenge because I almost wanted to give up. My boyfriend told me that you are there for one reason so just do it.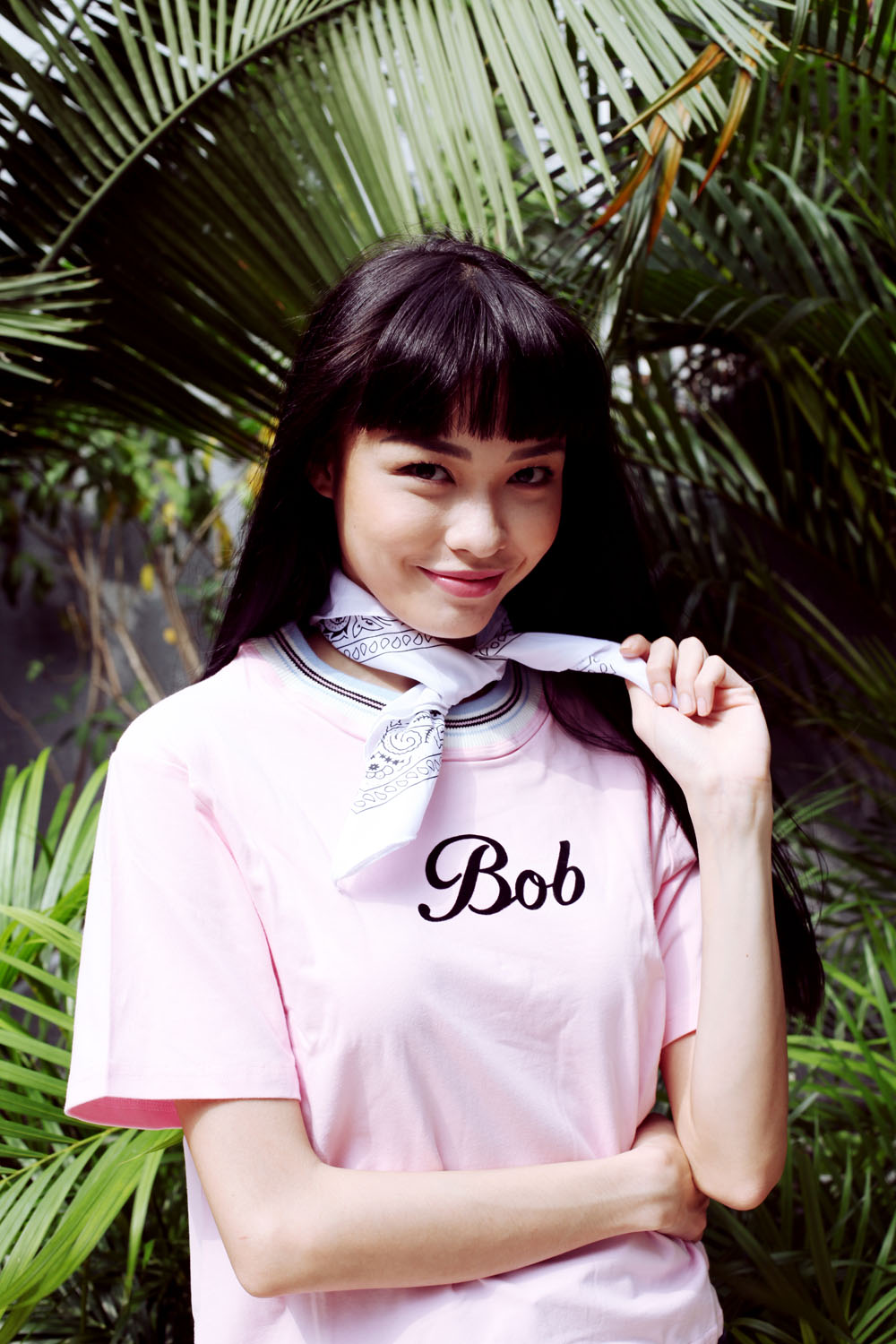 Scarf: 6IXTY8IGHT, Top: Unif from On The Block Shop
How have you changed since the competition? Do you get a lot more jobs now?
Jobwise yes I got a lot more. Even here in Hong Kong where they have to pay a subscription fee in order to watch the programme some people notice me. F.e. when I was having a shoot back in Sheung Wan one girl approached me as she recognized me from the show.
How did you meet your bf?
Laughs. I met my bf in Boracay. A hopeless place to fall in love but I did! Because when you meet someone at a party I feel that I can´t take it seriously, but sometimes things turn out in a different way.
Did he know who you are?
I was a nobody. That was before everything. He's so funny and I like funny guys and even my parents like him therefore. laughs. I'm more of a personality type of person. He was just there for holiday and he even extended them for me. Long distance relationships these days aren't so difficult because we have facetime.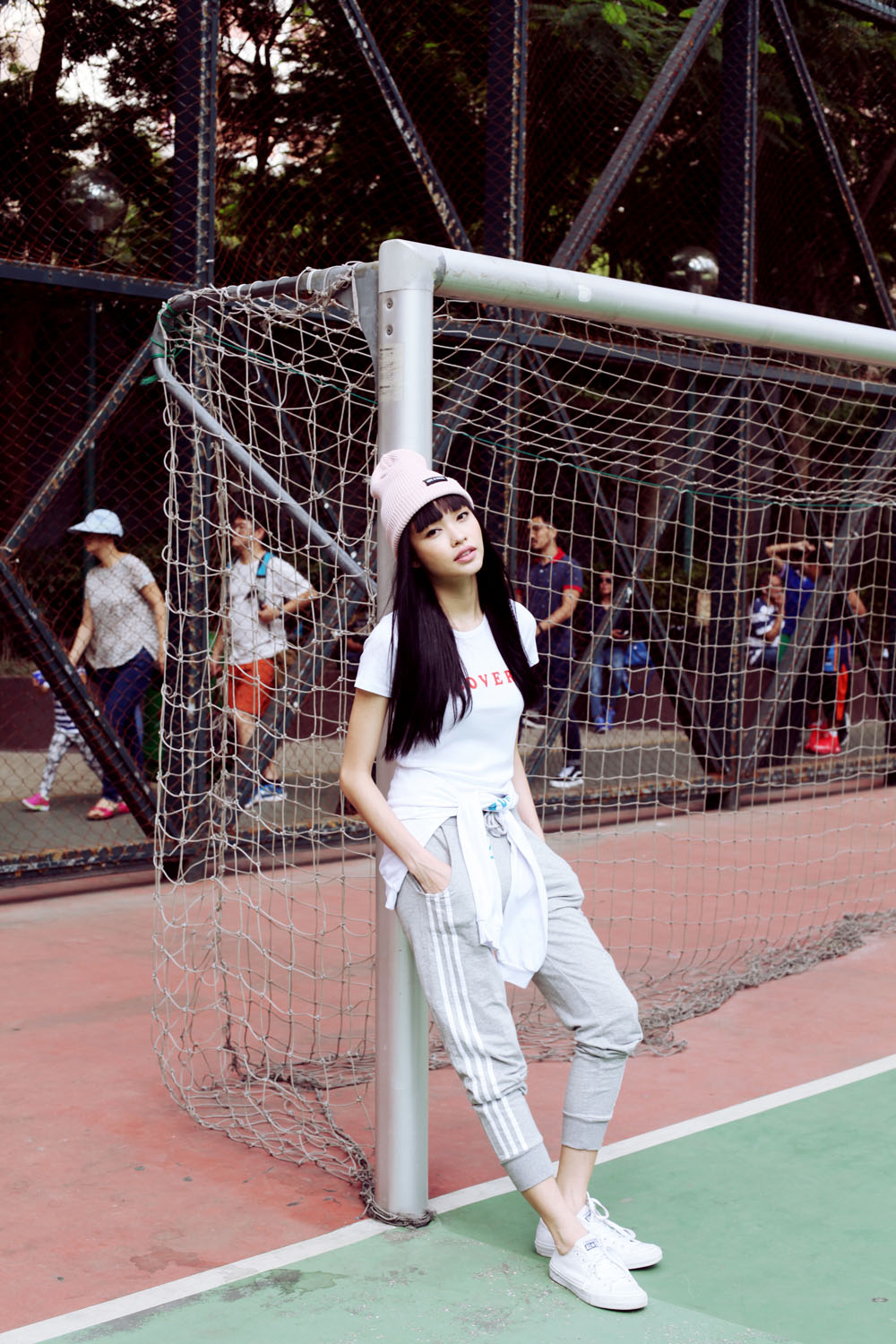 I also read previously that you are really into music.
Yes! I love alternative, indie but mostly Filipino music. If you're going to ask me if I sing, I don't. I don't know how to play instruments either, but before I got so busy I loved going to gigs.
What do you want to be remembered for?
I want to be remembered for fighting for what I believe in. For someone who didn't let go of her dreams. For someone who pursued it even there are so many struggles. You shouldn't care, fight for your dreams!
Jacket by: Fake Friends, Beanie by: THE PEACE COLLECTIVE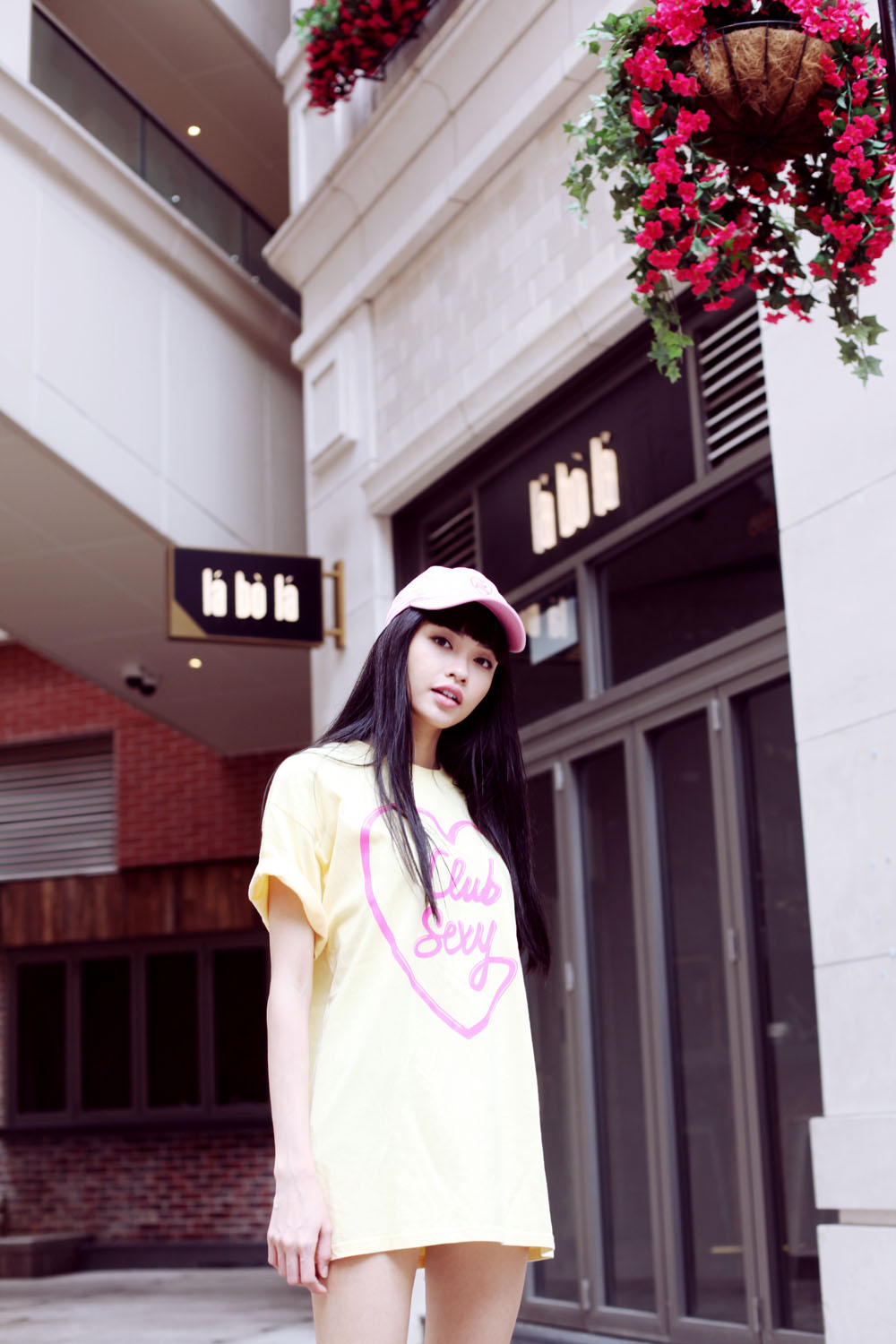 Hat and shirt by Besidethebag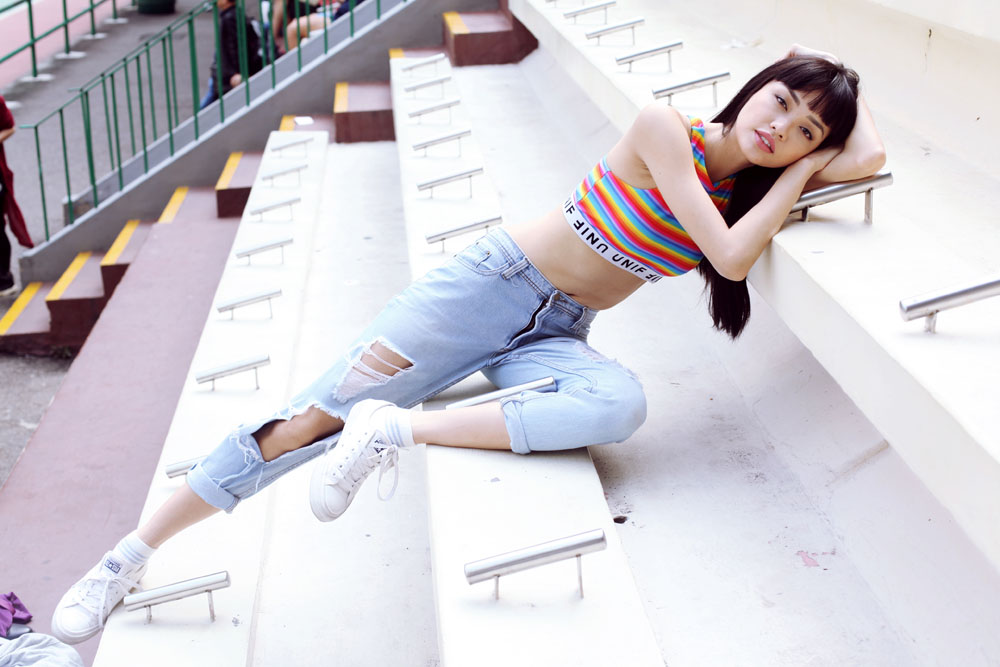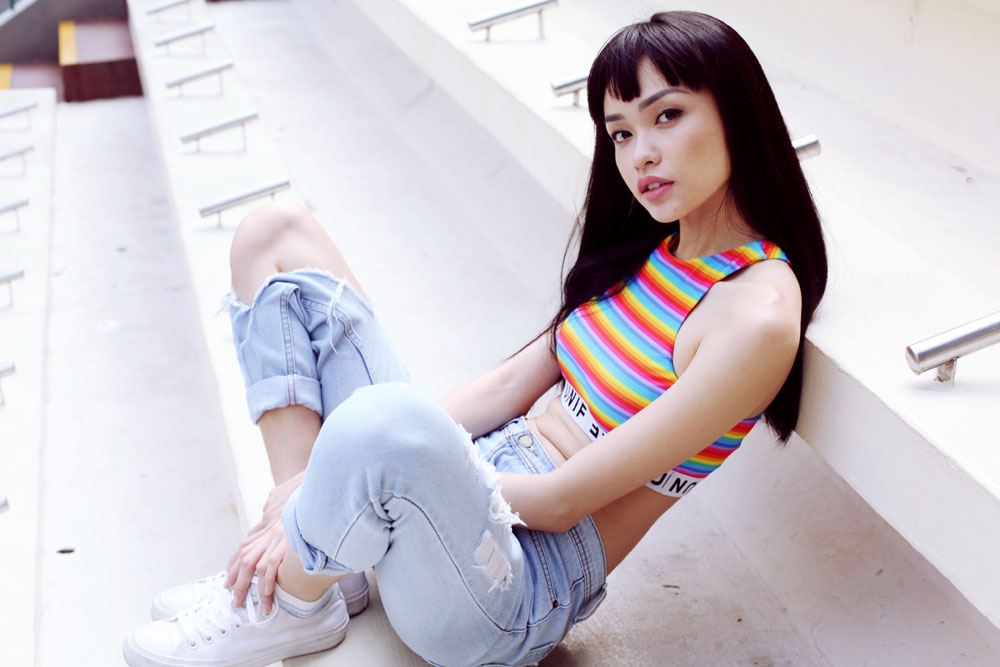 Top: Unif from On the Block Shop