In search of wildlife Marisa Papen traveled to Congo with the legendary German photographer Uwe Ommer. What she found was incredible nature, like the dream she had as a kid, but also the bitter reality of a disappearing wildlife, a topic that she wants to highlight with her new calendar, as well as for the purpose of supporting organizations such as Forgotten Parks that are helping to protect the remaining animals, introduce new wildlife again and teach local children about animal rights.
"When I was a little kid I remember being glued to the screen when watching wildlife documentaries on National Geographic. I'd even have dreams at night about wildlife and wild places. I remember one dream very fondly. I was running barefoot in the middle of a huge stretch of zebras while the big orange ball of fire was setting behind majestic curly trees. It was marvelous – the realest thing I had ever seen, even though if it was nothing more than a dream. When I woke up, I knew that one day, I'd be running there for real, on African soil, through a sun-covered Savannah, gallopping with those zebras. And then this October, 20 years after that dream I found myself In Central Africa, Congo, the land of Gold and Blood. On a mission to realize my vision.
Although a few days before my actual arrival, Olivier, our host told us, there would only be a very small chance to spot some animals in the real wilderness. There was a game reserve (not a zoo, the animals are actually wild and have a lot of space) pretty close to where we were staying he said, but I still wanted the real deal. He thought I was aware of the statistics. And I was… but I had no idea the situation was this bad. Unfortunately he was indeed more than right… 10 days of driving through incredible nature…Encounter with animals: One baboon."
They had to take their creativity up a notch in order to pose with animals that were not there, so together with visual artist Sammy Slabbinck they photographed a miniature animal that later on got enlarged to a life-size format and put into the setting of Marina posing. In between the magic of the African world and the parts of a harsh reality the calendar was born, full of excellent nudes in the middle of wild steppe and roaring waterfalls.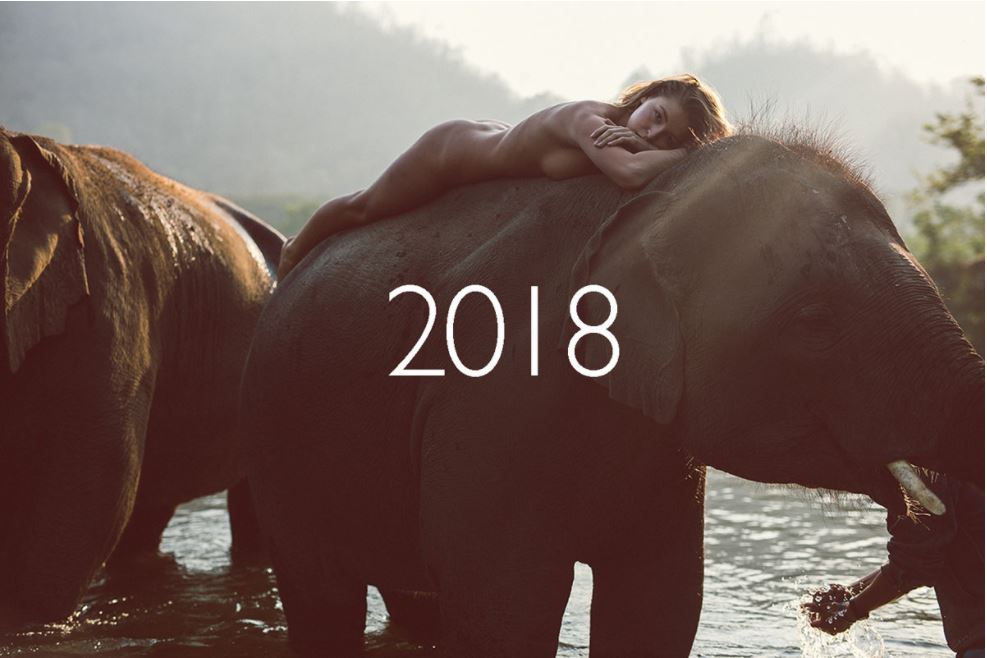 by Uwe Ommer
All images by Uwe Ommer
Collages by Sammy Slabbinck