"We want women to have a place to go and be inspired, appreciative and not feel bad about feeling sexy. We are so often made to feel guilty of being sexual beings. Some people feel sexy with clothes on, some feel sexy with their stretch marks, some don't. We want to embrace all types of women, shapes, sizes, and ethnicity."
The 21st century girl doesn't pertain to any stereotype. She's a chick of many talents, one moment she's in Europe, the next she's in Asia. She's working on several artistic projects at once and killing it at every single one. She's the mysterious girl at the party you want to know her life story from and who everyone has their eyes on. Here we have sat down and chatted for you with two of them.
Samii Ryan is and Alysha Nett are LA's "it" girls, and we are pretty sure you already know them. They're a trendsetters, influencers, models, vloggers and bloggers. Samii was a signed model at 15 and filmed a movie with Ryan Gosling after high school. (We are so jealous of that) She works hard on her jewelry line and blog named "Sex And The Valley". Her jewelry has been worn by Miley Cyrus, Ke$ha, Victoria Secret, Demi Lovato and many more. Alysha Nett rose to be one of internet's most sought out girls, gaining fame from Tumblr. Since then she has progressed into photography and started her own platform named 'Purpose.'
Tell us about your upbringing
Alysha: I was born and raised in Kansas and I didn't leave until I was 22. I was there for most of my life and it's weird to think I've only been gone for 6 years. I was raised in Haysville, outside Wichita. It was very humbling because it's not cool at all. You know where you live sucks so you have to use your imagination a lot and you play outside. The weather is really extreme, in the summer time you're outside you're dying of heat. My step mom used to force us to go outside but I was so pissed because I wanted to stay inside and play video games. (laughs) I road four wheelers and horses. My grandparents had a farm nearby we used to play at. It's also really poor there. There's not a lot of money so people get into trouble easily. A lot of people do drugs, get pregnant early, things like that…
Samii: I grew up in Bethlehem, Pennsylvania. It is a small town so growing up I was one of the oddballs but it kept me grounded. When I moved to LA, I kind of knew who I was so I wasn't as influenced by other individuals. From Philly I went to New York all the time. I would go there, come home, and I like going back to a quiet home. I don't live in Hollywood, I live in Northern Hollywood, so it's a lot more chill. Alysha lives in the chillest of chill (laughs). She lives in San Diego. In Bethlehem we used to go outside, wander in the woods and pretend we were the Rugrats (laughs.) We were always interested in sports and Taekwondo–I'm a black belt. I also did cheer leading and soccer. Me and my little sisters would take photos all the time. Bethlehem is an old steel town, there are lots of steel mills. I have two sisters, my little sister is still there in Bethlehem, the other one is in Pennsylvania. My younger sister is studying art and my older sister is an occupational therapist. I really liked writing in high school. In my creative writing class, the teacher would give us a scenario then we would free write. That was cool. That helped with free writing, but I need to work on my grammar. (laughs) I was kind of quiet in high school but I did the morning announcements. At that time I was in a relationship, I dated a guy for 6 years and he was also my best friend. I remember that in freshman year of high school we would go to skater shows all the time.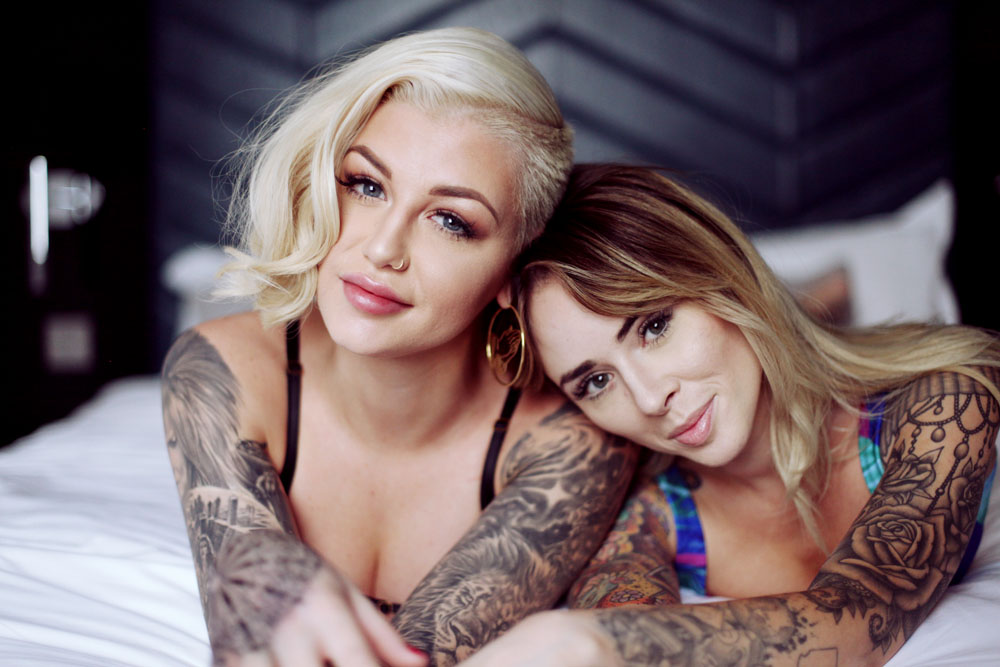 What kind of music did you listen to?
Samii: Rock music like hard core stuff. I used to go with my ex boyfriend because he was into that. We went every weekend because it was the thing to do in Bethlehem.
Where did you move to from your hometown?
Alysha: I moved to Philly. I was doing a lot of traveling at that time; so I was not really sure if I were to live on the east coast or not. I was thinking of living in New York at some point but I was way too poor to live there. In Philly I rented a room with a bunch of creatives. I would travel with my dog across the country few times a year, take pictures with people and spend my winters in LA. That's how I started a network out there.
Samii: I moved to LA about a year ago, I was going back and forth being bi-coastal. Right after high school I moved into my dad's house. I was going to college to be a dental hygienist. On the side I have an accessory line and it got picked up by Nordstrom so I decided to quit school and focus on that. Then I moved to LA to do more modeling and my jewelry warehouse so it works out.
How did you start modeling?
Alysha: I started modeling when I was 20 and I wasn't very good at it. I was dating a guy who was a photographer and helped me be a better (laughs) model. I started using Model Mayhem back then to meet other people in my area – Kansas City, Texas, Chicago…  and I started getting offers to come out East and go out West. I was doing hair back then. It was the most creative job you can have there. My mom, step mom, grandma were all hair stylists and I just grew up in a beauty shop.
Samii: I was acting when I was really young and I used to do castings in New York. I was 16, I hoped on a train and honestly I never got castings except for that Blue Valentine. One time I went to this Axe commercial, I had to growl like a tiger and read some lines so I was like (aaaah). It was so weird and I kind of stopped doing acting. (laughs)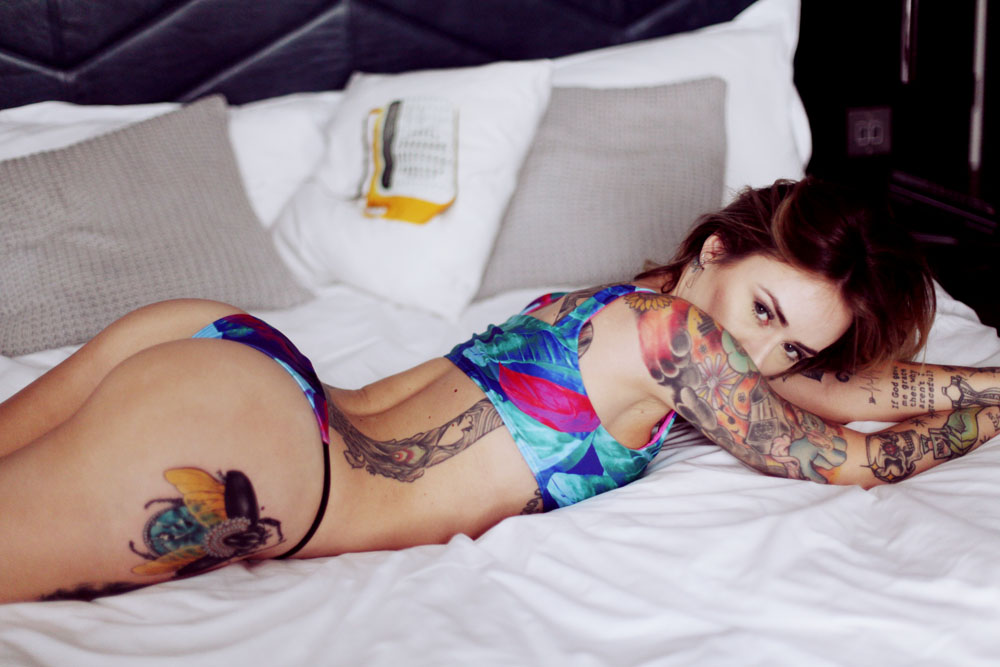 "My goal is to do more story telling and give advice to these girls. I'm always giving my little sisters advice as well so I might as well put this knowledge to use and be that big sister role."
Were they supportive of you modeling?
Alysha: They were not really supportive. I don't have a conservative family; my family is pretty wild. But once I started modeling, especially since being an internet model was so new back then (laughs) they didn't really get it. They just thought I was being a slut. My dad called me every name in the book. It was really hard, I didn't have my family. But I just kept modeling. I knew I didn't want to live there and this was something allowing me to travel and experience other things. I knew I was seeing things they weren't because they just weren't getting out into world.
In 2011 I came to London for the first time, shot a cover for Front Magazine when it was alive and thriving back in the day and that changed everything for me. I was like a 'tumblr girl', tumblr is the platform that pushed me. I think it said somewhere I was one of the most 'tumblred' girls (laughs). I don't know if thats true (laughs) but I'll take it. I was spending time in LA to escape East coast winters. After the second winter I had lunch with my friend Bobby at the Hundreds. He was like why aren't you living here yet? Why are you still there? I guess I was just afraid. Money was also a thing. I grew up poor and I couldn't afford it.  But I was able to find a great apartment I could actually afford.  Once I found an apartment it was just a no brainer. I went back just to pack my things and shipped them. I shipped like 11 boxes to LA, loaded my car up and my mom brought some stuff out a few months later in her truck.  I had to refurnish my whole apartment because I was living on my own. I was super proud of myself (laughs) out here doing it.
Samii: Acting, yes, they were supportive. Modeling, yes, until I became more sexy and showing off my body. Of course with my blog, "Sex and The Valley" it got a lot of heat from my family. They weren't down with that because sex is such a taboo. Everyone does it, we were all born from sex! That was a little rough. My mom and sister got into big fight. My dad and his family thought it was porn at first, but no it was just my mind and what's going on.
What would you say was the 'changing point' for them to accept your sexual attitude?
Samii: Honestly they're still transitioning. I talked to Alysha about it because a similar thing happened to her with her family. They weren't really as accepting. Right now they're still learning.  Eventually they will be like "oh, thats Samii."
Did you have a mentor to get to the place you are now?
Alysha: I wouldn't say I have a mentor but there's always people. I always admired Audrey Kitching for being alt-girl. I always respected her and that she was able to do that. I don't have to be this tumblr naked girl. I like being naked but I know I am smart. The closest things I have as mentors were men believe it or not. They were the ones involved in the street wear and skate. They were the ones really pushing and believed in me. Bobby really helped me a lot. He inspired me to move – If he thinks I can do it, I can do it.
 
"I have a lot of tattoos with people who are in my life. Every tattoo has a history behind it. Tattoos are a piece of art can carry all the time. Instead of $1000 bags I have $1000 tattoos."
Samii, tell me about how you got started with your jewelry line
Samii: I started it in 2009 right outside of high school.  I started by making feather hair clips and earings and selling them in high schools. I went to a few festivals to sell them–Bonnaroo, Coachella, Warped Tour… Images are really important so I would have a photographer friend shoot me and my friends. I always had good imaging on my website and thought that it was important.
How did you get celebrities to wear your pieces?
Samii: My ex at the time was working in the music industry as an agent. I wanted to send it to Kesha so we got her manager and she ended up wearing it all the time. Same as with Victoria Justice and Miley Cyrus. I sent all these girls my stuff and they ended up wearing them. When I went to LA I met with a couple of them. I met with Victoria Justice, and its cool because we are in the same age range. It's like she's doing her thing and I'm doing mine. This London trip is to inspire my new line. I want to do stuff with rose gold. I'm really excited to go to Paris because I know it would inspire me a lot. I would like to do more home decor, notebooks, throw pillows, and accessories.
When did you start your blog with Samii–'The Bleached Niche'
Alysha: Samii and I met a couple years ago.  One of our mutual friends introduced us.  I'm not even sure how they knew each other. I think we were just like hey you're in LA all the time, let's fucking hang out.  We went to a burlesque Star Wars show (laughs).  That was the first time we hung out, it was really fun. We started to get along and clicked. We started the bleached niche for a while. It has kind of fallen off because we have started to work on our own projects. It's so hard to keep up with so many things. But that was fun while it lasted.  That was two years ago? I feel like time melts together now. I have a hard time remembering when things were (laughs).
Samii: I feel like I've known Alsyha for a lot longer because we are low-key kindred spirits (laughs)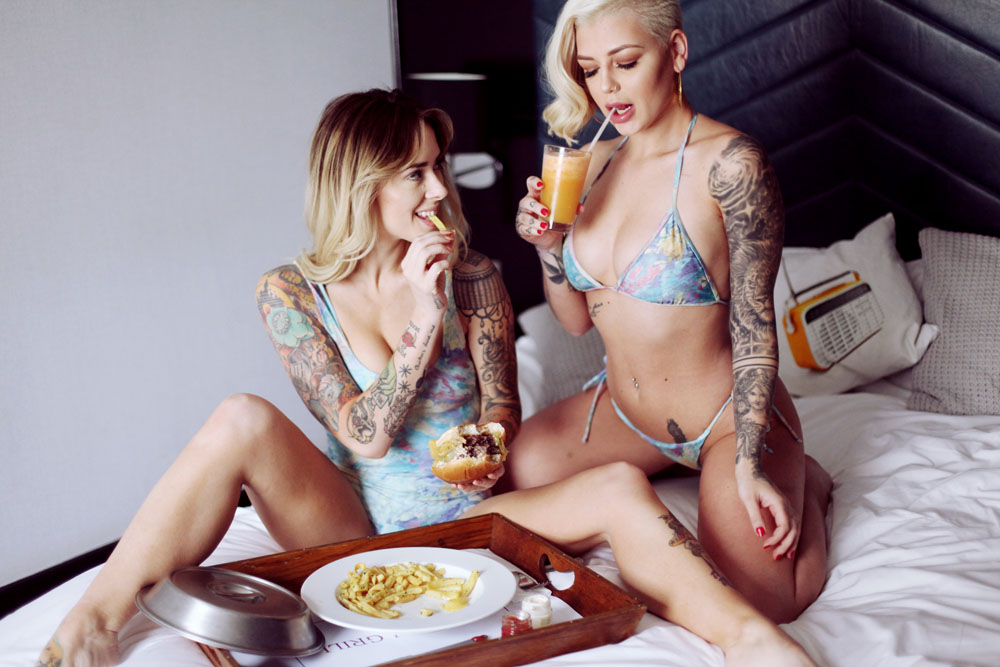 What is the goal for your youtube channel?
Alysha: YouTube was something I always put off. I just launched it a couple months ago. My goal for that was to show my actual personality. I like taking photos but I feel like only the people who are closest to me get to see who I really am. I feel like I'm a cool person. I have wisdom, I have 5 younger brothers and sisters, I'm the oldest. I have a lot of advice, and I know that there are a lot of young girls that follow me. Mostly in part because of my bfs band but the girls are there so might as well help them when I can. My goal is to do more story telling and give advice to these girls. I'm always giving my little sisters advice as well so I might as well put this knowledge to use and be that big sister role.
Samii: I started my blog as writing expose–the story of 5 guys, city of assholes. My sister came with the name…little black book, writing about sexcapades about guys who came in and out of my life.  It was for the girl stuff that happens  to every girl. It can happen to everyone. I don't write people's name in the blog because you can put someone else's faces as them. I started writing so people could relate and be open to talking about sex and problems in relationships. Everyone has these problems.  My ex tried to blackmail me and get a post down.  Some have asked me if that blog post is about them and I'm like if you think it is, it totally is. (laughs) My YouTube channel started because I was working with Buzznet talking about what's in my bag, that sort of stuff. I just want to be more consistent with content and editing.  Also, showing people who I am.
You said in a previous interview that modeling is just a platform for you to do something bigger.  What plans do you have?
Alysha: I've been working on this this project called Purpose with a colleague of mine named FotoFetish on Instagram. She is more documentary style and captures really cool moments.  I just started doing photography recently. My style is much more softer, feminine, romantic.
How did you start photography
Alysha: I've just been around it forever. I started to feel the need to create but not model as much. With the particular model that I am, I'm not fit for everything so I would just like to create those things.  This project is to empower women. We want women to feel sexy in their own right. We want women to have a place to go and be inspired, appreciative and not feel bad about feeling sexy. Women don't really have a space. We are so often made to feel guilty of being sexual beings. We're still human. Some people feel sexy with clothes on, some feel sexy with their stretch marks, some don't.  We want to embrace all types of women, shapes sizes, and ethnicities.
And what are your inspirations for your tattoos?
Samii: My inspiration is usually what I love – family, movies, and art. I have a lot of tattoos with people who are in my life. Every tattoo has a history behind it. Tattoos are a piece of art can carry all the time. Instead of $1000 bags I have $1000 tattoos. I just want to finish my two arms and see from there.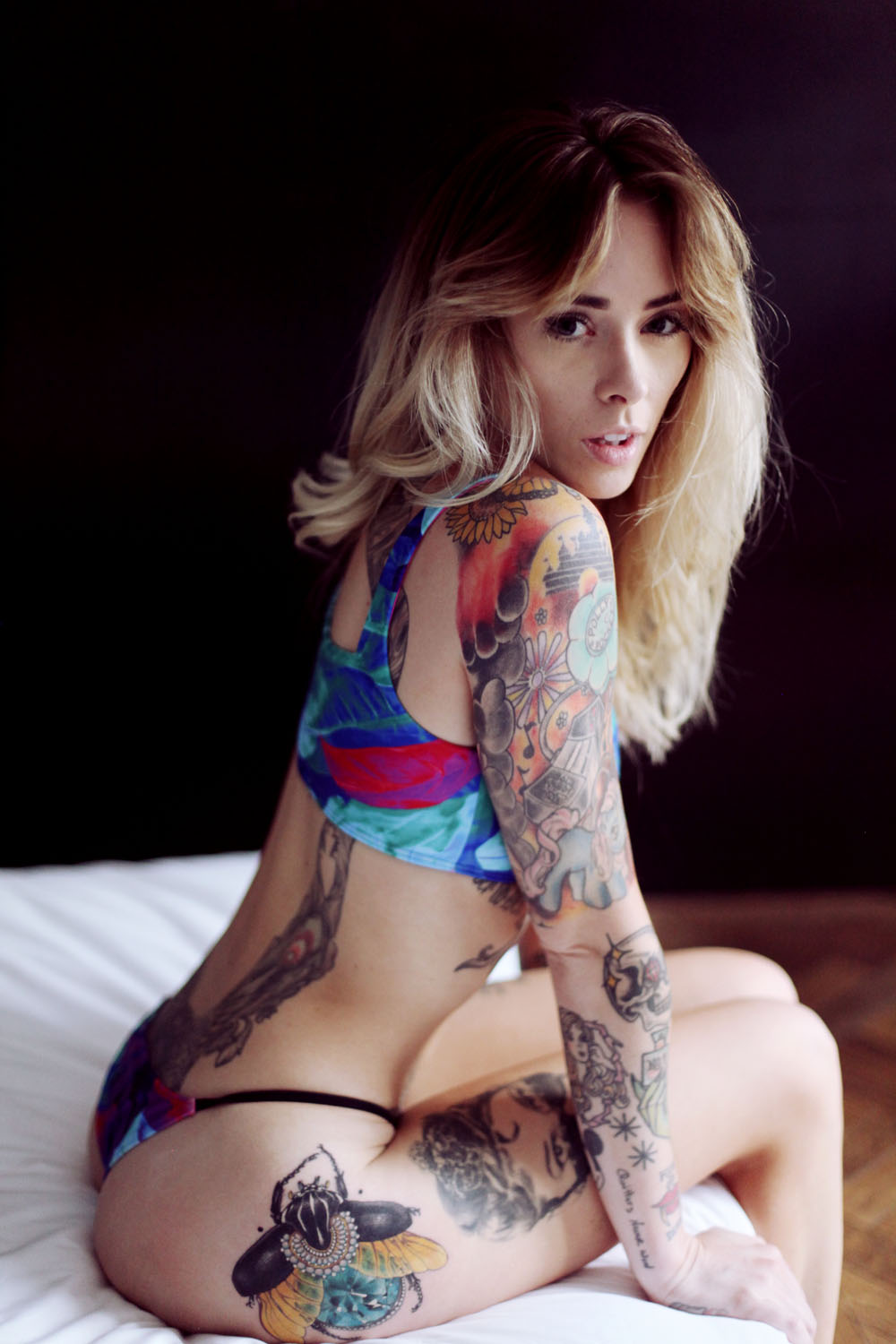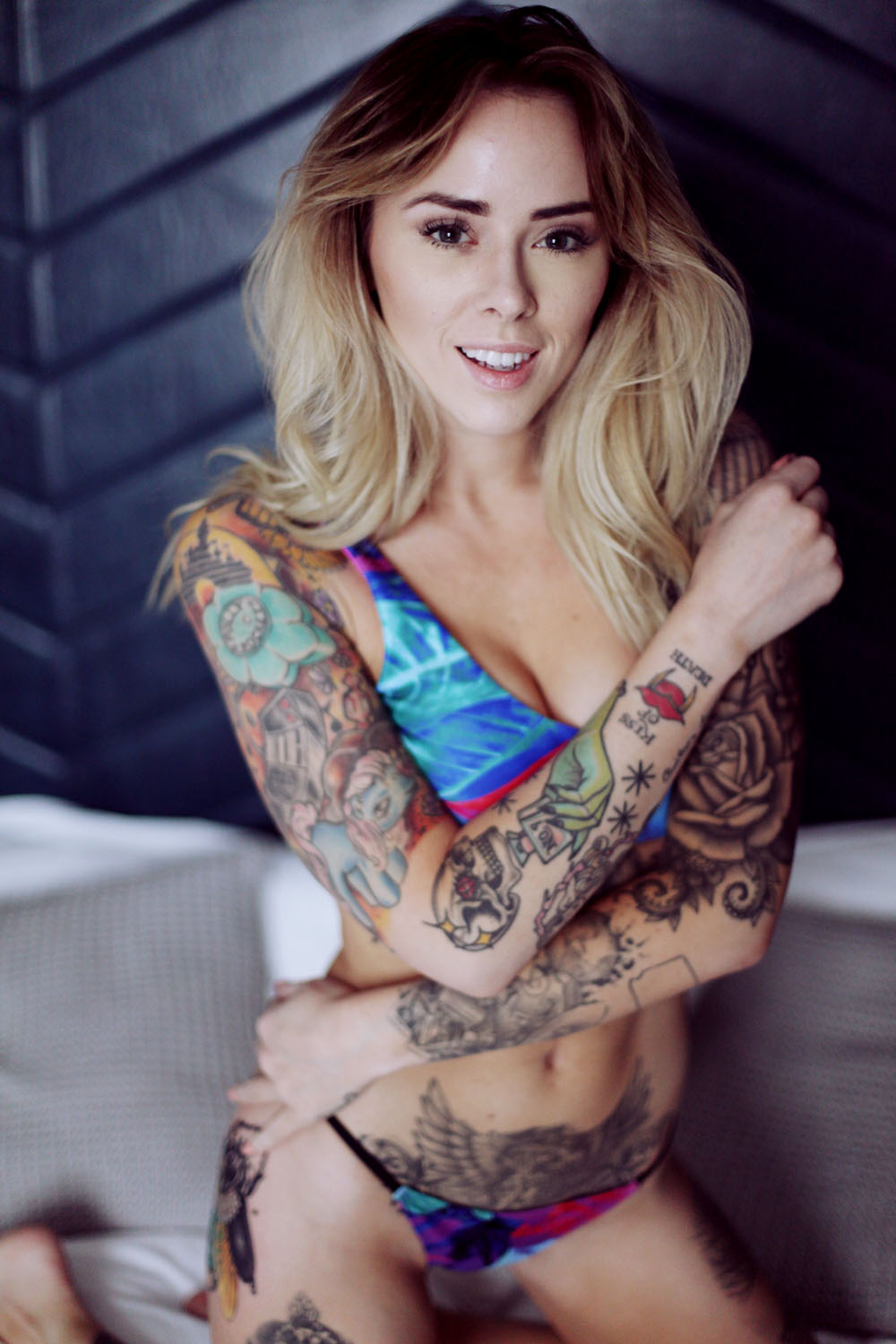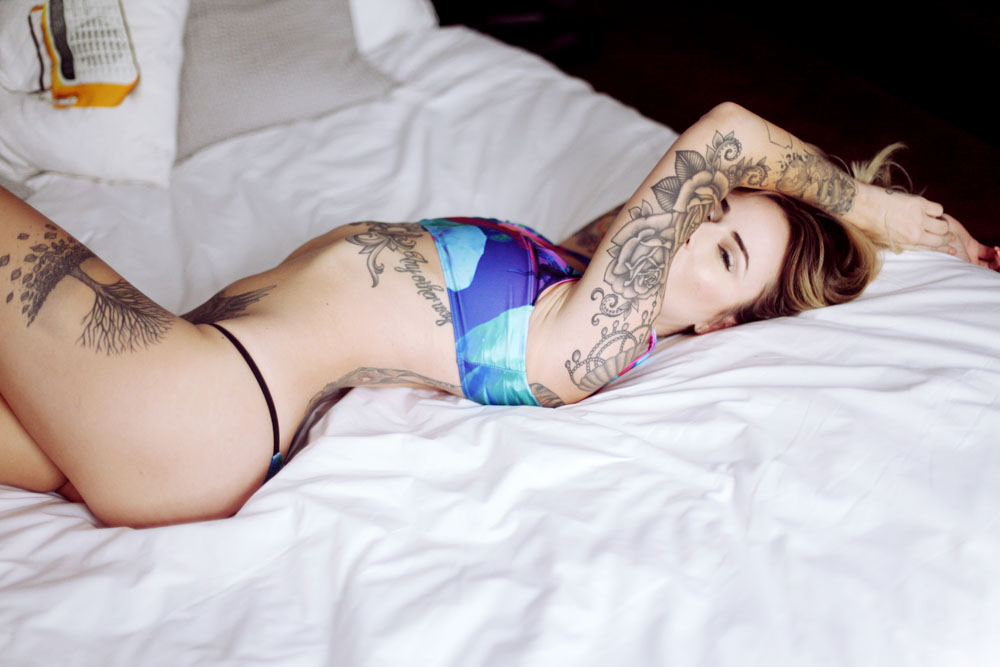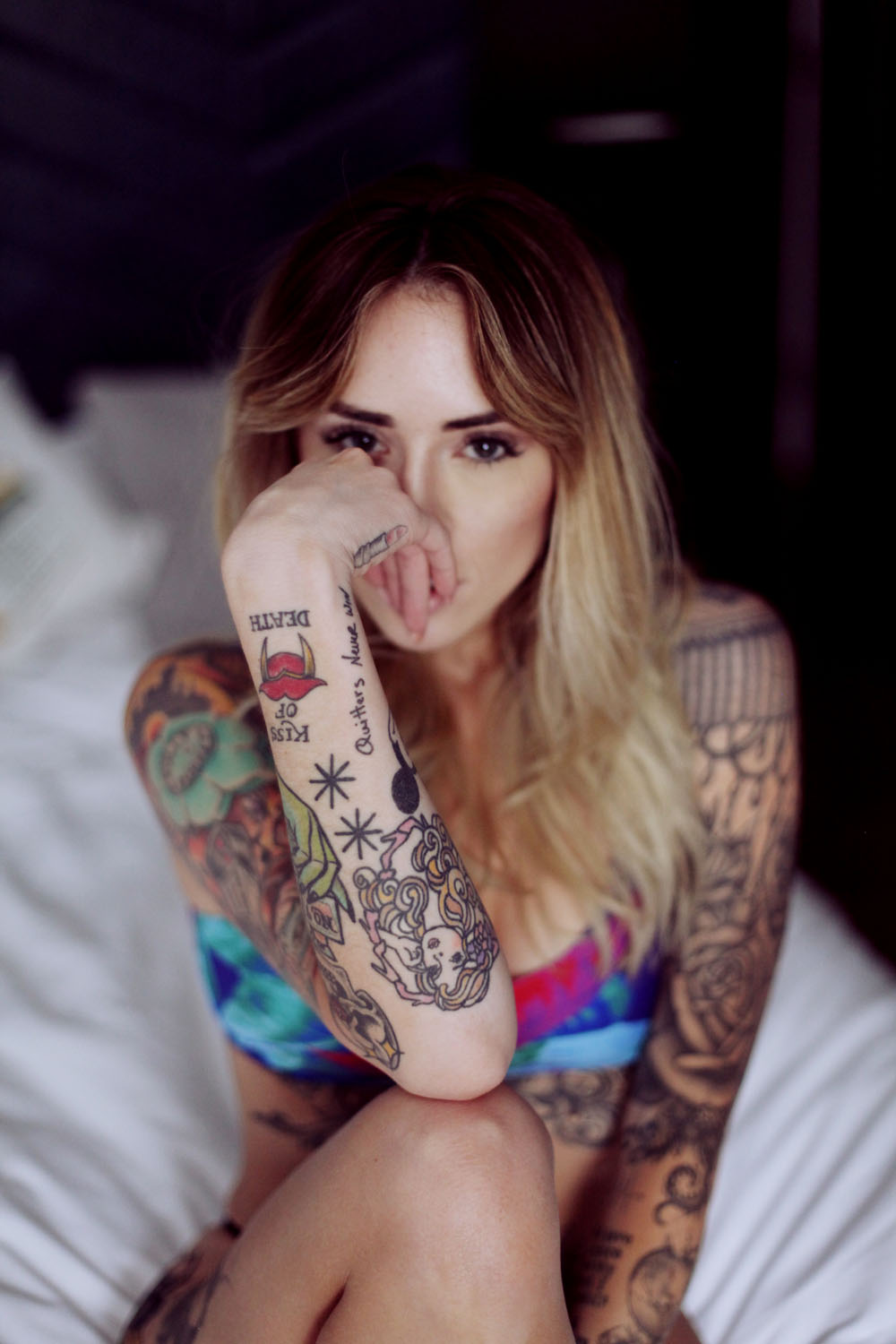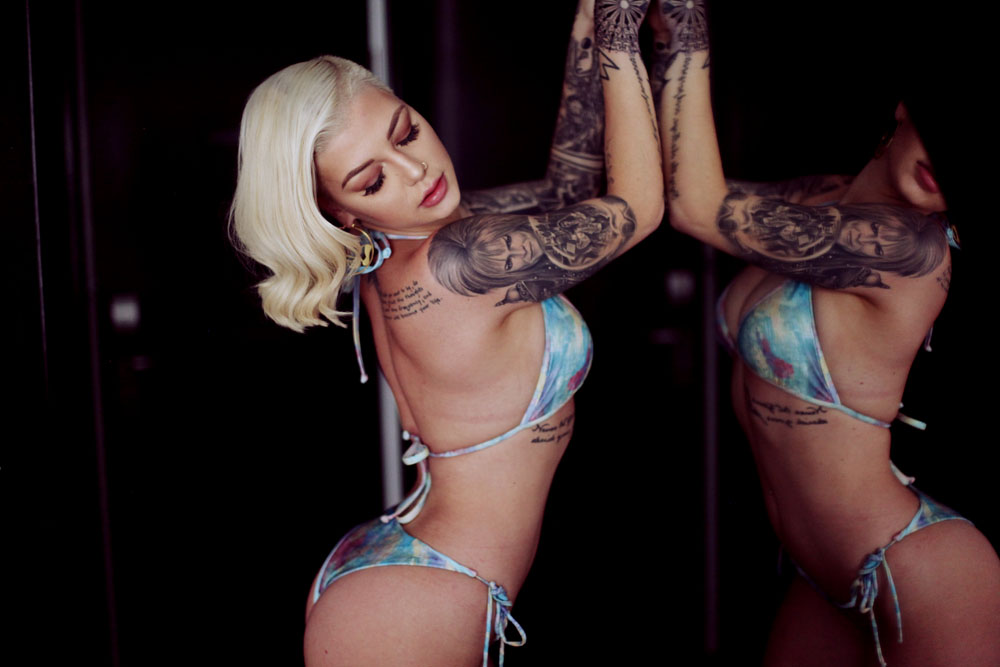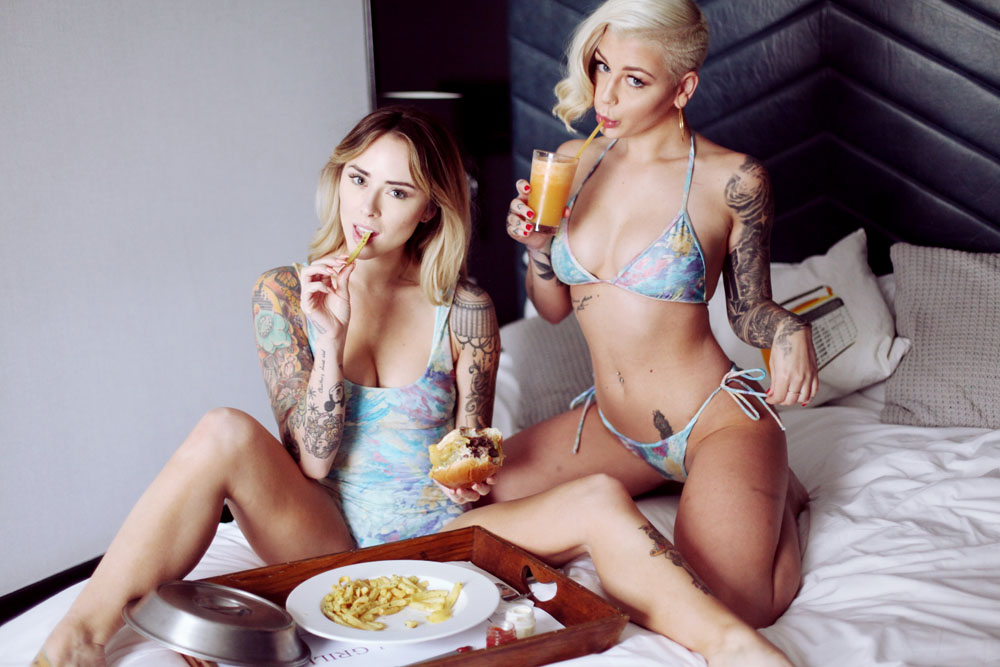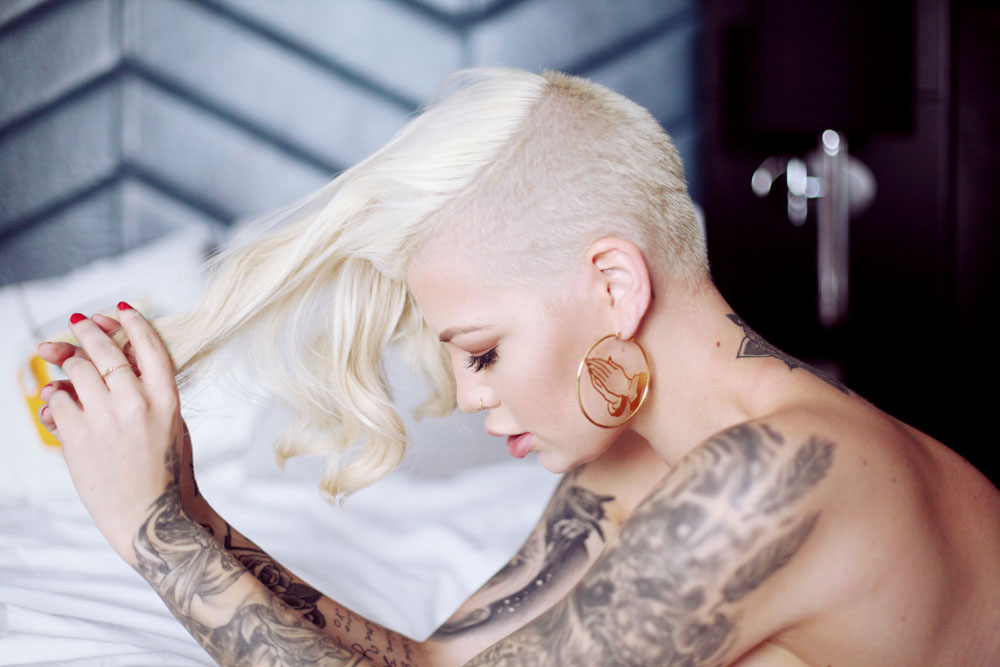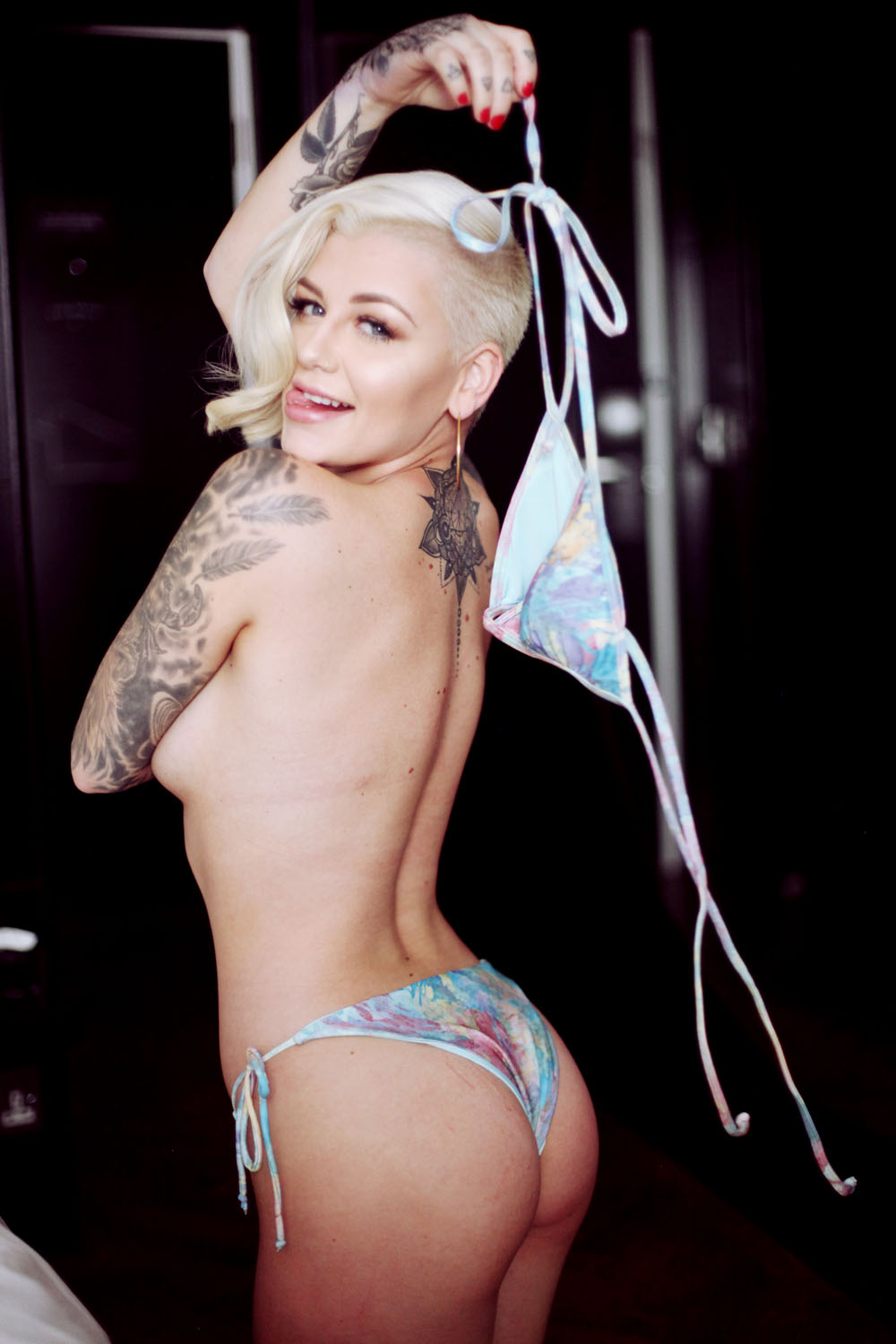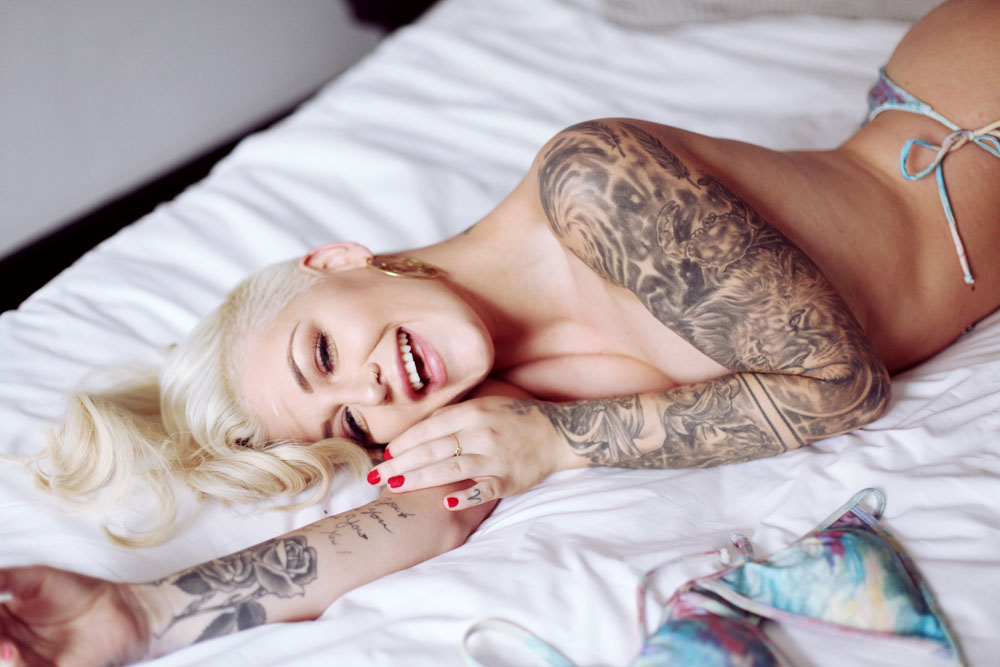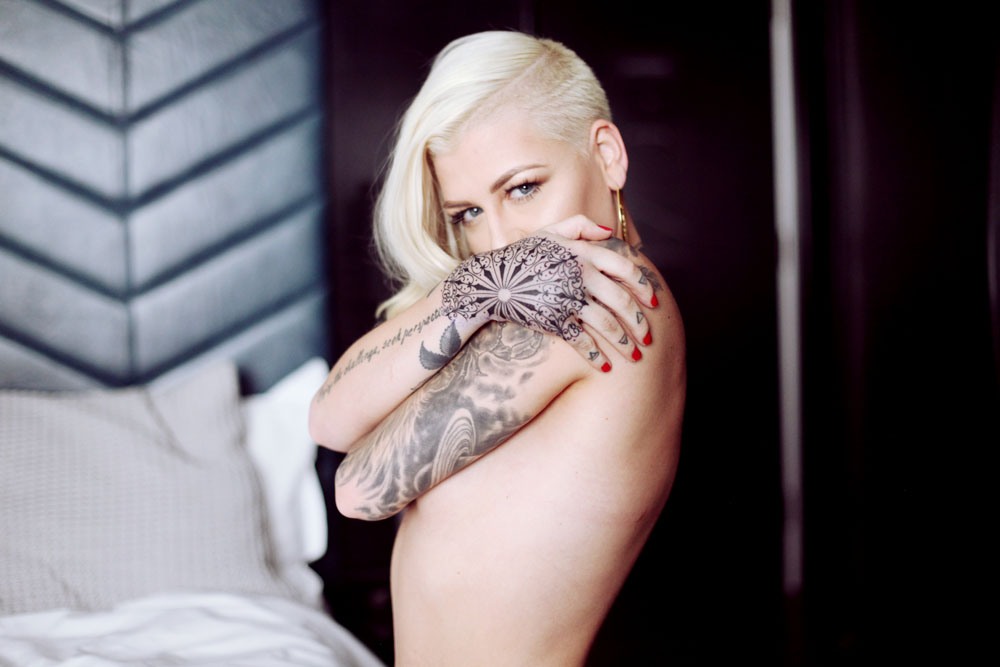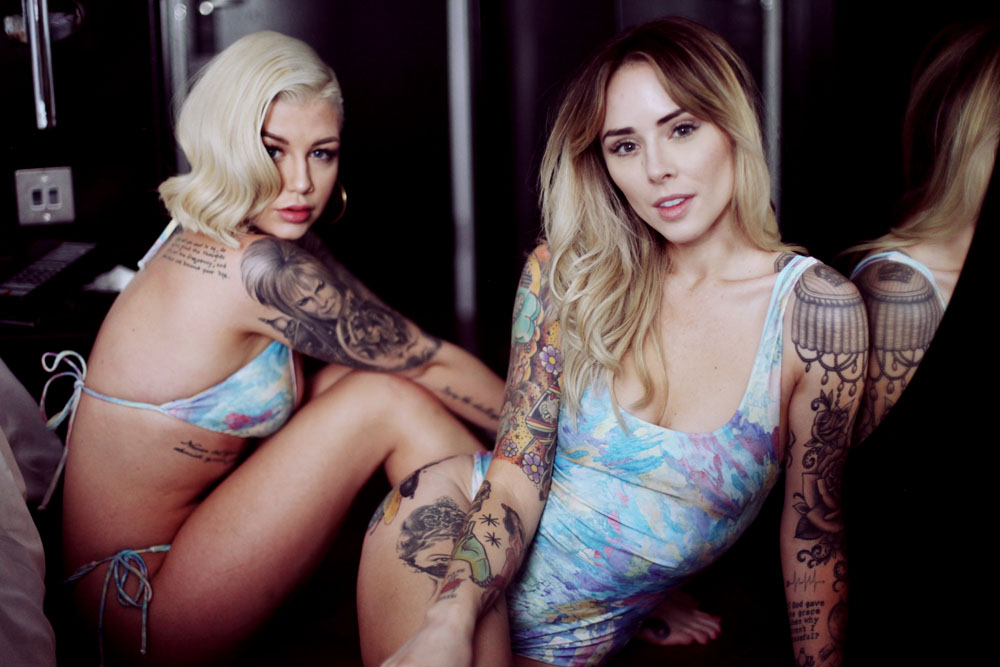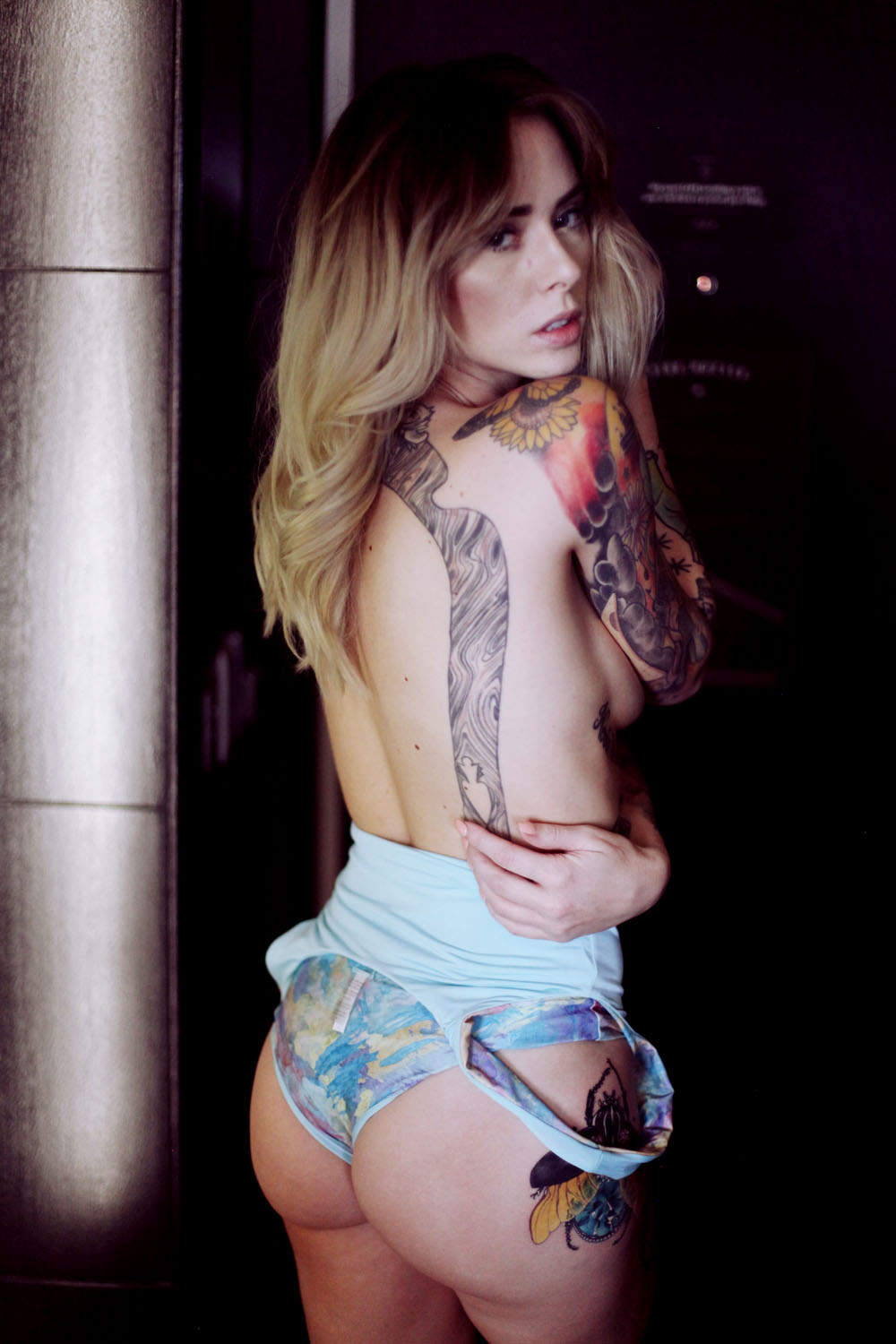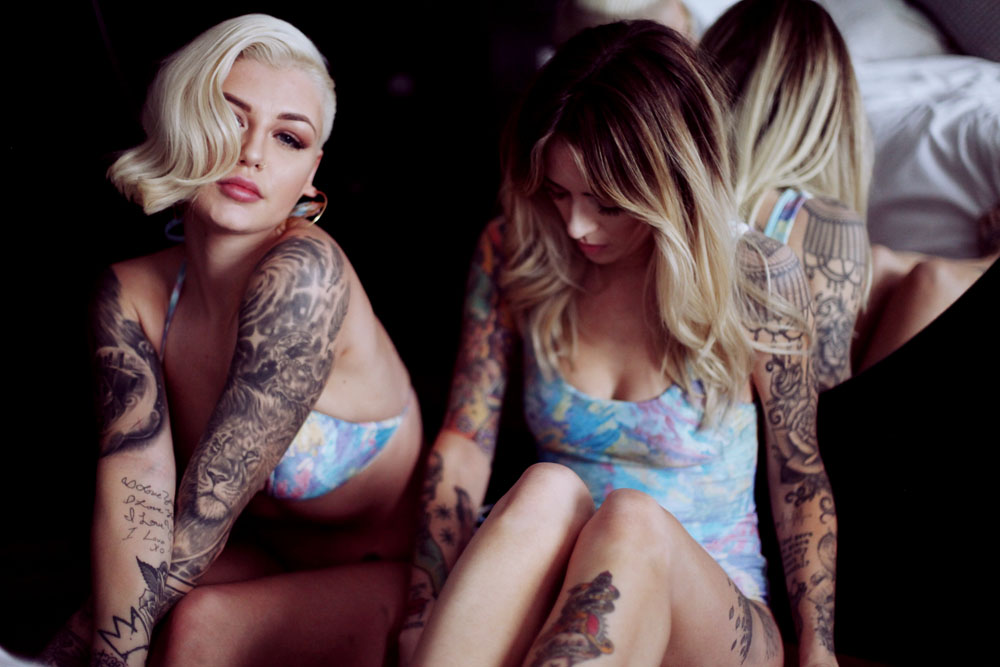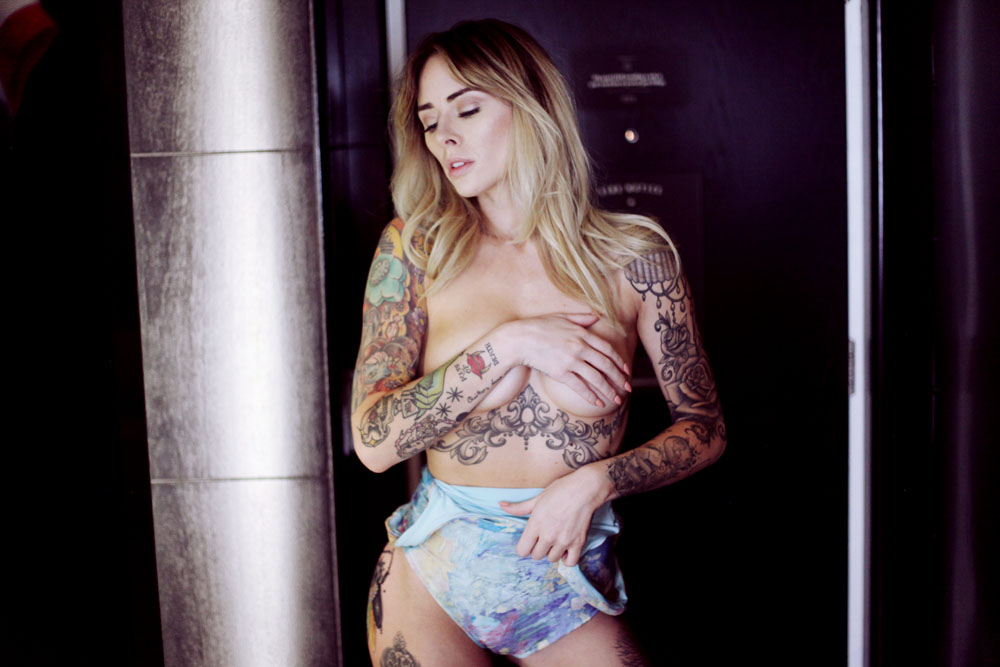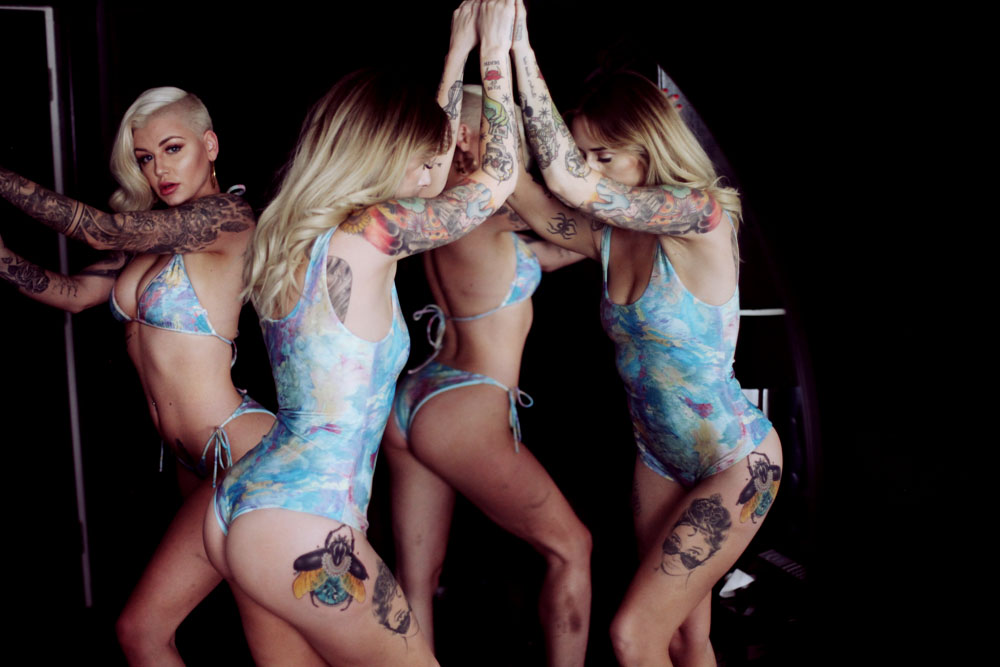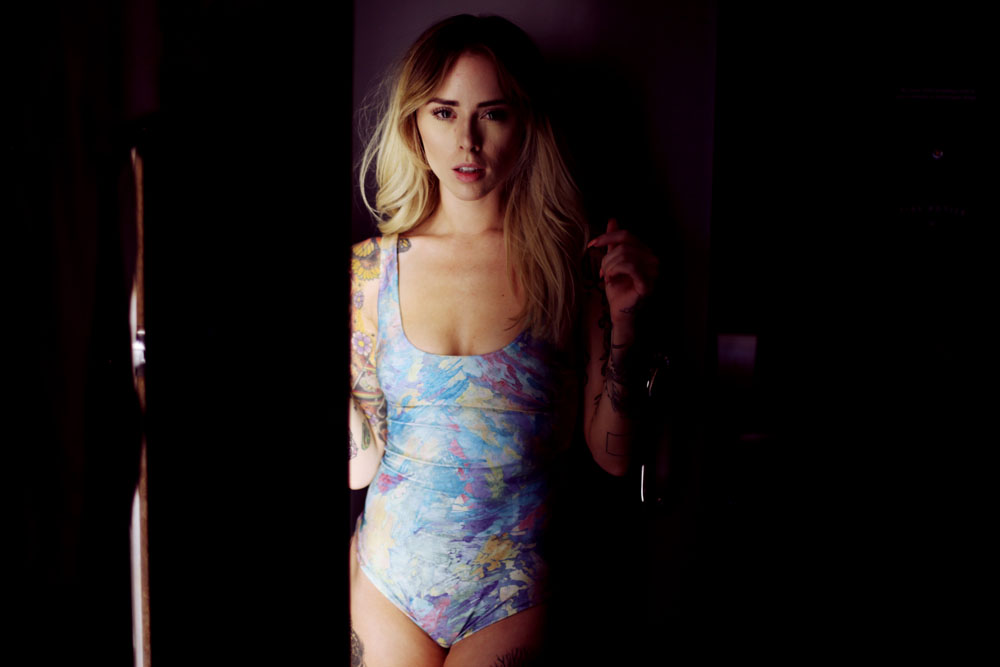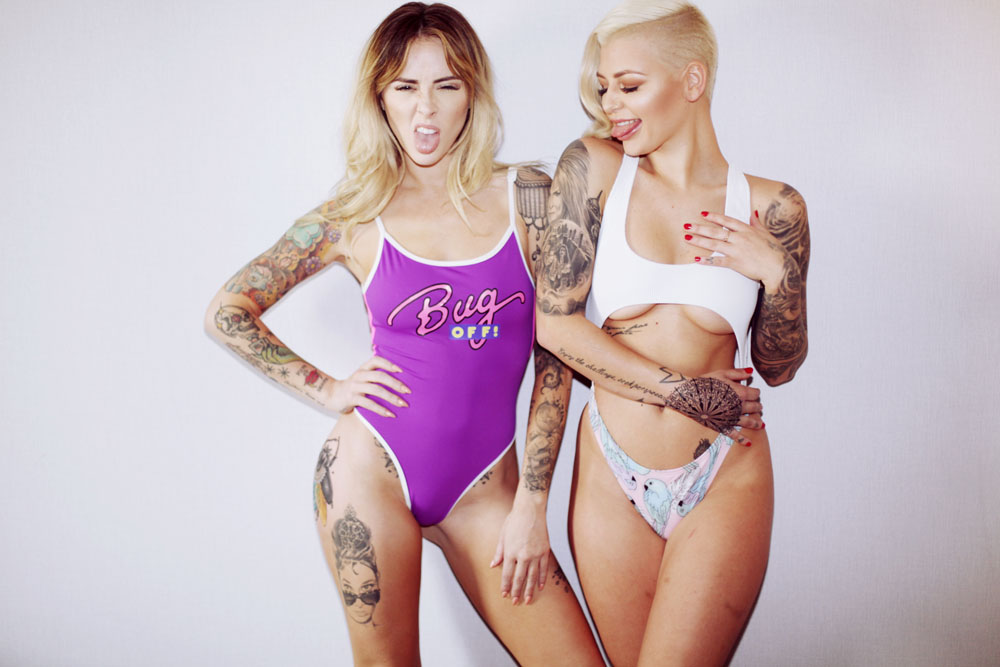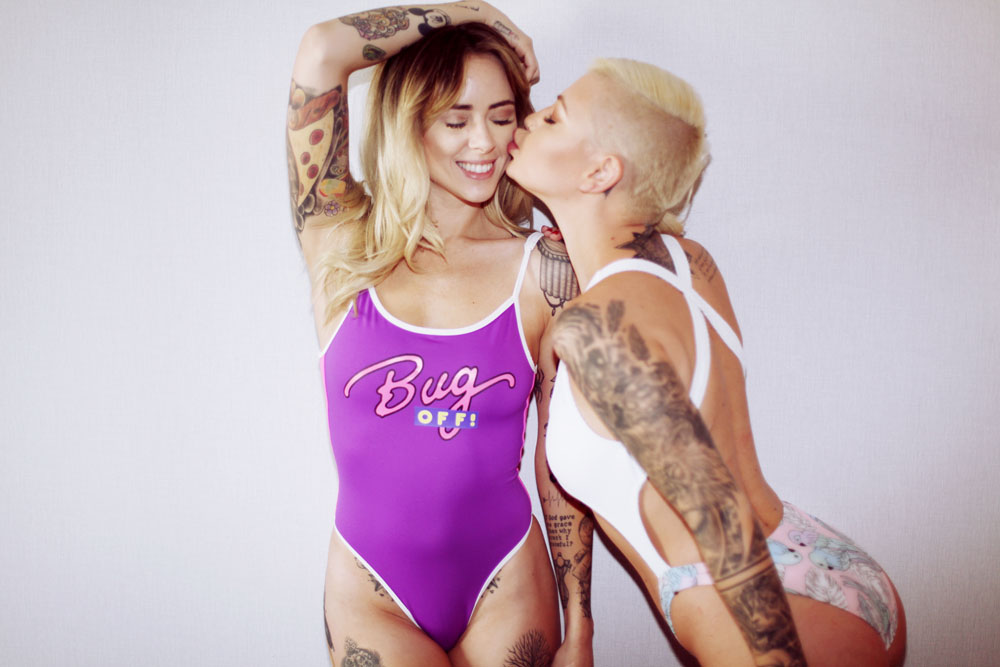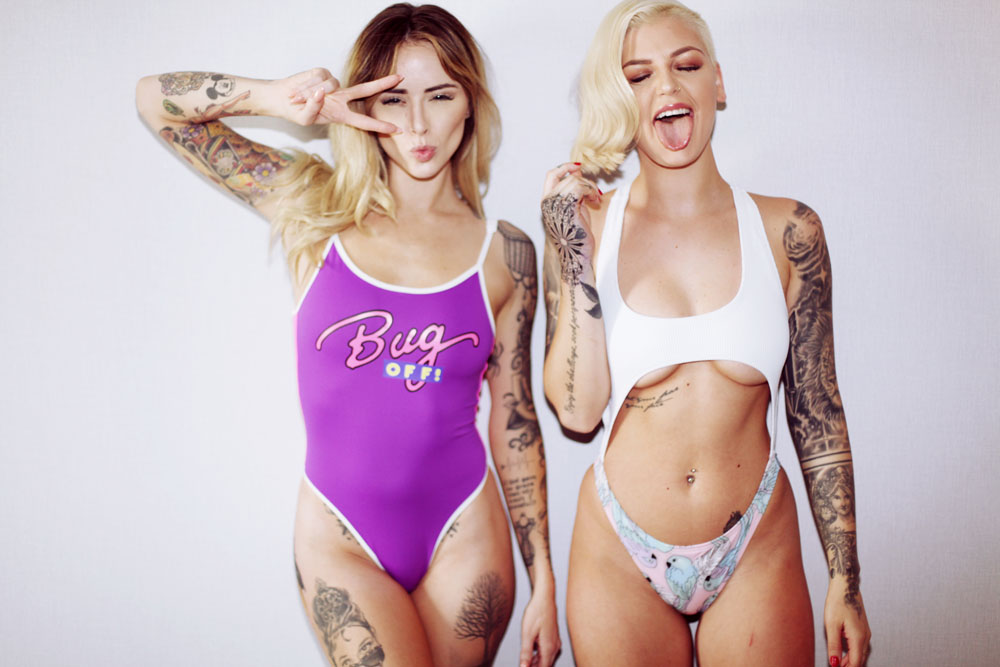 Alysha: Mandalynn Swim, Samii: Velvet Sphynx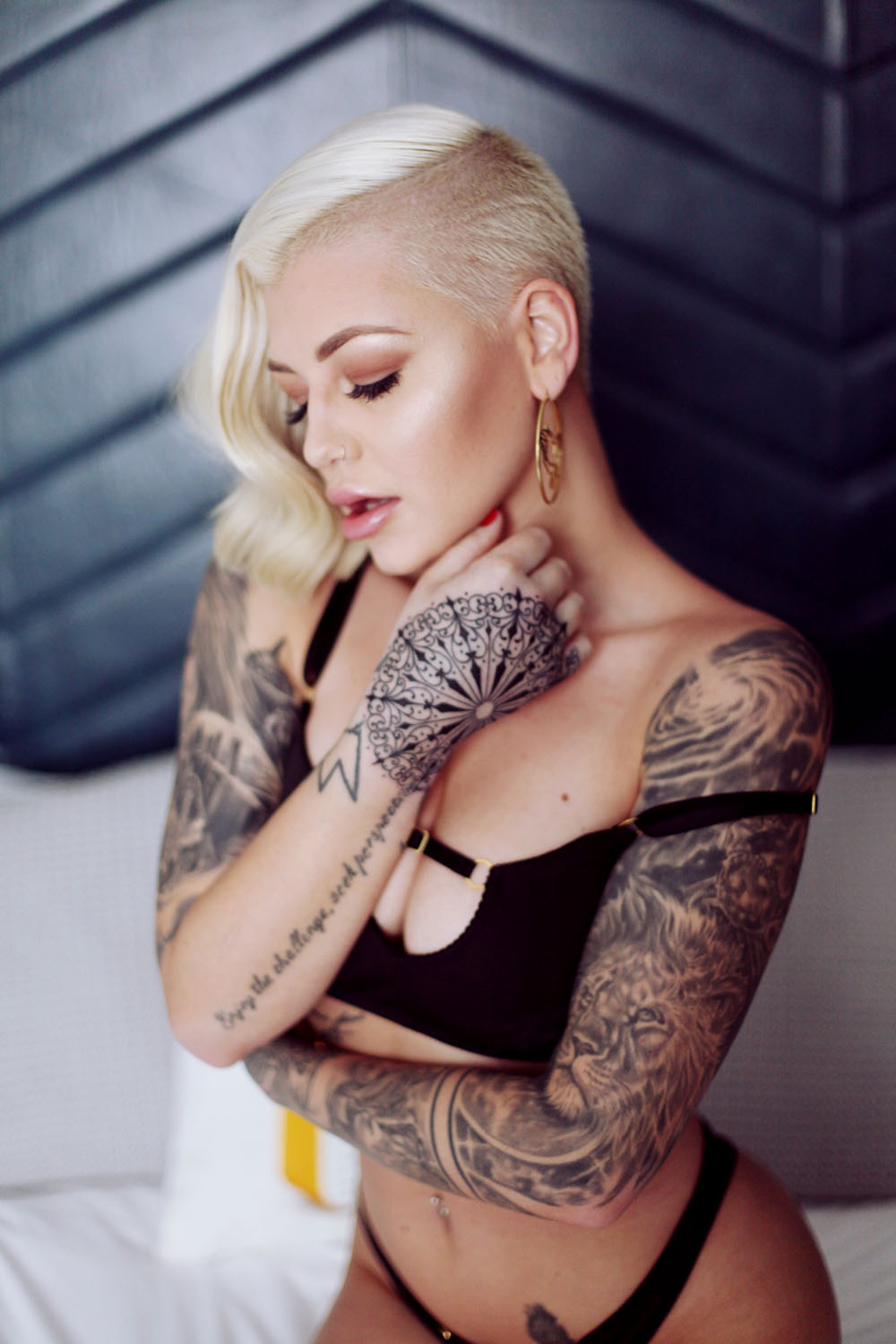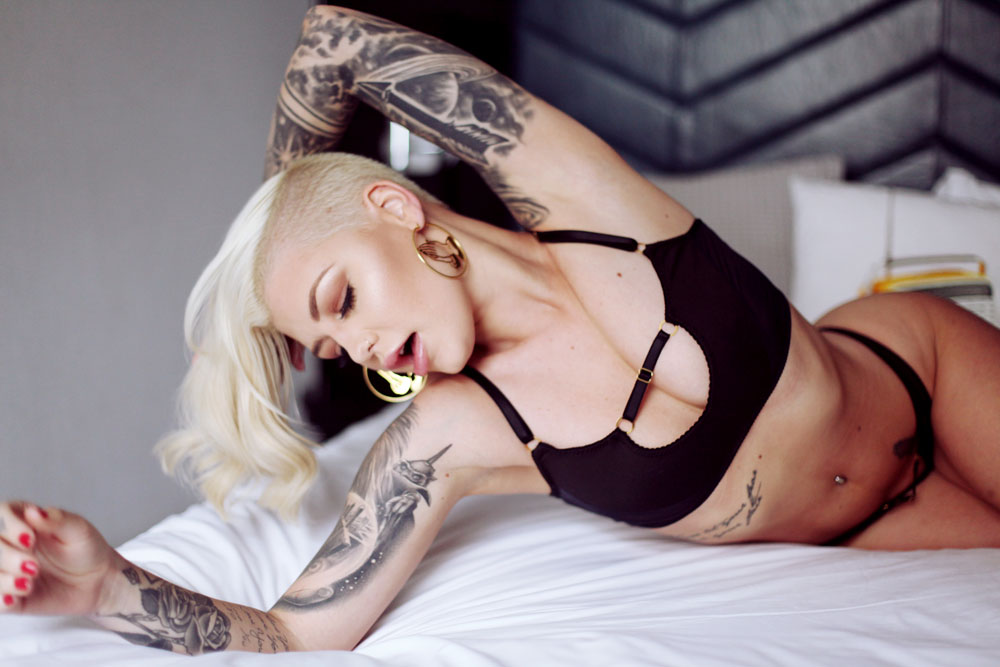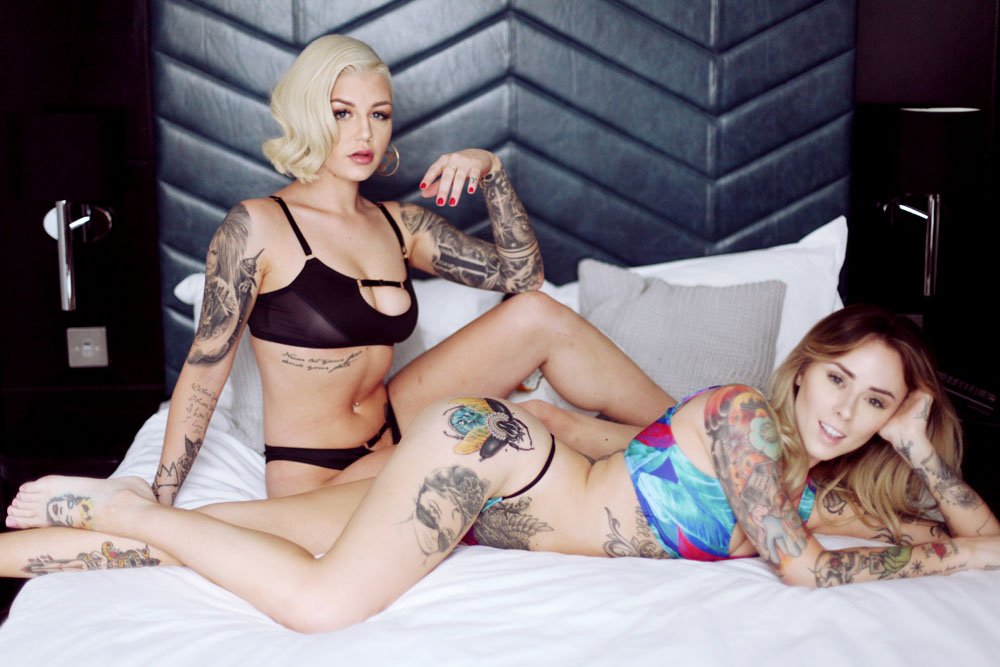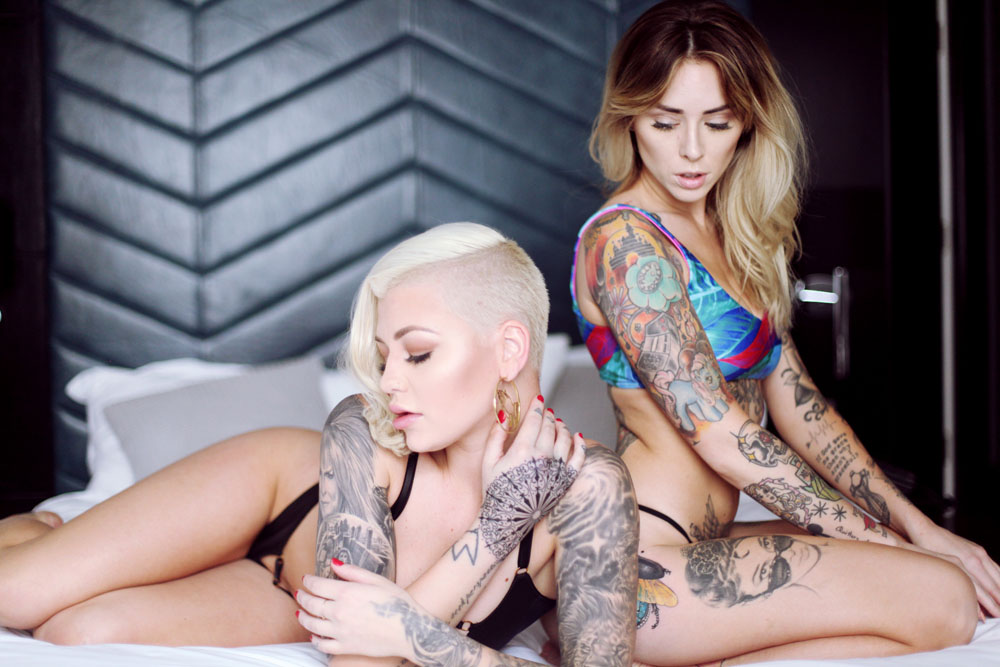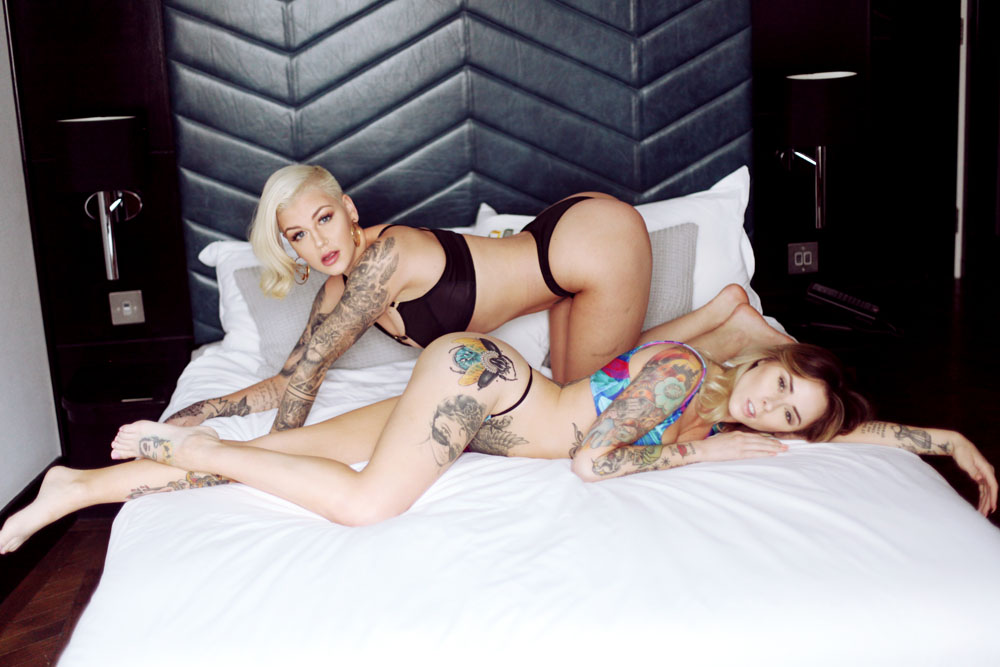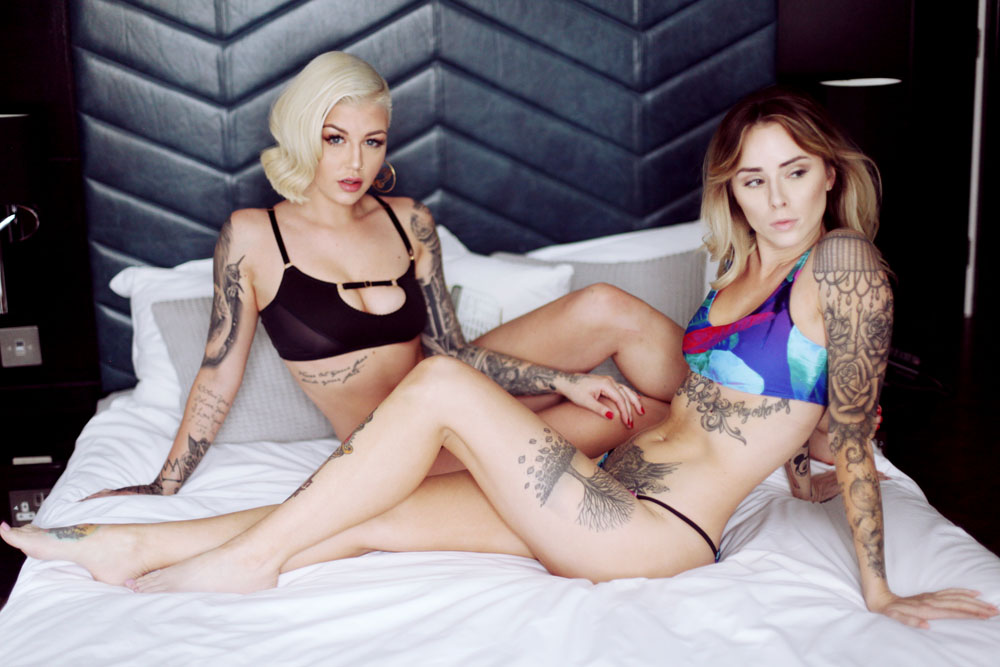 Samii: Urban Bird Clothing, Alysha: Mandalynn Swim