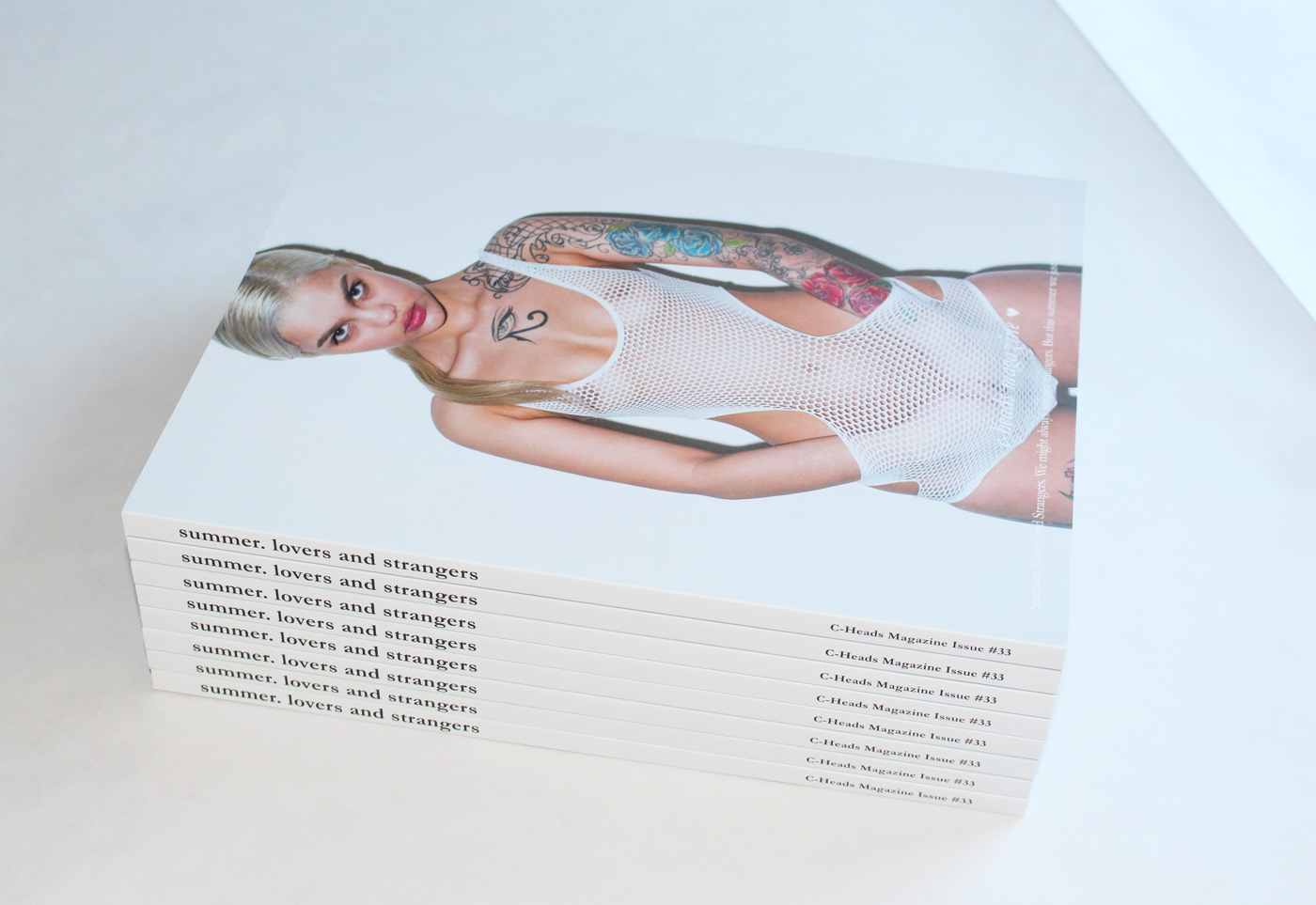 This issue we dedicate to summer. To Love. To Lovers and Strangers. We might always remain strangers. But this summer we just want to be lovers.
Full content: A talk with Richard Kern incl exclusive images / strangers, friends & summer stories / A journey through Brasil by Benjamin Askinas/ Words by Kirsten Judson / scarless/ A Film and Story by Lagoon Collective / A talk with Teresa Oman photographed by Fox Harvard / every summer has a story/ photography and words by Laura Kampman / my erotica/ A place for erotic literature and discourse by Kate Eringer/ photography by Rosaline Shahnavaz / A talk with Chloe Nørgaard photographed by Justin Polkey / smells like you and me/ photography by Caroline Mackintosh / A talk with Bradley Soileau photographed by Nicole Anne Robbins / If I know what Love is, It is Because of You/ Amina Blue photographed by Matt Adam / A talk with Marianna Rothen / Love or/ words by Kate Eringer – photography by Caroline Mackintosh / what does love sound like?/ photography by Marcus Solomon / The Process Of What You Go Through When You Talk To Someone You Like/ A Story by Inny Taylor/ photography by Carla Tramullas / we all start as strangers/ photography by Palma Wright / Take a lover who looks at you like maybe you are magic./ photographed by Sophie Mayanne / A talk with Ainsley and Sebastien of Sticks and Stones Agency/ photographed by Janneke Storm / Cacia Zoo/ photography by Sticks and Stones Agency / soul mates/ photography by Felipe Cuartas"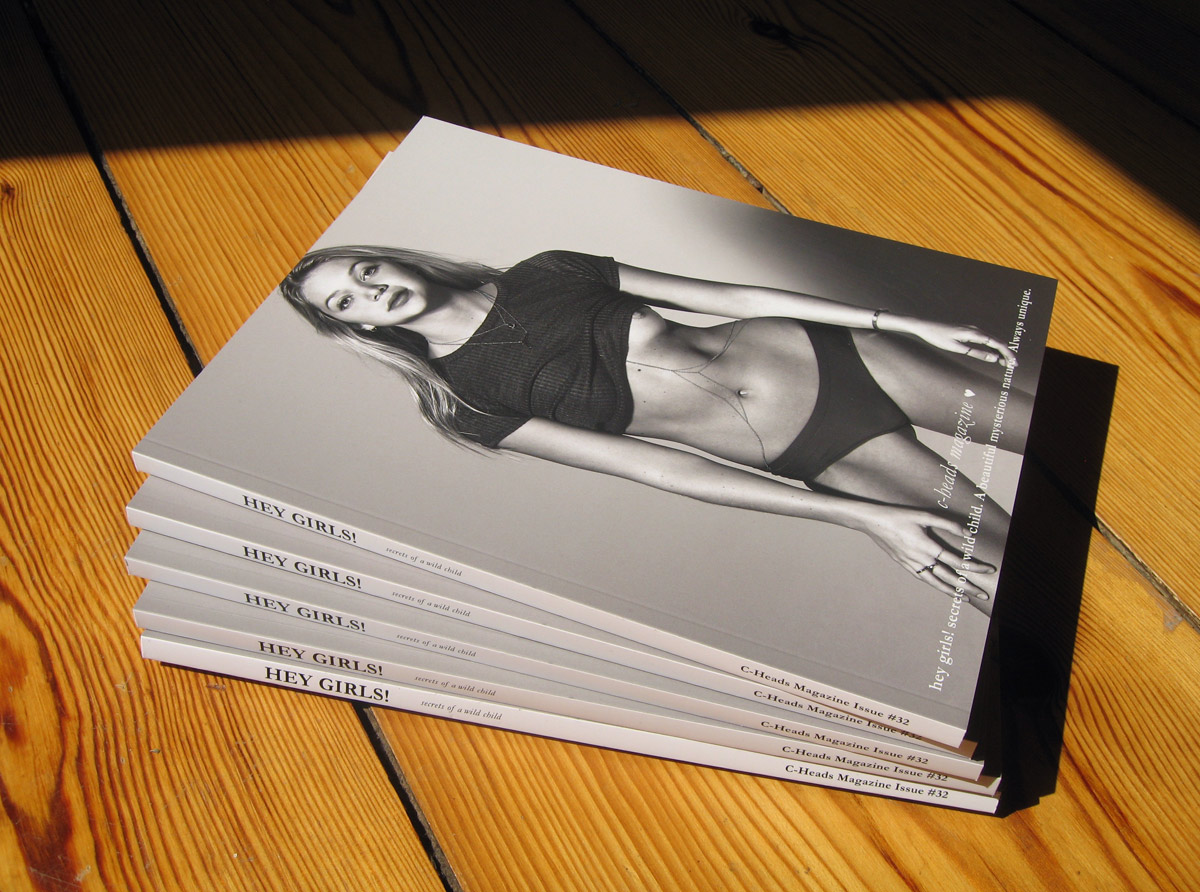 It´s about time for an issue to be entirely dedicated to women! After all C-Heads has mainly been made by women since it began. An issue full of images, thoughts and conversations. About freedom, dreams, sex and life. Us women can be anything we want to be. Naughty. Tender. Happy. Melancholiac. Complicated. Wild. Dreamy. Realistic. Natural. A beautiful mysterious nature. And always unique. On the cover: Jessie Andrews shot by Dirk Mai / contents: Exclusive editorials, stories and interviews by Cameron Hammond, Cameron Henderson, Chris Steinbach, Dana Boulos,  Henrik Purienne, Inny Taylor x Carla Tramullas, Jai, Jared S. Rosenbaum, Jessy Lanza, Josh Reed, Michael Dürr, Miko Lim, Nancy Gomez alias Frankie Mark, obiwolf and Zachary Chick.
[vc_row][vc_column width="1/2″][vc_single_image image="105866″ img_link_target="_self" img_size="large" img_link="http://www.c-heads.com/2013/09/02/c-heads-magazine-the-reckless-issue-31/"][vc_column_text]
This time we have taken a jump into the theme Reckless. The meaning of this word can be interpreted in a positive as well as a negative way. ( ruthless- frivolous/ easygoing – carefree) However we don't think in Black and White avoiding any stereotyped thinking. Life is more about all the countless nuances and colors in between. At the end of the day there is hardly anything that is just good or only bad. Neither totally right, nor completely wrong. The issue contains thoughts about beauty, life, art, change, dialogues about childhood, dreams, happiness and many extraordinary photo series.[/vc_column_text][/vc_column][vc_column width="1/2″][vc_single_image image="105883″ img_link_target="_self" img_size="large" img_link="http://www.c-heads.com/2013/01/31/the-paradise-issue-out/"][vc_column_text]
Hooray – we are celebrating our 30th birthday issue! This is a truly special one to us and therefore we decided to create something a little bit different than we normally do. Of course as usual we wanna show you lots of wonderful photography, but instead of interviews and articles, we have chosen to inspire you with beautiful poetry and thoughts. The cover is featuring Mari Hansen at Premier models photographed by Viktor Vauthier and Styling by Marina German. So enjoy and welcome to paradise <3[/vc_column_text][/vc_column][/vc_row][vc_row][vc_column width="1/2″][vc_single_image image="105888″ img_link_target="_self" img_size="large" img_link="http://www.c-heads.com/collection/my-heart-sings-wild-summer-issue29/"][vc_column_text]
Summer Issue with beautiful work from Alessandro Casagrande, Ali Mitton, Andreia Martins, Carlos Blanco, Corrado Dalcò, Dana Boulos, Daria Satina, Dominic Clarke, Fam Irvoll, Florencia Petra, Jason Wang, Julia Spicker, Yougo Jeberg, Loreen Hinz, Luca Nocera, Magnus Österhult, Mathias Sterner, Natalie Cottee, Nils Rodekamp, Ruggero Lupo Mengoni, Sara Mautone, Sebastian Lang, Stephen Tilley, Ted Emmons, Valeria Mitelman and We Are Handsome[/vc_column_text][/vc_column][vc_column width="1/2″][vc_single_image image="105891″ img_link_target="_self" img_size="large" img_link="http://www.c-heads.com/collection/bizarre-issue-28/"][vc_column_text]
Bizarre, The Freedom Lived, Surrounded By Oppressive Walls. Saved Time, Dissolving At The End. Dark Shadows, Infolding Like A Cover Each Smiling Face. To Distance Oneself From The Same. To Build Up, What Will Never Last. Soothing Our Fear With Empty Words. We Show And Hide, We Fear And Prove, We Care, Yet Selfish. We Do Know All, Yet Understanding Nothing, About The Realness. Thus At The End The Mystery Of Life And Mankind, Will All Along Remain Bizarre.[/vc_column_text][/vc_column][/vc_row]